This has been my go-to raspberry jam recipe for many years. While I love various kinds of jam, my all-time favorite remains strawberry jam. My close second favorite is this no-nonsense raspberry jam, made using three basic ingredients: raspberries, sugar, and lemon juice. Don't be fooled by the simplicity of the ingredients, though. The jam will be big on flavor. The more you eat it, the more you love it. Raspberries make one of the best jams, if not the best, depending on who you ask.

If you want to elevate this jam even more, add some vanilla during the cooking time. Not that this incredibly aromatic jam needs it, but a touch of vanilla makes it even more scrumptious. The aroma will blow your socks off.
Quality of raspberries matters
The quality of raspberry jam directly depends on the quality and flavor of the raspberries. The better they are, the better your jam will be. Eat a handful of fresh raspberries. Did you like their flavor? Do you want to throw another handful in your mouth and savor it? Do they have an intense berry aroma? If so, these raspberries will make an excellent jam. Good stuff in, good stuff out.
Similarly, use only fresh, firm berries without bruising or signs of spoilage. This will help jam store for a very long time without losing flavor.
I am excited to say that this is my first year making raspberry jam using entirely home-grown raspberries. Yes, I picked two and a half pounds of superbly flavorful raspberries from my two raspberry plants and made four half-pint jars of jam. This is quite an achievement for me, and, to be honest, I never thought I'd be able to do that, as the production in the previous 1-2 years was minuscule. However, as my raspberry plants matured, they produced an abundance.

Is pectin needed in raspberry jam?
Raspberries are often referred to as low in pectin. Yet, when making jam, raspberries set very well and require no added pectin. Some home jam-makers like adding a small amount to get a firm(er) set, but I never do. I think all this does is ruin the delicate texture of raspberry jam.

Jam storage
Upon making this jam, you will have two options: put it in a clean jar, seal and refrigerate, or can and store it at room temperature. I always can my raspberry jam as it will store for a long time - a year and even longer. The refrigerated jam will store for a few weeks. As well, once you open your canned raspberry jam, refrigerate it right away for up to 3 weeks.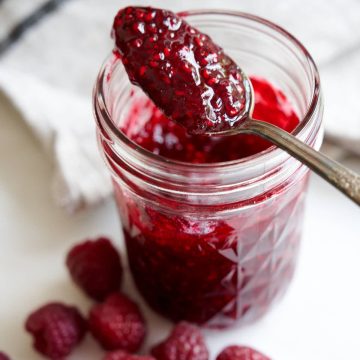 Ingredients
2 1/2

lbs

raspberries

gently washed and drained

3 3/4

cups

sugar

2

Tbsp

lemon juice

1

vanilla bean

(optional)
Instructions
Add the raspberries, sugar, and lemon juice to a jam pan or any wide non-reactive pot. Slit the vanilla bean (if using) lengthwise and scrape the seeds from it with a small knife and add to the jam pan. Stir carefully with a wooden spoon, cover with a towel, and let macerate for 2 hours at room temperature.

Bring the mixture to a boil over medium-high to high heat, depending on how hot your burner gets, stirring frequently, and cook for about 20-25 minutes, until a drop of the jam on a cold plate forms a thick mound and runs off slowly.

Ladle the jam into four sterilized half-pint mason jars, add lids and rings, tighten finger-tight, and process them in a boiling-water bath for 10 minutes.

Let the jars cool overnight or up to 24 hours, remove the rings, and check the seal on each jar. Store in a cool, dry, and dark place for up to a year for optimum freshness. The jam will begin to lose its taste quality after a year slowly but will be safe to consume well after that. Store open jars in a refrigerator for up to 3 weeks.

Alternatively, ladle the jam into clean half-pint jars, cover them with tight lids, chill at room temperature, and refrigerate for up to 3 weeks.
Nutrition
Calories:
218
kcal
|
Carbohydrates:
55
g
|
Protein:
1
g
|
Fat:
1
g
|
Saturated Fat:
0.01
g
|
Polyunsaturated Fat:
0.3
g
|
Monounsaturated Fat:
0.05
g
|
Sodium:
1
mg
|
Potassium:
110
mg
|
Fiber:
5
g
|
Sugar:
50
g
|
Vitamin A:
24
IU
|
Vitamin C:
19
mg
|
Calcium:
18
mg
|
Iron:
1
mg