Speck is a skin-on, deboned, and butterflied ham, that is cured, cold-smoked, dried and matured in a humidity and temperature-controlled environment. There are other types of speck, semi-cold-smoked and hot-smoked, but the most common type is the cold-smoked, dry-cured one which this article is about.

When I first tasted speck I immediately got hooked. It resembles prosciutto, only it is more aromatic, flavored by spices and smoke.
Speck is one of the easier salumi to make at home. It requires less skill to make than, say, prosciutto or culatello, but it's every bit as good, or better if you ask me. I've never made prosciutto or speck before and feel very excited about the opportunity to finally make this type of salumi a home. Prosciutto is a bit intimidating and requires a lot of space for a long time. Speck is not nearly as demanding, or intimidating. And you can always trim it to the size that suits your needs and use trimmings to make sausage.
Making speck
Preparing the meat
The most difficult part of making speck is correctly deboning, butterflying and trimming a pork leg. I started off with a whole leg of a Berkshire and Gloucestershire Old Spot mix pig that I purchased from Murray's Farm. The video below shows how to do it correctly. I watched it a dozen times and was able to debone and butterfly the ham almost like in the video.
The only thing that I did differently was to trim my ham a bit more as I don't have a lot of free space in my curing chamber at the moment. Still, I ended up with a nice 9-pound piece.
Seasonings
The most common spices and seasonings used to make traditional speck are bay leaf, juniper berries, black pepper, nutmeg and rosemary. I've also seen some producers use garlic powder, which I like, so I included it as well. Some recipes include cloves, so feel free to add them if desired. When it comes to using seasonings in making salumi, less is more. You will need to use a precision scale to weigh out the spices in grams, like this Precision Pocket Weight Scale.
Curing
After trimming, I rubbed the boneless ham with salt and spices, placed it in a large Ziploc bag, expelled as much air as I could, sealed the bag and placed the meat in a fridge.  The meat spent 21 days curing in the fridge. The smell of the seasonings is incredibly good. It's intense but not overwhelming.
Drying
After curing, I brushed off some excess seasonings and larger pieces of spices like cracked juniper berries and pieces of bay leaves and hung the ham in a drying chamber running at 68F and 75% humidity. The aromas of the spices blended and mellowed out. I find the smell irresistible; it's hard not to want to cut a piece of the meat and eat it straight away.
Smoking
Two days into drying, I began taking the meat out and cold-smoking it for 4 hours per day. The temperature in my smokehouse never exceeded 68F.

Traditional cold-smoking of speck requires four hours of smoking a day for up to 20 days using juniper, beechwood and ash. In between smoking, speck is caressed by the fresh mountain air. At home, wherever it is, you may have to use whatever you have on hand. Right now I only have access to oak, hickory and cherrywood so I chose to use oak and cherry for smoking. And since fresh mountain air doesn't blow here, I am going to assume that Toronto air is fresh enough.
Maturing
After drying and smoking, speck spends 6 - 12 and even up to 24 months maturing in stone cellars of Trentino-Alto Adige in Northern Italy, or in my case, in my meat curing chamber which is just as good, I am sure;)
Notes on smoking speck
The success of smoking depends on the quality of the wood, quantity of smoke and smoke color and thickness. Avoid dark, thick smoke, Try to get thin blue smoke going.
Smoke temperature - do not let the temperature exceed 68F (20C) as the meat will develop 'crust'. Too low temperatures prevent efficient smoke absorption.
Smoke relative humidity - for cold smoking the humidity must be around 70-75% to avoid absorption of humidity by the food.
Weight loss progress
The speck that I liked the most was imported from Italy and had a very firm texture. I estimate that it had lost at least 45% of its green weight. It was outstanding and, sliced very thinly, was a delight to eat. The texture reminded me of that of my dry-cured sujuk. which I dry to 55% weight loss. I am not quite sure where the final weight loss will end up after 6 or more months of maturing but my target is 45%+.
| | | | |
| --- | --- | --- | --- |
| | Weight | Loss, g | Loss, % |
| Start | 4,106 | | |
| End of drying (15 days) | 3,622 | 484 | 11.8 % |
| 3 Weeks | 3,530 | 600 | 14.5 % |
| 1 Month | 3,387 | 719 | 17.5 % |
| 2 Months | 3,130 | 976 | 23.8 % |
| 3 Months | 2,974 | 1,132 | 27.6 % |
| 5 Months | 2,901 | 1,205 | 29.3% |
| 6 Months | 2,814 | 1,292 | 31.5% |
Tasting notes
At about 6 months of maturing time, the speck felt quite firm, though it had only lost about 32% of its green weight. This was quite far from my original estimation of a 45% target weight loss but I guess I forgot to account for the fat content in the ham. Fat typically loses very little weight compared to meat. No surprise, speck typically has about a 30%-35% weight loss by the time it is fully matured.
A touch of smoke, a hint of spiciness, just enough quite a bit of herb aromatics, and a whole lot of rich porky flavor. Aromatics are strong, mostly because of juniper. I liked them a lot at first but later I realized that I'd like to tone them down. Next time I make this recipe I will cut juniper by 4 and bay leaf and nutmeg by half.
Interestingly, I noticed a pleasantly tangy taste. Perfect saltiness, I wouldn't make even a slight change here. Incredibly tasty and a joy to eat. Sliced very thinly, it practically melts in your mouth.

The fat, notably, is very tasty. While some of my family members aren't usually fond of fat, they all loved the fat in the speck. Perhaps it's the longer maturation time that made the fat more mellow, much more flavorful and more tender. I served it with homemade sourdough bread and slices of black beauty tomatoes from my garden drizzled with olive oil and a touch of freshly ground black pepper. Oh my! Delightful!

This is has got to be one of the tastiest salumi I've ever tried, either homemade or store-bought. I love Parma prosciutto, there is nothing like it, but this speck surely beats it in the flavor department. Proscuitto is a little more tender while this dry-cured speck has a slightly tougher texture. This is because it's cured with one side fully unprotected. This doesn't make it any less delicious though. But this means that you will have to slice it very thinly for best enjoyment.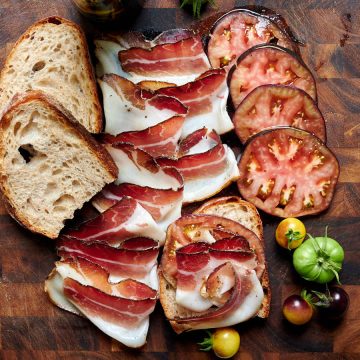 Homemade Dry-Cured Speck
How to make smoked, dry-cured speck at home.
Print
Pin
Rate
Ingredients
1000

g

pork leg

ham

29.5

g

kosher salt

2.95%

2.5

g

Cure #2

0.25%

0.5

g

bay leaf ground;

0.05%

0.5

g

juniper berries

0.05%; cracked

2

g

black pepper

0.2%; cracked

2

g

garlic powder

0.2%

0.5

g

nutmeg

0.05%; ground

2

g

rosemary

0.2%; ground
Instructions
Debone and trim the ham into a uniform shape as shown in the instruction video.

Weigh the meat in grams. Divide by 1000, then multiply each ingredient by that number. For example, if your ham weighs 2650 g, you need to multiply the ingredients specified above by 2.65.

Mix all the salt and the seasonings together, and rub on the meat. Place the ham and all the extra salt and seasonings in a vacuum-sealable bag and seal. You can also use a Ziploc bag.

Place the bag in the fridge for 21 days. Flip the bag every day or so. Massage the meat 3 times over the first 7 days.

After 21 days have passed, remove the meat from the bag and blot with paper towels.

Dry in the curing chamber for 15 days at 68F (20C) and 75% RH.

Cold-smoke for 4 hours a day for 15 days. If you can afford to smoke for just a few days, do that. The smoking temperature must not exceed 68F (20C).

Mature in the curing chamber at 50F - 59F (10C - 15C) and 60% - 90% for 6-12 months.

When the meat is ready, remove the skin, slice as thinly as possible and enjoy.
Notes
Initially, I liked the strong aromatics in this recipe but later came to the conclusion that I'd like to tone them down and have the porky flavor dominate. I adjusted the recipe to cut juniper 4 times and bay leaf and nutmeg by half. I think juniper is what adds the strongest aromatics and it can be quite overpowering if you add a bit too much of it.
Nutrition
Calories:
155
kcal
|
Carbohydrates:
1
g
|
Protein:
20
g
|
Fat:
7
g
|
Saturated Fat:
3
g
|
Cholesterol:
68
mg
|
Sodium:
2145
mg
|
Potassium:
347
mg
|
Fiber:
1
g
|
Sugar:
1
g
|
Vitamin A:
10
IU
|
Vitamin C:
1
mg
|
Calcium:
19
mg
|
Iron:
1
mg