Until now, my experience with making Salame Toscano (Tuscan Salami) has been limited to Michael Ruhlman's recipe which I did many years ago. It was a fast fermenting, tangy salami that included dry milk powder. It tasted good but wasn't something I was eager to repeat.  A few years later, I got a chance to taste PDO (Protected Designation of Origin) Salame Toscano which left a lasting impression. I can best describe it as a delightful medley of flavors in the mouth. You can only get this kind of taste and soft texture by using excellent pork, skilful use of seasonings and proper aging. So, here goes my attempt to replicate this fantastic salami at home.

I am using Salame Toscano PDO description as a guide for my recipe. Unlike PDO descriptions for some other salami that provide a lot of details, this one is quite skimpy so I had to fill in a few blanks.
According to the official description, it is made of lean parts of the pig (ham, shoulder, neck) that are finely chopped/ground and combined with the fat obtained from the dorsal region and cut into cubes. The meat is mixed with seasonings (salt, peppercorns, red wine, garlic and sugar) and is stuffed into pork or beef casings.
The salami that I tried seemed to have a small portion of the fat ground while the rest was cubed. I am going to do take the same approach here. To season it, I am going to use salt, pepper, red wine, garlic and dextrose, as recommended. Note that I am not adding fennel which I know many Tuscan salami recipes do. It's not a required herb in the PDO description, I didn't taste it in the salami that I am trying to replicate, and I want the flavor of fennel to stay unique to Finocchiona salami, another favorite Tuscan salami of mine.
Salame Toscano matures from 20 days to 12 months depending on the size of the salami. After the fourth month, the larger sausages are treated externally with fat which allows for a longer seasoning, which results in a richer flavor. The formation of mild mold on the outside is an indication of authenticity.
Making Salame Toscano
To make this salami, I am using Berkshire / Gloucestershire Old Spot pork that I purchased from Murray's Farm. The meat comes from a mature pig and has a dark red color; it should make great salami. The best artisan salami in Italy is made from mature pigs weighing at least 350 lbs (160kg). Their meat contains less water and is therefore much more suitable for charcuterie.
Seasonings
The amount of salt to use in salami has always been a challenge for me. Sure, I can follow Marianki's 'safe' recommendation of at least 3% for traditionally cured sausages, but that's just too much salt. I like my sausage way less salty. I use only 1.3% for fresh sausage. Looking at the PDO description of Salame Piacente, their guideline is between 1.5% and 3.5%. Given that my pork comes directly from a small farm, I feel more comfortable using less salt, about 2.1% to be specific. If I were to use commodity pork from a grocery store, I wouldn't go lower than 2.8%.
The rest of the seasonings are a small amount of a combination of whole and ground black peppercorns, and a little bit of red wine infused with garlic.
The idea of garlic-infused wine as opposed to using garlic itself came from the making of Bergamo salami. Upon research, many Italian salami makers use this technique and add no actual garlic in salami. Some artisan salami makers even use the 'garlic hands' technique as they call it. What they do is rub hands with a crushed garlic clove then mix the meat. This way salami acquires just a hint of garlic aroma without becoming 'garlicy', like my Fuet did.
Some Tuscan manufactures add herbs to bring more aromatic flavors but I chose to keep this salami traditionally simple as I am using good quality meat and want the pork flavor to dominate and be just slightly enhanced by garlic, wine and pepper aromas. Good meat, salt, pepper and a dash of good Tuscan wine followed by long and slow aging in a cool humid environment is all that's necessary to make fantastic Salame Toscano.
Griding the meat and stuffing
The grind in Salame Toscano is fine, I went with 3/16" (4.5mm) grinder plate for both the lean meat and the small portion of the back fat. The rest of the fat I cut into small cubes.
After mixing, the meat was stuffed into beef bungs and tied into 10" - 12" links.
Drying
In the past, I would ferment salami at 68F-70F for three days to get the pH below 5.3, and cure at the standard 55F and 75% RH until 35% weight loss. This is a good approach, so use it if you are more comfortable with it and have had good results with it.

Lately, I've been using a slightly different approach designed to optimize drying during the first week. This may seem counterintuitive but it makes sense if you think about it. Salami loses a lot of water during the first week so why not create an environment that makes the process optimal? Not only does this create another hurdle against harmful bacteria development, but it also reduces the risk of case hardening based on my experience.
For thicker salami (75mm – 110mm), I use the following schedule:
| | | | |
| --- | --- | --- | --- |
| Stage | Duration | Temp | RH |
| Dripping | 14 hours | 77F (25C) | < 99 % |
| Drying | 17 hours | 73F (23C) | 75-85 % |
| Drying | 24 hours | 71F (22C) | 68-78 % |
| Drying | 24 hours | 68F (20C) | 65-75 % |
| Drying | 24 hours | 64F (18C) | 68-78 % |
| Drying | 24 hours | 61F (16C) | 72-82 % |
| Drying | 24 hours | 59F (15C) | 76-86 % |
Maturing
After drying, the salami went into the meat curing chamber where it will slowly mature at 55F – 57F (13C – 14C) and 80% – 84% for 3+ months. Note the higher humidity level here.

Starting and finishing pH
The starting pH was at 5.79, which dropped to about 5.10 by the end of the 7th day.
I expect the pH to continue dropping a little lower over the following 3 days, level off and gradually come back up a little.
Salami weight loss progress
Below is the weight loss progress of my 90mm and 110mm salami using the new drying technique.
| | | | |
| --- | --- | --- | --- |
| #1 (90mm) | Weight, g | Loss, g | Loss, % |
| Start | 1,929 | | |
| 3 days | 1,756 | 173 | 8.9 % |
| 5 days | 1,667 | 262 | 13.5 % |
| 7 days (end of drying) | 1,619 | 310 | 16 % |
| 12 days | 1,520 | 409 | 21.2 % |
| 23 days | 1,374 | 595 | 28.7 % |
| 1 Month | 1,321 | 608 | 31.5 % |
| 1.5 months | 1,226 | 708 | 36.7 % |
| | | | |
| --- | --- | --- | --- |
| #2 (110mm) | Weight, g | Loss, g | Loss, % |
| Start | 1,920 | | |
| 3 days | 1,758 | 162 | 8.4 % |
| 5 days | 1,683 | 237 | 12.3 % |
| 7 days (end of drying) | 1,637 | 283 | 14.7 % |
| 12 days | 1,548 | 372 | 19.4 % |
| 23 days | 1,409 | 511 | 26.6 % |
| 1 Month | 1,367 | 553 | 28.8 % |
| 2 Months | 1,204 | 716 | 37.3 % |
Tasting notes
The thinner Tuscan salami lost almost 37% of the green weight after 6 weeks and I decided to cut into it. It's a little sooner than I had anticipated but it felt firm enough. Interestingly, both this one and the thicker Tuscan salami felt quite a bit firmer than the other salami that I made at the same time: Bergamo, Calabrese, or Finocchiona. This must be related to the coarsely chopped fat which allows water to more freely escape the meat. The way this salami has been drying is noticeably different from the other salami.
Quicker water loss is not necessarily a good thing. It's harder to manage. The outer parts tend to firm out quicker and the center stays softer. This requires a more involved humidity level management to control the 'diffusion and evaporation rate' equilibrium.  So, in the future, I will be drying and maturing this type of salami separately to ensure that I can tailor the drying and maturing conditions specific to this type of grind.
The salami has a rich taste with light peppery notes. There is an intense and wonderful aroma of aged pork not overpowered by spices. There is barely a hint of garlic. The mouthfeel is rich and creamy, with a mild tang. I like the aftertaste - pleasant, lingering, with a slight tang and a barely detectable pepper bite. This is the kind of salami you want to savor, like good wine.
The coarsely chopped fat in this salami appears visually overwhelming but as soon as you put a slice in your mouth you don't feel like there is too much of it. Instead, it provides the desired creaminess and richness. I like how the fat tastes in this salami, it's very mild. It's pure white. It's soft but has texture and no greasiness. If you look at my Spanish Fuet that I made recently using commodity pork, you will immediately notice the difference.
My wife doesn't like chunky fat pieces in her salami so she didn't want to try it on its own, but with a slice of bread, she said it was excellent.
The salt level is perfect - I used 2.1% salt as I had mentioned above. It could've been even a little higher with no problem. The pH bounced back to 5.41 which I found to be quite pleasant.

Overall, I am very happy with the results. It's not easy to say exactly how this salami compares to the PDO Salame Toscano that I wanted to replicate without a side-by-side comparison, but I'd say it's pretty close. I am also quite happy with the new drying and maturing process. It's not easy to cure thick salami at home but the new process definitely made it easier for me.
Was there a notable difference in taste and in flavor between heritage pork and commodity pork salami? Yes. There is a noticeable difference. Don't get me wrong, salami made with regular pork is very good. It tastes better than most charcuterie from the supermarket. That said, salami made with heritage pork is something else. It's smoother, creamier and nicely porky. It doesn't need a lot of species to have a rich, intense flavor. The color is also richer and darker.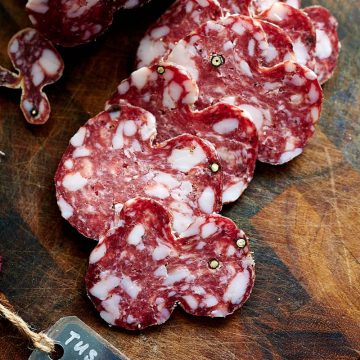 Ingredients
750

g

lean pork any or a combination of ham

shoulder, neck (coppa), or loin

250

g

back fat

belly or back fat

25.5

g

sea salt

2.5

g

Cure #2

2.25

g

dextrose

0.12

g

T-SPX culture

60

ml

distilled water

20

ml

red wine

good Tuscan red wine

1/4

clove

garlic

crushed, for infusing wine only, removed after infusion

3

g

black pepper

whole

3

g

black pepper

coarsley ground
Instructions
Crush the garlic and place it in a small cup. Add the wine and let it infuse for about 30-60 minutes. Strain the wine before mixing it with the meat.

Rehydrate the starter culture in 60 ml distilled water. (see notes)

Weigh the lean meat and the back fat in grams. Calculate the rest of the ingredients, except the distilled water which will remain the same (see notes), weigh them out and set aside.

In a small bowl, combine the salt, Cure #2 and dextrose.

Cut the lean meat and about a 1/4 of the back fat into 1-inch pieces. Cut the rest of the back fat into small cubes, keeping separately. Sprinkle about 80% percent to the salt mixture over lean meat with large back fat pieces, and 20% over the finely chopped fat and mix each well.

Freeze the meat and the fat for 20 minutes.

Grind the lean pork and the larger fat pieces through a 3/16″ (4.5mm) grinder plate.

Combine the ground pork with seasonings, dextrose, and starter culture. Mix well, until sticky, then mix in the groud and the cubed back fat. It helps to use a stand mixer with a paddle attachment for this.

Stuff into 70-110 mm natural casings (beef bungs) and tie into 10"-12" links.

Using a sterilized needle or sausage pricker, prick holes across the entire salami.

Weigh the salami, write down its weight on a tag and attach the tag to the salami.

If desired, inoculate with mold.

Use the leftover meat from the stuffer/stuffing tube to make a small sample for measuring the initial pH and the pH at later stages. Make sure to record the readings.

Dry at 59F - 77F (15C - 25C) and 65% - 86% RH for a period of 7 days as per the drying protocol above. Measure the pH, it should be below 5.3 at this point.

Mature in the curing chamber at 55F - 57F (13C - 14C) and 80% - 84% for about 3 months.
Alternative curing method
Ferment salami at 68F-70F for three days to get the pH below 5.3.

Cure at the standard 55F-57F and 75% RH until 35% weight loss is obtained.
Notes
When scaling the recipe up, increase the starter culture accordingly but keep the amount of the water at 60 ml. Double water if you go over 3 kg of meat.
Nutrition
Calories:
289
kcal
|
Carbohydrates:
1
g
|
Protein:
17
g
|
Fat:
24
g
|
Saturated Fat:
9
g
|
Cholesterol:
63
mg
|
Sodium:
1128
mg
|
Potassium:
323
mg
|
Fiber:
1
g
|
Sugar:
1
g
|
Calcium:
6
mg
|
Iron:
1
mg