This smoked pork loin tastes more like deli meat rather than your typical BBQ smoked pork loin or smoked tenderloin.  It's pretty close to what we know as Canadian Bacon, though there are small differences, like the smoking temperature. Wet-cured for five days, then slow-smoked at a very low temperature and chilled, it has a very smooth texture and can be easily sliced very thinly. It's perfect for serving as an appetizer or for making sandwiches. You can also use it in place of ham in soups, or serve it fried with eggs as a healthier version of bacon. Or make beans with it.

You can make smoked pork loin several ways. In North America, pork loins are typically smoked at 225F and above. In Poland, meats, just like kielbasa, are smoked at the temperatures of 125F - 140F.

This is somewhere between what we know as hot smoking and cold smoking. It results in a less grainy, much smoother meat texture. The meat smoked at this temperature retains more liquid too.
The moistness of the meat is also the result of the 5-day wet-curing. It makes the meat hydrated and adds flavor inside out. Each bite is full of savory flavor with a touch of sweetness. The spices and aromatics in this recipe are subtle and only complement and enhance the smoky flavor.
After smoking, the meat is traditionally 'baked' in a smoker or a smokehouse at 167F - 185F, until its internal temperature reaches 154F. The baking stage may take up to 2.5 - 3 hours, depending on humidity, ambient temperature, airflow, and other factors.
A much simpler way to bring a piece of smoked to temperature is to poach it in water at 167F - 176F.

Poaching softens the crust formed during smoking, not to mention that it takes much less time than baking. Smoked pork loins can also be vacuum-sealed or placed in a plastic bag before poaching to preserve all the color and the smoky flavor. Unlike smoked sausage where there is not much difference between the two poaching methods, I do find that meat poached in bags better retains smokiness and color. The crust on the vacuum-sealed pork loins won't be as soft as on the ones poached directly in water, though.
If you poach the meat directly in water, add a few bay leaves, allspice and peppercorns to the poaching water. This will help with flavor dilution.
Unlike oven-cooked pork loin or BBQ smoked pork loin, this smoked pork loin is best consumed cold and thinly sliced. After poaching, let it could down then refrigerate overnight before slicing and enjoying.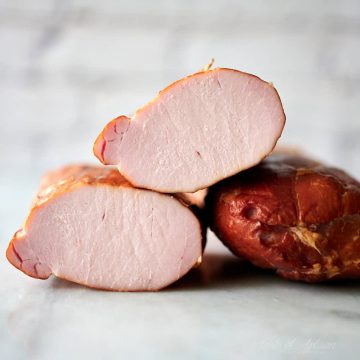 Ingredients
3000

g

pork loin

about 6 lbs, boneless
For the wet cure
80

g

kosher salt

about 1/4 cup + 1 tsp

10

g

Cure #1

2 level tsp

40

g

Sugar

about 3 Tbsp

3

cloves

garlic

sliced

10

berries

allspice

6

bay leaves

1000

g

water

about 4 1/4 cups
Instructions
Trim the pork loin of fat and silverskin. Cut in half. You will end up with two pieces each weighing about 3 lbs.

Prepare the wet curing mix by dissolving salt, sugar and Cure #1 in cold water using a whisk. Then add the sliced garlic allspice berries and bay leaves.

Place the loin pieces in two plastic bags and add half the wet pickle to each. Seal and refrigerate for 5 days, flipping daily.

Five days later, remove the meat from the pickle and rinse well under cold water. Optionally, put in nets or tie with twine. Place in a pan fitted with a rack and refrigerate for 6-8 hours or overnight. This will help dry the meat.

If desired, brush the meat with an egg yolk to get that golden brown color characteristic of Polish smoked meats.

Move the meat to the smokehouse, hang on S-hooks, and dry without smoke at about 115F (45C) for another 30-60 minutes.

When the surface is dry to touch, increase the temperature to 140F (60C) and smoke until the desired color is attained, about 2 hours.

When the smoking is just about done, fill a large pot with water, throw in 2 bay leaves, 5 crushed allspice berries and a dozen peppercorns, and heat it up to 176F. Transfer the smoked pork loin pieces to the pot, as is or packed in vacuum-sealed plastic bags, and poach, maintaining the water temperature between 167F and 176F, until the internal temperature of the meat reaches 154F, about 50-60 minutes. (See notes).

Remove the pork loins from the pot and shower with cold water then hang at room temperature to cool down.

Refrigerate overnight before slicing and enjoying. Store in a fridge, wrapped in butcher paper, for up to 1-2 weeks or freeze for up to 3 months. Serve sliced as thinly as you can.
Notes
The new USDA guidelines recommend cooking solid pork meat to 145F internal. Marianski in his Home Production of Quality Meats and Sausages book mentions that pork loins are smoked to 142F - 152F. While many traditional Polish recipes specify 154F - 158F as the target temperature for solid pork meat.
Nutrition
Calories:
173
kcal
|
Carbohydrates:
2
g
|
Protein:
28
g
|
Fat:
5
g
|
Saturated Fat:
2
g
|
Cholesterol:
79
mg
|
Sodium:
1517
mg
|
Potassium:
473
mg
|
Fiber:
1
g
|
Sugar:
2
g
|
Vitamin A:
2
IU
|
Vitamin C:
1
mg
|
Calcium:
12
mg
|
Iron:
1
mg