I must have baked this rye bread at least two dozen times over the past two months, and it never gets old. It's addictive. Give it a bit of a cool-down after baking, cut off a slice, smear some softened butter on top, and you are in heaven. It has a wonderful sweetness from the addition of honey and rye malt flour and a slight tang from the discard sourdough starter. Its crust's dark color is beautiful. The flavor is rich, and the texture is dense in a very nice, rustic way. It makes great sandwiches and fantastic croutons.

Rye bread making process
This dark rye bread recipe does not require any special steps, making a rye soaker or undergoing an extended (cold retarded) fermentation. The hydration sits at about 77%, depending on the hydration of your starter (mine is 83.3%). I've experimented with 72% to 80% hydration for this bread and landed at about 77%, which gives me the optimal crumb texture and ease of dough handling ratio. Remember, whole grains absorb more water, so they require higher hydration.
I prepare the dough and ferment it like my other bread, mixing it by hand, giving it three sets of stretch and folds, fermenting, shaping, proofing, and baking. I bake this bread in bread pans, which simplifies the process and gives me a very tasty crust. The bread is baked with steam for 20 minutes, then 25 minutes without steam.
The ingredients
This rye bread needs flour, water, yeast, and salt. I also add a bit of honey to the dough as I do in some of my bread recipes like French Baguettes.
This bread combines dark rye, rye malt, and King Arthur Special (bread) flour. I wanted to create bread similar to the Russian Borodinsky rye bread, but less sweet, perhaps slightly less dense, and much easier and quicker to make. It turned out quite promising on the first try, but it took a few iterations to improve it and iron out some quirks.
My experiments showed that the loaf made with light and even medium rye flour tasted closer to regular wheat bread. Dark rye flour is best for the best balance of flavor and texture. It gives the load better color and delivers a stronger rye flavor and denser texture.
I also add a cup of my sourdough starter to give this bread more flavor and a little tang. This amount of starter would normally be discarded during the daily feeding, so it feels great not to have it go to waste. This starter is usually at least 10 hours old and up to 20 hours old when I mix it in the dough.
Adding some flower honey to the dough is essential in my opinion. Rye and rye malt flours already add some sweetness, but I feel that a little bit of honey adds that bit of extra sweetness that this bread needs together with floral notes. You can omit the honey if you wish, but I strongly suggest trying this bread with it at least once.

A few words on rye malt flour
I do not make a soaker for this dark rye loaf to keep things simple. The rye malt flour here is only for more color, sweetness, and flavor.  I think it works well in this recipe, and I am very happy with the results. If you cannot source this flour, substitute it for dark rye flour.


The equipment
This loaf is one of the easiest to make as far as bread-baking equipment goes. All you need is two standard 9" by 5" bread pans and an oven. I like using non-stick steel bread pans as this bread tends to crisp up too much in aluminum pans. If all you have is aluminum pans, I'd recommend dropping the baking temperature by about 15-25 degrees.
You will also need another oven-safe pan, like another bread pan, to use as a steam pan.
 Mixing the dough and stretching and folding
The first step is to mix all ingredients in a bowl and let sit for about 30 minutes. The dough will be very sticky. Rye flour dough always is.

What helps a bit is to mix the dough with a large metal spoon until it becomes difficult to proceed, then switch to mixing by hand. There will be a lot less dough stuck to your hands.
Mixing is followed by three stretches and folds over a period of  1 1/2 hours, about every 30 minutes or so. In each stretch and fold iteration, pull one side of the dough and fold it onto itself. At the end of the last iteration, I pick up the dough ball and turn it upside down.

Fermentation
Cover the bowl with a piece of paper towel and plastic wrap to prevent the surface from drying out and the dough from sticking to the plastic. Let it ferment at room temperature until it doubles in size, about 4-6 hours. This step is very important. The dough must double in size. Do this in a warm room to get yeast activity going; this dough doesn't rise well when the ambient temperature is low. If the dough has trouble doubling in size, transfer it to a warm place, like an oven with the light on.


Shaping the loaves
Turn the dough onto a flat working surface. You may flour it lightly if you need to. I don't. Divide into two equal pieces.



Stretch into two rectangles and roll each rectangle as shown below. Start with the longer side, fold it inside toward the middle. Repeat with the other side. Turn the dough 90 degrees, then, starting from the top, roll the dough into a roll, creating tension, stretching the roll just enough to perfectly fit the bread pan, and sealing the seam with your thumb. Do it tightly enough but be careful not to degas the dough.

Proofing
Transfer the logs into buttered bread pans, placing them seam side down. Cover with paper towels, then pieces of plastic or damp kitchen towels. Proof at a warm temperature for about an hour or until the dough rises by about 40% - 50%. This is another very critical step. The dough must rise by at least 40% or so.


Preheating the oven and steaming
Sometime after starting the proofing, start preheating the oven to 475F, with a small bread pan with hot water and a rolled kitchen towel inside, on the lower rack or the bottom of your oven. The closer the pan is to the heating element, the better steam production will be. A water pan is typically needed for consistent steam release during baking to help the bread rise nicely in the oven (also referred to as oven spring) and prevent surface hardening.  The towel helps control steam release. This rye bread doesn't spring much in the oven, but it helps with surface hardening.
Loading loaves in the oven
Once the loaves are ready to bake, slide them onto the middle oven rack. Be careful with opening your preheated oven; it will be hot and steamy and may burn your face if you are too close when opening the door. Using a water spray bottle, spray some water on the sides of the oven to boost the steam.
Baking
Once your loaves are in the oven, reduce the temperature to 450F. Bake for about 20 minutes. Remove the water pan and bake another 25 minutes at 425F or until deep golden brown. As they say, everyone's oven bakes differently, so keep an eye on them the first time and adjust your timing if needed.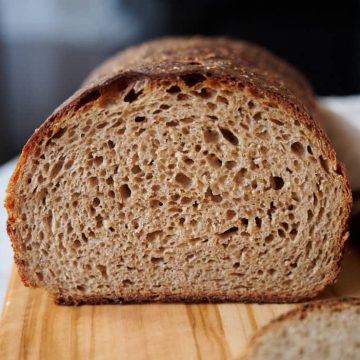 Ingredients
400

g

bread flour

King Arthur brand recommended

250

g

dark rye flour

150

g

rye malt flour

substitute for dark rye flour if not available

608

g

water at 85F/29C

200

g

sourdough starter

Sourdough discard (at 83% hydration). Adjust water content if your sourdough has a higher or lower hydration level.

18

g

kosher salt

21

g

honey

use a good quality flower honey

5

g

instant yeast

SAF Gold recommended
Instructions
Add water and sourdough discard to a large bowl and stir until the starter is dispersed.

Add the flour, then the yeast on one side, and salt on the other, ensuring the two don't touch each other. Mix with a large metal spoon until it becomes hard to mix, then finish mixing by hand, until a sticky homogeneous mass is formed. Cover the bowl with plastic wrap and let rest for 30 minutes.

Thirty minutes later, perform a set of stretches and folds, then another one after 20-30 minutes, and another one 20-30 minutes later. Let the dough continue fermentation for another 4-5 hours or until it doubles in size. Don't let it increase in size more than that.

Gently turn the dough over onto a work surface and cut it in half with a serrated knife. Shape each piece into a log about 9" long, then place the logs seam side down into liberally buttered 9" x 5" bread pans.

Cover each pan with a piece of paper towel (this will prevent sticking of the dough to the plastic wrap), then a plastic wrap. Let proof for about 1-2 hours or until the dough increased in size by about 40-50%.

Preheat the oven to 475F (245C). Fill another bread pan or similar with boiling water about halfway and carefully place it on the bottom of the preheated oven.

Carefully open the oven, there will be hot steam in it, and transfer bread pans into the oven and bake at 450F (235C) for 20 minutes. SEE NOTES.

After the 20 minutes, remove the water pan, decrease the temperature to 425F (220C) and bake for an additional 25 minutes.

Next, remove the bread pans from the oven and place them on top of the stove. Using oven mitts, carefully remove the bread from the bread pans and place it on a cooling rack.

Let the bread cool down before eating, about an hour to an hour and a half.

Once the bread has fully cooled down, after about 3 hours, wrap it in plastic and store it at room temperature. It will stay fresh for a few days. After that, dice it and make croutons, this bread makes the most flavorful and delicious croutons.
Notes
Everyone's oven bakes differently, sometimes very differently. Please, keep an eye on your bread the first time and adjust the temps as needed. The temps that I provided work flawlessly in my oven but may not work in yours, so keep that in mind.
At these temps, the bread comes out crusty and dark-colored.  If you like yours less crusty, drop the temps to 425F and 400F respectively. Enjoy!
Nutrition
Calories:
130
kcal
|
Carbohydrates:
27
g
|
Protein:
4
g
|
Fat:
1
g
|
Saturated Fat:
0.1
g
|
Polyunsaturated Fat:
0.3
g
|
Monounsaturated Fat:
0.1
g
|
Sodium:
292
mg
|
Potassium:
72
mg
|
Fiber:
2
g
|
Sugar:
1
g
|
Vitamin A:
2
IU
|
Vitamin C:
0.04
mg
|
Calcium:
8
mg
|
Iron:
1
mg