This smoked bacon has become a staple in my house and I rarely make it any other way. It's salted perfectly, has a distinct sweetness to it with maple syrup notes, is just a touch spicy, and is deliciously smoky. I think it's as good as smoked bacon can get. My family loves this maple-flavored smoked bacon. It's delicious and quite addictive.

Smoked bacon that you would normally buy at your local grocery store can't compare to homemade smoked bacon. The texture, the smokiness, and the flavor of the homemade bacon are unparalleled. The good thing is that it's fairly easy to make; once you try it, you will be making it over and over again.
About this smoked bacon recipe
Cured bacon can be cold or warm-smoked while remaining raw and requiring further cooking at a later stage or it can be smoked to full doneness, requiring no further cooking before consumption.
This recipe is for a ready-to-eat kind of smoked bacon, which will be warm-smoked but will also be fully cooked when you finish it.  You can use it in charcuterie boards just like you would pancetta or use it in other dishes. You can also cook it like you would raw bacon. The options are unlimited.
We like making simple sandwiches with it, among other ways to use it. Just put a couple of strips on a slice of (buttered) freshly baked bread, top with cucumber or green pepper slices and enjoy. It's an Eastern European thing.
My family members aren't normally thrilled about salami or cured meats with large chunks of fat, but they love this smoked bacon. Something about it makes you love it and want to eat more despite all the fat. But if you want to render fat from your bacon before eating it, that's totally fine too. I love the versatility of this bacon.

What pork cut do you need for this recipe?
You will need pork belly for this recipe. Preferably, a very meaty one. That way you can enjoy your smoked bacon as is, without having to render out a whole lot of fat. If you intend to cook the bacon in other dishes or fry it anyway, then don't worry about the meatiness too much.
I've discovered that a very good place to buy nice, meaty slabs of pork belly is my local Asian stores. They always seem to have really meaty pork belly for sale.
How to make ready-to-eat smoked bacon?
Curing
First, pork belly must be cured.  Curing, also known as salt curing, is rubbing pork belly with salt and keeping it refrigerated for at least a week. When bacon is smoked, usually for hours, under 200F, it must be cured with the addition of pink salt or Cure #1 to prevent botulism. Cure #1 also improves bacon's color and flavor. Cooked bacon cured with salt only will have a greyish color, while the cured with Cure #1 will have the reddish color that we are very familiar with.
Forming a pellicle
Once the bacon is cured, scrape off excess seasonings and pat it dry with paper towels.

Place the meat on a cooling rack fitted over a baking sheet and refrigerate overnight uncovered.

This will dry the surface and create a pellicle - a slightly sticky surface to which smoke will adhere very happily and penetrate the meat. This is a very important step when making smoked bacon. Smoking wet meat will make the smoke particle stay on the surface without penetrating the meat. The result will be poor smokiness of the meat and an unappealing/uneven color.
Smoking
Remove the meat from the fridge 1-2 hours before smoking to bring it to room temperature. When cold meat is placed in a warm smoker, it will sweat. This is not good for smoking. Cut the meat into smaller pieces if you want. Large slabs tend to stretch when you apply heat so I find it's better to cut them into smaller pieces.
Hang pork bellies in the smoker preheated to 135F - 14oF. Let them warm up more without applying smoke. Thirty minutes later, check the surface to make sure it's not wet. If it's dry, apply smoke for 2-4 hours, depending on how much color and smokiness you want.

The choice of wood is personal, just remember to avoid wimpy woods like apple or maple, they give practically no color or smokiness to the meat. Instead, try oak, hickory, alder, or cherry. All of these are good with their own flavor profiles. My favorite for smoking bacon is hickory.
Cooking
Now, if you never intend to consume your smoked bacon as is, you are done. Remove the bacon from the smoker, chill very quickly in an ice bath and refrigerate or freeze until ready to use. Remember, it will need to be fully cooked later before eating.
If you do want to eat it as is, you must cook it to 154F - 158F as you would smoked kielbasa. Sure, USDA advises us to cook whole pieces of pork belly to 145F for it to be safe to eat. However, smoked bacon tastes much better when cooked to at least 154F. Like chicken thighs/drumsticks, which taste much better cooked to 185F rather than 165F.
Since pork bellies have a lot of fat which begins to rapidly render when the temperature exceeds 145F - 150F, I find that finishing them off in the smoker by raising the heat is not the best solution. It takes hours to bring it to that temperature in a home smoker during which a lot of fat will melt.
Instead, I seal them in bags and poach them. Heat a large pot of water to 167F. Place pork bellies in the water for 30 minutes and they will have the perfect 154F - 158F internal temperature in 30 minutes. No guesswork, no hassle, and always excellent and consistent results.

Drying
After cooking, your smoked bacon is done and ready for consumption. Slice and eat it hot. It's delicious. Or chill it and refrigerate it if you want to eat it later. But there is one more thing you can do to make it better - dry it. Yes, drying it will improve the texture, the color, the intensity of the flavor, and the keeping qualities. Put this bacon next to pancetta and I will pick smoked bacon over pancetta every time.
Hang it in the curing chamber and dry for 5-7 days and up to two weeks (to taste) at 55F / 70% RH. You will be happy that you did.
If you don't have a curing chamber, hang it in a cool place that is around 40F - 55F, don't worry about the humidity. During colder weather I do it in my unheated garage - it works great.
If you don't have that either, do it in the fridge. Just place it on a cooling rack and keep it uncovered in the fridge for a week or two. Be warned though that everything in that fridge will become smoke-flavored. I did that once or twice and some family members weren't too pleased. Though, others appreciated things like smoked mozzarella and Greek yogurt that they'd never tried before.
Storing
Once the bacon is ready for storage, wrap it in unglazed butcher's paper and refrigerate for 2-3 weeks. For longer storage, vacuum seal and refrigerate. The bacon will stay fresh for 1-2 months easily. For even longer storage, vacuum seal and freeze.
Enjoy!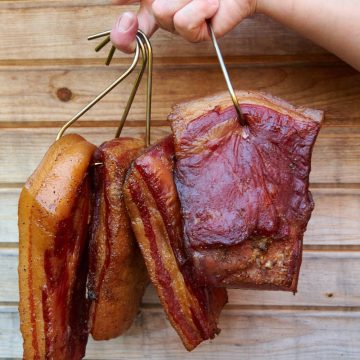 Smoked Bacon (Ready to Eat)
Fully cooked hickory-smoked bacon with maple flavor.
Print
Pin
Rate
Ingredients
1000

g

pork belly

skinless

22.5

g

kosher salt

2.5

g

Cure #1

10

g

black pepper

coarsely ground

50

g

maple syrup

0.5

g

cayenne pepper
Instructions
Weigh the pork belly in grams. Divide by 1000, then multiply each ingredient by that number. For example, if your belly weighs 2650 g, you need to multiply the ingredients specified above by 2.65.

Combine the salt, Cure #1, cayenne and black pepper in a small bowl.

Apply the dry cure mix evenly on all sides of the pork belly.

Place the pork into a Ziploc or vacuum-sealer bag and add maple syrup spreading it evenly over the meat. Refrigerate for 7 days flipping occasionally.

Remove from the bag, scrape off excess seasonings with the back of a knife, and pat dry with paper towels.

Place the meat on a cooling rack fitted over a baking sheet. Refrigerate uncovered overnight.

Remove the meat from the fridge and let warm up to room temperature over the course of 1-2 hours.

Meanwhile, preheat your smoker/smokehouse to 135F - 140F.

Hang pork bellies in the smoker and let them warm up for about 30 minutes without smoke.

After 30 minutes and once the meat's surface is dry, apply smoke. Smoke for 2-4 hours depending on how smoky you want your bacon and how much color you want on it.

Place the meat in a Ziploc or a vacuum sealer bag. Poach at 167F (75C) for 30 minutes or until the internal temperature reaches at least 154F (68C). Chill the bacon under a cold shower for a few minutes or in a cool room (50F - 55F / 10C-12C) for 10-12 hours.

Hang the bacon in a cool room or a curing chamber for 5-7 days (or longer, to taste) to dry at about 55F (12C) and 70% relative humidity. See notes.

Remove bacon from the curing chamber, wrap it into an unglazed butcher's paper and refrigerate or vacuum seal, and freeze for longer storage.
Notes
You may also dry the bacon in your fridge by placing it on a cooling rack fitted over a baking sheet and left uncovered. A week of drying in the fridge will be enough. Be warned though that the smoky flavor will spread to other items in the fridge.
Nutrition
Serving:
60
g
|
Calories:
334
kcal
|
Carbohydrates:
3
g
|
Protein:
6
g
|
Fat:
33
g
|
Saturated Fat:
12
g
|
Polyunsaturated Fat:
4
g
|
Monounsaturated Fat:
15
g
|
Cholesterol:
45
mg
|
Sodium:
626
mg
|
Potassium:
132
mg
|
Fiber:
0.2
g
|
Sugar:
2
g
|
Vitamin A:
23
IU
|
Vitamin C:
0.2
mg
|
Calcium:
10
mg
|
Iron:
0.4
mg