It wasn't until I started growing my own garlic that I acquainted myself with garlic scapes. Garlic scapes, also known as garlic tops or garlic flowers, are a gourmet delight. Their texture reminds me of asparagus while the flavor is reminiscent of garlic but not harsh or pungent.
One way to preserve that delicate garlicky flavor is to make garlic scape-infused oil.  You can use it as a dressing or as a base for vinaigrettes. It's also great for cooking when you want to add subtle garlic flavor, like when making an omelet.

When and where to get garlic scapes?
Garlic scapes are highly seasonal and local. They usually become available a few weeks before hardneck garlic ripens in your area. In North East where I live, it happens to be around the end of June to July. That's when you can find garlic scapes at local farmers' markets. Sometimes you can see them at an odd grocery store, but farmers' markets are your best bet at finding them.
If you have the ability to grow garlic yourself, you should absolutely do it. Garlic is quite undemanding and easy to grow, and you will have a supply of garlic scapes to satisfy your gourmet needs.

Preparing garlic scapes
When making infused oil, you need to make sure that the flavor can get out and infuse the oil. First, cut the scapes into pieces long enough to fit the bottle or a container you want to store them in. I like cutting the tips off as they are dry and add no flavor.

Next, cut the scapes in half lengthwise. This will allow for the oils and flavors to come out easily and infuse the oil. Do this right before putting the scapes in the oil to trap and preserve the volatile garlic scape aromatic oils.

Which oil to use?
Most of us would immediately think of olive oil. I know I would. It's healthy and perfect for dressings. However, there is a little problem with using it. Fresh garlic scapes, just as fresh garlic, should not be stored in an anaerobic environment like oil as there is a risk of botulism. We must refrigerate it.
The problem is that olive oil gets cloudy in the fridge and doesn't look very appetizing. We need a type of oil that has a lower freezing point and doesn't get cloudy in the fridge. These include sunflower, safflower, almond, soybean, corn, and canola oil.
My preferred oil for making infusions is canola oil as it's affordable and completely odorless. It makes it perfect for infusing.
How long to infuse?
If you use fresh garlic scapes you will notice that the oil will be full of flavor practically right away. As you store it, the oil will get infused with more flavor. So, use it any time you want to incorporate it into your cooking.
Storage
Always store your garlic scape-infused oil refrigerated. It will keep in the fridge fresh and flavorful for weeks, even months.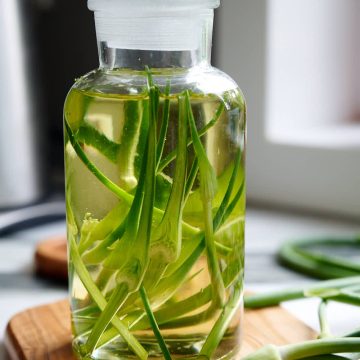 Ingredients
2

cups

canola oil

or other oil with low freezing point

6-8

garlic scapes
Instructions
Rinse garlic scapes, trim off the tips and cut to the size of the bottle in which they will be stored.

With a sharp knife, cut the garlic scapes in half lengthwise.

Place the scapes into the bottle. Pour in the oil almost to the top. Put the cap on and refrigerate.