When I saw a picture of the Italian Ossi Dei Morti cookies in Jim Lahey's The Sullivan Street Bakery Cookbook I got intrigued. When I read Jim saying that after he tried these cookies he became desperate to track down the recipe, I knew I had to try them. Once my daughter baked them and I tried them, I knew we would be making them over and over again.

The Ossi dei Morti are cookies that are made for November 2, the Day of the Dead. These cookies are made all over Italy, but with significant variations from region to region.
In Piedmont and Lombardy, they are hard cookies made with whole almonds and egg whites. In Emilia Romagna (especially in Parma), they use shortcrust pastry and are then glazed with sugar or chocolate. On the other hand in Veneto and Tuscany, these cookies are more elongated and use ground almonds. In Sicily, they are called 'crozzi' and made of just plain flour, water, sugar, cinnamon, and cloves.
In this recipe, they are small, crunchy, chewy-inside, macaroon-like cookies made with almond flour, egg whites, and sugar.

These are some of the tastiest cookies I've ever tried. Their taste reminds me of Amaretti cookies. Their texture is different though, it is delicate and crackly. They practically melt away in your mouth. They look pale and bony - hence the name - but these cookies are absolutely delightful. A perfect accompaniment to a cup of tea or coffee.
We've made these cookies with walnuts, pecans, cashews, and raisins instead of whole almonds and each variation was a hit. I love thesse cookies with walnuts. Maybe even more so than with almonds. You can't have enough of them. These cookies are a must-try!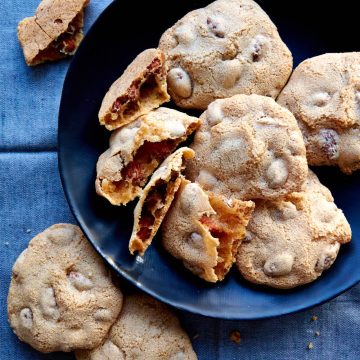 Ingredients
125

grams

whole raw almonds

or walnuts, pecans, cashews, raisins, or crazins

75

grams

unbleached all-purpose flour

plus flour for dusting

250

grams

sugar

5

grams

baking powder

1

pinch

fine sea salt

2

large egg whites
Instructions
Preheat oven to 350°F and lightly toast the almonds on a sheet pan for 8 to 10 minutes. Set aside and let cool completely.

Turn the oven down to 300°F and line two sheet pans with parchment paper.

Combine the flour, sugar, baking powder, and salt together in a medium bowl. Stir in the cooled almonds. Add the egg whites and stir until the dough comes together, about 1 minute. The dough will be quite soft.

Generously flour a piece of parchment to work on. Divide the dough in half and place one piece on the floured parchment. Dust the dough with flour and use floured hands to roll the dough into a rope about 1 inch thick and 10 inches long.

Slice through the rope at 1-inch intervals. You will need to keep patting the dough back into the 1-inch rope as you go. Place the cookies 3 inches apart on a parchment-lined pan.

Bake the cookies for 30 to 35 minutes or until they are just slightly browned on the top. Allow the cookies to cool completely on the pan and store in an airtight container for up to a month.
Nutrition
Calories:
100
kcal
|
Carbohydrates:
17
g
|
Protein:
2
g
|
Fat:
3
g
|
Saturated Fat:
0.2
g
|
Polyunsaturated Fat:
1
g
|
Monounsaturated Fat:
2
g
|
Trans Fat:
0.001
g
|
Sodium:
7
mg
|
Potassium:
80
mg
|
Fiber:
1
g
|
Sugar:
13
g
|
Vitamin A:
0.1
IU
|
Calcium:
29
mg
|
Iron:
0.4
mg