I am a huge fan of Andouille sausage and the dishes made with it. Following my success re-creating the famous Jacob's Andouille sausage, I set my heart on creating a really good chicken Andouille sausage. This time around, I wasn't looking to come up with a good clone, I wanted to come up with my very own chicken Andouille.
The reason for that was that I don't have a good reference for this sausage, and I also wanted to capture the elements that I really liked in my smoked chicken sausage. In a nutshell, this is a very successful cross between two of my favorite sausages - Andouille and smoked chicken sausage.

Grinding and stuffing the meat
I like chunky Andouille so this one has big chunks of chicken meat. I used a small 5-lb LEM sausage stuffer with a 3/4-inch stuffing tube and 1-inch chunks of meat, some even a bit larger, had no problem getting it through. I didn't even have to tenderize them.
The fattier pieces of meat, the fat, and the skins were all ground through a 3/16" (4.5mm) plate.
Curing the meat
Since I am using large chunks of meat in the sausage that will be smoked for hours over low heat, it's a good idea to cure the meat prior to smoking. Around 24 hours is enough. You can go as long as 48 hours. Curing also helps the sausage develop more flavor.
Smoking the sausage
Following Cajun traditions, I smoked over pecan wood for about 5 hours but also smoked over cherry wood for another 3 hours at around 135F. I think the combination of the two gives the sausage a very nice smoky aroma as well as a beautiful color.
Since this sausage will be used to make gumbo and jambalaya, it's best to make it as smoky as possible. As much as I like finishing smoked sausages in a pot of water to poach them, this method is not something I'd use for Andouille sausage.
I gradually increased the temperature in 10-degree increments all the way to about 205F for a brief period of time, until the sausage reached the target internal temperature of 160F. It took over an hour to get there. I continued adding cherry wood chunks to give the sausage even more smoke while I was finishing it. It turned out terrific with a wonderful strong smoky aroma.

Tasting notes
The sausage is very flavorful with a strong, pleasant smoky flavor. I like the combination of pecan and cherry. The color is very nice. Kind of a cross between mahogany, deep orange, and brown.

The combination of chunks and ground meat is very welcome. Some like the chunky parts and some like the ground meat parts so there's something for everyone in it. The sausage is mildly spicy, similar to my Andouille sausage. Though you can adjust the spiciness to your liking.

A hint of sweetness in this sausage is amazing. I add sugar to my smoked chicken sausage and love it. I got the idea from the kabanos sausage. The same is here. Without that sweetness, the sausage doesn't taste as good. I don't know if traditional Cajun chicken Andouille has any sugar or other sweeteners in it, but I am adding sugar to mine no matter what.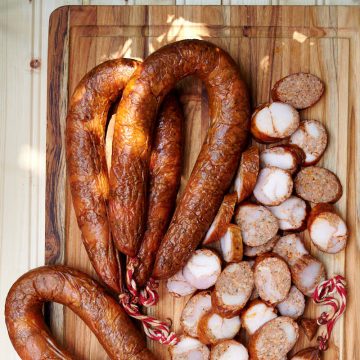 Chicken Andouille Sausage Recipe
Recipe for homemade chicken Andouille Sausage smoked over pecan and cherry wood.
Print
Pin
Rate
Ingredients
5

lbs

chicken meat with skins

Meat from whole chickens, deboned, with skins or boneless skin-on chicken thighs/legs. You can also incorporate some chicken breast meat.

1 2/3

Tbsp

kosher salt

30 g

1

tsp

Cure #1

level; 5 g

1

tsp

sugar

5 g

6

cloves

garlic

pressed

5

tsp

black pepper

10 g

4

tsp

cayenne pepper

8 g

2 1/2

Tbsp

sweet paprika

2 1/2

tsp

dried parsley

3/4

tsp

dried rosemary

3/4

tsp

dried sage
Instructions
Separate the lean meat from the fattier meat and skins.

Cut about 2/3 of the lean chicken meat into 1/2" - 1" pieces.

Grind the other 1/3 of the lean meat along with the fattier pieces, fat and skins through a 3/16″ (4.5 mm) plate.

In a large bowl, mix the meat with the rest of the ingredients.

Stuff into 38 - 40 mm beef or hog casings. Tie to make 16" - 18" rings.

Cure in the fridge for at least 24 hours and up to 48 hours.

Dry for 2-4 hours at room temperature then hold for 30-60 minutes in a pre-heated smoker at 130F without smoke.

Smoke over pecan wood at around 135F for about 5 hours, then over cherry wood at 135F for 2-3 hours.

Bake chicken Andouille in the smoker at 165F - 195F, increasing the temperature gradually until the internal temperature reaches 160F. This should take about 60-80 minutes.

Chill quickly by placing on a cold marble slab or a similar cold surface. Another option is to place the sausages in Ziploc bag(s) and immerse them in an ice bath for a few minutes. Keep the top of the bag(s) above the water and open to prevent condensation.

Refrigerate after cooling down. Keep wrapped in butcher's paper for best results.
Notes
You may also poach Andouille after smoking in water at 167F-170F until the internal temperature reaches 160F, about 60-80 minutes. Alternatively, you can steam or cook in the oven with convection to finish cooking. Another option is to refrigerate/freeze it as is and cook it as part of a dish, like gumbo.
Nutrition
Calories:
320
kcal
|
Carbohydrates:
2
g
|
Protein:
23
g
|
Fat:
24
g
|
Saturated Fat:
6
g
|
Polyunsaturated Fat:
5
g
|
Monounsaturated Fat:
10
g
|
Trans Fat:
1
g
|
Cholesterol:
139
mg
|
Sodium:
958
mg
|
Potassium:
339
mg
|
Fiber:
1
g
|
Sugar:
1
g
|
Vitamin A:
862
IU
|
Vitamin C:
1
mg
|
Calcium:
20
mg
|
Iron:
1
mg