Even though I have never been to Uzbekistan, I love Uzbek and other Central-Asian cuisines. There is nothing like Uzbek plov (pilaf), samsa, and other delicious dishes and goodies. Uzbek bread is what I am particularly fond of. Uzbeks eat it with just about everything. It's very versatile. Me, I've even made grilled cheese, sandwiches and burgers with it and loved the results. This bread is addictive!

There are many types of Uzbek bread, obi non is just one of them, though it's the most common bread there. Every region in Uzbekistan, if not every town, has its own style of obi non. Obi non can be super plain - made with just flour, water, yeast, and salt - or it can incorporate shortening, butter, lamb fat, meat, raisins, nuts, sesame seeds, and more.
Personally, I like a particular type of obi non - plain but slightly sweet, chewy, soft but with a crispy bottom that they get after baking inside clay ovens called tandyr (tandir). I had a crazy idea to build a tandyr in my backyard but after many experiments, I am happy with the results I get from my oven.

The trick is to use a thick baking stone and use convection. Convection is the key to getting a nice color and crust similar to that of tandyr. It's about the airflow. Without it, the color and the texture of the crust are quite different from tandyr obi non.
This Uzbek bread recipe
While this Uzbek bread recipe may be different from many recipes out there, to me it's as good as it gets. I am talking about the recipe itself and the baking method. Really, I think it rivals tandyr Uzbek bread. You have to try it and be the judge. Many of you may not have experienced Uzbek bread yet, it doesn't matter, you are in for a big surprise. I have no doubt that you will love this bread.

This particular obi non recipe comes from a very small bakery in Uzbekistan. The owners were kind enough to share it but the ingredients were given per 50 kg flour bags so I had to make adjustments. At the bakery, they portion the dough at 320 grams per one obi non. I adjusted this recipe such that you get four roughly 320-gram pieces of dough. The only change I made to the original recipe is to exclude condensed milk as I like my obi non less sweet. If you so desire, you can always add back 14 grams of condensed milk to the mix.
Obi non ingredients
The ingredients in this recipe are very basic and common: flour, salt, water, yeast, and some sugar and butter. I love a touch of sweetness in my bread, that's why I add a little bit of honey to my insanely popular French Baguette recipe. This bread also has that touch of sweetness. It's hard not to like it.
Uzbek bread stamp (chekich)
Traditionally, Uzbek bread is made by flattening the dough into a disk, then stamping the center and the outer part with various bread stamps called chekich. You can accomplish this by using a fork and a backside of a knife or many other kitchen utensils, just get creative. The idea is to give the bread decorative appeal. It may be more time-consuming and not as pretty in the end, but your Uzbek bread will taste amazing regardless.

Eventually, if you fall in love with this bread like I did, you can get yourself a set of authentic Uzbek bread stamps from Etsy. Gotta love Etsy for allowing us to support artisan masters across the world and enjoy their unique creations. My particular set can be purchased from Artsy Uzbek on Etsy. I am not affiliated with them but this is where I got my Uzbek bread-making set and I like its quality a lot.
Baking Uzbek bread
Baking Uzbek bread at home can be a big challenge if you are after that traditional taste and texture. Traditionally, obi non is baked in a hot clay oven called tandyr or tandir.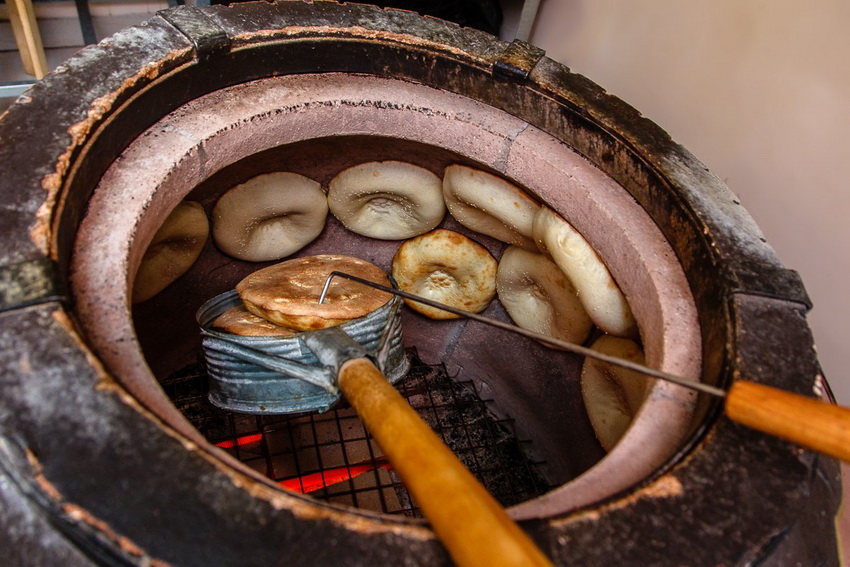 The airflow, the temperature, the thermal capacity of the clay walls all come to play to produce bread that is hard to replicate.
After trying obi non baked in a tandyr multiple times, I was all set on trying to replicate that taste at home. I have to say, I was able to come pretty close. Maybe even.... better? All you need is a thick baking stone and an oven with convection. I bake this bread in my gas oven and it comes out fantastic. I've never tried baking Uzbek bread in an electric oven but it should be very similar as long as you bake with the convection on.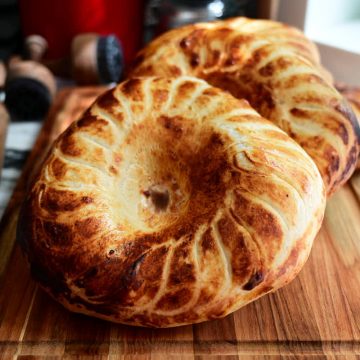 Ingredients
For the dough
800

g

all-purpose flour

432

g

water

room temp

3

g

instant yeast

10

g

white sugar

13

g

kosher salt

or sea salt

32

g

butter

melted
For the wash
3

Tbsp

dry milk

2

Tbsp

water

or as needed
Instructions
Add the flour and the rest of the dough ingredients to the bowl of a stand mixer. Mix on low speed for about 5 minutes. The dough should come together in a ball. The dough should be fairly stiff.

Shape the dough into a ball, place it into a large mixing bowl, cover with a damp towel or a piece of plastic and ferment at room temperature for 4-5 hours, or until it increases about 2.5-3 times in volume.

Divide the dough into 4 equal pieces, shape each piece into a ball, press down to flatten into round disks, cover and proof for 30-40 minutes.

After the proofing is done, stretch each disk more, to about 8 inches, making the centers thinner than the outer parts.

You can also make the center thinner using an Uzbek bread press.

You may use something similarly shaped, like the back of a glass, to flatten the centers.

Using a chekich, stamp the center of the disk to add a pattern.

You can use a fork to add the pattern if you don't have chekich. Prickling the center with a chekich or a fork will also prevent the center from puffing up during baking.

Using a larger bread stamp, stamp the outer parts of the dough disks. You can use the back of a knife to add a similar pattern. Gently lift each disk from both sides to make sure there is no sticking. It will make it much easier to load the disks into the oven. It's also best to use a wooden work surface to minimize sticking. If not, lightly dust the surface with flour.

Prepare the milk wash by whisking the powdered milk with water. Brush with the milk wash. Optionally, sprinkle with sesame seeds.

Grab a bunch of paper towels and fold as shown in the picture; this will be your 'loading pillow'. It's a crude version of what Uzbek bakers use to load bread in tandyrs, but it works great.

Gently put the pillow on top of each disk of the dough, pick one side of the disk and flip the dough onto the pillow as shown in the picture. The brushed part of the dough will be facing the pillow.

Then flip back onto the pre-heated baking stone.

Bake at 425F with convection for 10-12 minutes, or until the bread is golden brown, as shown in the picture. Enjoy hot from the oven or cooled down to room temperature. The bread will stay fresh for 2-3 days.