If you are tired of pork and beef sausages I welcome you to try this delicious homemade chicken sausage. The ingredients are very simple and easy to get. You will likely have most or even all of them at home.

This recipe started off with the already quite good Country Chicken Sausage recipe you can find in the good ol' Sausage And Jerky Handbook. Great book to own by the way. But I wasn't quite happy with that recipe. It lacked something I like so much in fresh sausage - a touch of sweetness and that pleasant tang. It was also too salty for my taste. Additionally, I wanted to modify the flavor profile a little as I am not necessarily a huge fan of cloves but I do like onion and garlic notes.
To make a long story short, after a few iterations this ended up being one of the best tasting fresh sausages I've ever had, chicken or otherwise. Sounds quite immodest, but I am very proud of this recipe. Every time I make this sausage I get requests for more.
If you've been reading my blog long enough, you've noticed that I like using Fermento to give my sausages a tangy taste. In this chicken sausage recipe, I decided to experiment a little and add powdered buttermilk instead. Both are very similar in the sense that they are both milk byproducts, the difference is that powdered buttermilk is less tangy. The good news is that powdered buttermilk is way easier to find - every grocery store sells it. That said, you have a choice of using Fermento or powdered buttermilk in this recipe, both will work great in this recipe.

I consider this recipe a healthier chicken sausage. It has a relatively low amount of sodium compared to many sausage recipes out there and it contains a modest amount of fat. Often times commercially made chicken sausage is loaded with fat, often pork fat. The advantage of homemade chicken sausage is that you can make it as healthy as you want. I even like incorporating white chicken meat to make the sausage even healthier.
The best meat for homemade chicken sausage
My favorite method to get chicken meat for this sausage is to butcher whole chickens, which are less expensive than chicken parts and often go on sale, and use all of the harvested meat and skin. Obviously, you can't get a lot of meat from the chicken wings so I save those for other recipes. I save all of the bones (with some meat left on them) to make various delicious soups.
The other option is to buy bone-in, skin-on chicken thighs and debone them. It will be more expensive to buy just chicken thighs but the ratio of meat and skin from chicken thighs is very good for this sausage. You can incorporate a chicken breast or two here, with skin, if desired.
Storing chicken sausage
This sausage will keep for 5 days in the refrigerator or frozen for up to 6 months or even longer if properly vacuum sealed.
Smoking chicken sausage at low temperatures
If you are going to smoke this sausage at below 200F, similar to my smoked chicken sausage, don't forget to incorporate Cure #1. For high-heat smoking, over 200F, use this recipe as is.
Equipment requirements and options
To make this sausage, you will need a meat grinder and a sausage stuffer. Most of us have meat grinders and those who make sausages have sausage stuffers. I've been using a LEM meat grinder for many years and love it. It's built like a tank. I also have a 5lb sausage stuffer and a 20lb motorized LEM sausage stuffer. I highly recommend them. A 5lb sausage stuffer is all most of us will ever need for home sausage making.

If you don't have a sausage stuffer you can still enjoy this chicken sausage. Just make patties and fry them in a 50/50 mix of cooking oil and butter over medium to medium-high heat. The fresh sausage mix will be quite soft and sticky so make sure to wet your hands before shaping the patties. You can also omit the chicken broth to make the mix less soft. This can also be accomplished by refrigerating the sausage mix for a few hours. During refrigeration, the meat mix will absorb the liquid and become stiffer and easier to shape.

Cooking homemade chicken sausage
As with any fresh sausage, it's best cooked quickly over high heat to ensure optimal browning and juiciness. I like this sausage grilled or broiled. If you own an Air Fryer, get them air-fried. Air-fried chicken sausage is fantastic with minimum mess and effort. Pan-fried, similar to my favorite pan-fried brats, is also a great cooking option for this sausage.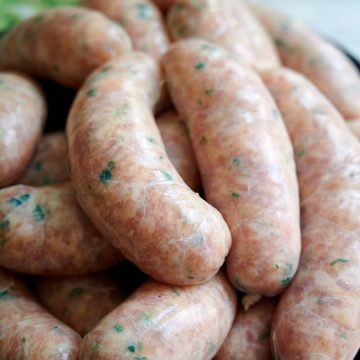 Homemade Chicken Sausage
Prep Time: 20 minutesCook Time: 1 hour 10 minutes Total Time: 1 hour 30 minutes Servings: 2 sausages Author: Victor
Print
Pin
Rate
Ingredients
5

lbs

chicken meat with skins

Meat from whole chickens, deboned, with skins or boneless skin-on chicken thighs/legs.

5

tsp

kosher salt

heaping

1

tsp

sugar

heaping

1/2

cup

powdered buttermilk

or fermento

1 1/2

tsp

black pepper

1

tsp

nutmeg

2

tsp

granulated onion

2

tsp

granulated garlic

1/4

cup

fresh finely chopped sage

or 1.5 Tbsp rubbed sage

1/4

cup

fresh finely chopped parsley

1/2

cup

fresh finely chopped or thinly sliced green onion

1/2

cup

chicken broth

cold

1

tsp

cayenne pepper

optional; add more to taste if desired
Sausage casings
10-12

feet

hog casings

28-32 mm; see notes
Instructions
Grind the chicken with the skins through a 1/4" (6 mm) plate.

In a large bowl, mix the ground chicken with the rest of the ingredients very well.

Stuff the sausage mix into hog casings. Do not stuff too tightly.

Twist the sausage into about 18 6-inch links.

Refrigerate for up to 5 days. Freeze for up to 6 months. After a few days in the fridge the (uncooked) sausage develops a slightly stronger, pleasant tangy taste.

Cook by pan-frying, air-frying, grilling, broiling or baking over medium heat until the internal temperature reaches 165F.
Notes
If you cannot use hog (pork) casings for any reason, beef casings of similar diameter are a good substitute. You can also use sheep casings - they are of a smaller diameter but will work fine too.
If you would prefer not to use natural casings,  collagen or fibrous casings may be a good substitute for you. These casings can be purchased from your local sausage supply store or online.
Alternatively, skip the casings altogether and cook this chicken sausage as patties.
Nutrition
Calories:
295
kcal
|
Carbohydrates:
3
g
|
Protein:
22
g
|
Fat:
21
g
|
Saturated Fat:
6
g
|
Polyunsaturated Fat:
4
g
|
Monounsaturated Fat:
9
g
|
Trans Fat:
0.1
g
|
Cholesterol:
126
mg
|
Sodium:
786
mg
|
Potassium:
337
mg
|
Fiber:
0.3
g
|
Sugar:
2
g
|
Vitamin A:
249
IU
|
Vitamin C:
2
mg
|
Calcium:
57
mg
|
Iron:
1
mg