Homemade potato sausage is one of the tastiest comfort foods in my book. Potato sausage is a European/Eastern European thing. My grandmother used to make a divine potato sausage; I could never have enough of it. This wasn't a regular thing, she'd only make it a couple of times a year which made the sausage that much more special. Unfortunately, I don't have my grandma's recipe but this one is very close and can easily have dozens of variations.

What is potato sausage made of?
Traditionally this sausage is made with potatoes, pork cracklings (shkvarki) or fried bacon bits, plenty of herbs, and seasonings. That's all there is to it. There many ways to make this sausage, some grind potatoes, some shred them. My variation is much simpler - I used diced potatoes. It works great and makes it a lot easier to make potato sausage.
Now, you can make this potato sausage even more interesting by adding chopped or ground meat. Beef (chuck), skinless chicken thighs, pork butt - all work great. I like adding fattier cuts as they add juiciness and flavor. But hey, if you want a healthier, leaner sausage, lean meat will work just fine.

Stuffing potato sausage
This is an old-school sausage, you can't stuff it using your modern sausage stuffer. If you do, and I've tried, the stuffing will release a ton of liquid under pressure. Not good! So you are better off stuffing it manually. Manual stuffing may seem like a daunting task but with a few basic tools, it's not that bad. I use the largest stuffing tube I have, a stainless steel funnel, and a LEM stuffing tube cleaning brush to push the stuffing through. This is a two-person job but it works well.

If you don't have those tools - no problem, use a spoon. Add a spoonful of the stuffing into the sausage casing and push in with your finger. That's how my grandma used to make it. It will take a bit longer, but it will still do the job.

How to cook potato sausage?
Cooking this potato sausage is a two-step process. This is great for several reasons.
One is that you don't need to worry when the sausage is cooked through. It doesn't matter what potatoes you use, how big the dices are, they all will cook through perfectly well. Adding raw meat to this sausage is also not a problem, it will cook through perfectly well. Finally, you can pre-cook this sausage, refrigerate and finish the second step of cooking whenever you are ready to serve, and it only takes minutes.
So, how do we do that? Simple. We first steam the sausage for an hour to perfectly cook all the way through. Then, we pan-sear it for a few minutes on each side to give it a beautiful color and extra flavor.
The second step is technically not required, you can just steam your potato sausage and eat it. This may be very beneficial to those who are looking for a healthier version of this potato sausage. But if you don't mind it, that second step will elevate the sausage to the next level. I highly recommend it.

This sausage is awesome cold too. After cooking, cool the sausage to room temperature, place it in a clean container and refrigerate. Over the next few days, just slice and eat cold. Or reheat, it's totally up to you.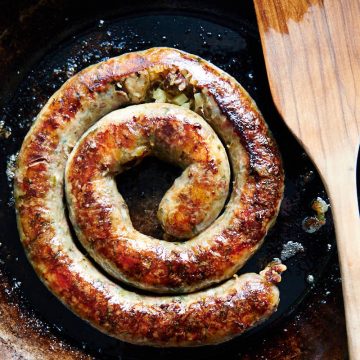 Potato Sausage
Eastern European potato sausage made with diced potatoes, bacon bits, fresh herbs and spices.
Print
Pin
Rate
Ingredients
2

lbs

potatoes

peeled and diced about 3/8"

1/2

lb

bacon

cooked and chopped or diced

1 1/2

tsp

kosher salt

or to taste

1

tsp

ground black pepper

1/2

tsp

nutmeg

2

medium onions

peeled and diced about 1/4"

3

cloves

garlic

peeled and pressed

1

cup

chopped fresh herbs

any one or a combination of parsley, dill, green onion or chives, basil, and cilantro.

1

lb

ground or diced meat

optional; add 1 tsp of kosher salt if adding the meat; you may use chuck, chicken thighs, pork butt, etc.
Instructions
Soak and rinse the hog casings.

Place the diced potatoes and the rest of the ingredients in a large bowl and mix well.

Stuff the potato mix into the hog casings, not too tightly, and tie them into two links of equal size. Prickle the top with a needle. Stuffing loosely and prickling will help prevent splitting during cooking.

Shape each link into a spiral.

Preheat the steamer. Steam both sausages if the size of the steamer allows, or one by one, for 60 minutes.

Remove the cooked sausages from the steamer and set them aside.

Preheat a skillet with a mix of 1 Tbsp butter and 1 Tbsp cooking oil. Sear the sausages over medium to medium-high heat until well-browned on each side, about a few minutes per side.

Enjoy hot from the pan, with your favorite side dish or a salad.
Notes
Any leftovers can be refrigerated and consumed cold the next day or re-heated.
When planning to consume cold, chill the cooked sausage to room temperature and immediately refrigerate in a clean container.
Nutrition
Calories:
222
kcal
|
Carbohydrates:
24
g
|
Protein:
6
g
|
Fat:
12
g
|
Saturated Fat:
4
g
|
Polyunsaturated Fat:
2
g
|
Monounsaturated Fat:
5
g
|
Trans Fat:
1
g
|
Cholesterol:
19
mg
|
Sodium:
636
mg
|
Potassium:
624
mg
|
Fiber:
3
g
|
Sugar:
2
g
|
Vitamin A:
647
IU
|
Vitamin C:
35
mg
|
Calcium:
35
mg
|
Iron:
2
mg