Smoked jalapeno poppers is one of the best party foods and are very easy to make. This recipe uses a secret ingredient that makes them better than ever before. Make sure you make enough.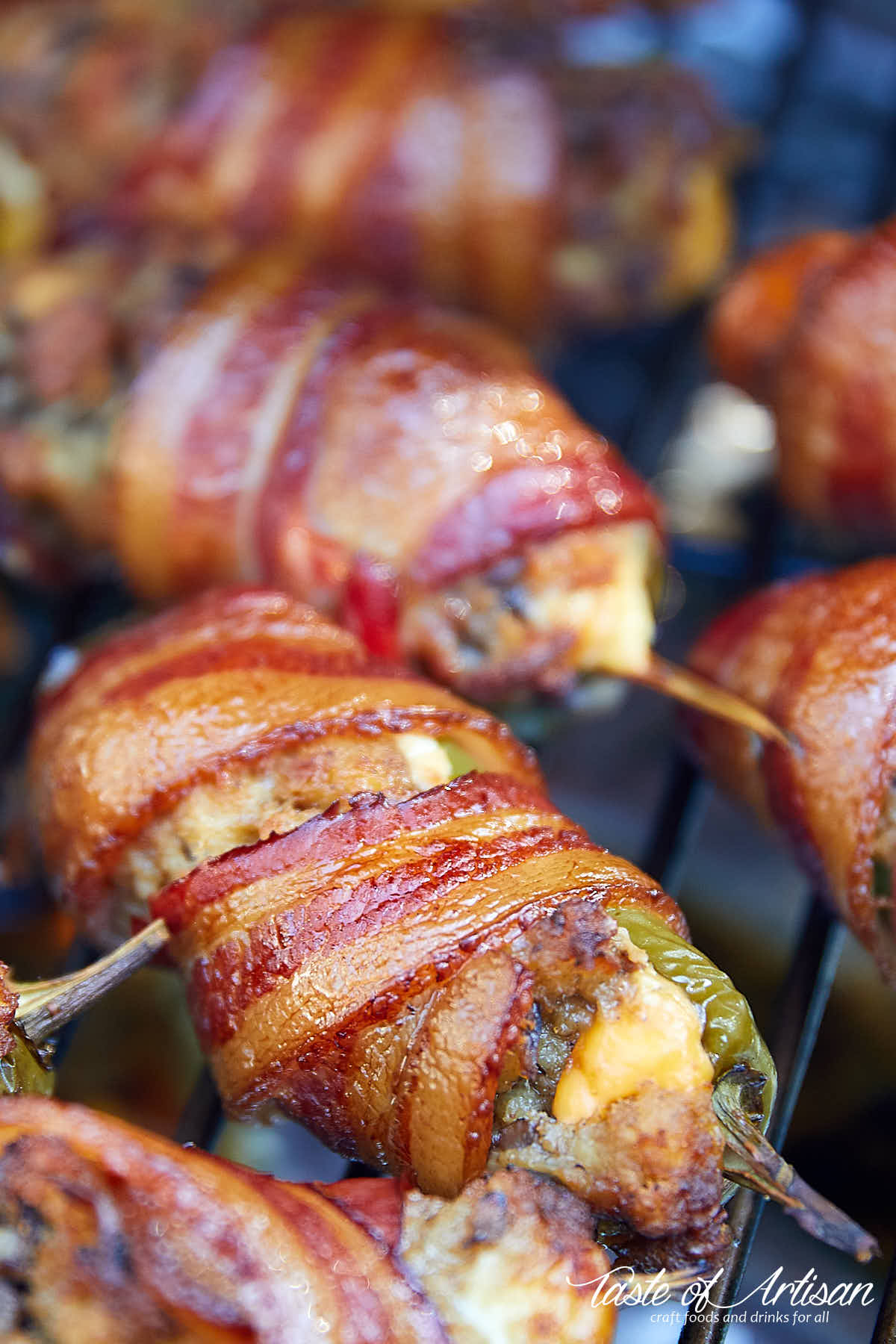 Smoked jalapeno poppers was one of the first foods that I made when I got a smoker. I was hooked forever. Seriously, once you try these little morsels you immediately fall in love with them.
I love them both hot right off the grill and cold from the fridge. Yes, they taste great cold too. That's a good reason for me to make more so that I have enough leftovers to enjoy the next day.
Smoked jalapeno poppers are undoubtedly the most flavorful. Grilled, air fried poppers, or oven baked jalapeno poppers are great but there is no substitute for the smoke flavor and the color smoke imparts on food. I find that cherry, hickory and pecan work best for smoking jalapeno poppers. All three have rich flavor and give the food a dark color. My favorite of the three is cherry wood with its sweet and fruity flavor.
A basic smoked jalapeno popper is typically stuffed with some cream cheese, cheddar cheese or a combination of the two. My secret ingredient that makes jalapeno poppers even better is turkey stuffing. Oh my goodness! The turkey stuffing makes a world of a difference. It adds more substance, more body, and more balance to the jalapeno popper. It also prevents the melted cheese from running off and soaks the juices in. These poppers are always such a success with family and friends that it's the only way I make smoke jalapeno poppers now.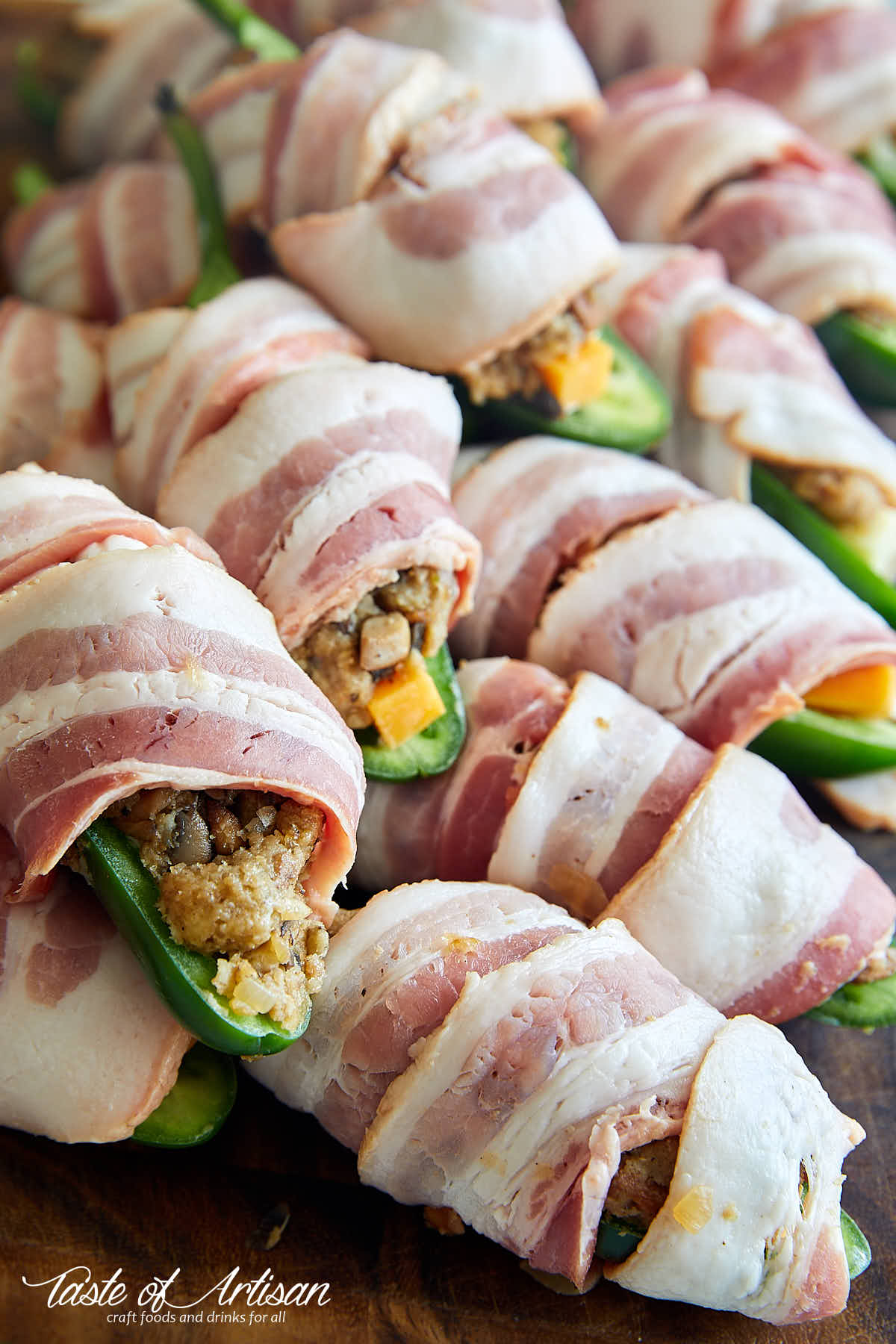 So, stuff your jalapeno peppers with cream cheese, cheddar and turkey stuffing, wrap in bacon, then smoke to perfection and enjoy.
Tips
If you want all of your jalapeno poppers to be mild, cut the peppers in half, remove seeds and membranes and soak in cold water for about 30 minutes to an hour.
Try cutting and seeding jalapenos under water in a large bowl. This will minimize the spicy fumes in the kitchen and prevent hot pepper juices from spattering around.
Wearing food preparation gloves really helps too. Actually, it's a must if you want to avoid your hands, and any other part of your body you touch, burning for hours afterwards. Speaking from my own sad experience.
If you are concerned about spiciness, after cooking jalapeno peppers will be less spicy, much less than one would think. The bigger ones will be a bit more spicy, the smaller ones will be fairly mild as they will cook through more.
You can use a full strip of bacon to wrap one jalapeno pepper, or cut in half. Both methods work well and  you can't really tell much of a difference. I often use half strips - the poppers come out less fatty and are more cost effective without sacrificing the taste.
For best results, use homemade bacon, it's much tastier, yet very easy to make.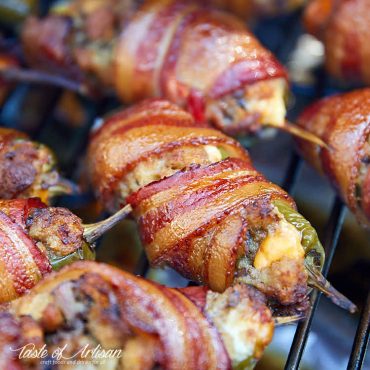 Ingredients
10

jalapeno peppers

large

8

Tbsp

cream cheese

20

slices

bacon

1/2

lb

cheddar cheese

cut in pepper long sticks

2

cups

turkey stuffing
Instructions
Cut jalapeno peppers in half, spooning out the white flesh and seeds. Do not remove stems. Soak in water for 30 minutes to 1 hour for a mildly hot taste.

Meanwhile prepare some turkey stuffing. Add some caramelized onions and mushrooms to it for more flavor. Mix all together.

Stuff jalapeno halves with a smidgen of cream cheese, about 1 tsp per one pepper half, followed by turkey stuffing and cheddar sticks. Wrap one bacon slice around each. You may want to secure the bacon with a tooth pick.

Place on a smoker preheated to 225F-250F and smoke for about 1.5 - 2 hours. Jalapeno poppers are done when they acquire rich maroon/brown/burgundy color (depends on the wood you are using for smoking).
Nutrition
Calories:
177
kcal
|
Carbohydrates:
3
g
|
Protein:
6
g
|
Fat:
15
g
|
Saturated Fat:
7
g
|
Cholesterol:
33
mg
|
Sodium:
283
mg
|
Potassium:
87
mg
|
Fiber:
1
g
|
Sugar:
1
g
|
Vitamin A:
305
IU
|
Vitamin C:
8.3
mg
|
Calcium:
93
mg
|
Iron:
0.3
mg