Brisket flat is the leaner portion from a whole brisket. It's a good piece of meat to smoke - it's less intimidating. Being evenly thick throughout, it's easier to smoke and get perfect results, even for a novice cook. There are a few things you need to pay attention to though to make your smoked brisket flat taste like a million bucks.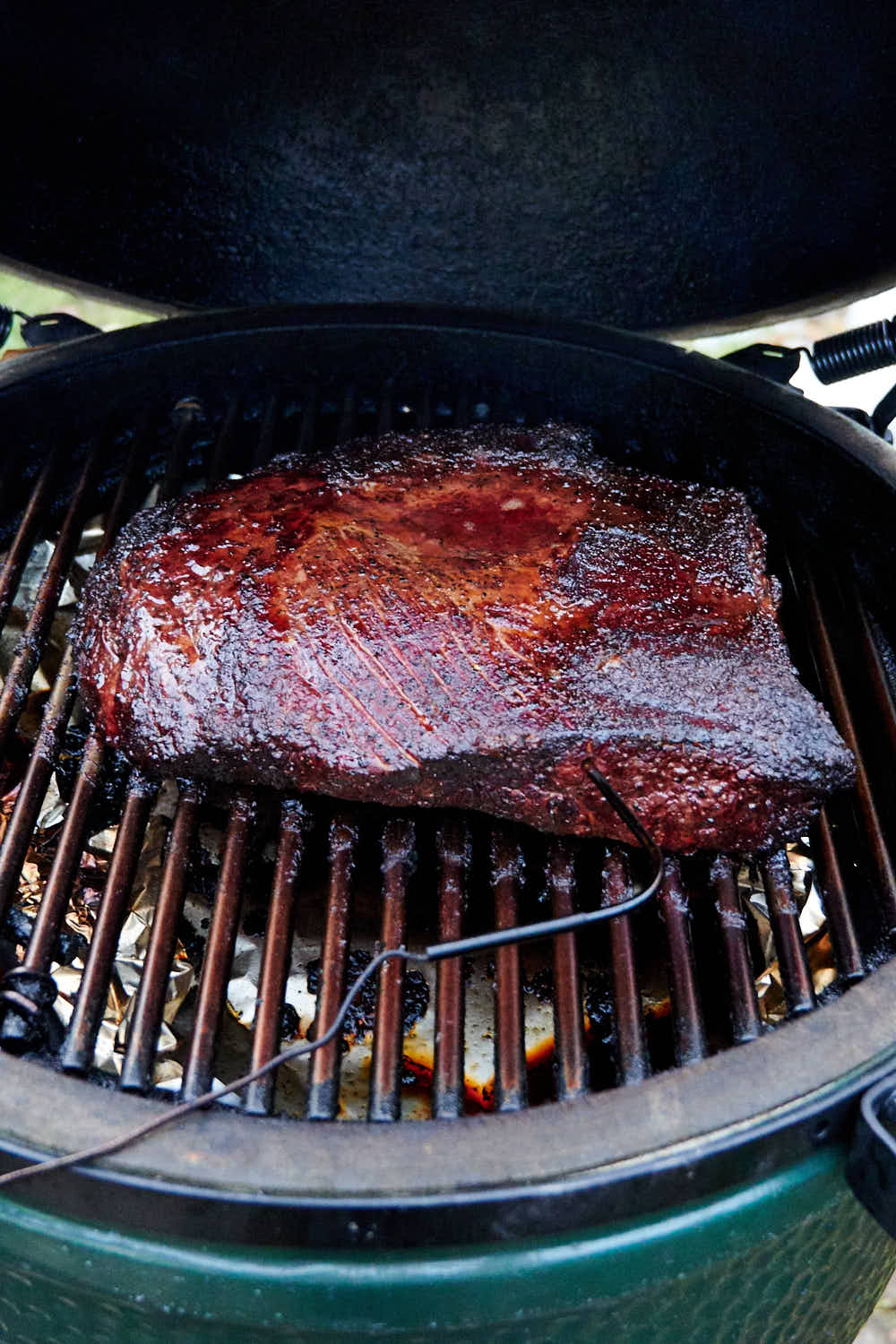 Brisket flat meat selection
As brisket flat is a lean piece of meat, the more marbled it is the better. Marbling gives it tenderness and big flavor. Hence, it makes sense to go with Prime grade if you can find it and/or afford it. It's expensive but you can find deals from time to time. Anything less than Choice grade is not advisable. Choice is the most commonly used grade for smoking brisket.
You can also try Certified Angus brisket flat, this is what you will see on the pictures in this post. Certified Angus is positioned at the top end of Choice grade. It's more expensive than regular Choice but it's well worth it in my opinion.

Aging
Wet aging in the Crayovac bag is a must for getting tender brisket. Normally, two to three weeks of aging are recommended. I typically shoot for 3 weeks and have always had excellent results. Even if the meat is lean, you will still get a nice tenderness. When buying brisket, look for the oldest packing date.
Be careful not to age brisket for longer than 4 weeks. After that time, more enzymatic activity will happen and the meat will become mushy.
Brisket flat dry rub
There are only two ingredients in the Texas-style rub - salt and coarsely ground black pepper. Add anything else and it will impart its flavor and take away from the rich beefy flavor. I've tried other rubs but I always go back to this. Don't try to go heavy on salt and pepper, unless you like your brisket that way. A light coat is plenty enough.

Smoking wood
Post oak is my preferred choice of wood for smoking whole briskets, hickory is my top choice for smoking brisket flat. The simple reason is that there isn't enough time for brisket flat to get in enough smoky flavor from oak. Hickory smoke is more intense so it works better. Adding a few mesquite chips or chunks is not a bad idea either but don't overdo it.

Smoking
Smoking temperature for brisket flat can vary from 225F to 275F, depending on your preference and comfort. Some feel like low and slow is the way to go. Personally, I am with Aaron Franklin on this one: 225F is way too slow and doesn't allow for the brisket to form a good bark. Instead, I use 275F. It allows for the meat to cook faster (who has a whole day for a brisket anyway?) and allows the brisket to form a tasty bark while still rendering properly on the inside. Also, low and slow tends to dry out thin and lean meat.
I start my brisket flat cook at a lower temperature, about 225F-235F for the first 30 minutes, then 250F for another 30 minutes or so, then let the temperature creep up to 275F where the meat will stay the rest of the time. This way the meat is not shocked by the heat and doesn't sweat which is bad for smoke absorption and bark formation.
Smoking at 275F, it takes about 6 hours to smoke a 4-5 lb brisket flat.

Wrapping
It's common to see brisket wrapped in aluminum foil part of the way through the cooking process. This protects the meat and creates a moist, if a bit greasy, interior. In Texas, true traditionalists, arguably, never wrap brisket; this results in a beautiful, crusty bark. You can never achieve that kind of bark by wrapping meat in foil. The downside of not wrapping is slightly drier meat. Not a big deal if you ask me. I love my brisket done the Texas way. I find it less greasy and tastier like that. But it's a matter of personal taste I suppose.
When smoking brisket flat, you want to preserve as much moisture as you can during smoking. So, how do you do that? The solution is to use a non-waxed butcher paper. Butcher paper helps to preserve bark (to a degree) by allowing steam escape but the meat still comes out juicy.
Wrapping in butcher paper or not depends on the beef grade though IMHO. I use this method only with Choice meat. I don't wrap Certified Angus or Prime brisket flats as they still come out very moist and the beautiful, unadulterated bark is so worth it.
Resting, slicing, serving and storing
Meat cooked at temperatures over 145F shrinks. Water gets squeezed out of its fibers. A lot of it will still be inside the meat after the cook is done, trapped between fibers. If you cut the meat right away, the water will gush out, leaving dry meat behind. However, if you let the brisket rest for 30-45 minutes or longer, the meat will relax and re-absorb a lot of the lost water. This is the key to moist brisket meat. So, rest that brisket for about 30-45 minutes at room temperature or hold in a faux cambro for up to 4 hours.
When ready to serve, slice the brisket flat against the grain and serve with white bread, sliced onions, and jalapeños. I like cutting my brisket flat in half before slicing, it makes slicing easier and the slices fit bread slices perfectly.
Wrap the room temperature leftover brisket tightly in plastic wrap. Refrigerate for up to 3 days. You can also vacuum seal the leftovers and freeze for up to 3 months.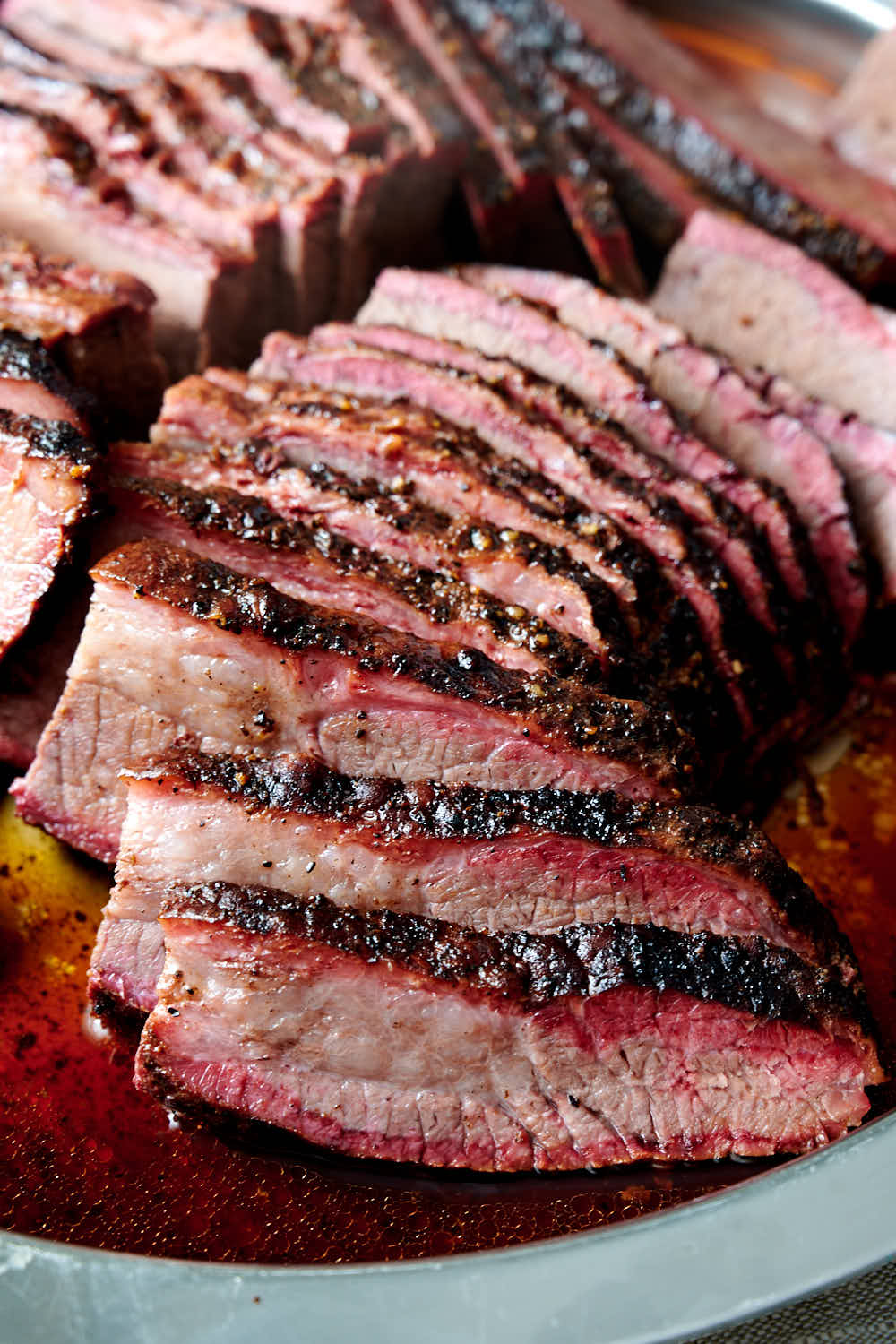 Things to make with left-over smoked brisket flat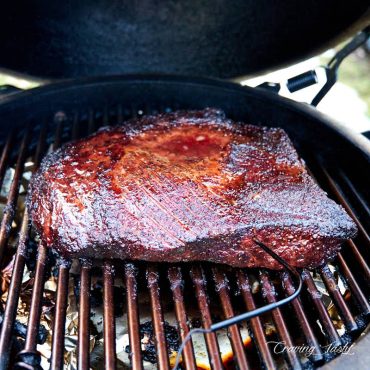 Ingredients
5

lb

brisket flat

Kosher salt

to taste

Black pepper

to taste
Instructions
Remove the wet-aged brisket flat from the packaging, pat dry with paper towels and place on the cutting board and trim off any excess fat. There isn't usually much of it on brisket flats.

Sprinkle a light coating of kosher salt on one side, then a light coating of the coarse pepper. Pat with your hand to help the seasonings stick. Flip the meat and repeat. Don't forget to season the sides as well. The amount of seasoning is up to you. Add more if you like. If you like your brisket more peppery, add more pepper.

Leave the meat rest at room temperature to get rid of some of the chill. Meanwhile, prepare the smoker.

Preheat the smoker to 275F (140C) using hickory, or oak supplemented with mesquite chips for smoke. I recommend starting smoking at 225F (107C) for 30 min, increase the temperature to 250F (121C) and smoke for another 30 minutes, then let temperature creep up to 275F and keep it there. This way the meat won't get shocked by intense heat and won't sweat.

Place the brisket fat side up and smoke until the internal temperature reaches 195F (90C).

If wrapping in butcher paper (see my notes in the post above) smoke until the internal temperature reads 175F (80C) on a meat thermometer. Tear off a large sheet of butcher paper. Wrap the brisket flat as tightly as possible and place back on the rack, seam side down making sure it won't unwrap. Continue to smoke until the internal temperature reaches 195F (90C).

Rest the brisket for about 30 minutes at room temperature or hold in a faux cambro for up to 4 hours.

Slice the brisket flat against the grain and serve with white bread, sliced onions, and jalapeños.
Nutrition
Calories:
220
kcal
|
Protein:
29
g
|
Fat:
10
g
|
Saturated Fat:
4
g
|
Cholesterol:
88
mg
|
Sodium:
112
mg
|
Potassium:
468
mg
|
Calcium:
7
mg
|
Iron:
3
mg