These refrigerator pickles are so good that my kids can't have enough of them. They don't ask if they can have a pickle, they ask 'how many can I have?" Bright green, crunchy, lightly salted and exceptionally juicy these pickles are a great accompaniment to various meats and sausages. You can also enjoy them on their own as a quick and delicious snack that packs practically no calories.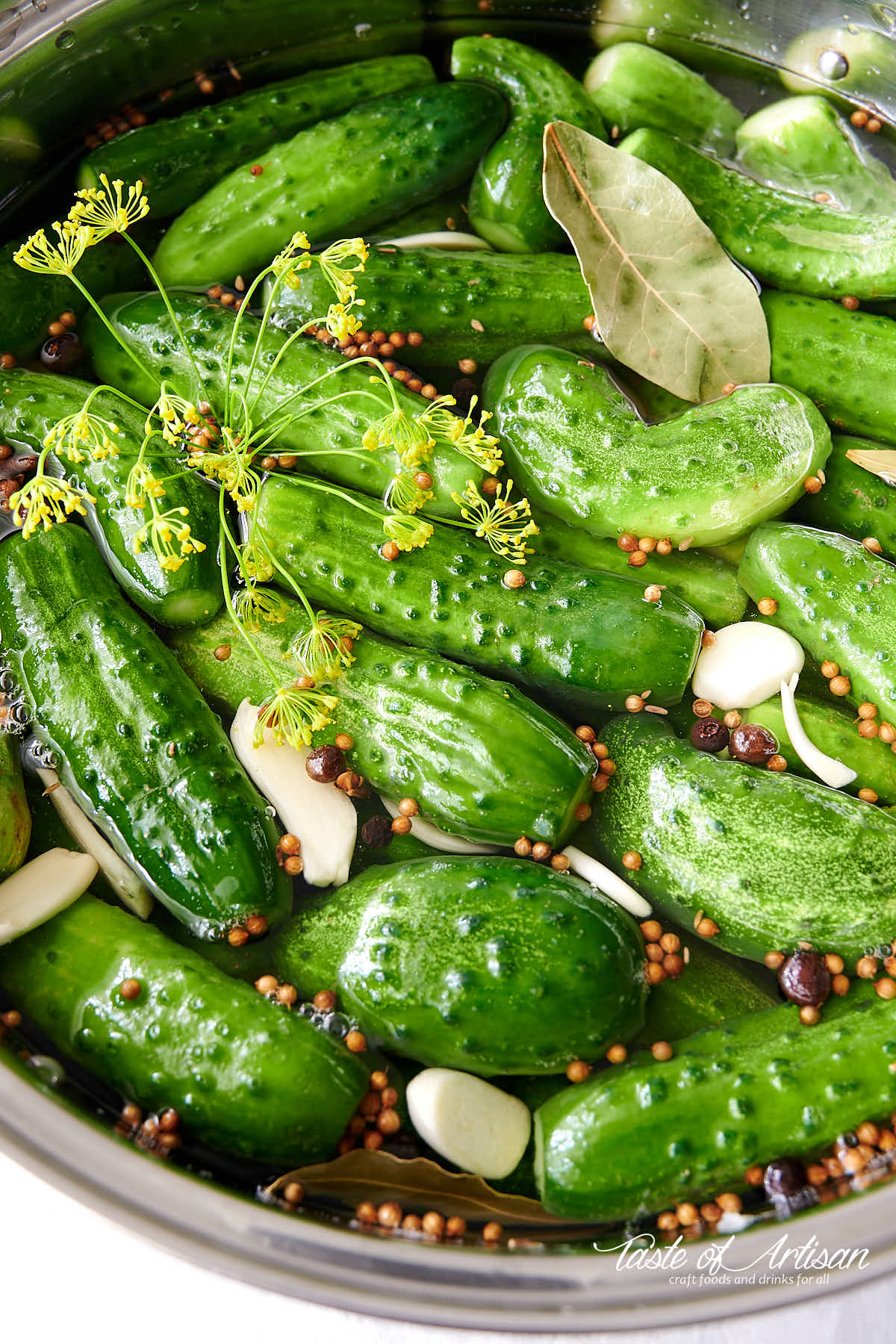 This is an old recipe that has been perfected over many years in our family. Not only does it make ridiculously tasty pickles but it allows preserving pickling cucumbers for weeks.
Making refrigerator pickles
To make refrigerator pickles, simply soak pickling cucumbers in water for a few hours, rinse, submerge in a pickling juice, let sit at room temperature for 6 hours then refrigerate overnight. They will be fully ready to enjoy after that but will get even better and better over time.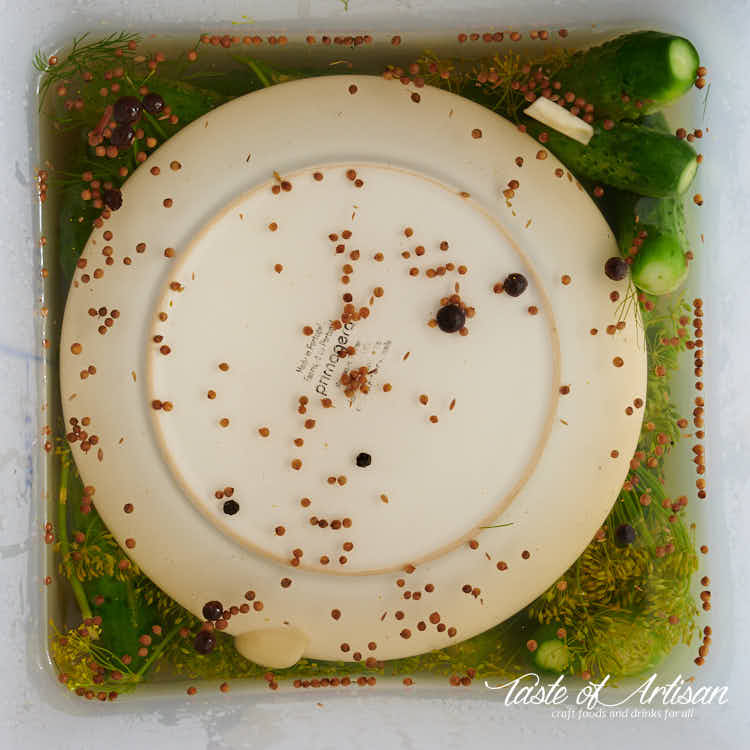 Many recipes for refrigerator pickles call for slicing pickling cucumbers. This recipe is different. We keep the pickles whole and only cut off small tips on both ends to allow for better pickling juice penetration. Whole refrigerator pickles retain their crunch much better and just look more appetizing. Whole pickles are much easier to snack on too.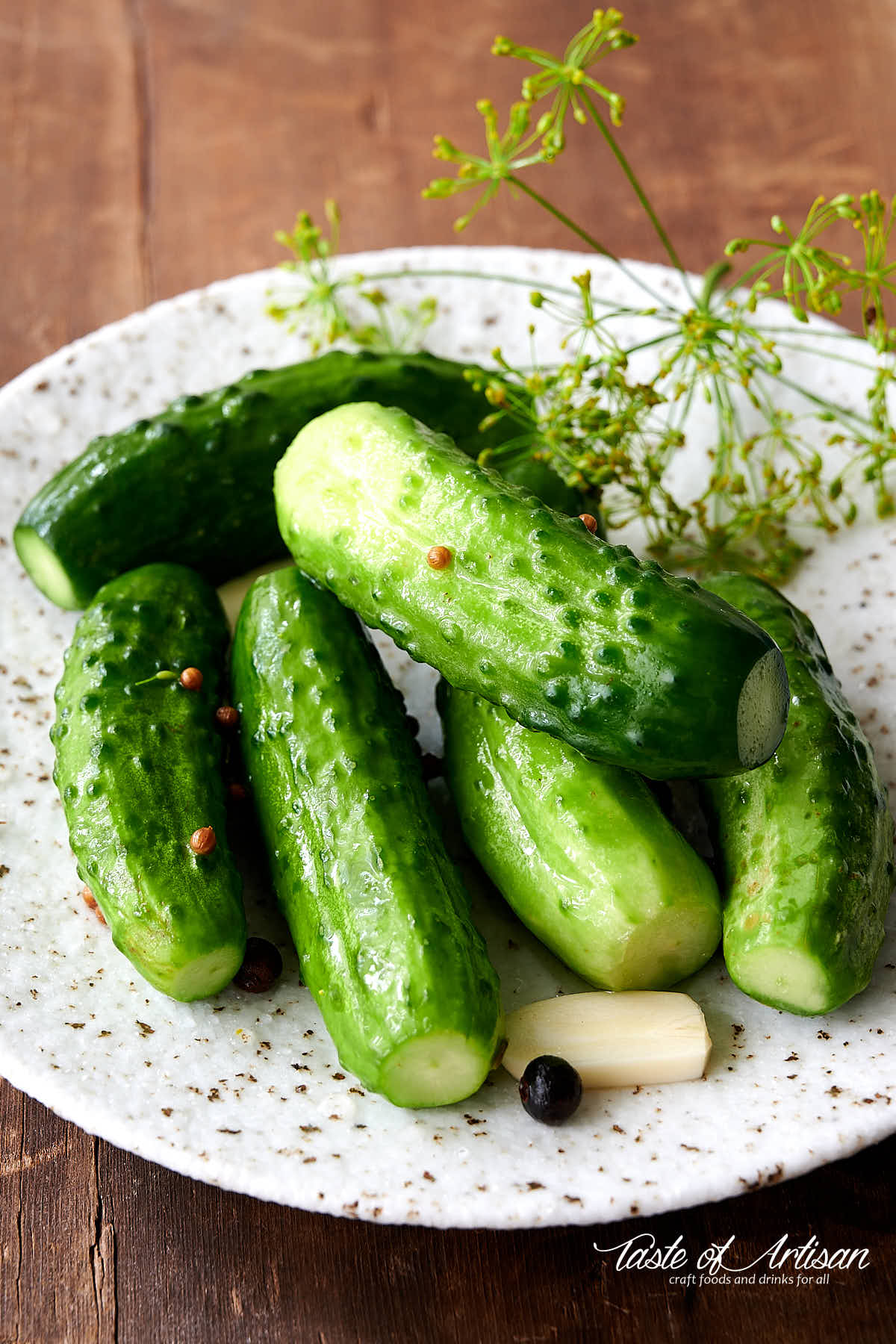 Batch size
This recipe is for 10 lbs of pickles. If you'd like to make a smaller batch, say 5 lbs, simply cut all of the ingredients in half. It's also perfectly fine to keep the amount of the pickling juice and the spices the same and only reduce the amount of cucumbers.
Beware though, these pickles go fast. In our family we eat them with just about everything. These are perfect for snacks as well. We end up making a few batches during the cucumber season an a large batch at the end of the season to have enough to last a while.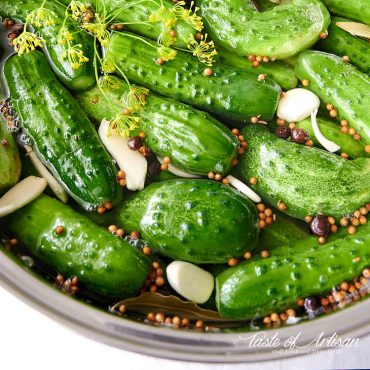 Refrigerator Pickles
The best whole refrigerator pickles.
Print
Pin
Rate
Ingredients
10

lbs

pickling cucumbers

5 ½

quarts

water

spring water

8

Tbsp

sea salt

plus more to taste (see notes)

2

Tbsp

white sugar

1 ½

Tbsp

black peppercorns

whole

1

Tbsp

allspice

whole

1

Tbsp

coriander seeds

whole

6

bay leaves

whole

4

cloves

whole

1

tsp

dill seeds

8

cloves

garlic

thinly sliced

1

garden dill stalk

entire flower head and foliage, cut in pieces; or ¼ bunch fresh dill
Instructions
Soak pickling cucumbers in water overnight or at least for a few hours. Rinse and cut off small tips on both ends.

To prepare the pickling juice, in a large pot, heat water until just hot but not boiling. Add the salt and the sugar, and stir until both have fully dissolved. Add the black peppercorns, four sliced garlic cloves, allspice, coriander, cloves and dill seeds. Cover and let the water cool down to room temperature.

Transfer the pickling cucumber to a large container. Add the remaining four sliced garlic cloves, bay leaves and the garden dill and mix together.

Pour the pickling juice over the cucumbers. Weight down by a plate to keep all pickling cucumbers submerged in the pickling juice.

Keep at room temperature for 6 hours before refrigerating.

Refrigerate overnight (or for at least 6 hours) before enjoying. Keep refrigerated for up to a month. They get better with time.
Notes
The pickling juice needs to be salted a little bit more than 'just right'. Think of 'over-salted' soup.
Recipe updated on Sep 16, 2019
Nutrition
Calories:
19
kcal
|
Carbohydrates:
4
g
|
Protein:
1
g
|
Fat:
1
g
|
Saturated Fat:
1
g
|
Cholesterol:
1
mg
|
Sodium:
1405
mg
|
Potassium:
165
mg
|
Fiber:
1
g
|
Sugar:
2
g
|
Vitamin A:
84
IU
|
Vitamin C:
4
mg
|
Calcium:
26
mg
|
Iron:
1
mg