Zesty, crunchy, delicious pickled red onions - a perfect addition to BBQ, grilled meats and more.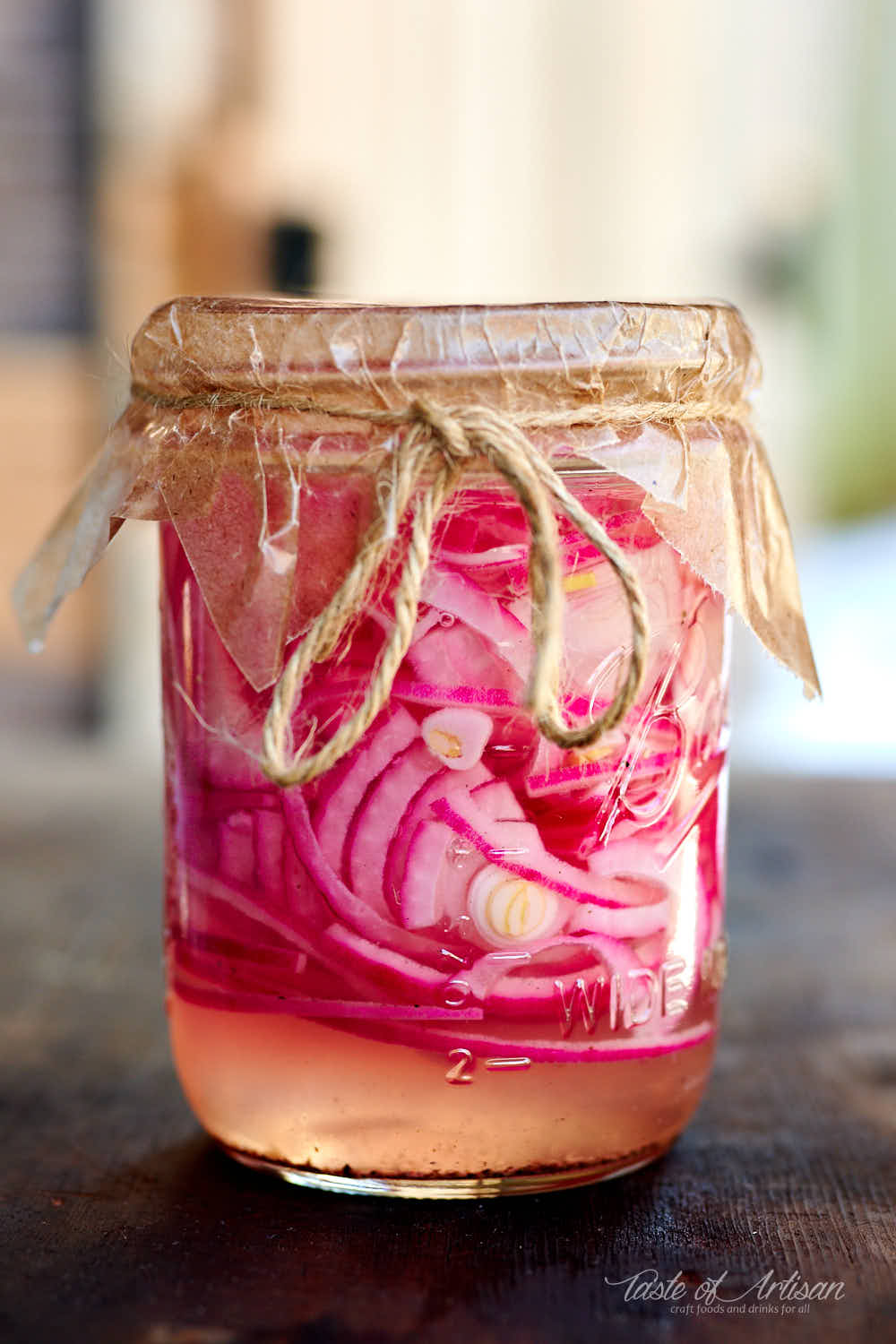 So many pickled red onion recipes out there, but none really hit the spot with me. I had high hopes for Chez Panisse's recipe but the 50/50 mix of water and vinegar produced a product that lacked zest and excitement. Many recipes favor sweetness, something I don't like in pickled onions. Or pickled cabbage. Or pickled anything to be honest. Not too much anyway.
Pickling typically involves heating the pickling liquid until it boils then pouring it over vegetables. While most recipes I've seen seem to love this technique, the problem is that onions lose a lot of their crunch if you shower them with boiling-hot liquid. I tried making pickled onions with a cold pickling juice, similar to what I do when making pickled turnips. It worked wonderfully. The onions lose some crunch over time but not nearly as much as when you expose them to hot liquid.
Other than some ground black pepper, I don't add any flavoring ingredients such as garlic, bay leaf or herbs to keep the onion flavor clean. If I want to experience the pungency of garlic, I'd rather make pickled garlic and serve it next to the onion.
So far this recipe has been a huge hit. The simple and tasty recipe makes me want to make more. I keep adding more sliced onions to the jar as the onions get consumed, reusing the pickling juice. When the liquid gets low, I make more and add to the jar.
These pickled onions go well with just about anything, brisket, steak, smoked pork chops, grilled or fried chicken, fried eggs and more.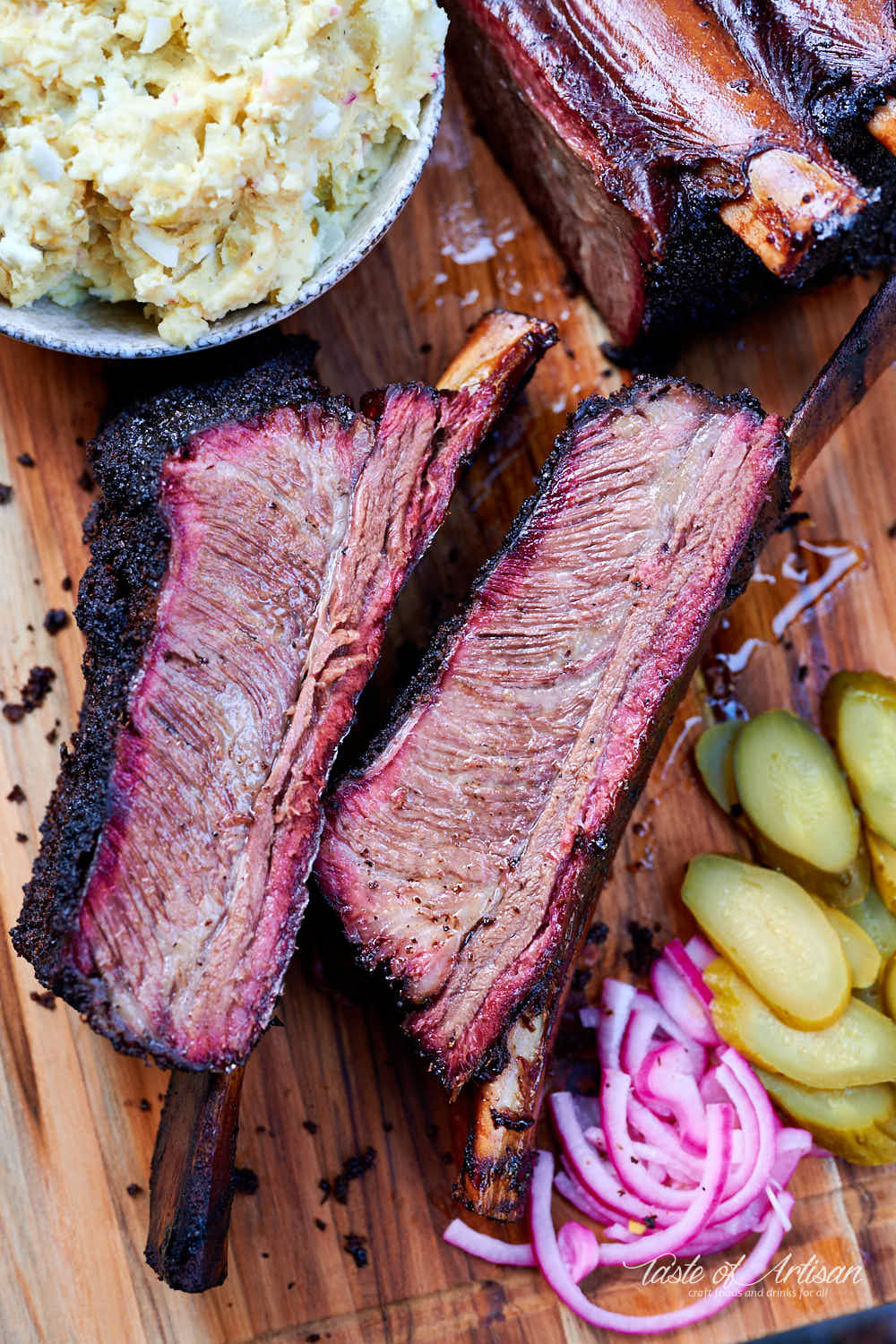 They are also a great addition to charcuterie boards, complementing salami, sopressata, and other dry-cured meats and sausages.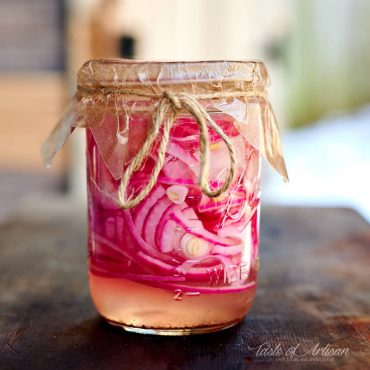 Ingredients
1

red onion

large

1

cup

white vinegar

1 1/2

Tbsp

white sugar

1

Tbsp

kosher salt

1/2

tsp

black pepper

ground
Instructions
Peel the onion and cut it in half lengthwise. Slice very thin. Sprinkle ground black pepper over the sliced onions. Pack into a pint jar tightly but without crushing.

Pour the vinegar in a medium bowl. Add the salt and the sugar and whisk until dissolved. Pour the vinegar in the jar to the top. Discard any leftovers.

Cover and let stand at room temperature for 4-6 hours or overnight, then refrigerate for up to 2-3 weeks. The onions are ready for consumption after only a few hours but only get better over time.
Nutrition
Calories:
20
kcal
|
Carbohydrates:
4
g
|
Protein:
1
g
|
Fat:
1
g
|
Saturated Fat:
1
g
|
Sodium:
873
mg
|
Potassium:
20
mg
|
Fiber:
1
g
|
Sugar:
3
g
|
Vitamin C:
1
mg
|
Calcium:
5
mg
|
Iron:
1
mg