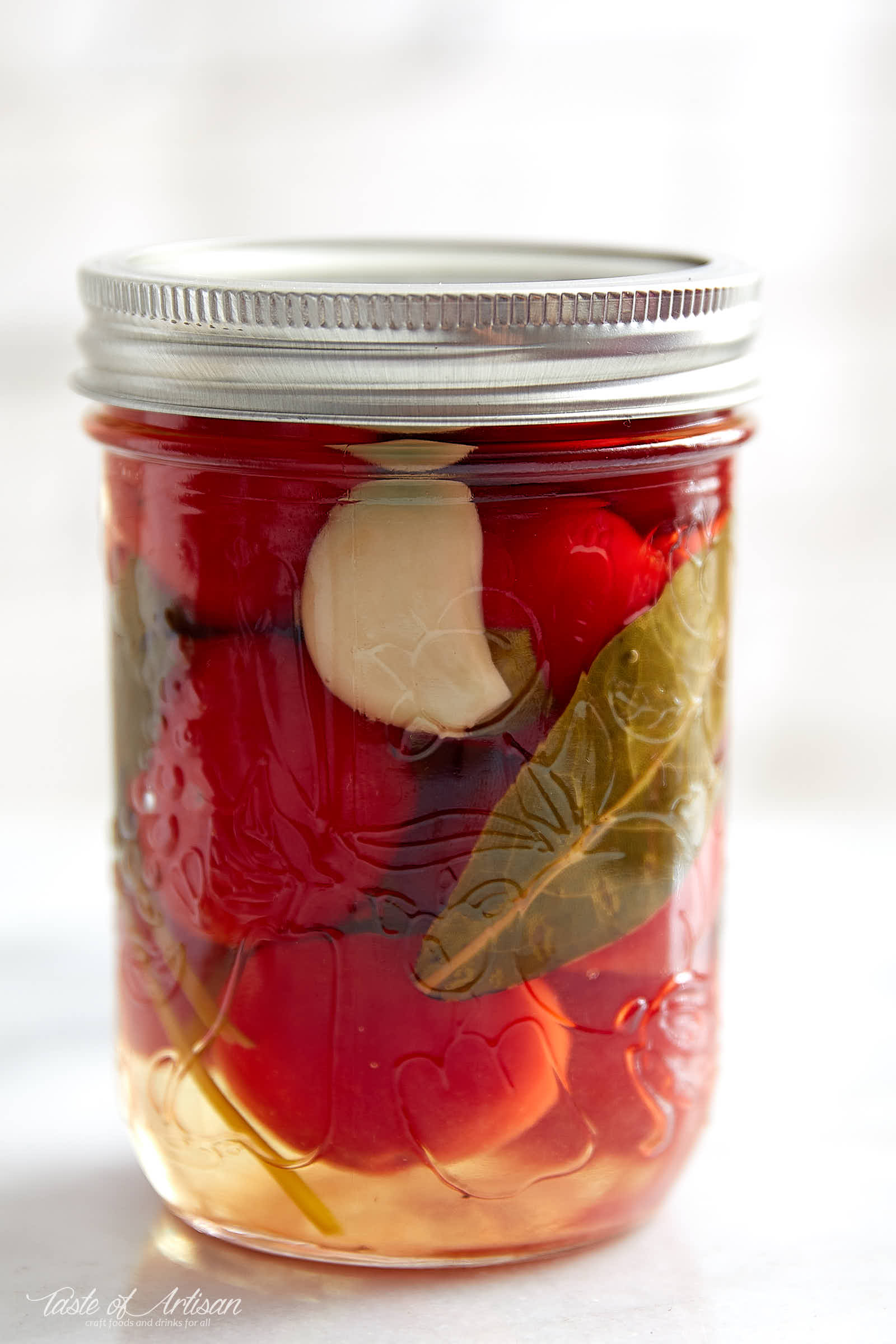 As much as I like pickled cherry peppers, store-bought ones  just don't cut it for me. They use preservatives and, above all, tend to be way too sweet. What's the deal with all the sugar? Did someone do a research and establish that sweet pickled cherry peppers taste better? Well, they don't. A savory taste, with just a touch of sweetness, suits them much better. Pickling these little peppers at home will also save you a ton of money.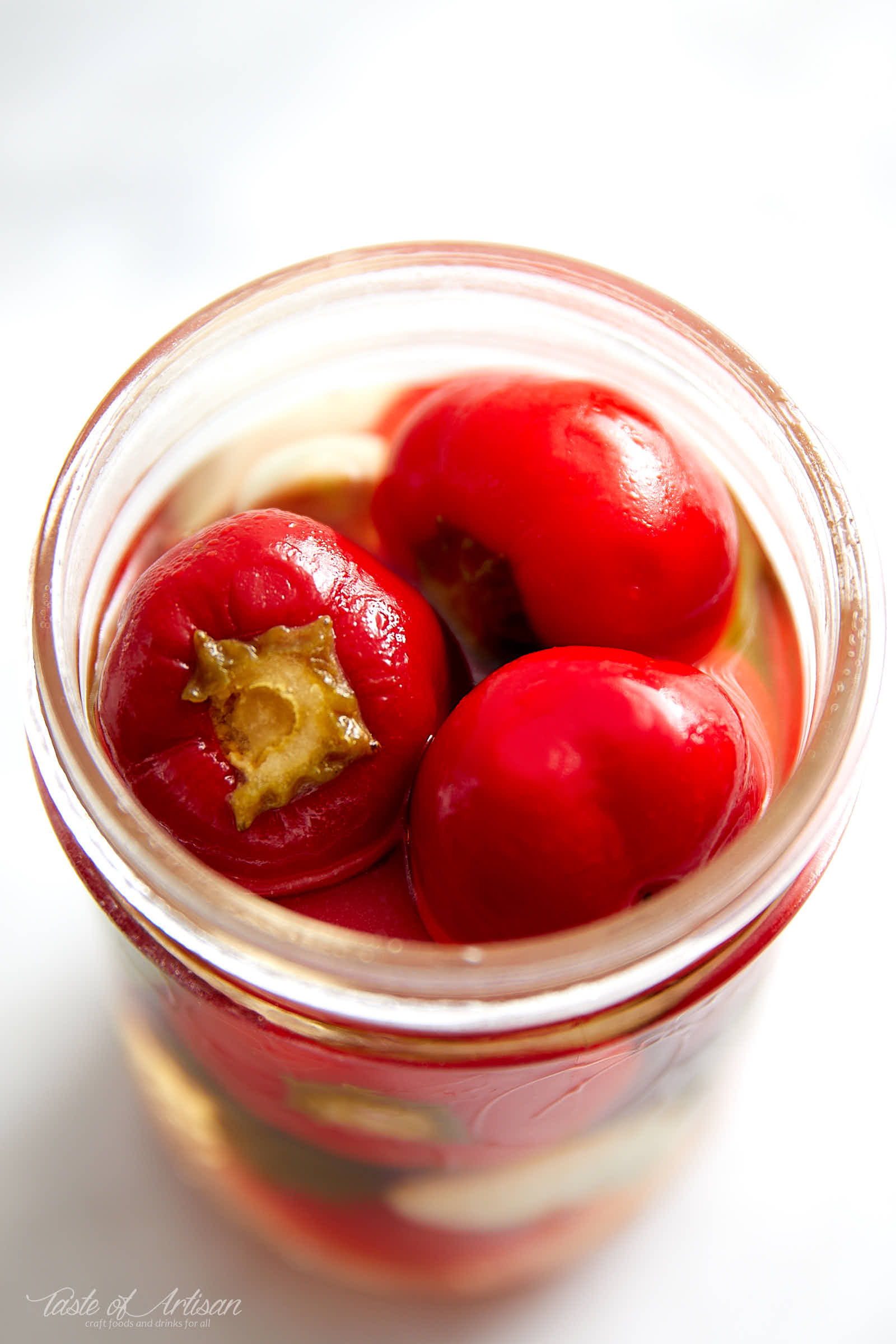 You can pickle cherry peppers three ways:
whole, untouched
whole, de-veined and de-seeded
cored, de-veined and de-seeded and cut in halves or quarters
Why does it matter? Here is why:
Whole and untouched look the best of the three. They take the most space in a jar. And they are the hottest due to preserved membranes and seeds.
Whole, de-veined and de-seeded are not as spicy. They are lightly spicy, actually. Not much space-saving here, just a tiny bit. They are great for making stuffed pickled cherry peppers. Even a simple stuffing such as plain cream cheese or ricotta cheese will make them taste heavenly. There is something about that balance of fat, acidity, spiciness and a touch of sweetness.
Halved or quartered cherry peppers will allow you fitting in about twice as many in a jar. They are easier to eat as they are bite-size.
How you pickle your peppers will depend on how you want to use them and whether you want them spicy or mild. Some like them hot, some like them mild. Because of that, I usually do a combination.
This recipe is adapted with a couple of small changes from Chez Panisse Vegetables book. As much as I love the original recipe, I find that using white balsamic vinegar produces much better results. The flavours of the two are very similar, although the dark vinegar is slightly sweeter and tends to be more syrupy. White balsamic vinegar has a cleaner taste, which is the main reason I use it. It's also aesthetically more pleasing if you want to show off your pickled cherry peppers. The other change I made is to bump black peppercorns from 1/8 teaspoon to one teaspoon of whole ones.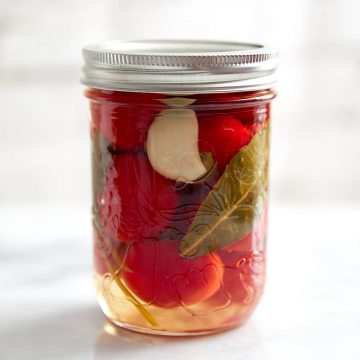 Ingredients
10 - 15

cherry peppers

1

clove

garlic

1

tsp

black peppercorns

1

small bunch cilantro

1

bay leaf

1½

cups

white wine vinegar

¼

cup

white balsamic vinegar

1

cup

water

1

tsp

coarse salt

2

tsp

white sugar
Instructions
Wash and dry the peppers and put them in a glass jar. You can also use any non-reactive storage container. If you want your peppers de-seeded and de-veined, and cut into pieces, do it now. You can mix and match cut and whole peppers in the same jar, or store them separately.

Peel the garlic clove, cut it in half and add it to the cherry peppers along with the black peppercorns, cilantro and the bay leaf.

In a small saucepan, combine the vinegars, water, salt, and sugar. Bring to a boil and let it cook for 1 minute. Remove the liquid mixture from the heat and immediately pour over the peppers.

Let the contents of the jar cool completely at room temperature, then cover and refrigerate for 1 week. The peppers will be ready for eating after 1 week and will store in a fridge for up to 2-3 months.
Nutrition
Serving:
0
g
|
Carbohydrates:
0
g
|
Protein:
0
g
|
Fat:
0
g
|
Saturated Fat:
0
g
|
Polyunsaturated Fat:
0
g
|
Monounsaturated Fat:
0
g
|
Trans Fat:
0
g
|
Cholesterol:
0
mg
|
Sodium:
0
mg
|
Potassium:
0
mg
|
Fiber:
0
g
|
Sugar:
0
g
|
Vitamin A:
0
IU
|
Vitamin C:
0
mg
|
Calcium:
0
mg
|
Iron:
0
mg