These cherry tomatoes pickled in sweet, salty, and sour brine have been a hit at our house this summer. They pack all the flavor of the summer/early fall vine-ripened cherry tomatoes, plus more. The magic that the delicious pickling brine in this recipe does to tomatoes is hard to describe, but once you taste these pickled cherry tomatoes, you'll know what I am talking about. On top of that, they keep fresh for weeks!

My local Eastern European supermarket sells pickled cabbage that is so good that I could eat it with just about anything. It was the pickling brine that made it so good. After a lot of experimenting, I was able to recreate the brine and make that very same pickled cabbage at home.
Granted, they had the ingredients listed, and I only had to figure out the proportions. The brine is so tasty that I can practically drink it. My wife suggested pickling some of our heirloom cherry tomatoes as an experiment. I did, and my pickled cherry tomatoes turned out amazingly tasty. They have more flavor than plain fresh tomatoes and preserve the freshness and the firm texture in the fridge for weeks.

Ingredients for pickled cherry tomatoes
There are only a few basic ingredients required for this recipe:
Cherry tomatoes
Garlic
Herbs and spices (dill, sage, cilantro, black peppercorns)
Pickling brine
For the pickling brine, you will need:
Salt
Sugar
Vinegar
Sunflower oil
Water
I am sure any cherry tomatoes will taste great when pickled in this delicious brine, but I love pickled heirloom cherry tomatoes that I grow in my garden. I like the variety of sizes, shapes, colors, textures, and tastes they provide. Including a mix of ripe but firm and slightly under-ripe tomatoes makes the eating experience even better. You never get bored eating them; each tomato provides a different experience.
When picking tomatoes for pickling, avoid over-ripe and damaged ones.
Making pickled cherry tomatoes
Prepare the tomatoes
Rinse the tomatoes and cut them in halves. I strongly prefer pickling cherry tomato halves to whole tomatoes. Tomato halves pickle more uniformly and much faster. Hence, the reason why I like to use firm tomatoes.  They also look better that way and are easier to eat.
If you insist on pickling whole tomatoes, prick them with a knife or a fork in a few places to let the brine penetrate.
Fill the jar
I use quart-size Mason jars or larger pickling jars for pickling tomatoes.  Ensure the jars are clean; they don't need sterilization.
Place a dill umbrella on the bottom, then fill the jar with tomato halves, adding herbs, garlic and black peppercorns in between as you go. Leave about a 1" headspace.
Top the jar(s) with brine
Combine the brine ingredients in a bowl and stir with a large spoon or whisk until the salt and sugar dissolve fully.
Pour the brine into the jar(s), leaving about a 1/2" headspace. Close with a tight lid.
Pickling in the fridge
The final step is to allow the tomatoes some time to pickle. They are ready for consumption after about a week. They only get better in the fridge and stay fresh for several weeks or longer.
Enjoy!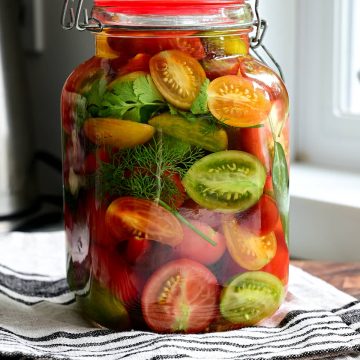 Pickled Cherry Tomatoes in Sweet, Salty, and Sour Brine
This recipe makes one 1-quart jar of pickled cherry tomatoes
Print
Pin
Rate
Ingredients
1 1/2

lbs

cherry tomatoes

if possible, try heirloom cherry tomatoes of different colors

5

sage leaves

3

dill twigs

3

cilantro twigs

1

dill umbrella

2

cloves

garlic

1

Tbsp

black peppercorns
For the brine
2

cups

water at room temperature

2

tsp

salt

1

Tbsp

white vinegar

3

tsp

white sugar
Instructions
Rinse the tomatoes and cut them in halves.

Place the dill umbrella on the bottom of a 1-quart mason jar. Add the tomatoes, placing the herbs, garlic, and peppercorns in between. Leave about a 1-inch headspace.

To prepare the pickling brine, combine the brine ingredients in a separate bowl and stir with a large spoon or a whisk until the salt and the sugar are fully dissolved. Set aside.

Top the jar with the pickling brine, leaving a 1/2" headspace. Close tightly with a lid.

Transfer to the fridge and refrigerate for a week before consuming. The tomatoes only improve with age and will stay fresh in the fridge for several weeks.
Nutrition
Calories:
44
kcal
|
Carbohydrates:
10
g
|
Protein:
2
g
|
Fat:
0.3
g
|
Saturated Fat:
0.1
g
|
Polyunsaturated Fat:
0.1
g
|
Monounsaturated Fat:
0.1
g
|
Sodium:
376
mg
|
Potassium:
426
mg
|
Fiber:
2
g
|
Sugar:
5
g
|
Vitamin A:
1024
IU
|
Vitamin C:
41
mg
|
Calcium:
40
mg
|
Iron:
2
mg