Pickled turnips can be found at just about every shawarma place you visit, that's how I discovered them. Frankly, I was somewhat partial to them until I tried them at a newly opened shawarma place nearby. That's when I became a huge fan of these little purple morsels.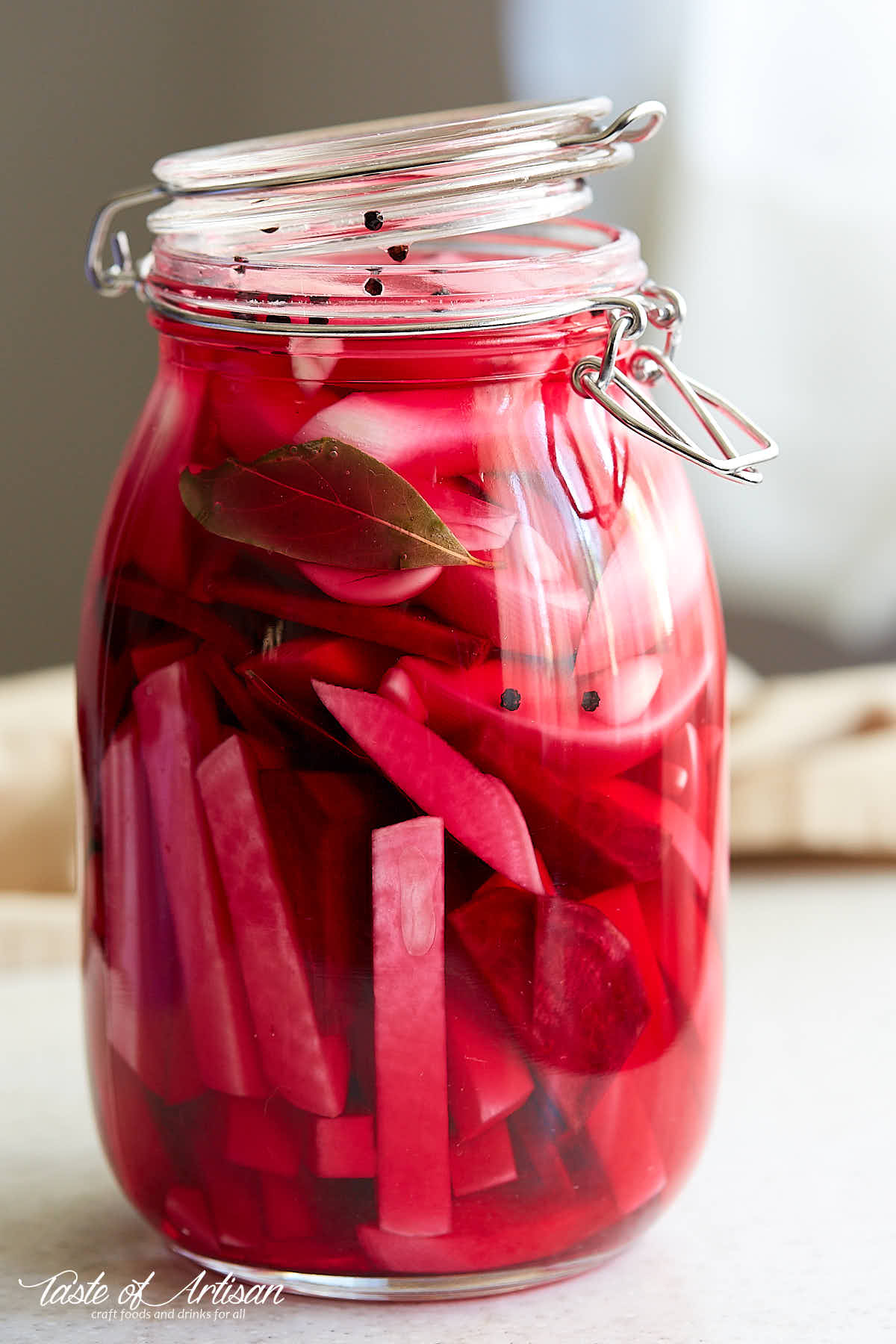 Somehow their taste was so clean and so balanced that I always wanted more than what they would put on a shawarma - usually one or two pieces. I'd ask for extra Kabees El Lift (Lebanese for pickled turnips I was told), and the owner would add just one more pickle. I felt the urge to tell him to add a dozen more as they were so little and so good, but I just couldn't make myself say that.
It won't come as a surprise, but am a sucker for pickled, marinated and fermented vegetables. Marinated Zucchini, Marinated Eggplant and Tomatoes... Delish! I decided to make those wonderful little pink morsels myself so I can eat as many of them as I desire and as often as I want. It turned out to be quite a challenge. No, there was no shortage of recipes out there, it's just that none of them really gave me what I was looking for. Somehow the turnips would come out tasting similar, but not quite the same. They lacked that clean, balanced taste.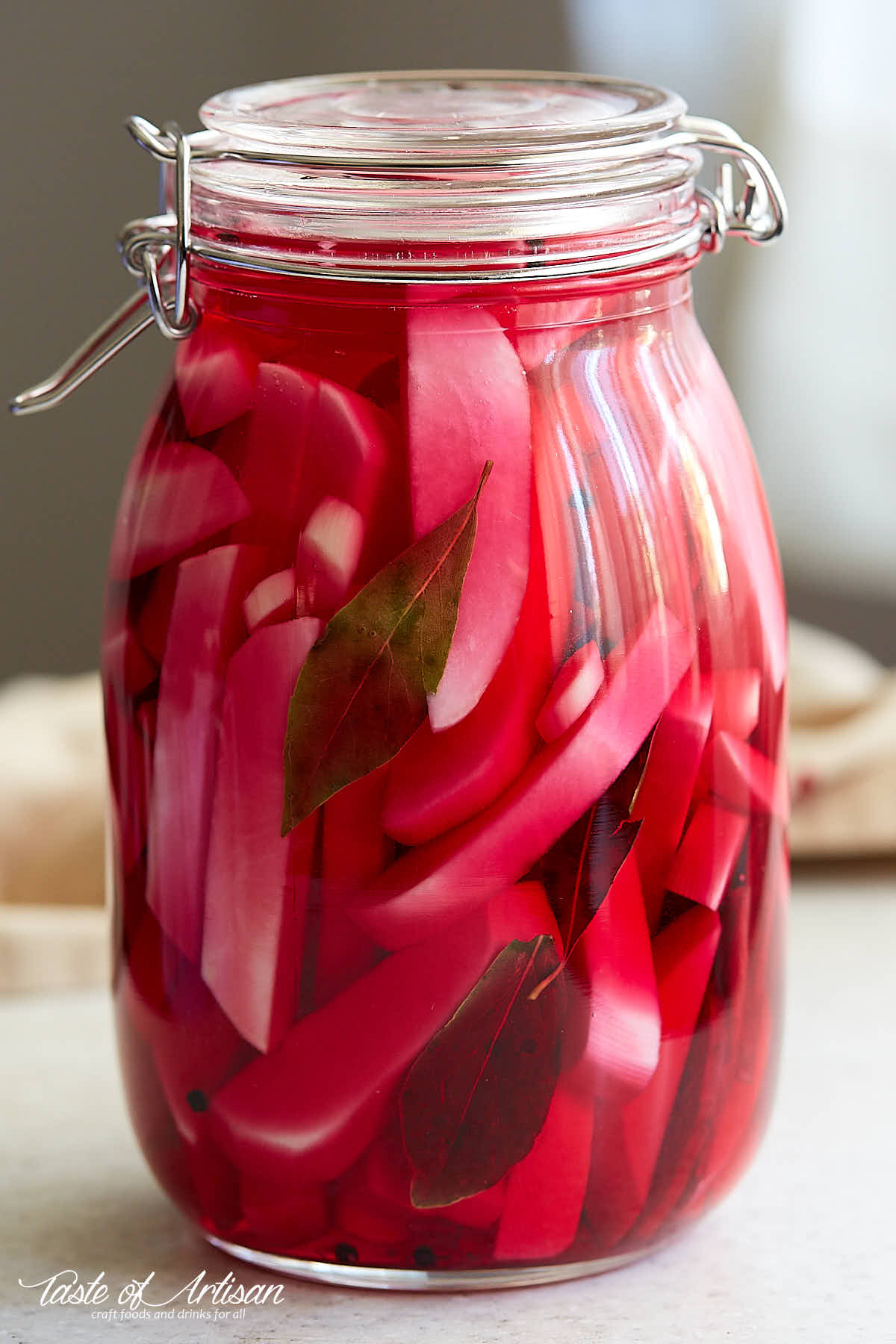 To make a long story short, I went through a number of recipes, experimented with salt levels, adding different spices until I finally got it. This recipe is IT! It's as plain as plain can be, and I guess that's what it was missing.
I found that plain distilled vinegar works for pickled turnips much better than apple cider or other types of flavored vinegar. Kosher or good quality sea salt makes a huge difference to taste. Table salt is the worst. If you want to be sure, use kosher salt.
The amount of salt mattered too. The turnips that I liked were on the less salty side, and I loved that. A number of recipes that I followed required just a tad more salt than I liked, without realizing it at first. Once I fixed that the turnips tasted perfect.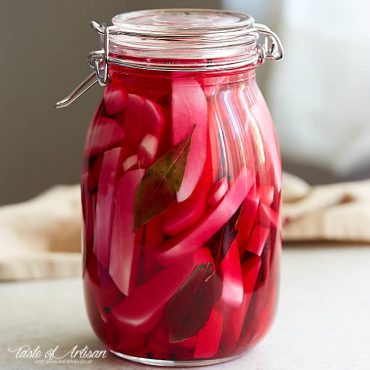 Ingredients
3

cups

water

3

Tbsp

kosher salt

or sea salt

1

cup

white vinegar

2

lbs

turnips

peeled and cut into 3/8" sticks

2

beets

peeled, cut in half and sliced about 1/4" thick

3

cloves

garlic

peeled and thinly sliced

3

bay leaves

1

Tbsp

black peppercorns

whole
Instructions
Bring 1 cup of water to a boil in a small sauce pan. Add the salt, bay leaves and peppercorns. Keep stirring until the salt is completely dissolved. Remove from the heat and let cool to room temperature.

Add the rest of the water, the vinegar and stir.

Place the turnips, the beets and the garlic in a 2 quart jar. Carefully pour the brine into the jar, including the bay leaves and the peppercorns. Close tightly and let ferment at a slightly cool room temperature for 5 days. After that, transfer to a fridge to cool down. Now your pickled turnips are ready to be served.
Nutrition
Calories:
51
kcal
|
Carbohydrates:
10
g
|
Protein:
2
g
|
Fat:
1
g
|
Saturated Fat:
1
g
|
Sodium:
2714
mg
|
Potassium:
304
mg
|
Fiber:
3
g
|
Sugar:
6
g
|
Vitamin A:
15
IU
|
Vitamin C:
25.2
mg
|
Calcium:
51
mg
|
Iron:
0.6
mg