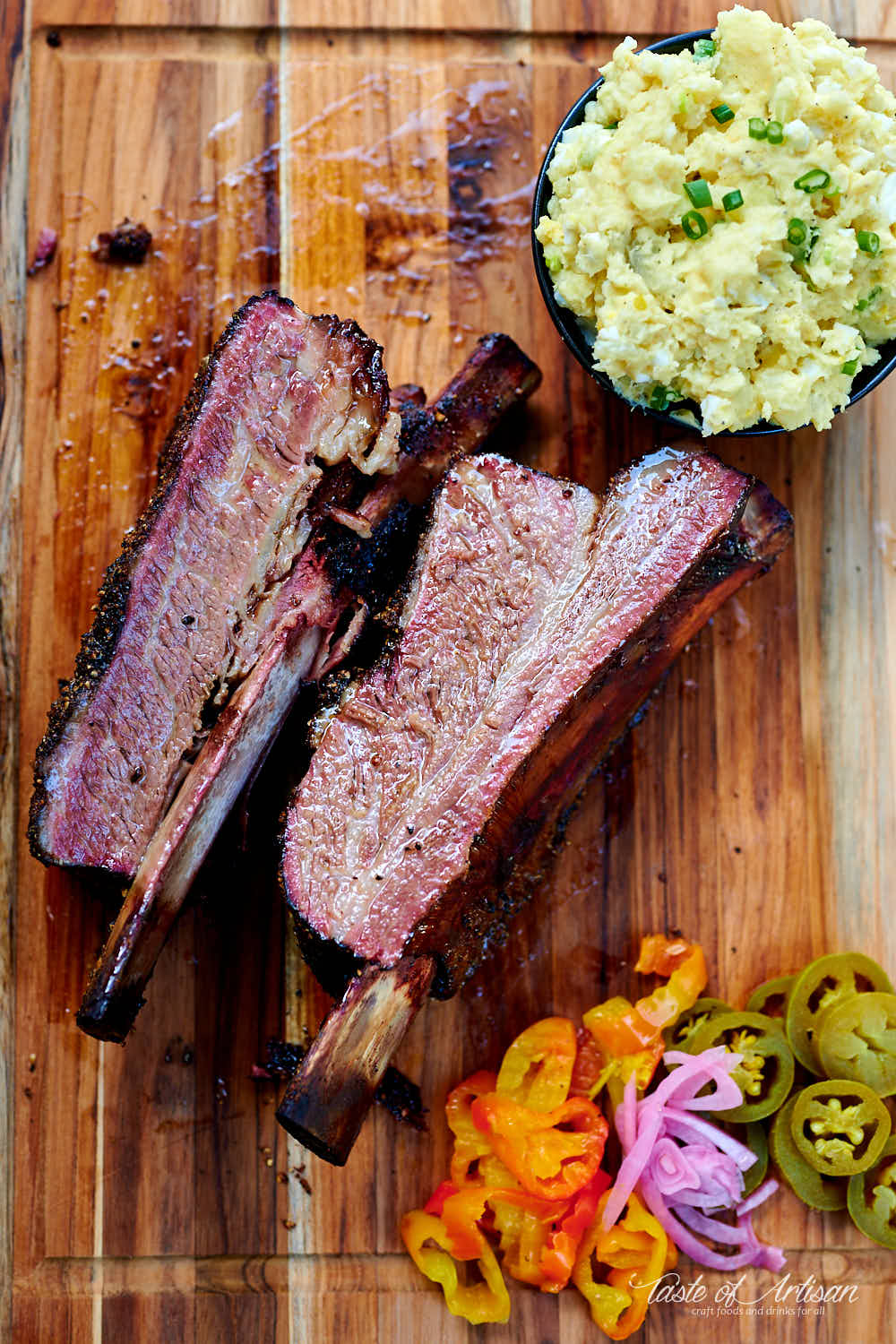 This sous vide beef short rib recipe is by far one of the tastiest beef short rib recipes. The meat is moist and fabulously tender with a perfect chew. There is a lot of flavor coming from the rub alone, but the smoke adds a ton of extra flavor. That beautiful bark is super tasty. Some fat renders out during the final step of cooking, adding even more flavor. You can't have enough of these beef ribs.
You could say that this recipe is a sibling of my traditionally smoked beef short ribs, only here the ribs spend 72 hours in a sous vide bath for the ultimate tenderness, followed by 2-3 hours in the smoker for the ultimate flavor. Surely, you could just use some liquid smoke and avoid smoking altogether, but it won't be the same. You won't get the same flavor, and you won't get that delicious bark.
The beauty of sous vide cooking is that it makes the meat super tender, it's fuss-free, there is no risk of overcooking and drying out the meat, and you are not dependent on weather. You can even prepare the ribs ahead a day or two and keep them in the fridge, then finish them at your convenience. You don't get that flexibility with traditional smoking.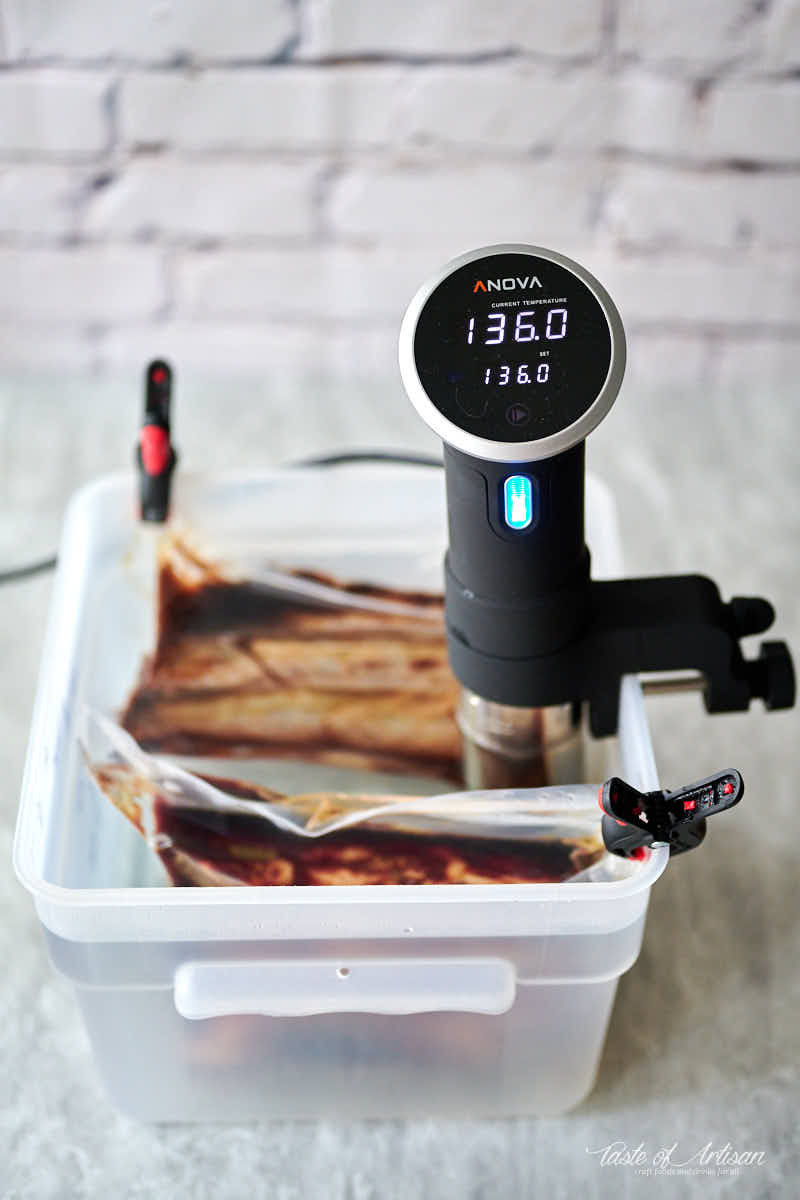 One thing I am always concerned about when cooking sous vide is the temperature. It took me a while to figure out the optimal temperature for cooking beef short ribs. I cook chicken breasts sous vide, one of my favorite ways to cook chicken breasts, at 148F. I am very comfortable with that temperature and I get outstanding results.
But what about beef? Most recipes seem to suggest cooking below 140F, in the so-called 'danger zone'. Well, there is no need to fear. As Cooks Illustrated pointed out, "with enough time, most food pathogens are killed at 130°F/54.5°C, according to the FDA". The same principle applies here as it does to cooking chicken at 148F instead of the commonly recommended 165F. It's not just about the temperature, it's also about the time the meat spends at this temperature.
So I came up with the optimal temperature of 136F for cooking beef shorts ribs. It's safe, given the 72 hour cooking time, and the meat comes out perfectly medium-rare.
You can vary the seasoning mix in this recipe and use what you like. Plain salt and pepper will do just fine for a bare minimum. I like adding some granulated onion and garlic too, they add nice savory notes. Given the richness of beef short rib meat, I slather it with hot sauce before applying the rub. This works great for helping to balance out the richness of the meat.
Looking for more great beef short rib recipes? Check these out:
Smoked Beef Short Ribs
Slow cooker beef short ribs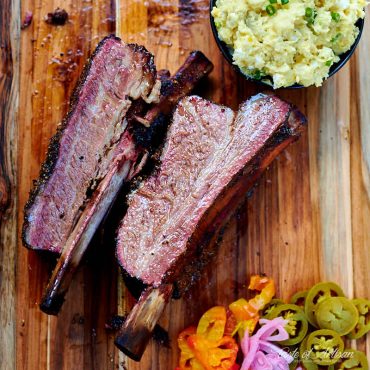 Ingredients
1

4-rib rack beef plate short ribs

about 6 lbs

2

Tbsp

hot sauce

3

Tbsp

kosher salt

3

Tbsp

black pepper coarsely ground

2

Tbsp

granulated garlic or garlic powder

1

Tbsp

granulated onion or onion powder
Instructions
Heat water in your sous vide bath to 136F.

Prepare the ribs by removing the membrane and trimming off excess fat. Season with salt and place in a vacuum-sealable bag, or a Ziploc bag. Seal the bag in a vacuum sealer or remove the air using water displacement method and seal the bag. You can cut the rack in half as that will make it easier to fit into smaller vacuum-sealable bags.

Place the bag(s) in the preheated sous vide water bath making sure that every part of the meat is underwater. Cook at 136F for 72 hours. Cover the water bath to reduce evaporation and keep adding water as needed.

Remove the bag(s) from the water bath. Cut open and carefully transfer the ribs to a platter and let cool down for 30 minutes. Gently pat dry with paper towels.

At this point, either refrigerate until ready to finish, or proceed to the finishing step.

Preheat the smoker to about 200F - 225F. Add a water pan.

Mix the ingredients for the dry rub in a small bowl and set aside.

Slather the ribs with the hot sauce, then apply the rub, very evenly.

Smoke the ribs, meat side up, for about 2-3 hours.

If serving later, let the ribs rest room temperature, uncovered, for 15 minutes, then place in a cooler box. It will take about 2-3 hours before the ribs reach 145F internal temperature, longer if you preheat the cooler with hot water.
Nutrition
Calories:
445
kcal
|
Carbohydrates:
4
g
|
Protein:
48
g
|
Fat:
25
g
|
Saturated Fat:
11
g
|
Cholesterol:
147
mg
|
Sodium:
2866
mg
|
Potassium:
954
mg
|
Fiber:
1
g
|
Sugar:
1
g
|
Vitamin A:
12
IU
|
Vitamin C:
3
mg
|
Calcium:
36
mg
|
Iron:
6
mg