Delicious, incredibly rich, tasty, and delightful, smoked beef ribs are a hot item these days, but they are hard to find on most BBQ joint menus due to high cost. Those select places that carry smoked beef ribs serve them infrequently, once a week or so, and charge a small fortune for them. For those reasons alone, preparing smoked beef ribs at home makes a lot of sense.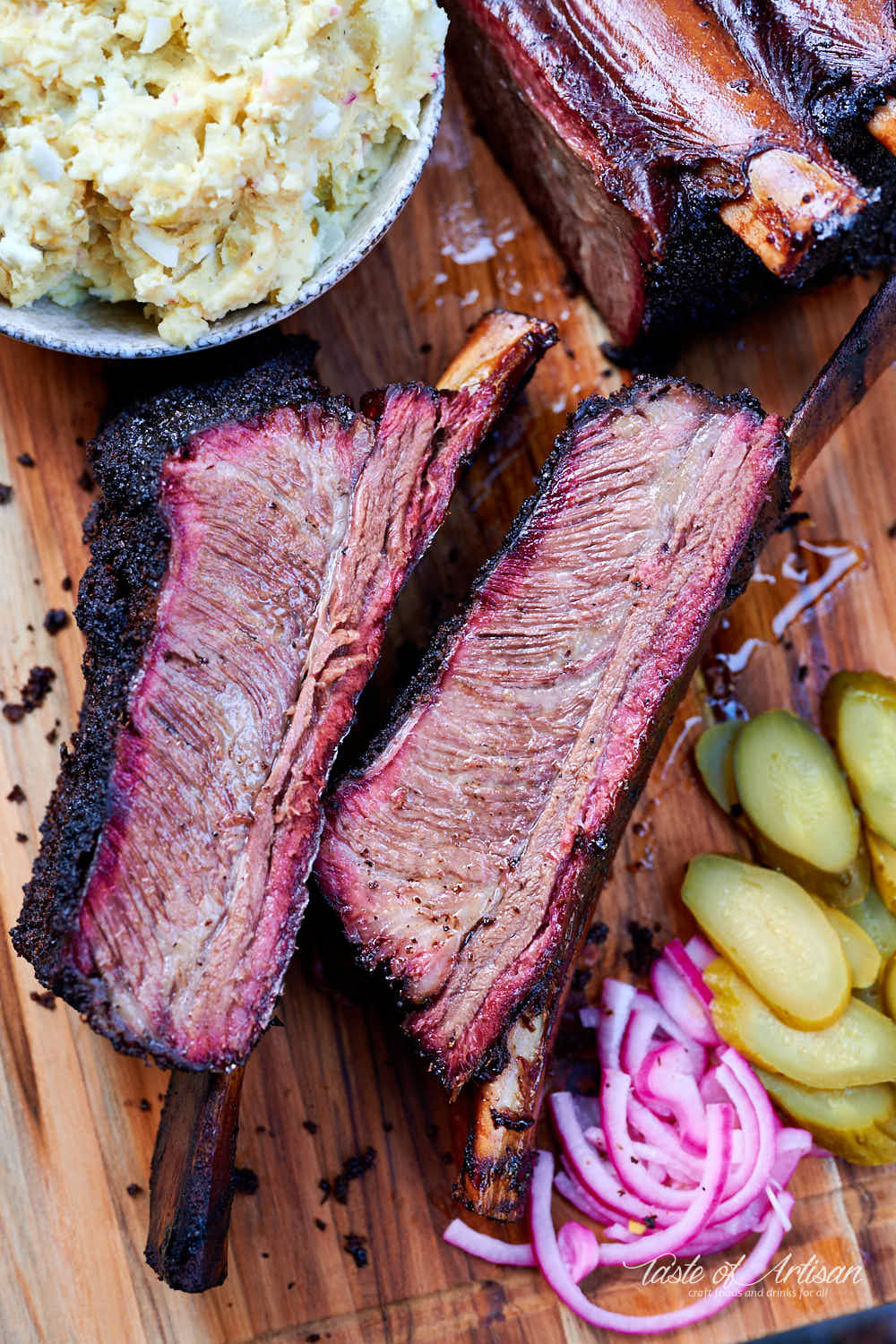 Beef short ribs, unlike brisket, are a breeze to make. They don't require nearly the same level of attention and expertise. They are very forgiving as a result of uniform thickness, straight grain, and ample marbling. I don't consider myself an expert pitmaster by any stretch, but my beef ribs turn out fantastic every time, without much effort or fuss on my part. Easy as pie.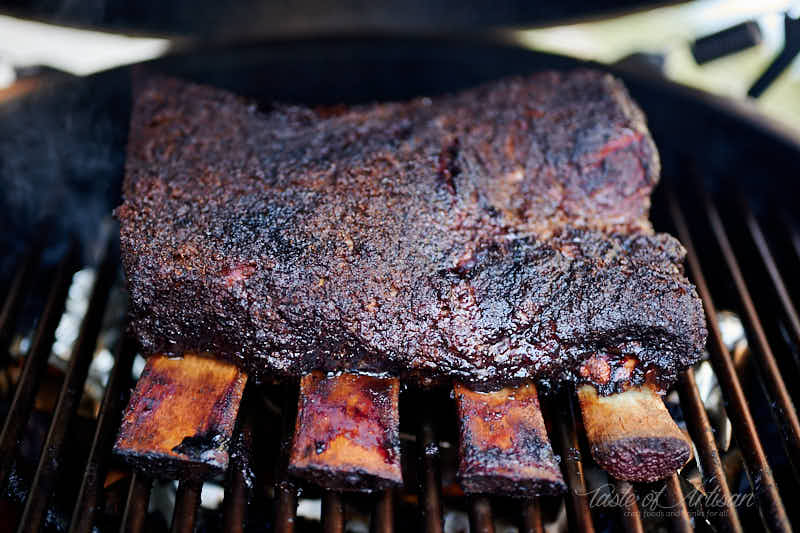 The best type of beef ribs for smoking
My first attempt to smoke beef ribs turned out to be a total disaster though. The ribs had barely any meat on them and ended up being pretty dry. Little did I know, I used the wrong kind of ribs to smoke. It was only by chance, a long time later, that I realized my mistake. I am glad that I did as smoked beef ribs are a real treat.
There are three kinds of beef ribs you can find at a store:
beef back ribs,
short ribs, and
chuck ribs.
Beef back ribs are the equivalent of pork back ribs. They are cut away from the rib-eye, one of the most expensive cuts, hence butchers leave very little meat on these bones.  The bones are thin, and whatever meat is left is located between the ribs. Smoking back ribs is hardly worth the effort.
Beef short ribs are the equivalent of St. Louis cut pork ribs. It's a cut that comes from just behind the brisket and below the ribeye on a steer. It is called the short plate, and the ribs are called short ribs, or plate ribs since they come from the short plate. Here, the meat is located on top of the bones. The beef here is well-marbled and incredibly rich. This is the kind of ribs you want to use for smoking. It's ideal for long and slow smoking.
Finally, beef chuck short ribs are similar to beef plate ribs as they are also very meaty, but less marbled and with a slightly smaller bone. Chuck ribs are usually easier to find, but beef plate short ribs are what you should use ideally.
If possible, buy hormone- and antibiotic-free meat. This type of beef tastes better, and the fat renders better. Franklin Barbecue, famous for its beef ribs, uses all-natural beef from Creekstone Farms for beef ribs and briskets.
Dry rub for beef ribs
Some say that salt and coarsely ground black pepper is all you need to season beef ribs or brisket. That's according to Aaron Franklin himself. I take that advice with a grain of salt after reading that John Lewis of La Barbecue admitted in his interview to Texas Monthly that he "never cooked a brisket in (his) life whether it be at La Barbecue, at Franklin Barbecue or on the competition circuit with just salt and pepper." 
While salt, pepper, and smoke are great seasonings for beef ribs and may very well be all that some will be happy with, I think we can do better. I like adding a good amount of granulated garlic and onion. Together with salt and pepper, they make a great tasting bark.
Applying the dry rub
To make the rub stick to the meat, you need to slather the ribs first. It's best to use water-soluble slathers that won't impede smoke penetration. The most popular slathers for beef ribs are mustard or plain water. Aaron Franklin of Franklin Barbecue likes using a small amount of hot sauce as a slather. You can also use vinegar, which is a great option to help balance out the richness of beef rib meat.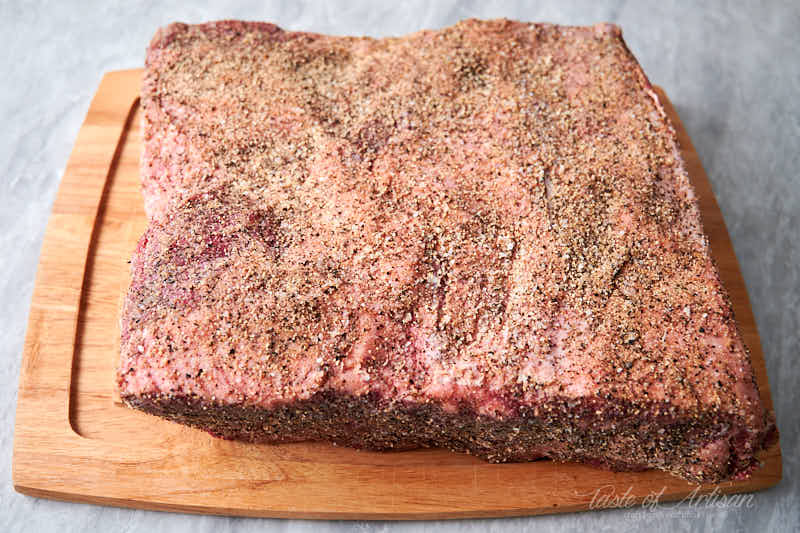 Once the ribs are slathered, sprinkle the ribs very evenly with the dry rub. Even distribution of the dry rub is very important as it ensures even cooking and even bark formation.
Wood for smoking beef ribs
You want to use dry, seasoned for at least six months, wood. Soaking wood in water is often recommended but is unnecessary and, actually, counterproductive.
Most popular woods for beef ribs are oak, hickory, or pecan. Hickory will give a stronger smoky smell, while oak and especially pecan will result in a noticeably milder smokiness. My favorite wood for smoking beef ribs is oak by far.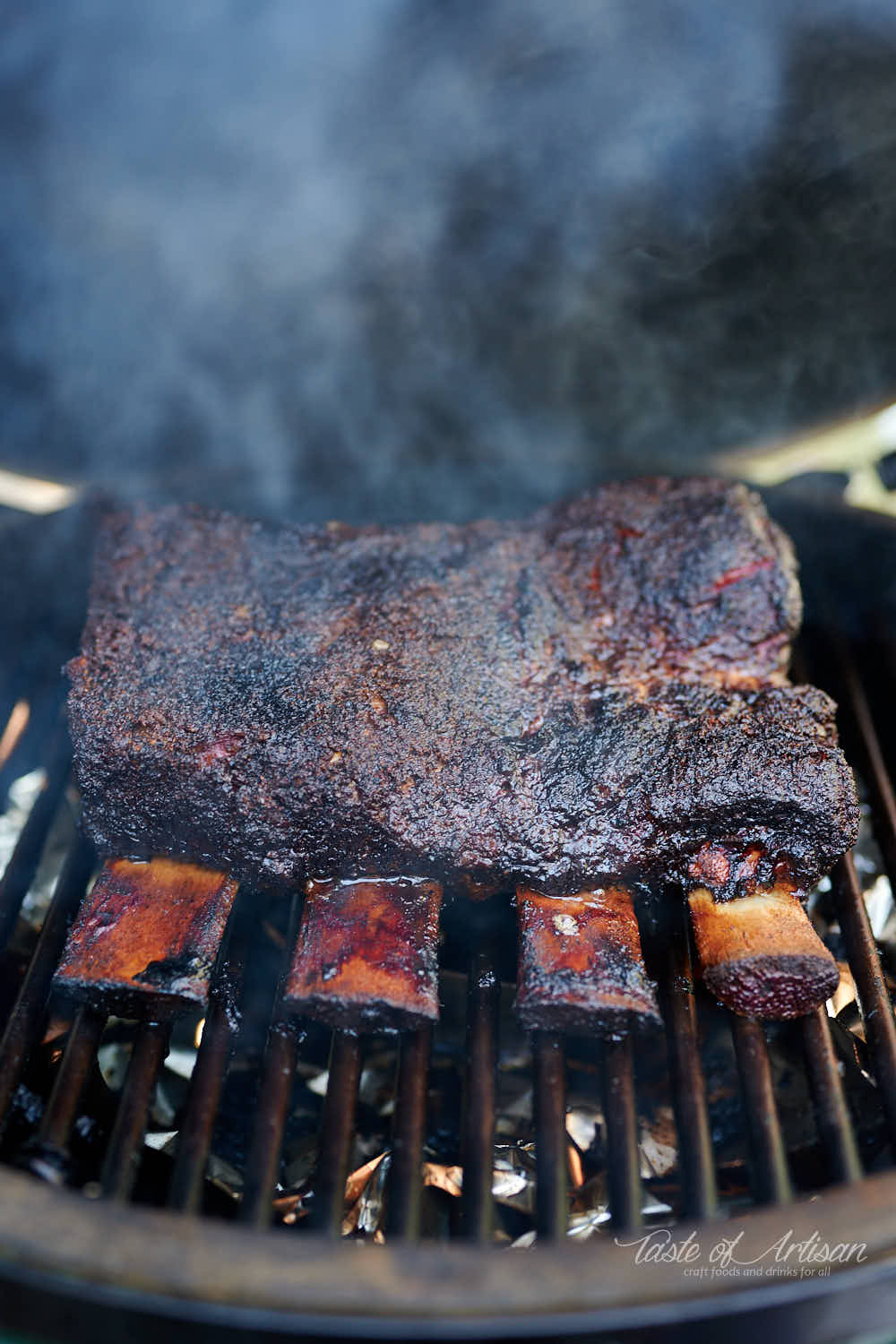 Smoking temperature and time
Beef short rib smoking temperatures range from 225F to 325F, depending on who you ask. Aaron Franklin, in his Franklin Barbecue book, says that he likes to smoke them at 285F, which takes about 8-9 hours. His beef ribs are among the best in the country, no question about that.
Interestingly, Franklin pitmaster Andy Risner in his interview to Texas Monthly said that he starts beef ribs off at a lower heat, around 250F, than raises the temperature to around 275F, where most of the smoking is done.  Then, at the end of the cook, he cranks the heat up to 290F - 300F to finish them off. This helps break the collagen down before all the fat is rendered.
Some people are more comfortable smoking at 225F and take the same approach when smoking beef ribs. Aside from taking very long hours, smoking really low and slow will affect the formation of a good bark and fat rendering on the inside.
On the other end of the spectrum is smoking beef ribs hot and fast, at around 300F - 325F. You can cook a rack of beef ribs in about 4 hours at these temps. These 'beef shorter ribs' come out great, though not fall-apart-tender and need a knife to cut through.
So, what is the best temperature for smoking beef ribs? After trying low and slow, hot and fast, and the middle-of-the-way 275F-285F, I can confidently say that the best tasting rib was the one cooked at the medium temps. Low and slow just didn't have the same tasty bark, and the fat did not render as well as I expected. The hot and fast rib had a tough texture that I did not enjoy, even though I pulled it at 210F. The middle of the way rib had everything a good rib must have: juiciness, tender texture, and a ton of flavor.
Wrapping
Beef short ribs need no wrapping due to their marbling. It's not easy to dry them out. I also find that the more fat renders out, the tastier the ribs are. Wrapping slows down fat rendering quite significantly.
Doneness and final internal temperature
The ribs are done when the meat is exceptionally tender and jiggly. In scientific terms, the meat's internal temperature needs to reach around 203F, the same as for brisket. Rib meat thickness is uneven, so expect some parts to be 203F, while others will be a little higher or a little lower. I shoot for at least 203F in any part of the rib rack.

When you cook beef ribs hot and fast, a higher internal temperature will result in more tender meat. Shoot for around 210F.
Resting
Similar to brisket, steak and most other meats, smoked beef ribs need to rest before slicing, at least for 30 minutes. Wrap the ribs in butcher paper and let sit at room temperature until the internal temperature drops to 145F. Then slice and serve.
If you plan on serving later, let the ribs sit at room temperature for 15 minutes, then place in a cooler box. It will take about 2-3 hours before the ribs hit 145F in a faux cambro. Longer if you preheat it with hot water.
When keeping smoked ribs in a faux cambro, I don't wrap them, I find that it makes the bark soggy. Don't worry about it drying out, the air inside the box will be plenty humid. But if you insist on preserving every last bit of moisture, go ahead and wrap them in butcher paper.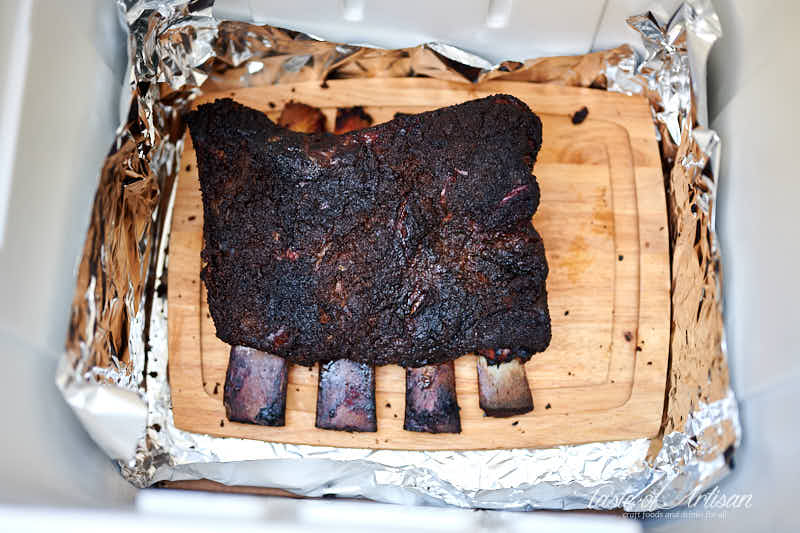 The rule of thumb is that you don't want to slice your beef ribs until the internal temperature drops below 150F. Otherwise, a lot of juices will quickly run off.
Keeping smoked beef ribs warm
Even though beef short ribs are more marbled than brisket and hence more forgiving, they still can dry out. The optimal temperature for keeping smoked beef short ribs warm is 145F. Meat starts to lose water at about 140F but does so very rapidly at around 150F and above as fibers begin to shrink, so it's best to keep it well under that mark. 140F is the top border of the danger zone in which harmful bacteria may grow rapidly. As such, keeping the meat at 145F is the ideal temperature.
Serving smoked beef short ribs
Once the ribs had sufficient rest, slice them between the bones, and serve on a bone.  Each rib, depending on the size, may weigh in almost a pound or more. It will be just fine for a big eater; others can share a rib between 2-3 people, which will be easy to do given how pull-apart-tender they are.
For the kids, I like to remove the meat from the bone, it easily comes right off, and slice. This makes it easy for them to enjoy.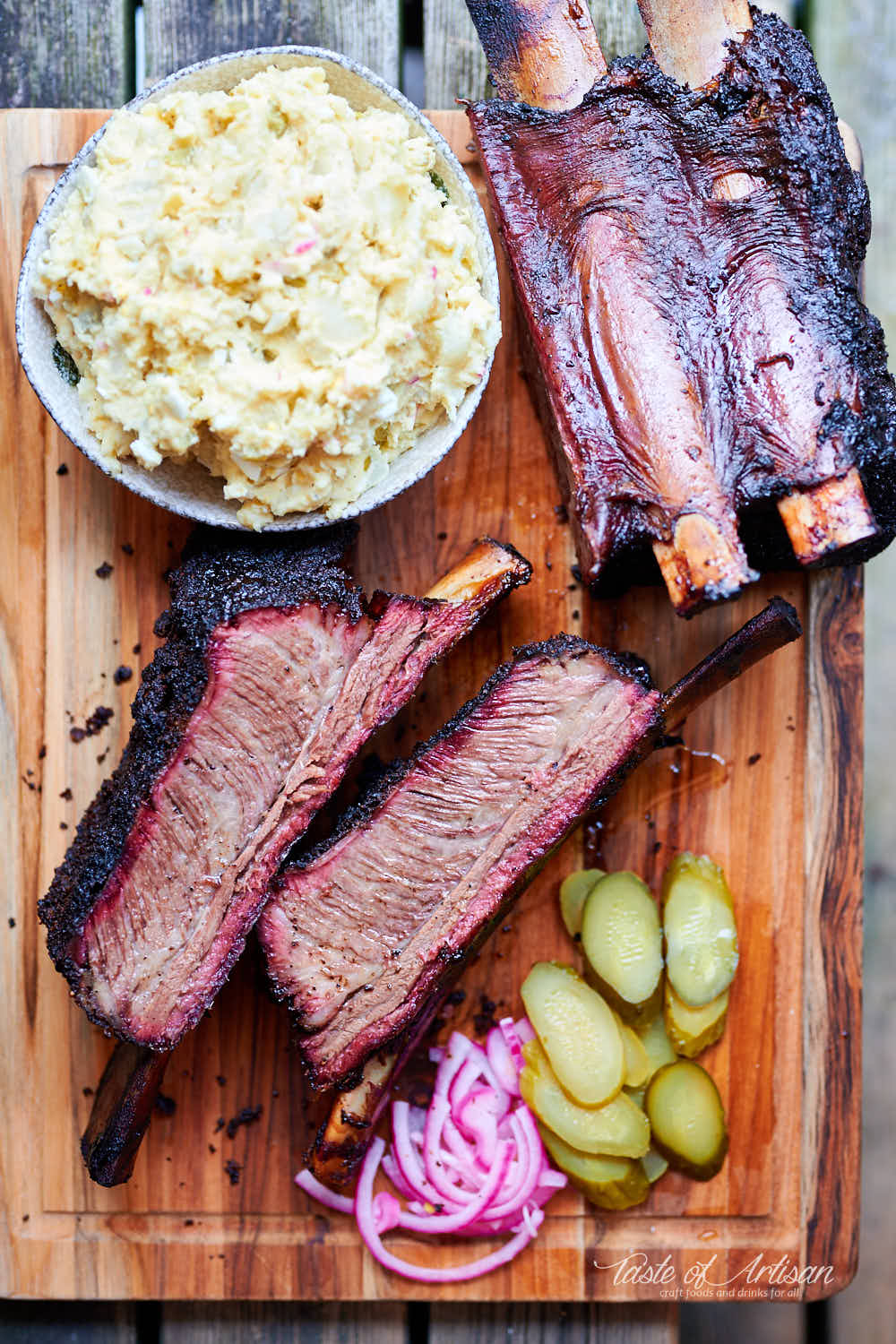 Short rib meat being very marbled, it really benefits from zesty and acidic addons which bring balance to their taste and make the ribs much more enjoyable. A southern potato salad made with prepared mustard, pickles and pickled red onions is a great side dish for beef short ribs. Throw in some more sliced pickles and homemade pickled red onions and you will have one of the most memorable dishes you've ever tried. My mouth starts to water just thinking about it.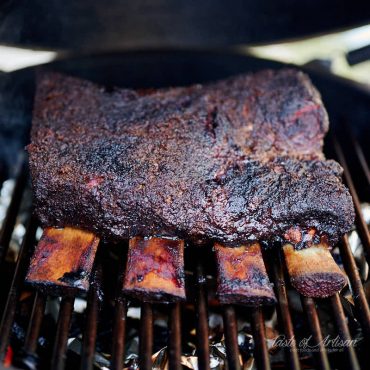 Ingredients
1

4-rib rack

beef plate short ribs

about 6 lbs

2

Tbsp

hot sauce

3

Tbsp

kosher salt

or to taste (1.5 - 2 Tbsp if you like it less salty)

3

Tbsp

black pepper

coarsely ground (adjust to taste; 1.5 - 2 Tbsp for a mild peppery taste)

2

Tbsp

granulated garlic

or garlic powder

1

Tbsp

granulated onion

or onion powder
Instructions
Preheat the smoker to about 275F - 285F. Add a water pan.

Mix the ingredients for the dry rub in a small bowl and set aside.

Remove the membrane and trim the fat cap to about 1/4".

Slather the ribs with the hot sauce, then apply the rub, very evenly.

Smoke, meat side up, for about 8.5 - 9 hours, or until the internal temperature reaches 203F in the thickest part. Keep the water pan full during smoking to prevent drying the meat from drying out.

Wrap the ribs in butcher paper and let rest at room temperature until the internal temperature drops to 145F. Then slice and serve. If serving later, let the ribs rest room temperature, uncovered, for 15 minutes, then place in a cooler box. It will take about 2-3 hours before the ribs reach 145F internal temperature, longer if you preheat the cooler with hot water.
Nutrition
Calories:
445
kcal
|
Carbohydrates:
4
g
|
Protein:
48
g
|
Fat:
25
g
|
Saturated Fat:
11
g
|
Cholesterol:
147
mg
|
Sodium:
2866
mg
|
Potassium:
954
mg
|
Fiber:
1
g
|
Sugar:
1
g
|
Vitamin A:
12
IU
|
Vitamin C:
3
mg
|
Calcium:
36
mg
|
Iron:
6
mg