This summer, I decided to make my very first fermented dill pickles and I quickly realized that that task was not nearly as easy as I thought it would be. I am sure many other newbies would have the same challenges. You may ask: how is that even possible? As they say, the devil is in those tiny details. It took me several batches and a whole bunch of research to come up with the recipe with which I was 100% happy.

What are fermented pickles?
Fermented pickles are pickles prepared using the traditional process of natural fermentation in salt brine. The brine concentration can vary between 2% and more than 5%.
Vinegar is not needed in the brine of naturally fermented pickled cucumbers as the pickles become sour as a result of the activity of naturally occurring lactic acid bacteria. Pickles prepared with vinegar have a distinct vinegary taste that is inferior to fermented pickles. Ok, some may disagree with that statement but I would choose a fermented pickle over a vinegar pickle every time given the choice.
Fermented pickles are almost always fermented dill pickles. Why? Because pickles, or pickled cucumbers, are almost always seasoned with dill weed and dill seeds, which give them their distinct flavor. If you decide to skip dill, you will end up with fermented pickles.
Are fermented dill pickles the same as kosher dill pickles?
Dill pickles are also sometimes called kosher dill pickles. Can kosher dill pickles be fermented dill pickles? Yes. In fact, a typical kosher dill pickle is a fermented dill pickle, made in the traditional manner of Jewish New York City pickle makers. These pickles are typically made with a generous addition of garlic and dill to salt brine.
Full-sour vs half-sour fermented pickles
To make things more interesting, fermented kosher dill pickles can be full-sour and half-sour. Full-sour dill pickles are those that are fully fermented, while half-sour pickles are those that stay in brine only a short period of time, about 2-3 days. Half-sour pickles are still crisp and bright green. In Eastern Europe, these are also referred to as half-salty as the pickles that stay in brine for a shorter period of time will naturally be less salty.
My challenge making fermented dill pickles
My biggest challenge in making fermented pickles was how much salt to use. Search around for fermented pickle recipes and you will see how they differ from one another as far as how much salt to use. Some call for as low as 2-2.5% salt brine while others call for as high as 5%. Which ones are right? Is there the 'right' amount or is it a matter of personal preference? Which one is the safe amount? Which ones make a better-tasting pickle? My head was spinning while searching for the right answer. Making fermented sauerkraut wasn't nearly as challenging. The good news is that once you figure out the salt part, the rest is somewhat easy.
The 'right' amount of salt for fermented pickles
Salt plays a crucial part in the cucumber fermentation process. However, the more salt you add the saltier the pickles will be. Too salty a pickle is not a good thing. Less salty pickles are tastier. To a point. Pickles lacking in salt don't taste good either. There has to be a balance, the sweet spot. But where is it?
Similarly, the less salt you add the higher the likelihood of undesirable bacteria growing rapidly and spoiling your fermented pickles. To make matters even more challenging, the less salt you add the softer the resulting fermented pickles due to the enzymes which came from the cucumber itself, or yeasts and molds. So, more salt means more crunch.
Finally, what if you want to can your fermented pickles? Is there a minimum salt amount for fermented pickles to be safely canned?
After referencing numerous online and book resources, I found the answer in Stanley Marianski's Sauerkraut, Kimchi, Pickles & Relishes book. Marianski is the guru of anything smoked, cured, pickled and more, and is extremely health safety oriented. Here is the summary that he provides to this effect in his book:

Does this make sense? Sort of. I am still a little unsure though. All I get from this is that the salt level must be at least 5% for canning fermented pickles safely but otherwise, the minimum safe salt level is 3.5% but he seems to recommend at least 4% (4% and 5% highlighted yellow in the book). Can I go any lower than that if I am willing to take the risk of my pickles possibly getting infected? Will they still taste good?
Experimenting with different salt levels
Seeing how some recipes for fermented pickles call for as little as 2.5% salt level, I decided to do some experimenting and see for myself. I fermented three jars of pickles with the only difference being the salt level. Spices and seasonings, fermentation temperature and fermentation time were identical. I picked at 2.5%, 3.5% and 4.5% salt levels. I could do 4% but I thought that 3.5% and 4% would be too close to judge effectively.  Five percent seems too high to attempt when not planning on canning the pickles.
All three kinds were fermented for 8 days. The brine is a bit cloudy, did not use fermentation lids. More on that later.

The results? They were a little surprising.
2.5% salt fermented pickles - Not salty enough! A little bland. Not enough flavor. Sourness slightly overpowering the flavor.
3.5% salt fermented pickles - Very good balance of flavor, sourness and saltiness. Noticeably more flavorful and generally tastier than the other two.
4.5% salt fermented pickles - A little too salty. The flavor got a little muddied by excessive salt.

Honestly speaking though, if I tried each pickle on separate occasions, I would have probably liked each. But when comparing them side by side, you immediately see the clear winner.
So, my conclusion is to use 3.5% salt brine to make fermented pickles that will be refrigerated and 5% when making fermented pickles that will be brined.
Pickle fermentation process
With the salt levels out of the way, the rest is easy. Dissolve salt in room-temperature water, fill the jars with pickling cucumbers, add the spices and seasonings, pour water to cover the cucumbers and ferment for 8-10 days. Simple enough.

Fermentation Temperature
Cucumbers ferment best at 64F - 72F (18C - 22C) temperature. At this temperature, the optimal lactic acid bacteria strain will dominate during the fermentation process. At those temperatures, the fermentation process is accomplished in about 8-10 days.
A few tips
Wash cucumbers of visible dirt but don't scrape them or brush them off. There are some lactic acid bacteria present on the surface
and they are needed to start fermentation.
Remove all remnants of cucumber blossoms as molds and tissue softening enzymes are known to reside in those areas.
Add turmeric to improve the color of the final product.
Add chopped or sliced horseradish root to help keep pickled cucumbers crisp. Alternatively, you may add oak or black currant leaves.
Home-made fermented pickles develop soft texture due to the enzymatic activity. One solution is to soak cucumbers for 12-24 hours in a solution of 1 cup of food-grade lime to 1 gallon of water. Excess lime absorbed by the cucumbers is removed by draining cucumbers, rinsing and then re-soaking them in fresh water for 1 hour. This rinsing and soaking step should be performed a total of 3 times.
Keep the cucumbers submerged in liquid during the entire fermentation process. I find that placing the top layer of pickles across the jar mouth will keep them down.
The liquid in the jars will become cloudy as a result of lactic acid bacteria activity. This is normal. You will also see some white sediment collected at the bottom. This is also normal.
Check the pickles daily. Any traces of slime should be discarded right away. Those are the enzymes that soften pickles. You don't want to keep them in the jar.
You can place a small Ziploc bag filled with brine on top of the pickles. The bag will create an anaerobic environment that will restrict the production of slime by yeast.
Better yet, get yourself some wide-mouth jars and fermentation lids fitted with airlocks. These lids will expel excess CO2 but keep oxygen out, preventing the formation of slime. The brine will end up being less cloudy too.
When transferring pickles to the fridge, you can leave them as is. Alternatively, you may filter the liquid using a coffee filter to reduce cloudiness if it bothers you. Yet another option is to make a new brine and transfer the fermented pickles into a new jar with a new liquid for storage. This will, however, drastically reduce the flavor of the brine.
If by the end of fermentation the pickles are soft, slippery or slimy, they may be spoiled so it's recommended to discard them.
You can eat partly fermented pickles after 3-4 days. They will still be deep green color, but the color will start turning olive green over time.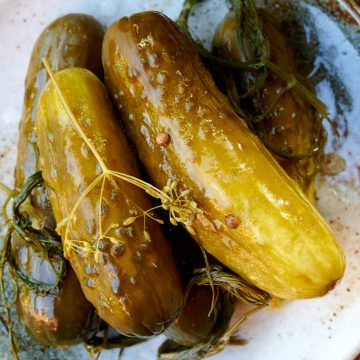 Fermented Dill Pickles
The recipe below is for one 1-quart jar of about 8 pickles. Scale the recipe to make as many jars as you need.
Print
Pin
Rate
Ingredients
8

pickling cucumbers

a mix of large and small

2 1/4

cups

water

about 532 ml; room temperature

1

Tbsp

pickling salt

about 18 g

2

cloves

garlic

1

inch

horseradish root

peeled and sliced or diced

2

dill umbrellas

or 3-5 dill twigs

12

peppercorns

black or assorted pink, green, white and black

8

coriander seeds

2

bay leaves

10

mustard seeds

2

cloves

whole

2

berries

allspice

whole
Instructions
Wash cucumbers but don't brush them off. There are lactic acid bacteria on the surface that are needed to start fermentation.

Cut off about 1/16 inch (1.5 mm) off the blossom ends of cucumbers. Molds and tissue softening enzymes are known to reside in the cucumber blossom area.

Prepare 2 1/4 cups of 3.5% salt brine by whisking 1 Tbsp (18 grams) with water until the salt is dissolved.

Place half of the seasonings at the bottom of a clean 1-quart jar. Add the cucumbers. Arrange the top cucumber across the jar to prevent them from floating. Add the rest of the seasonings on top.

Pour in the brine leaving about 1/2" of headspace while making sure the cucumbers are covered with the liquid.

Attach the fermentation lid with an airlock filled with the leftover brine. Make sure that the bottom tip of the airlock stays slightly above the liquid. (see note 1)

Ferment at 64F - 72F (18C - 22C). You should see bubbles going up after about 16-24 hours when fermenting at around 68F. Longer if fermenting at lower temperatures and a bit sooner if fermenting at higher temperatures.

Ferment for 3-4 days for half-sour pickles and 8-10 days for full-sour pickles.

Taste the pickles. If you are happy with the results, place them in the fridge which will stop further fermentation. (see notes 2 and 3)
Special Equipment
One 1-quart wide-mouth pickling jar

One fermentation lid with an airlock
Notes
Note 1 - Instead of a fermentation lid with an airlock you can use a

sealed plastic Ziploc bag filled with brine placed on top of cucumbers. Make sure to regularly check the bag for any white slime and wash it as needed. The slime forms as a result of yeast activity and exposure to oxygen. If you don't remove the slime regularly it will cause the pickles to lose their crunch.
Note 2 - If the pickles are soft, slippery or slimy, they may be spoiled so it's best to throw them out and start again.
Note 3 -

You can save some of the fermented pickling brine to use as a starter culture for the next batch. In Eastern Europe, fermented pickling brine is used for treating hangovers. It works!
Note 4 - If you plan on canning fermented pickles, follow my canned fermented pickles guide.
Nutrition
Calories:
44
kcal
|
Carbohydrates:
8
g
|
Protein:
2
g
|
Fat:
1
g
|
Saturated Fat:
1
g
|
Polyunsaturated Fat:
1
g
|
Monounsaturated Fat:
1
g
|
Sodium:
272
mg
|
Potassium:
433
mg
|
Fiber:
3
g
|
Sugar:
4
g
|
Vitamin A:
220
IU
|
Vitamin C:
10
mg
|
Calcium:
57
mg
|
Iron:
1
mg