Baci di Alassio is a regional Italian pastry native to the town of Alassio which lies in the heart of the Ligurian Riviera di Ponente, hence the name which translates as 'kisses of Alassio'.  It can be found in the local pastry shops alongside other specialties such as gobeletti and pandolce. Compared to the Piedmontese specialty pastry called Baci di Dama, Baci di Alassio is different in taste and texture. While both are made with hazelnuts, Baci di Alassio doesn't use butter or flour. Instead, it includes cocoa powder which together with hazelnuts makes the cookies soft and not overly sweet.

This pastry reminds me of macarons though Baci di Alassio feels more rustic. There is so much going on it it. The outer part of the shell has a slight crunch but the inside is soft and chewy. The texture is coarser, in a good way, you can feel the little bits of the hazelnut. It's not as homogeneous as almond flour in macarons.
In between the shells, there is a velvety soft chocolate ganache that brings the two shells together in a delicious 'kiss'. If you need to take a break from macarons Baci di Alassio is a prime contender. It's just as interesting and exquisite. It's also gluten-free if that's the type of delicious pastry you are looking for.

Ingredients
The quality of Baci di Alassio cookies is directly related to the quality of hazelnuts, cocoa powder and chocolate. Make sure that hazelnuts are fresh and the cocoa powder and chocolate chips are of good quality.  Something like Ghirardelli dark chocolate chips and cocoa powder is a good option as far as price/taste/quality goes. Another good thing about the Ghirardelli brand is that you can buy it any virtually any grocery store. Callebaut, Guittard, and Valrhona are the other very good brands though a bit pricier.
Alcohol is not a common ingredient in the ganache used in this pastry but I think it adds a lot of flavor. I made it optional in this recipe but I highly recommend it.
Making Baci di Alassio
I would rate this recipe as easy and not harder than any cookie recipe. But there is one exception and that's piping the batter. It took me several tries to make it actually work. I took the largest star tip I had and I could barely squeeze anything out. I did not want to change the consistency of the batter so I had to find another solution.
That solution came in the form of some old plastic cake decoration tip I found in my pastry-making tool box. It worked! I can't tell what brand/model it is but I can tell you that it's about 1/2" to 5/8" wide. It was perfect for piping this batter. It looks like the Ateco #828 tip which has a .63" diameter opening will do the trick. So, make sure you have a piping tip similar to this before you attempt this recipe.

There isn't one recipe for Baci di Alassio, every pastry chef in the region has own recipe that they guard jealously. Though variations are minor and the general idea is very much the same. If you feel like modifying this recipe a little to suit your taste, please feel free to do so.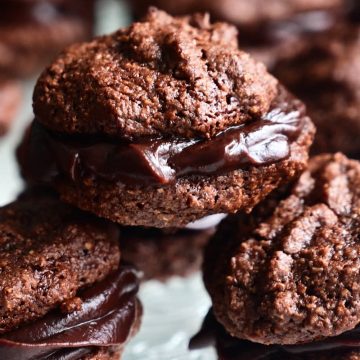 Ingredients
3

cups

hazelnuts

level cups; about 375g

1 1/2

cups

sugar

level cups; about 300g

3

egg whites

from large eggs; about 100g

1 2/3

Tbsp

honey

about 35g

3

Tbsp

cocoa powder

heaping tablespoons; about 35g
For the chocolate ganache
1 1/3

cups

heavy cream

about 230g

2/3

cup

dark chocolate

about 150g

1

tsp

cognac

optional; substitute with brandy or rum if necessary
Instructions
Bring the heavy cream to a boil and pour it over chocolate chips. Stir with a spoon until homogeneous and smooth. Stir in the cognac if desired.

Let the ganache mixture cool down while you are working on the other steps.

Toast the hazelnuts in the oven at 350F (180C) for 10 minutes. Take the nuts out of the oven and let them cool down. Rub the nuts between your palms to remove the skins.

Pulse the nuts and sugar in a food processor (or a blender) until the nuts are finely ground.

Whip the egg whites with a pinch of salt to hard peaks.

Combine the nut mixture, cocoa powder, whipped egg whites the honey in a bowl. Mix until the mass looks homogeneous.

Using a pastry bag with a large star tip, pipe the batter onto a large (21" x 15") baking sheet lined with parchment paper. Make the batter disks about 1.5" in diameter. The total will be about 48-52 disks.

Bake the pastry shells at 400F (200C) for 10-12 minutes. Take them out of the oven and let them cool down.

Using a pastry bag with a medium star tip, pipe the ganache on one half of the pastry shells and assemble them into sandwiches.

Gently transfer to a serving platter and let the ganache set before serving, about an hour or so.
Nutrition
Calories:
226
kcal
|
Carbohydrates:
19
g
|
Protein:
3
g
|
Fat:
16
g
|
Saturated Fat:
5
g
|
Polyunsaturated Fat:
1
g
|
Monounsaturated Fat:
9
g
|
Trans Fat:
1
g
|
Cholesterol:
18
mg
|
Sodium:
13
mg
|
Potassium:
163
mg
|
Fiber:
2
g
|
Sugar:
16
g
|
Vitamin A:
199
IU
|
Vitamin C:
1
mg
|
Calcium:
31
mg
|
Iron:
1
mg