These oat flour cookies are amazing. They are the opposite of your typical 'sweet, soft, buttery, and chewy oatmeal cookie'. Instead, they are hard, just slightly sweet, crunchy, and crispy, like biscotti. In our family, we like them a lot and make them quite regularly.
Since they are fairly dry, like my favorite sesame crackers, they have a very long shelf life. In a tightly sealed container, they will easily keep for a couple of months or longer. They are perfect to have with tea, coffee, or a glass of milk. These cookies are also great as a quick (and healthier) snack to take on trips, hikes, to work, etc.

This recipe originates from the book of GOST (Gosudarstvennyi Standart, which translates as State/Federal Standard) recipes published many years ago in the former Soviet Union. Many of these GOST recipes are hugely popular in the post-Soviet countries for their taste and use of natural ingredients - something you can't find in products now sold in grocery stores.

However, I made two big changes to the original recipe. Firstly, I cut the sugar by more than half as I wanted a low(er)-sugar cookie. We get so much sugar in our diets these days that making a low-sugar cookie is a great way to lower sugar consumption. Trust me, this did not impact the taste - the cookie tastes very, very well.
The other change that I made was to bake these oat cookies at 250F for 2 hours. What? Are you serious? Yes, I am. These cookies in the original recipe are baked at 450F (230C) without convection or 375F (190C) with convection for 15 minutes. This will make a fairly soft cookie with a slightly crispy exterior. It's a good cookie but some time ago I found another way to bake it.
I once made a batch of dog treats/cookies from spent malted barley and I loved their texture - crunchy and crispy. Those were baked for 2 hours at 250F. I ended up eating a whole bunch of dog treats that I made for my pooch. I don't think he liked it. Next, I baked these oat flour cookies the same way that I did the dog treats and the cookies turned out fantastic.

I loved the resulting dry, crispy, crunchy, and brittle texture. That's how I've been baking those cookies from then on.

Enjoy!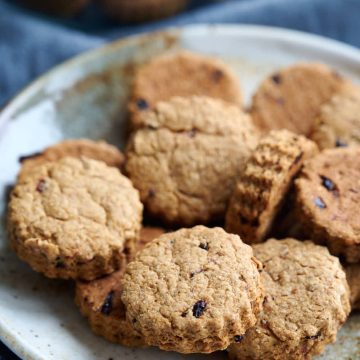 Crispy, Crunchy Oat Flour Cookies
Print
Pin
Rate
Servings:
40
2 cookies per serving
Ingredients
345

g

whole wheat flour

150

g

oat flour

100

g

white sugar

35

g

molasses

or maple syrup

165

g

unsalted butter

softened

100

g

raisins

finely chopped

1.5

tsp

ground cinnamon

1

tsp

vanilla extract

5

g

baking soda

4

g

kosher salt

120

ml

water
Instructions
Bring the water to a boil and let it cool down a little.

Meanwhile, place butter, sugar, cinnamon, vanilla and chopped raisins into a large bowl and mix with a large spoon until homegenous.

Dissolve salt and molasses in the water and add to the mixture. Add in oat flour and mix for a minute or two until homegenous.

In a separate bowl, combine whole wheat flour and soda, and add to the mixture. Mix/knead until smooth and all flour is incorporated, about 3-5 minutes.

On a lightly floured surface, roll out the dough to about 1/4" thickness. Cut out cookies using a 1.25" - 1.5" cookie cutter. Collect the cut offs, shape into a ball, re-roll, and repeat.

Transfer cookies to a baking sheet lined with parchment paper. These cookies won't spread, they will only puff up a bit, so you don't need to space them out too much.

Bake the cookies at 250F for about 2 hours or until they are very firm. They should not be soft in the center.

Remove the cookies from the oven and transfer them to a cooling rack. Let the cookies cool completely before serving.

Once the cookies are completely cooled down, store in a glass jar with a lid or any air-tight container.
Nutrition
Calories:
94
kcal
|
Carbohydrates:
14
g
|
Protein:
2
g
|
Fat:
4
g
|
Saturated Fat:
2
g
|
Polyunsaturated Fat:
0.4
g
|
Monounsaturated Fat:
1
g
|
Trans Fat:
0.1
g
|
Cholesterol:
9
mg
|
Sodium:
102
mg
|
Potassium:
80
mg
|
Fiber:
1
g
|
Sugar:
3
g
|
Vitamin A:
104
IU
|
Vitamin C:
0.1
mg
|
Calcium:
9
mg
|
Iron:
1
mg