These shortbread cookies with jam have been one of my favorite for a very long time. I really don't know what not to like about them. They taste super, melt in your mouth, have a drop of chewy jam in the middle, and can be made in 25 minutes. Even 20 if you try hard enough. Serious. That is, of course, if your oven can get pre-heated in 10 minutes. I imagine gas ovens can do that very quickly, but I can only speculate.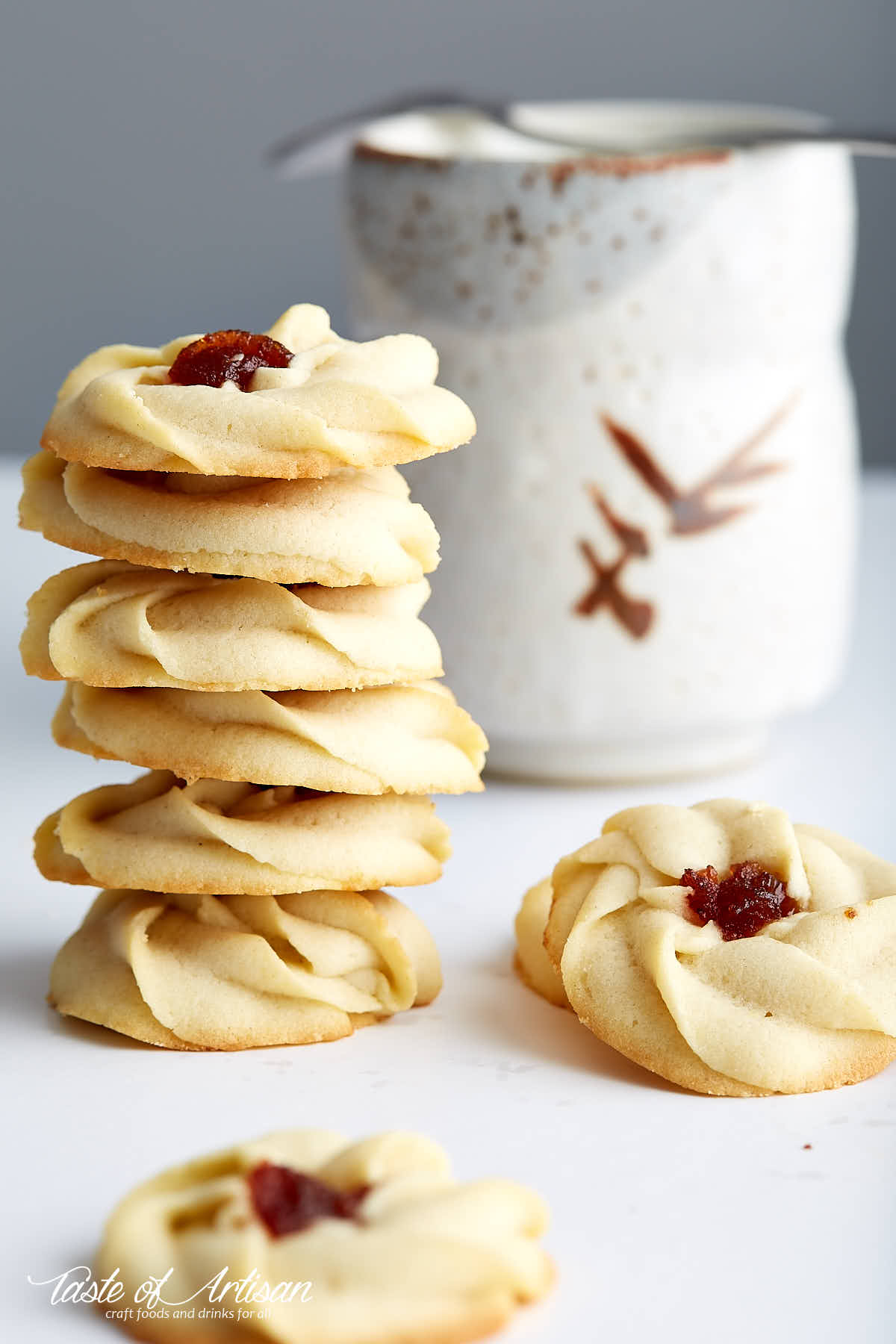 Anyway, the process is super simple. First, soften your butter in a microwave, then mix it with powdered sugar, then add the rest of the ingredients and mix thoroughly. That's it. This recipe, unlike classic shortbread recipes, makes use of an egg white. This is necessary to soften the dough so that it can be piped easily.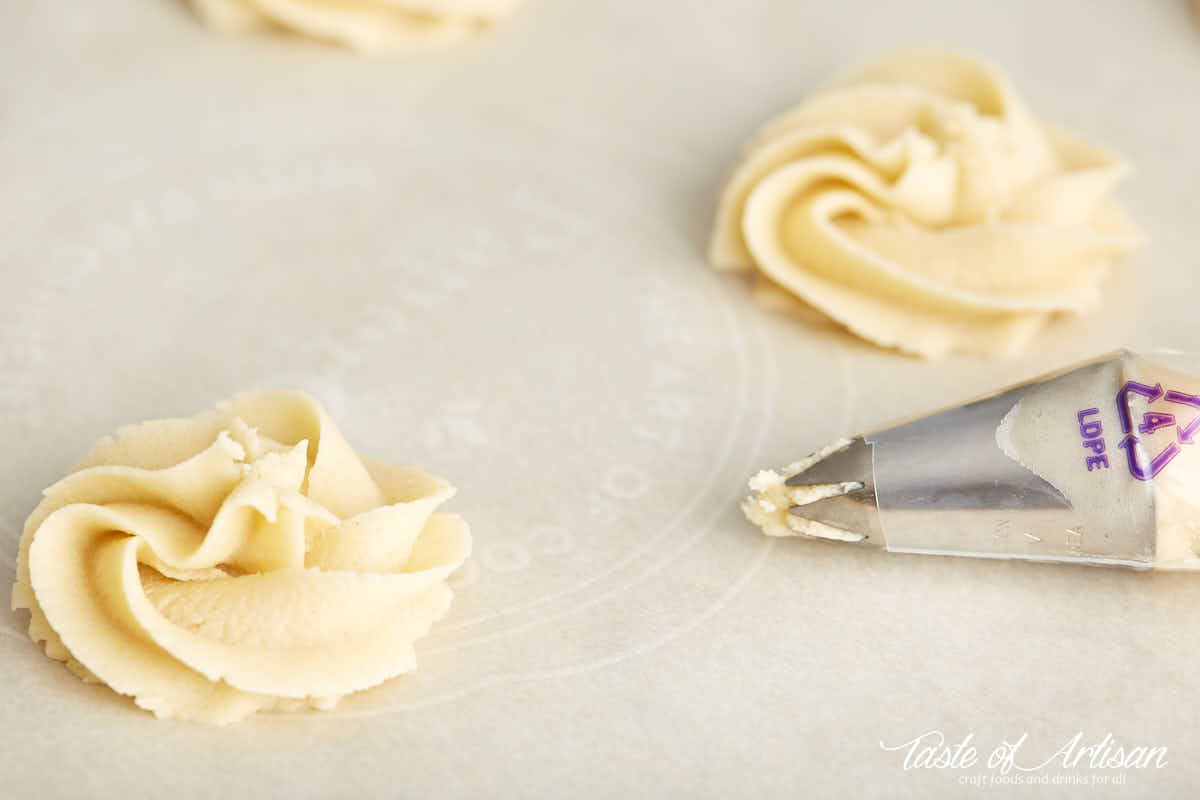 Pipe the cookies onto a baking sheet, put a drop of jam in the middle and bake. Any jam will do, as long as it is thick and doesn't spread out quickly. Thick jam will thicken even more in the oven and will become slightly chewy – I love that. Alternatively, a more runny type of jam can be thickened with 1/2 teaspoon of cornstarch to 1 tablespoon of jam.
Gelatin or any other thickening agent will also do. If you don't have any of those handy, there is another simple method – heat a tablespoon or two of jam in a small saucepan over medium-low heat, constantly stirring, until the desired thickness is achieved. Actually, you can also make some jam very quickly, too. Place a handful of berries, or sliced apples, or any other fruit in a sauce pan, add 1-2 tablespoons of sugar an heat over medium-low heat, constantly stirring for about 15 minutes, until it thickens. There is nothing like homemade jam.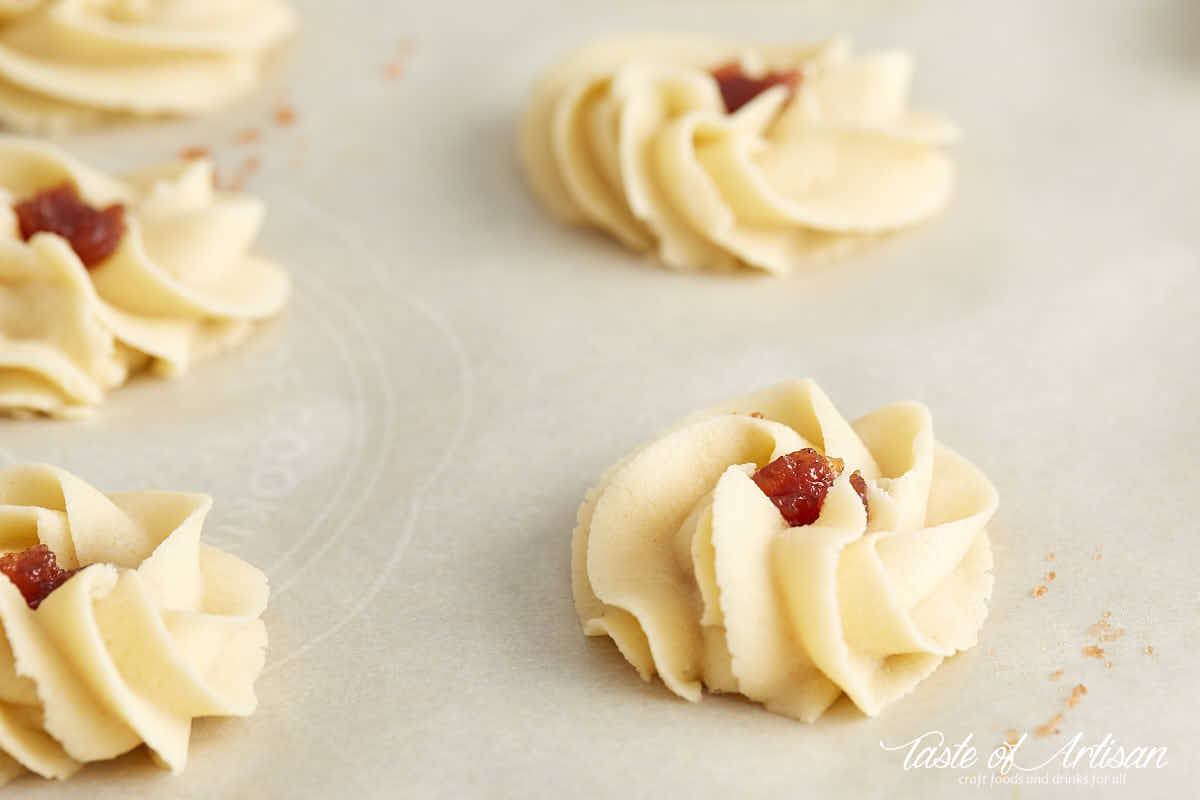 For piping I used Wilton 1M (2110) Star Tip which worked fine, but I would love to give a larger star tip a try some day.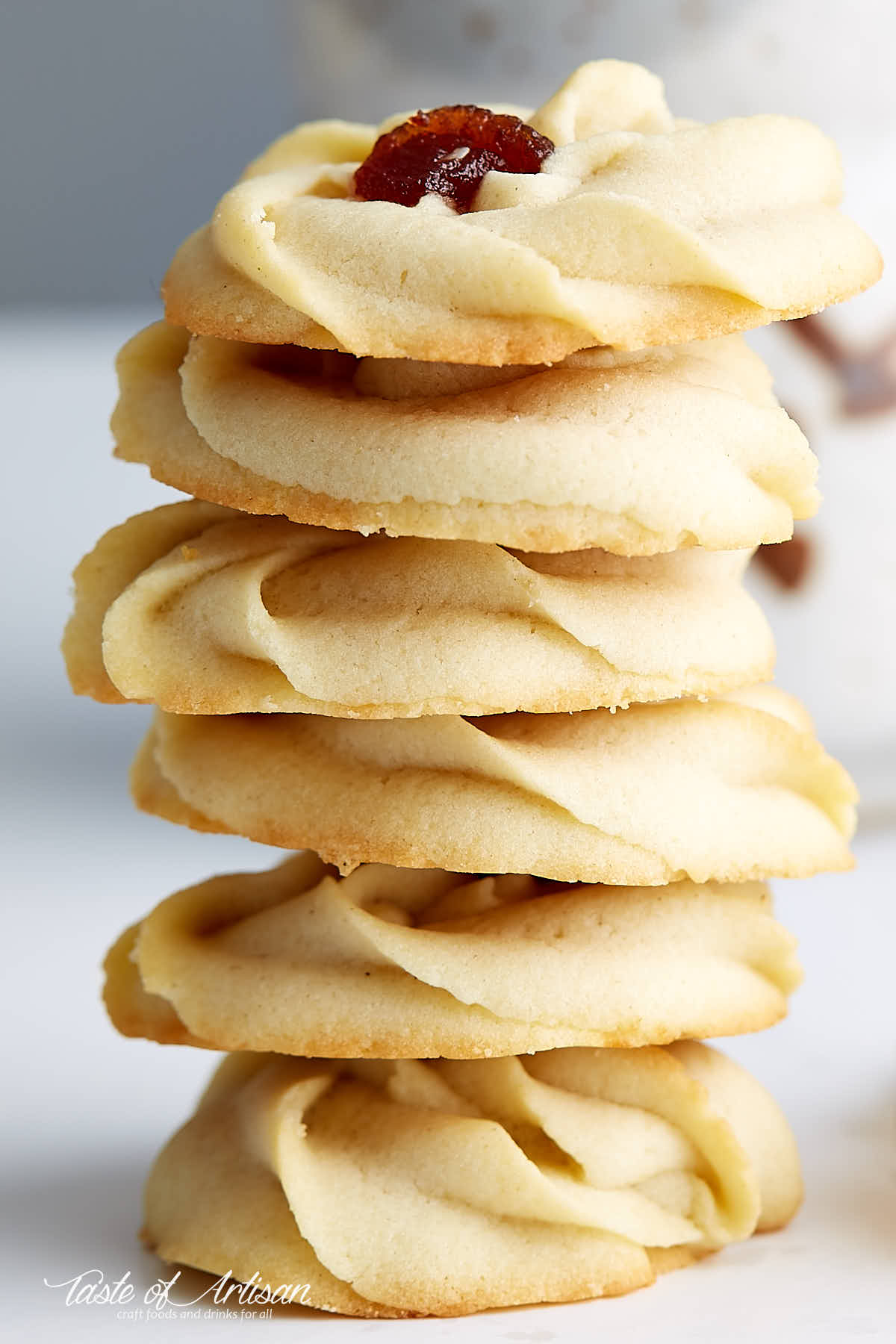 Bake for 8 to 10 minutes and you are done. It was quick, wasn't it?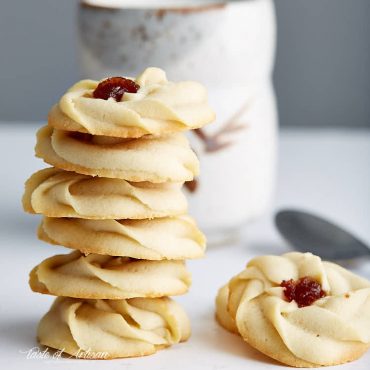 Ingredients
100

g

unsalted butter

softened

40

g

powdered sugar

1

egg white

1

tsp

vanilla extract

1/4

tsp

salt

160

g

all-purpose flour

1

Tbsp

thick jam

apple, strawberry, etc. If not thick enough, add 1/2 tsp cornstarch.
Instructions
Preheat oven to 425F.

Soften the butter by letting it sit at room temperature for 40 minutes or microwave it for about 15-20 seconds. Add the powdered sugar and mix thoroughly.

Next add the egg white, vanilla extract, salt and mix well.

Finally, add the flour and mix well.

Line a large baking sheet with parchment paper.

Place the dough into a disposable pastry bag with a large star tip and pipe cookies onto the baking sheet. The cookies should be about 2 inches in diameter.

Using a 1/4 thick stick, gently press in the center of each cookie, about half way. You want to make a little dent, not a hole. Fill the centers with a little bit of jam.

Bake at 425F for about 8-10 minutes, or until the sides of the cookies are starting to turn golden brown.
Nutrition
Calories:
85
kcal
|
Carbohydrates:
10
g
|
Protein:
1
g
|
Fat:
5
g
|
Saturated Fat:
3
g
|
Cholesterol:
12
mg
|
Sodium:
36
mg
|
Potassium:
12
mg
|
Fiber:
1
g
|
Sugar:
3
g
|
Vitamin A:
140
IU
|
Vitamin C:
0.1
mg
|
Calcium:
3
mg
|
Iron:
0.4
mg