Capicola is one of the simpler salumi to make - you don't need to grind the meat, worry about keeping the fat cold and many other little details like when you make salami or sopressata. However, the outer parts of solid meat muscles tend to dry out in the curing chamber faster than they do with salami. That's been my experience, anyway. For a while, I've struggled with making my capicola dry evenly from side to side, without harder outer parts and soft, sometimes poorly dried centers. This is a common problem for many home salumi makers.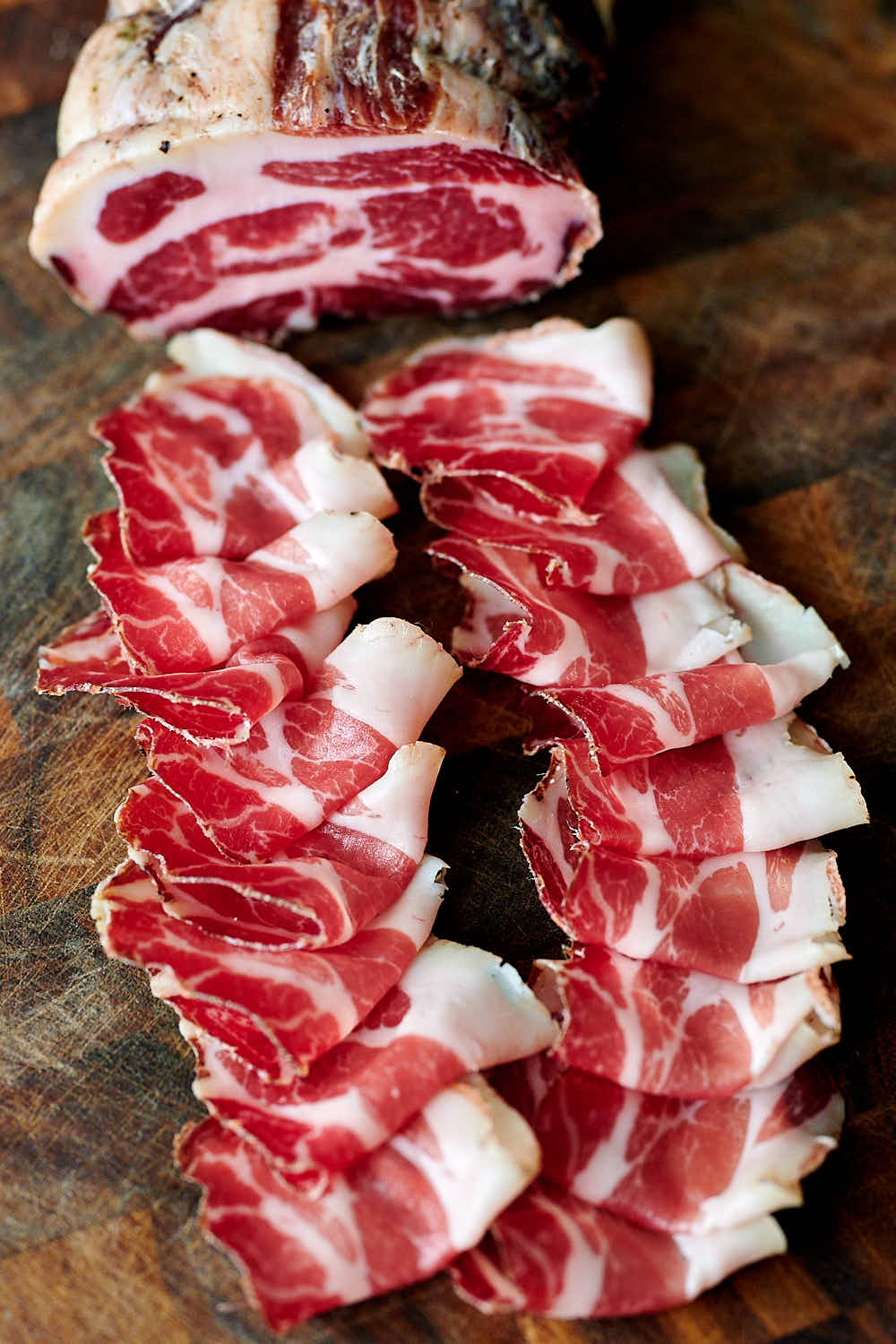 The typical solution is to vacuum seal capicola and refrigerate it for a couple of weeks. The meat will undergo a period of 'equalization' where the remaining moisture inside it will get distributed more evenly. While this seems to kind of work, this isn't necessarily the most optimal way of making capicola at home.
The poorly dried center may harbor spoilage bacteria, which during equalization may get propagated to other parts of the meat. Uneven drying over time may also result in off-flavours, poor overall flavor development and other little nuances that will impact the final product's taste, aroma and appearance.
A better approach to dry curing capicola
I've been researching various sources and testing new techniques to help me make a better capicola in my DIY curing chamber. The solution was suggested by the approach used by many Italian salumi makers. It consists of three stages that can be translated as:
fermentation (also called dripping),
drying, and
maturation.
The key difference in this approach is the period of intensive drying, which lasts about a week.
During fermentation, we raise the temperature of the meat to the optimal level where beneficial microorganisms begin to develop. Dripping is another term Italian salumi makers use to describe this cycle as this is when water is leaving meat so rapidly that it's literally dripping down.
During the drying period we remove a substantial amount of water in a controlled way. The meat is subjected to fairly low levels of humidity, which are alternated with higher humidity, and it loses a substantial amount of liquid. The alternating low and high humidity prevents the surface from drying out; it allows the meat to 'breathe'.  After drying, capicola goes into a curing chamber to mature at fairly high humidity, where it will spend several months, losing some more weight, and developing an exceptional flavor.
I've made several batches of salami using this method (or a variation of it) with great results. It substantially reduces case hardening, results in more even drying and facilitates a noticeably better flavor development. I would say those were some of the best batches I'd ever made.  I am now using this method to make capicola.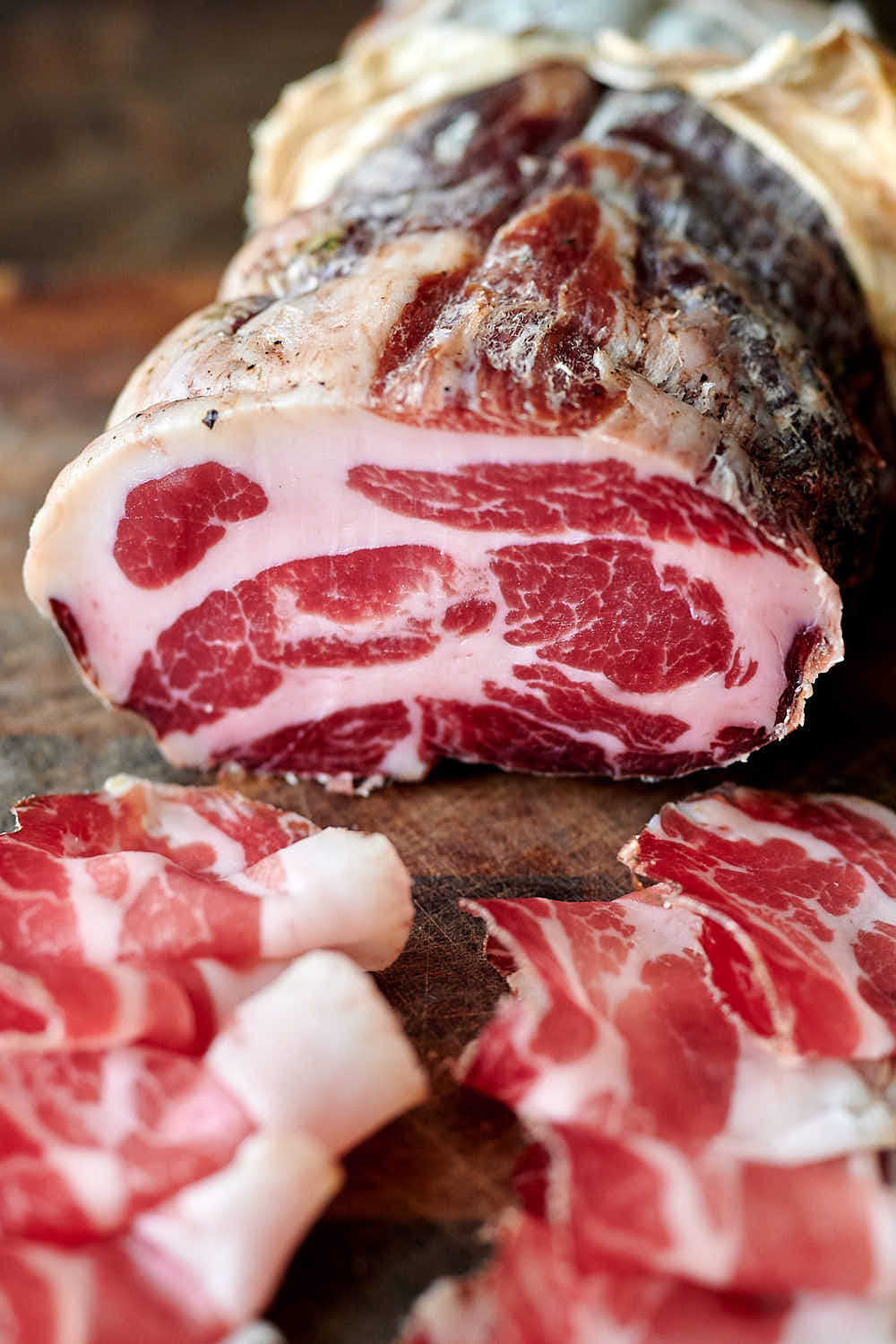 Basic capicola making process
This capicola recipe takes after the famous Italian Coppa Piacentina, described on Salumi Consortium's website. It follows all the main guidelines, including the seasonings and the environmental parameters to the extent that they can be replicated at home.
Meat selection
Capicola is made from coppa. Coppa is a muscle of the pork right behind the back of the head, at the top of the shoulder. You may also know it as 'money muscle'. It's the part of the Boston butt closer to the pig's back and opposite the side where shoulder blade bone would be.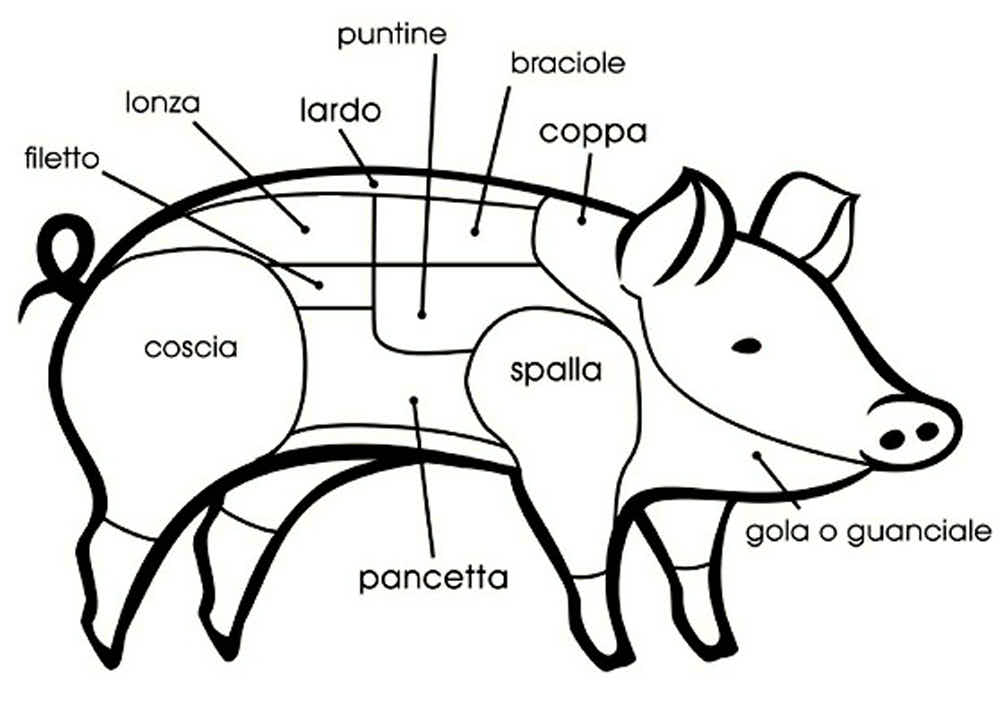 To make a great tasting capicola you need to start with the freshest meat you can find. If possible, use heritage pork. Heritage pork is a trend now. You can find many small farms selling meat to the public, sometimes at wholesale prices if you make a large enough order. In this batch, I am experimenting with heritage pork. This particular one is of Berkshire and Gloucestershire Old Spot mix that I purchased from Murray's Farm.
Seasoning and curing
I  started off by trimming, salting, seasoning and vacuum sealing my cuppa, then curing it for seven days in a fridge. I find that the most convenient and predictable way for me to season capicola is to weigh the ingredients in grams. This way, the meat receives the exact amount of salt and spices, and there is no way to overseason it.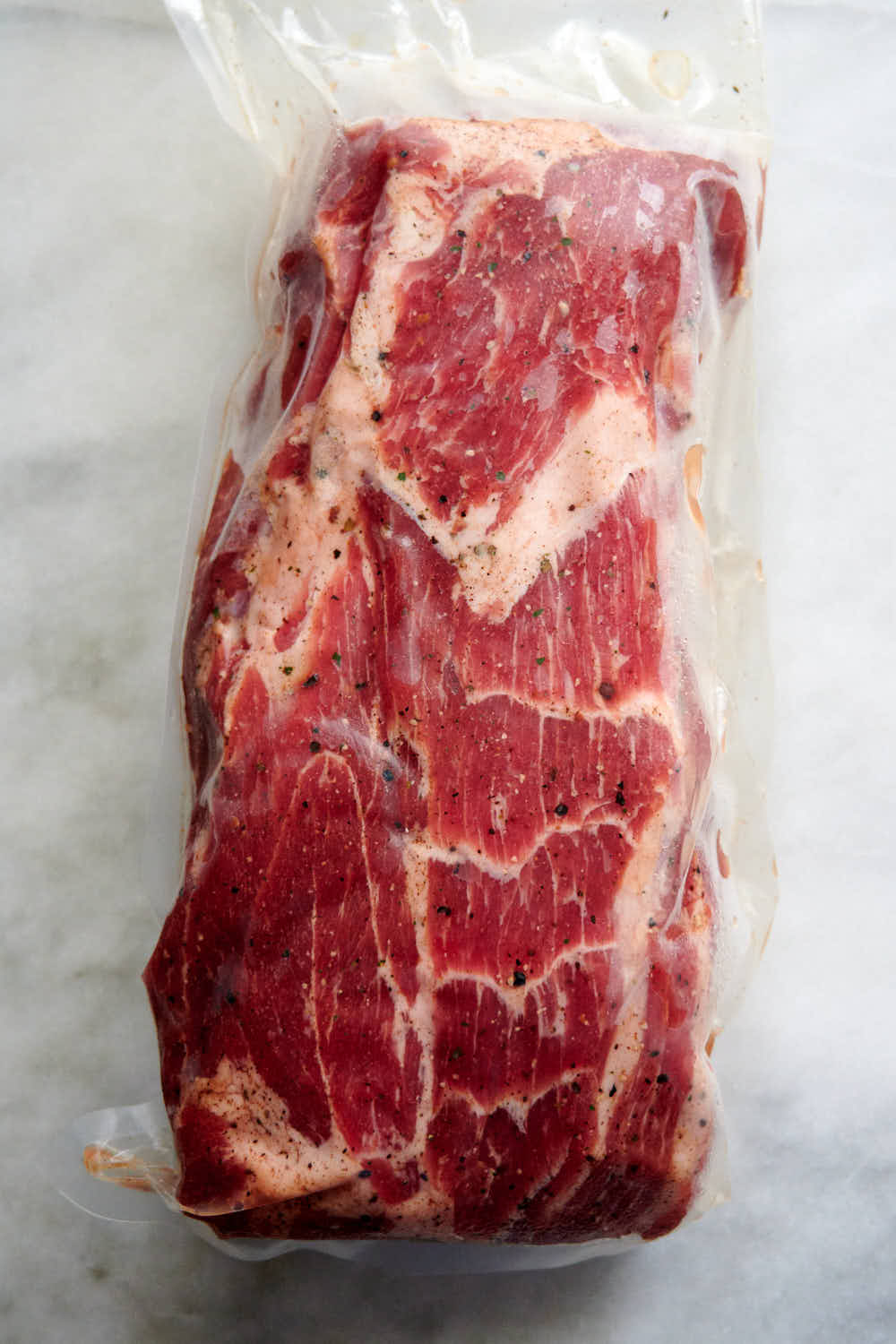 Casing and trussing
After curing, I removed the meat from the fridge and scraped off any excess salt and seasonings. There is no need to rinse it with water or wine, though many recipes instruct to do so. Note the ruby-red color of the pork after curing. Even before curing, the meat was noticeably darker than commodity pork meat. I have a feeling that this coppa will be quite amazing. Will it taste much better than the one made with regular pork? Time will tell.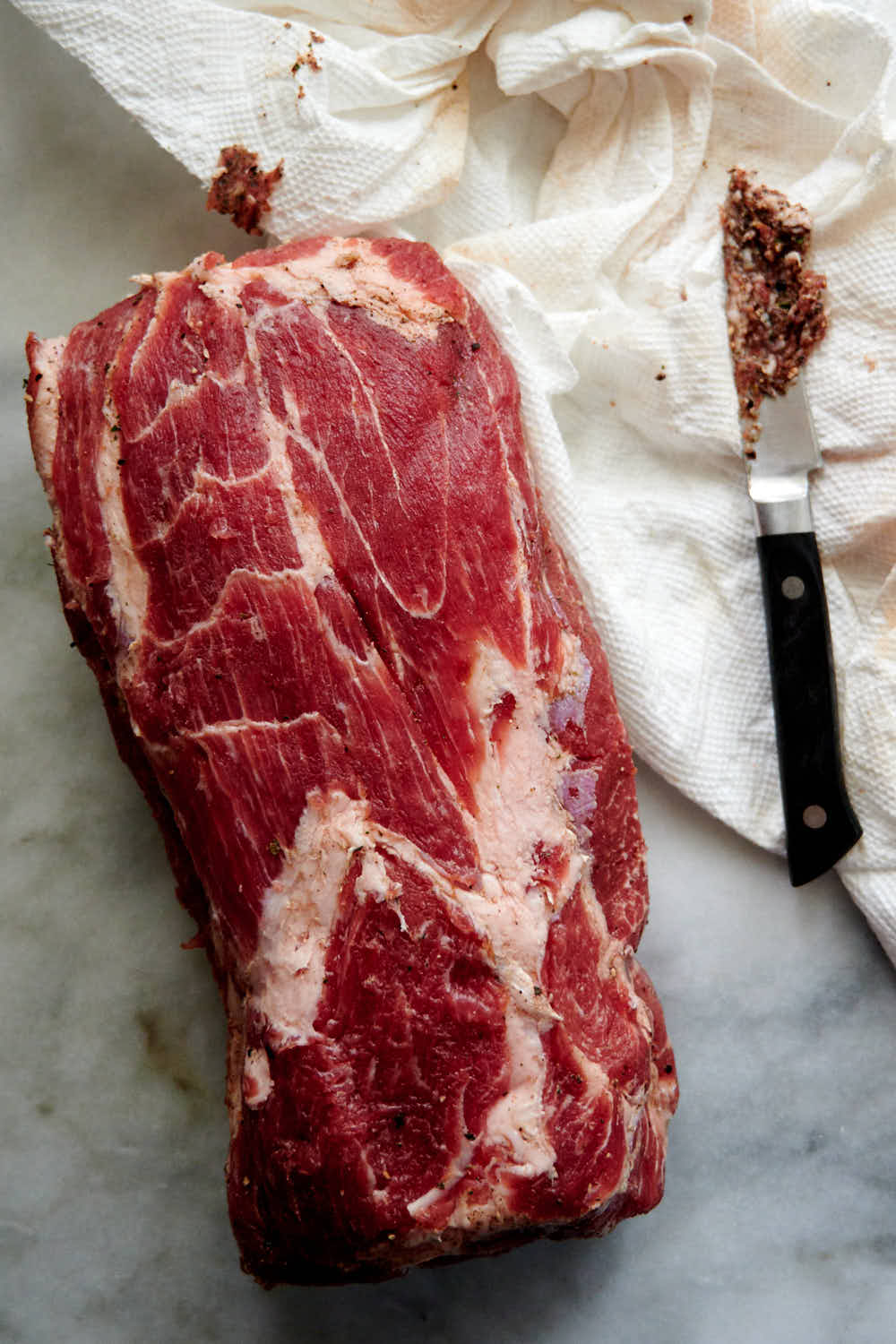 I then wrapped the coppa in salted veil. Another common approach is to a beef bung. The next step is to prickle the capicola all over with a sterilized needle and tightly tie it with twine.
I also sprayed the tied capicola with a white mold solution. I am using the naturally occurring white mold that I collected from prior batches, but you can also use Bactoferm Mold-600.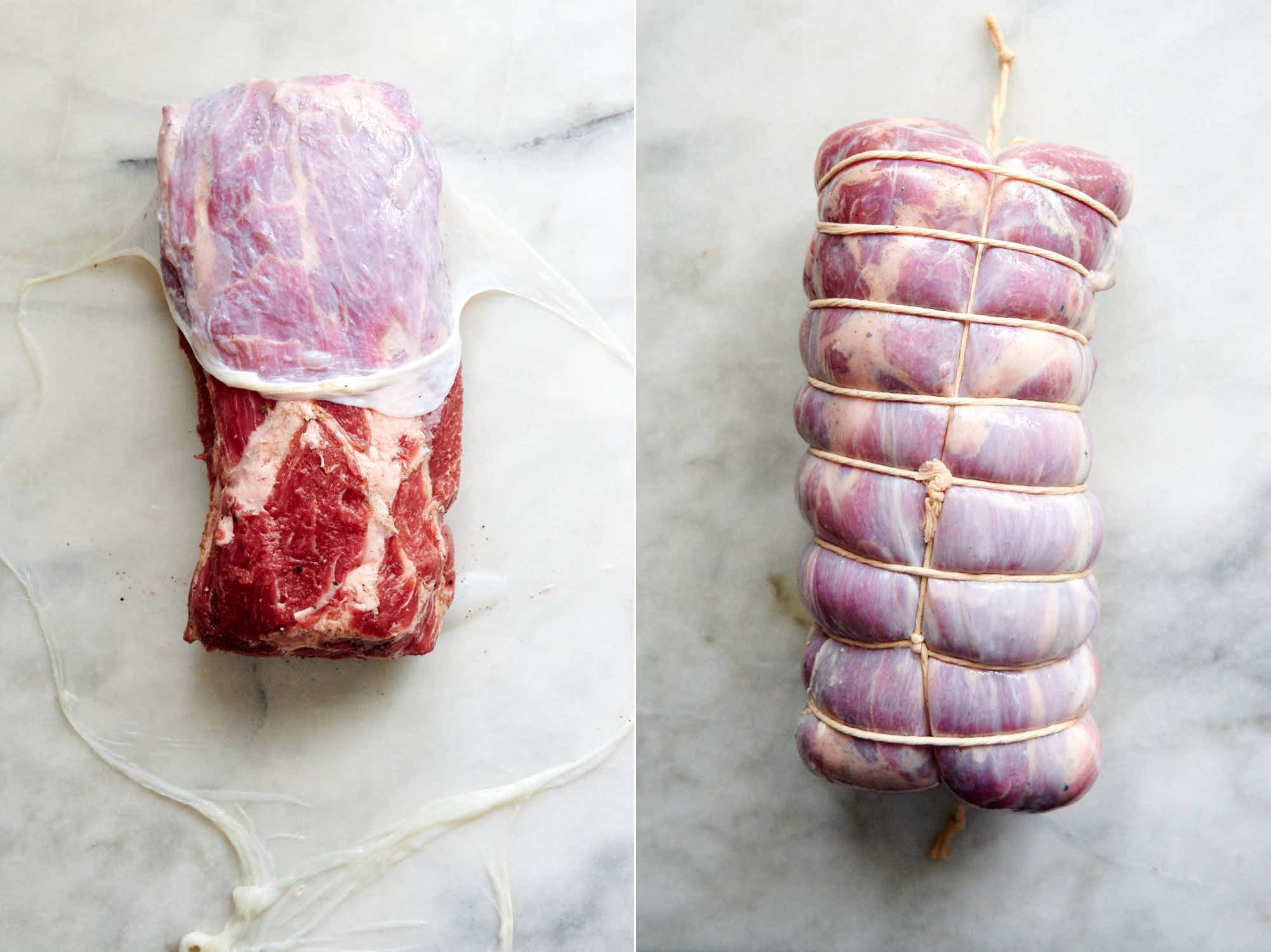 Drying
The next seven days my capicola spent in a temperature and humidity-controlled fridge. My curing chamber is occupied so this time around I used my kegerator, which for the time being I equipped with an Eva Dry dehumidifier, a 10"-20" seedling heating mat, and a mini humidifier.   The humidity and temperature were controlled by Auber HD220-W humidity controller and Auber TD120-W temperature controller. This little bar fridge is not good for general maturation but, in a pinch, it does a good job at drying.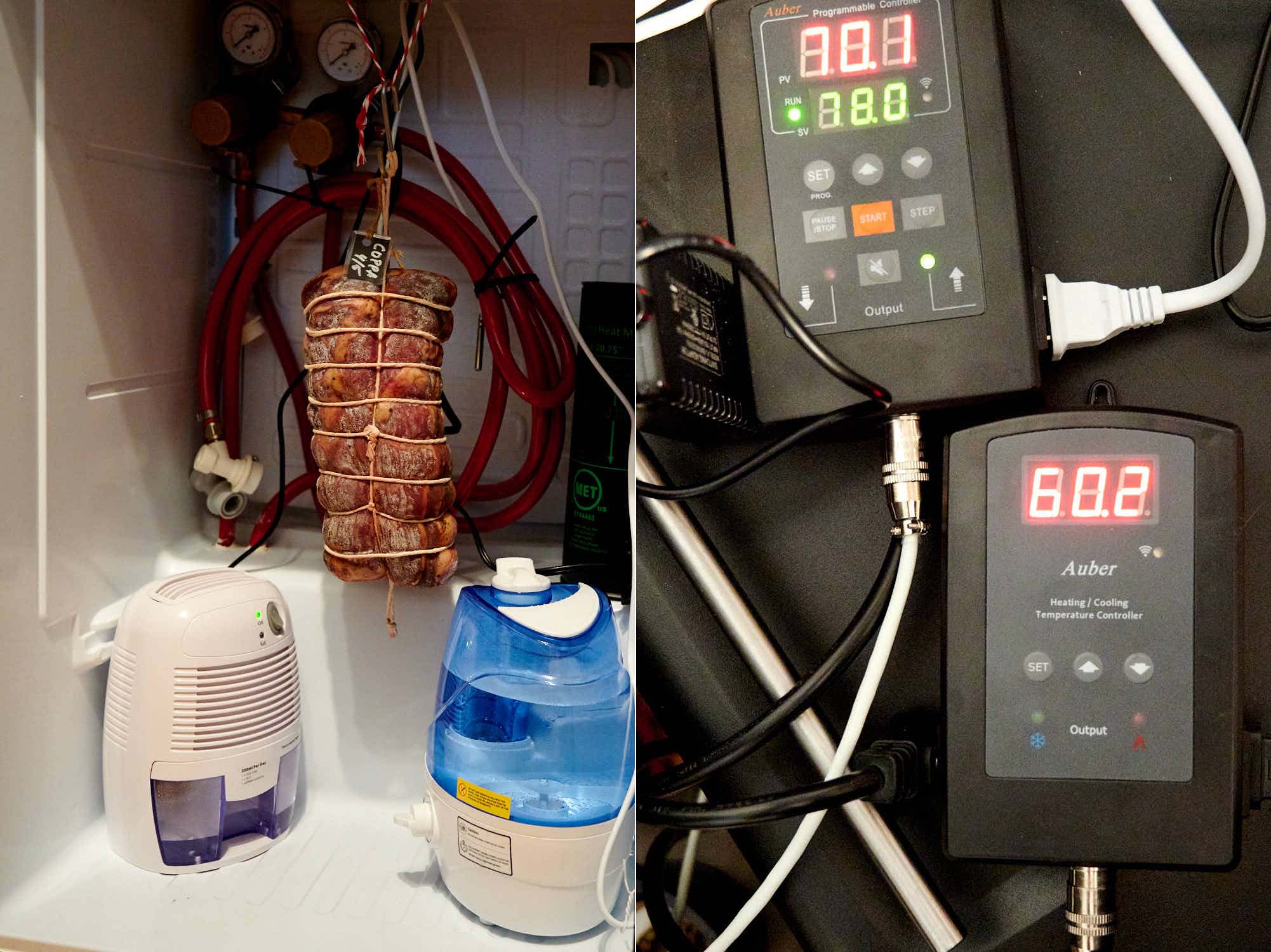 The starting temperature for drying capicola is 75F to 77F, depending on the coppa's thickness. The duration of the first step (fermentation) also increases or decreases depending on the size of the coppa. That temperature then gradually drops to 59F by the 7th day. The starting humidity is unregulated for the first 10 hours and can go as high as 99%, then it follows the specified drying protocol. For my relatively small capicola, I used the following schedule:
| | | | |
| --- | --- | --- | --- |
| Stage | Duration | Temp | RH |
| Fermentation | 10 hours | 75F (24C) | < 99 % |
| Drying | 15 hours | 72F (22C) | 75-85 % |
| Drying | 24 hours | 66F (19C) | 68-78 % |
| Drying | 24 hours | 64F (18C) | 65-75 % |
| Drying | 24 hours | 62F (17C) | 68-78 % |
| Drying | 24 hours | 60F (16C) | 72-82 % |
| Drying | 24 hours | 59F (15C) | 76-86 % |
Time and again, I am finding that controlling humidity in a 4.4 cubic feet bar fridge that is non-frost-free is extremely difficult. You just can't keep it steady like in a proper curing chamber. However, my make-shift drying chamber worked well for drying. The humidity followed the general direction I wanted it to go and oscillated roughly between the low and the high values as a result of the fridge cycling at regular intervals. The goal is t0 have the meat lose water quickly without drying out the skin; hence you want to alternate low and high humidity.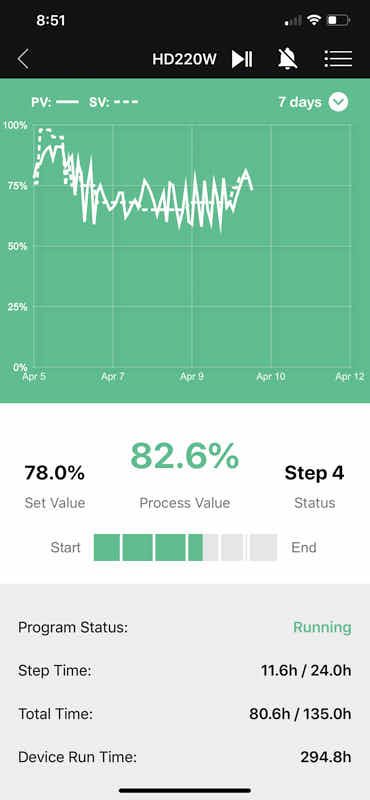 At the end of the 7-day fermentation/drying period, my coppa lost 16.4% of the green weight, going down from 1,640 grams to 1,370 grams. It also began to show traces of white mold development.
Maturing
After this, my coppa went into the curing chamber to mature for about 3 months. Larger, thicker capicolas can mature for up to 6 months or longer.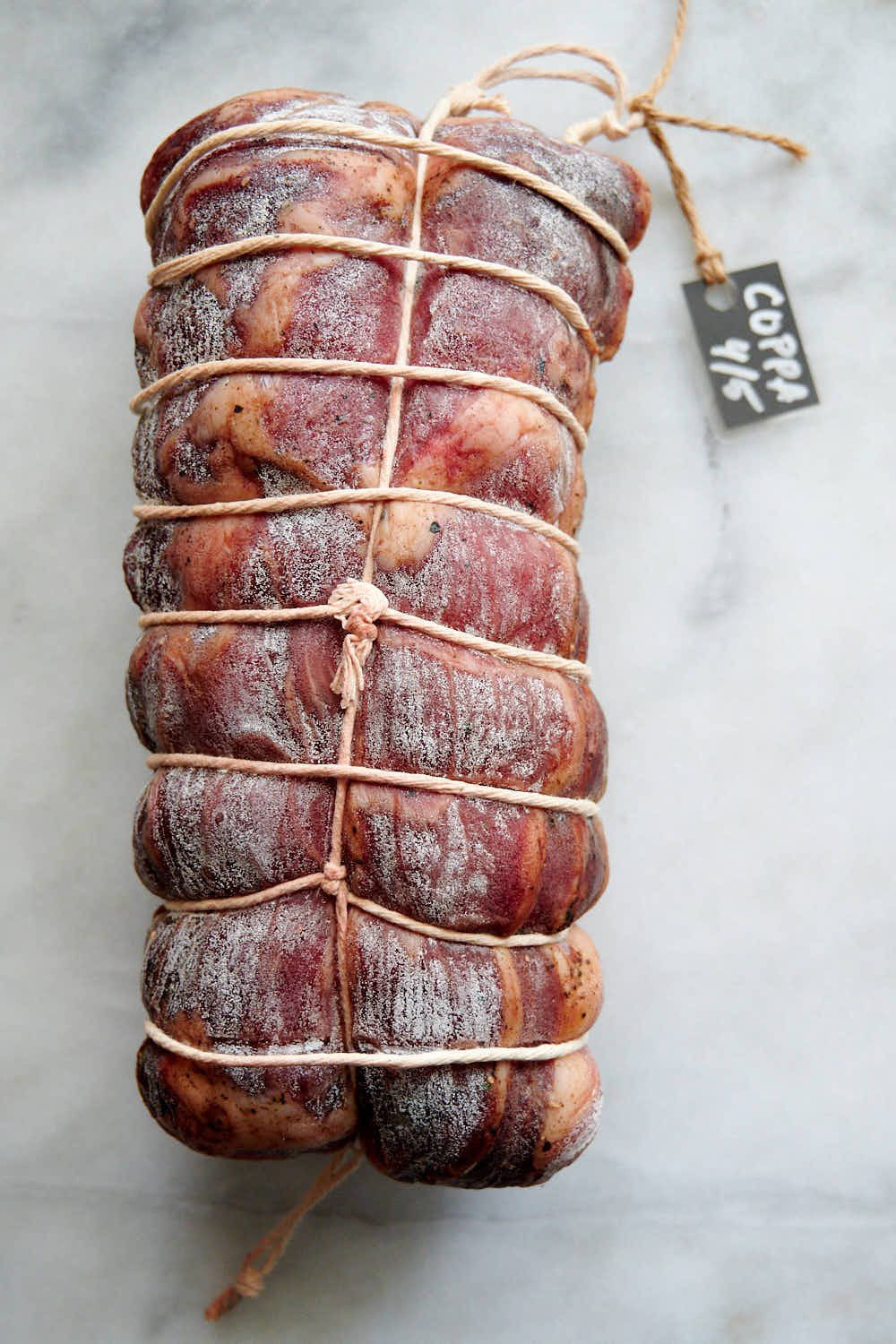 Maturing takes place at 55F - 57F and 80%-82% RH. Note the relatively higher humidity level during maturing, compared to the usual 75% RH. Since the meat already lost quite a bit of water, we want any further water loss to be low and slow. The 80%-82% RH range will ensure that and also prevent case hardening.
Weight loss progress
| | | | |
| --- | --- | --- | --- |
| | Weight | Loss, g | Loss, % |
| Start | 1,640 | | |
| End of Drying (7 days) | 1,370 | 270 | 16.4 % |
| 1 Month | 1,153 | 487 | 29.7 % |
| 2 Months | 1,055 | 585 | 35.7 % |
Tasting notes
I pulled this particular capicola after just two months. The reason for that is that the coppa was smaller and thinner than usual so it matured faster. I can't complain about that. But expect larger pieces of meat take longer, about 3 to 5 months.
Drying was nearly perfect, no complaints here. The meat closer to the surface is a little darker but that's normal. At 30% the meat felt a little softish inside, though the casing was noticeably harder. I let it dry for another month and cut when it lost about 37% of the original weight. The meat felt nice and firm throughout but not hard. The casing became a bit harder after 6 weeks and I was concerned that the center may not firm up due to that, but it was not the case. I am quite happy with how the uniformity of drying using this method.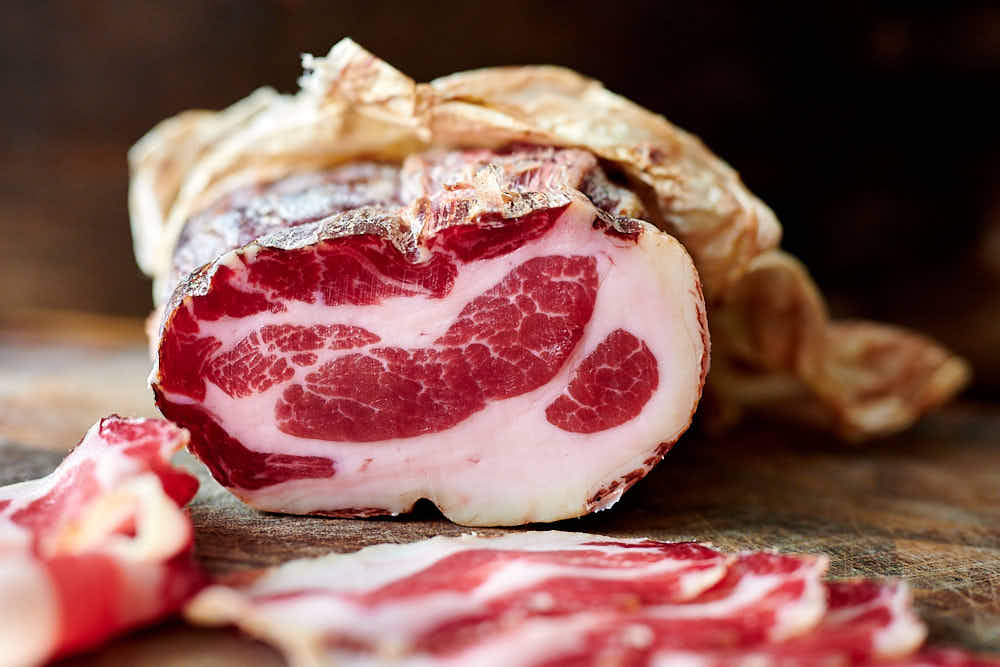 As any solid muscle salumi, it's best when sliced paper-thin on a meat slicer. Thinly sliced, this capicola just melts in your mouth. Some family members at my home don't like fat but loved this coppa when it was sliced paper-thin.

The salt at 3% was spot on. Salami that has 3% salt would be too salty for my taste but with capicola, not all of the salt will make it inside the meat and some will be removed after curing. The beauty of measuring the exact amount of salt when curing is that you will never over-salt your meat.
I should mention my impression of the seasonings as well. Often, seasonings are very personal as tastes differ. I used the spice mix used in the production of the famous Italian Coppa Piacentina. You may have noticed how tiny the amounts of the seasonings are. These spices are very aromatic so a small amount goes a long way. You won't find this capicola underseasoned for sure.
Personally, I liked this seasoning mix. The robust flavor bouquet was nice and the aromas were pleasant. Bold but not overpowering. There was plenty of complex porky flavor. There was a slight peppery bite which I liked too. I've tried various other spices over time but, to be honest, I liked this one better. I am not surprised, frankly, as this recipe has been refined for generations and has a widespread appeal. You can't easily beat something like this. Going forward, I think this one will be my favorite one for capicola.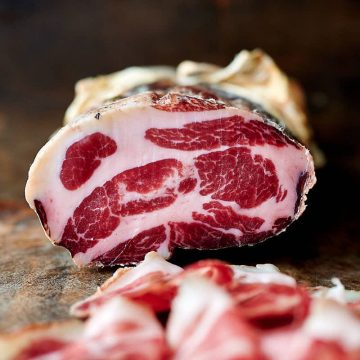 Homemade Capicola
An improved approach to making high quality capicola at home.
Print
Pin
Rate
Ingredients
1000

g

pork neck

coppa

27.5

g

kosher salt

2.75%

2.5

g

Cure #2

0.25%

0.45

g

black pepper

cracked; 0.045%

0.25

g

cloves

ground; 0.025%

0.1

g

bay leaf

ground; 0.01%

0.15

g

cinnamon

ground; 0.015%

0.1

g

nutmeg

ground; 0.01%
Instructions
Trim the meat into a boneless, uniform shape. Make sure there are no cuts in the meat where bacteria could enter, and cut off any loose pieces.

Weigh the coppa in grams. Divide by 1000, then multiply each ingredient by that number. For example, if your coppa weighs 2650 g, you need to multiply the ingredients specified above by 2.65.

Mix all the salt and the seasonings together, and rub on the meat. Place the coppa and all the extra salt and seasonings in a vacuum-sealable bag and seal. You can also use a Ziploc bag.

Place the bag in the fridge for 7 days. Flip the bag every day or so.

After 7 days have passed, remove the meat from the bag and gently scrape off any excess salt and seasonings.

Prepare the coppa for hanging by casing (veil, beef bung) and trussing. Poke a lot of small holes all over the surface with a sterilized needle to remove any trapped air.

Spray with white mold solution.

Weigh the meat and write it down on a tag. Attach the tag to the meat.

Hang and dry in the curing chamber for about 7 days as per the schedule below in the note section.

Mature in the curing chamber at 55F - 57F (13C - 14C) and 80% - 82% for 3+ months.

When the meat is ready, remove the casing, slice as thin as possible and enjoy.
Notes
| | | | |
| --- | --- | --- | --- |
| Stage | Duration | Temp | RH |
| Fermentation | 10 hours | 75F (24C) | < 99 % |
| Drying | 15 hours | 72F (22C) | 75-85 % |
| Drying | 24 hours | 66F (19C) | 68-78 % |
| Drying | 24 hours | 64F (18C) | 65-75 % |
| Drying | 24 hours | 62F (17C) | 68-78 % |
| Drying | 24 hours | 60F (16C) | 72-82 % |
| Drying | 24 hours | 59F (15C) | 76-86 % |
Nutrition
Calories:
83
kcal
|
Carbohydrates:
1
g
|
Protein:
12
g
|
Fat:
4
g
|
Saturated Fat:
1
g
|
Cholesterol:
38
mg
|
Sodium:
767
mg
|
Potassium:
212
mg
|
Sugar:
1
g
|
Calcium:
9
mg
|
Iron:
1
mg