Texas twinkies are the invention of Hutchins BBQ in McKinney, Texas. In essence, it's a whole jalapeno pepper stuffed with cream cheese and chopped leftover brisket. It's one of their best selling items on the menu.

You have to admit that an average jalapeno popper is quite boring. It's overwhelmed with cheese, that is unless it's a popper stuffed with turkey stuffing and cheese. Texas twinkie, on the other hand, is anything but boring. The smoky meat combined with cream cheese makes a delightful filling that is soft, creamy, smoky, and meaty at the same time. I could eat a bowl of this filling alone.
How Texas Twinkies are made
According to Texas Monthly, Hutchins BBQ starts with hand-picked jalapenos, the size of a pork rib. They are enormous! Each jalapeno is stuffed with cream cheese and almost a 1/4 lb of chopped fatty brisket. The stuffed peppers are then wrapped in thick-cut bacon, seasoned with salt and pepper, and smoked to perfection. After smoking, the Twinkies are brushed with a sweet barbecue sauce and grilled to make them crisp.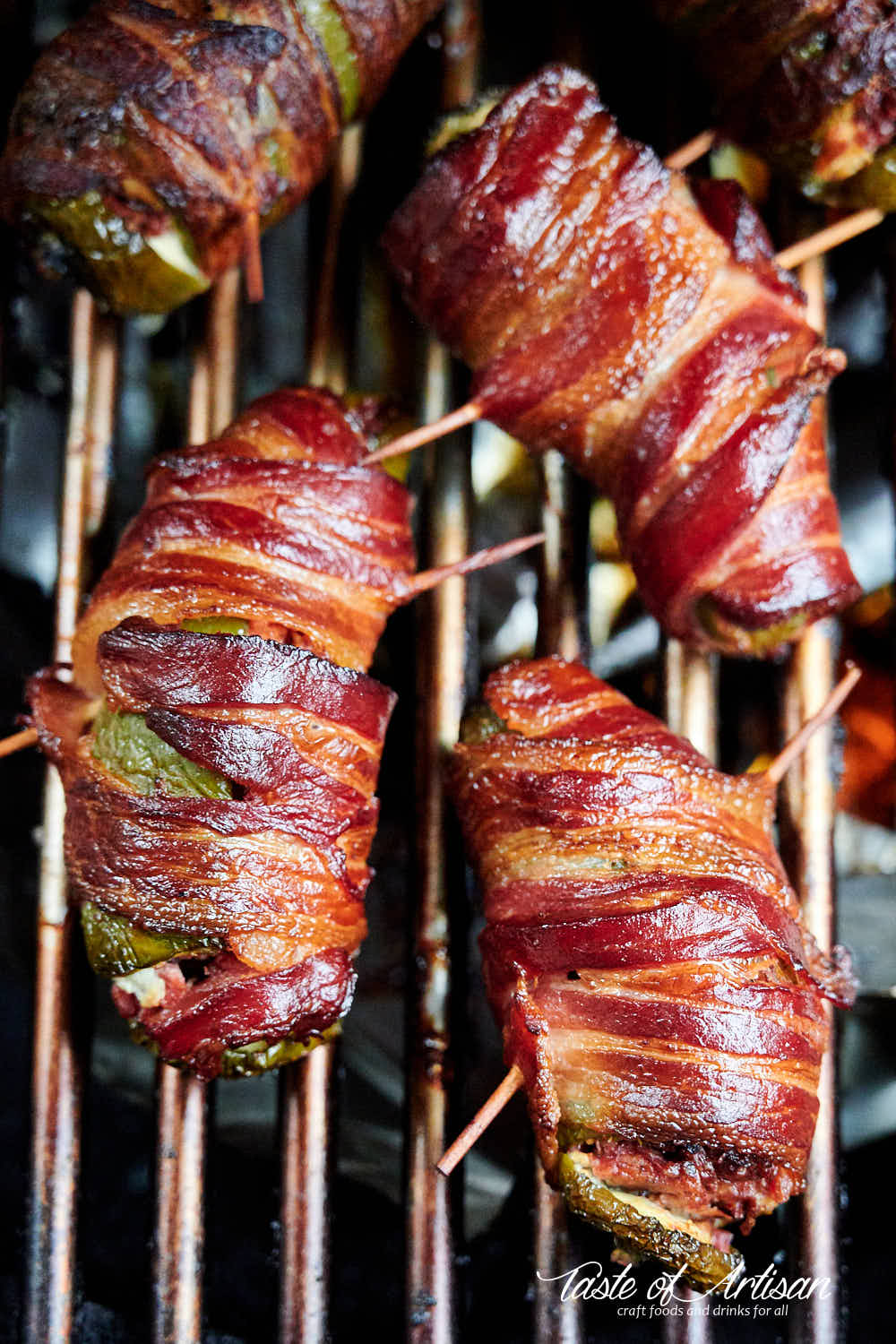 My version of Texas Twinkies is a touch different. I add a little bit of chopped green onion in each pepper and mix some caramelized onion in the chopped brisket. You want to make sure that the brisket is fatty. Like good sausage, brisket mix needs to have at least about 20% fat content to not taste dry. The caramelized onion adds a ton of savory flavor and additional moisture.
I don't season my twinkies with salt and pepper and I also skip the sweet BBQ sauce and the grilling at the end. Frankly, I see very little purpose for it. My smoked jalapeno poppers and Texas Twinkies always come out perfectly flavorful, moist on the inside, and crispy on the outside. Why grill them? Why add any sauce?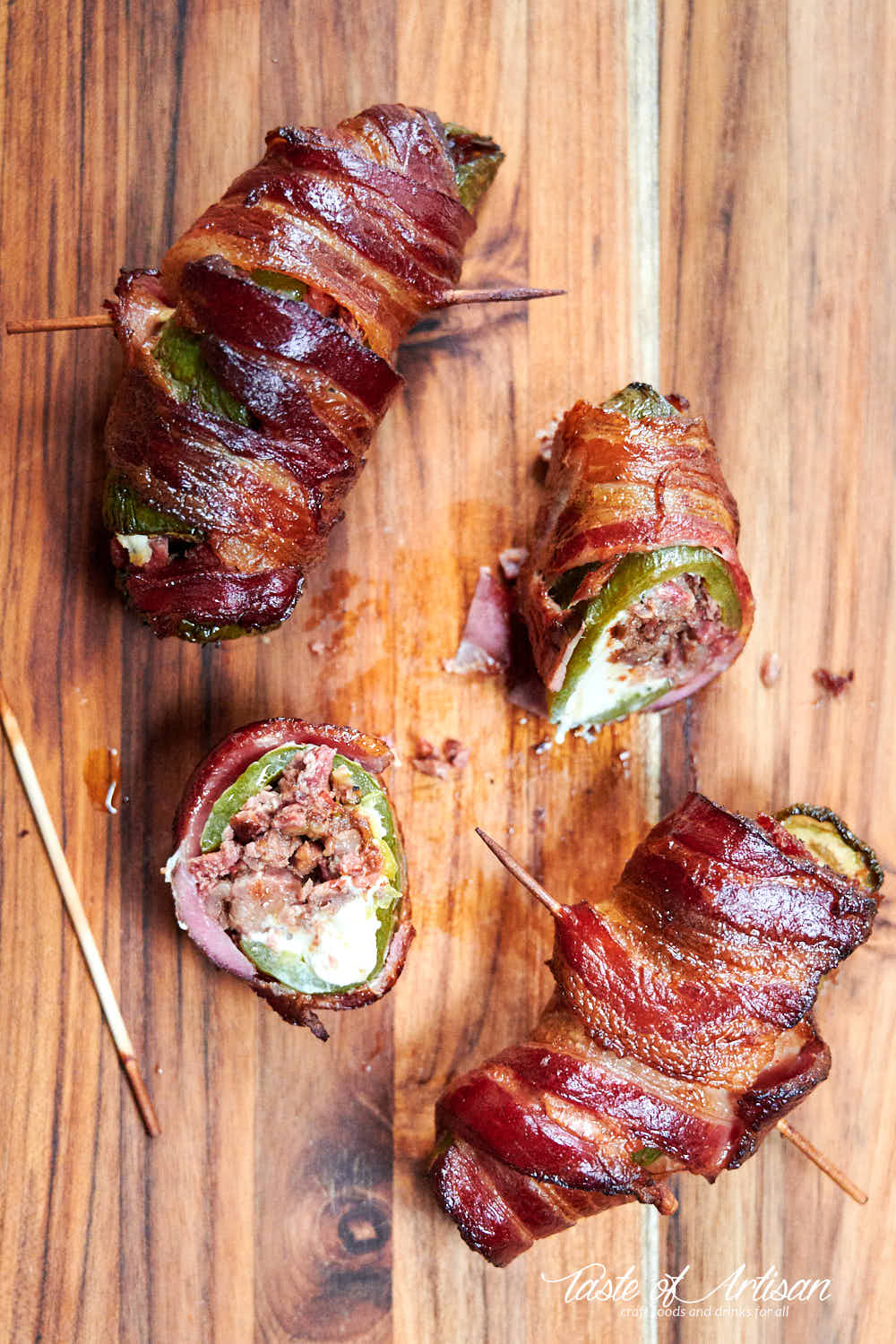 The only reason I see for a glaze and for crisping up Twinkies is when you make them ahead and need to freshen them up before serving to customers. This makes perfect sense as in a commercial environment smoking anything to order is just not feasible. And pre-made Twinkies sitting in a warming box lose their luster and crispiness.  That said, there is no harm in trying if you want to.
Preparing and stuffing jalapeno peppers
In this recipe, I use a new for me cutting technique, adapted from Hutchison BBQ. I slice the peppers lengthwise and crosswise as shown on the pictures, but not all the way through. This ensures that I can open the pepper to get the seeds and the membrane out and the stuffing in, then close it and wrap the bacon around. This way, I get an elegant package that stays that way throughout the entire cooking process. I like it a lot! For best results, use homemade bacon, it's much tastier, yet very easy to make.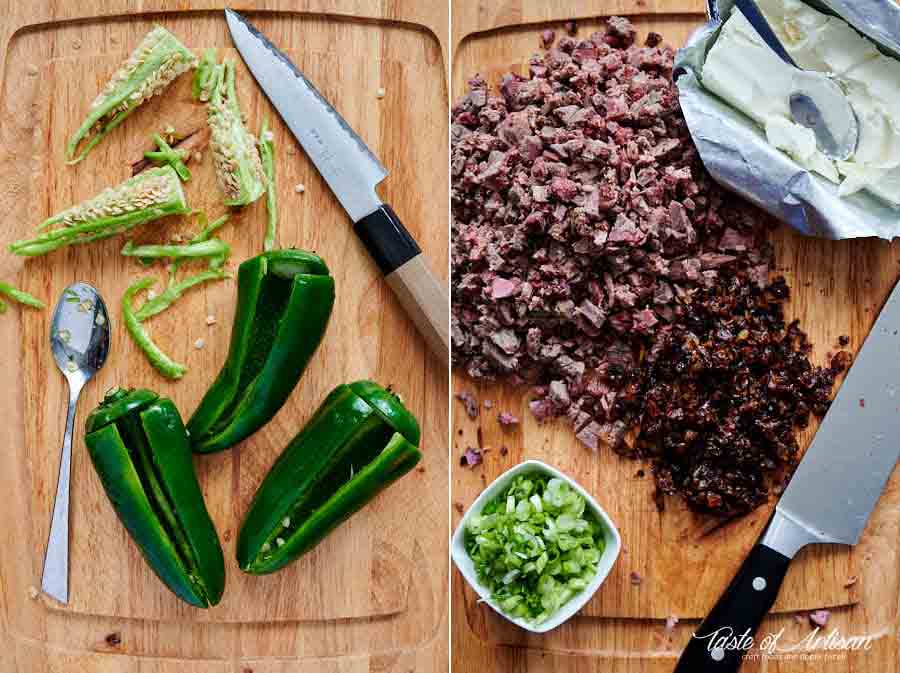 After that, I stuff half the pepper with cream cheese, sprinkle some chopped green onion on top of the cheese, then stuff the other half with a mix of chopped fatty brisket and caramelized onion. I stuff the peppers tightly to fit as much meat as I can. The meatier they are, the better they taste.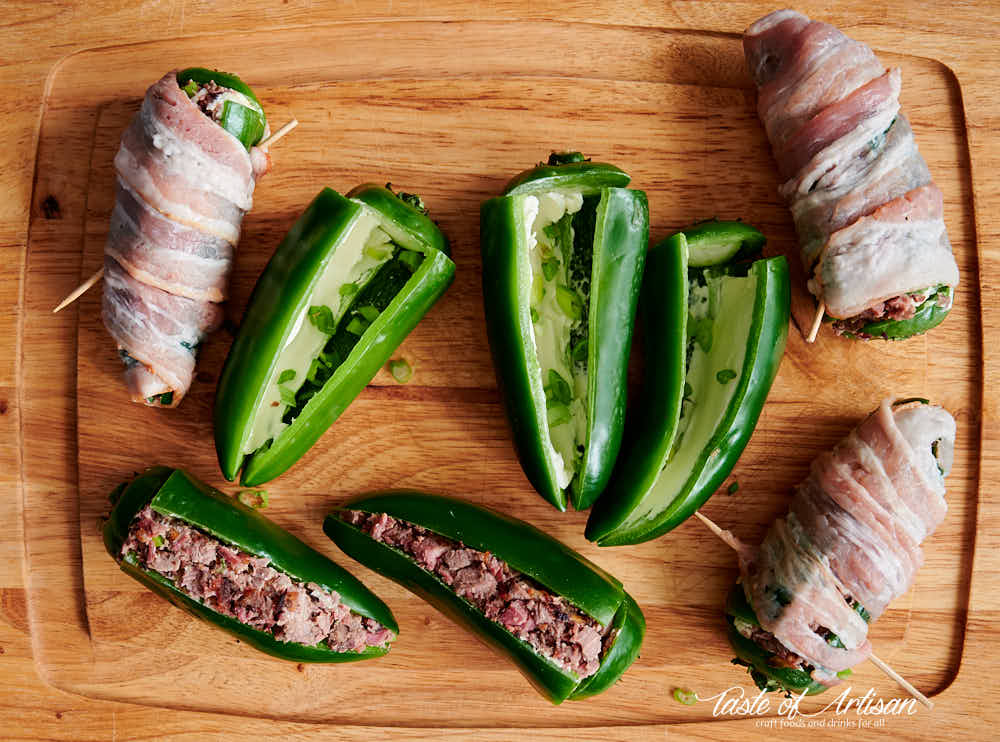 Smoking
I smoke my Twinkies at 250F for precisely 2 hours, and they come out perfectly cooked. This is 30 minutes longer than it takes to cook jalapeno poppers at this temperature, but the peppers in this recipe are larger, and the bacon is thicker.
Staying true to Texas traditions, I use oak wood chunks for smoking, with the addition of a little bit of cherry wood for a more vibrant color and some sweet notes.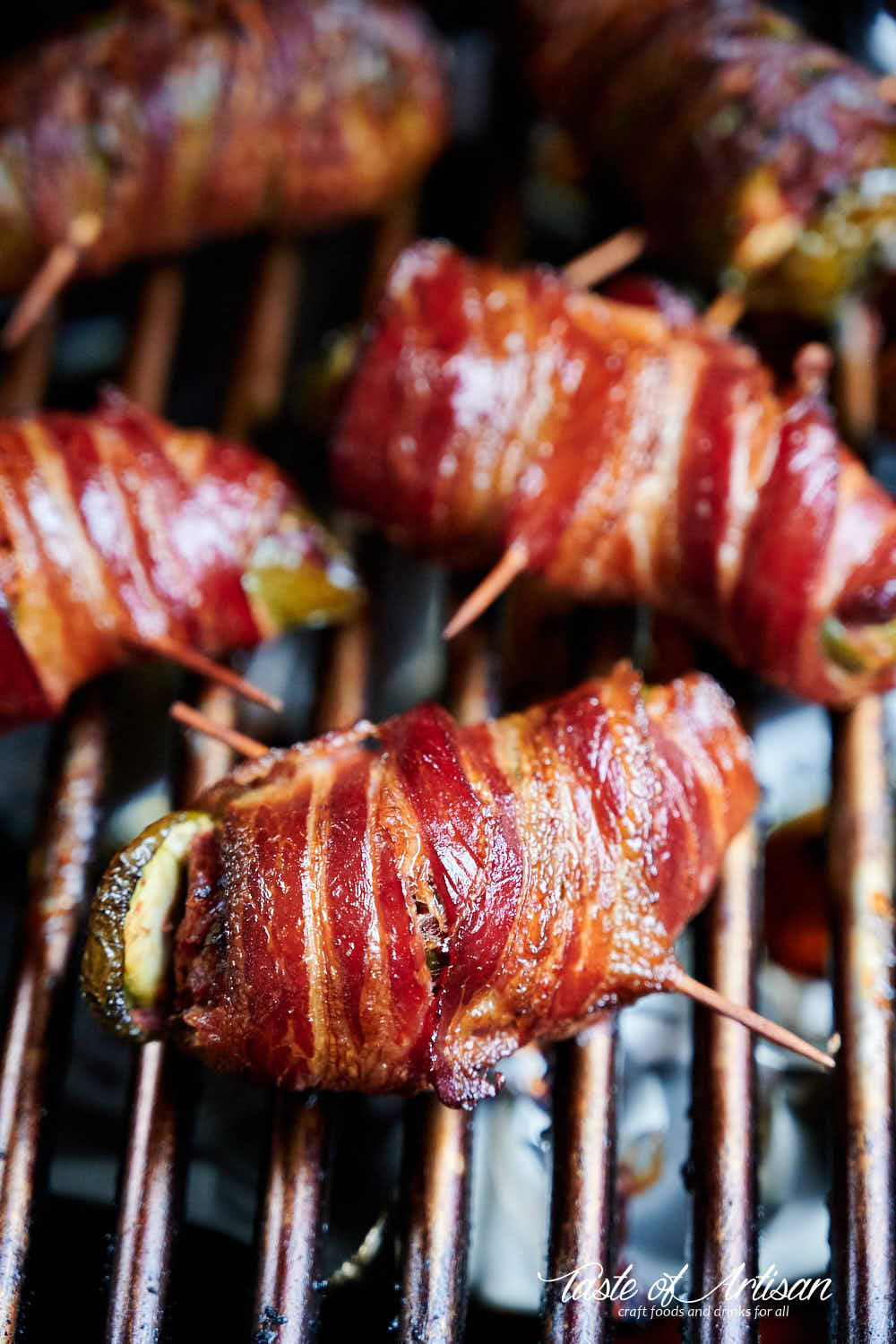 Texas twinkies make a great party or game day food. You can serve them as an appetizer or as a complete meal with a side of mashed potatoes, roasted veggies, mac and cheese, potato salad, or whatever else tickles your taste buds.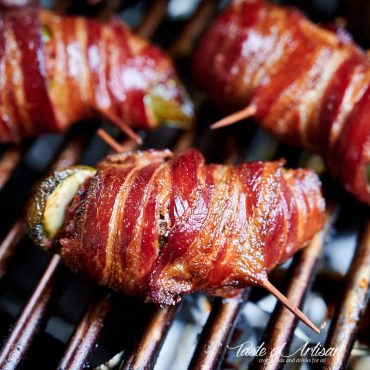 Ingredients
2

lbs

smoked brisket

chopped; fatty brisket is recommended

16

jalapeno peppers

extra large

8

oz

cream cheese

plus more if needed

16

slices

bacon

thick-cut

1/4

cup

sliced green onion

1

yellow onion

large; chopped

2

Tbsp

olive oil
Instructions
Cut jalapeno peppers lengthwise and crosswise, as shown on the picture in the article above, then spoon out the white flesh and the seeds. Soak in water for 30 minutes and up to 2-3 hours for a milder heat.

Meanwhile, caramelize the chopped onion in a large pan over medium heat and mix with the chopped brisket in a bowl.

Stuff each pepper with some cream cheese, about 1/3 of the way, sprinkle some sliced green onion, then stuff tightly with the chopped smoked brisket mix.

Wrap one bacon slice around each pepper and secure with a wooden stick.

Place stuffed peppers on a smoker preheated to 250F and smoke for 2 hours. Texas Twinkies are done when they acquire a rich burgundy color and the bacon is crispy, as shown on the pictures in the article.
Nutrition
Calories:
295
kcal
|
Carbohydrates:
3
g
|
Protein:
18
g
|
Fat:
23
g
|
Saturated Fat:
9
g
|
Cholesterol:
79
mg
|
Sodium:
237
mg
|
Potassium:
310
mg
|
Fiber:
1
g
|
Sugar:
1
g
|
Vitamin A:
365
IU
|
Vitamin C:
17
mg
|
Calcium:
31
mg
|
Iron:
2
mg