Culatello - the king, or the queen, of cured meats, traditionally made from pigs born and raised in Central-Northern Italy. Culatello is like prosciutto only... better... more flavor, better texture and much easier to make at home. It's made of the best part of a pig's leg. It's also the bigger and better brother of fiocco. Don't get me wrong, both are fantastic and very comparable pieces of meat that every charcuterie board would be happy or lucky to have, but culatello has a definite edge.  I think it gets that edge from longer maturation where it develops more complex, refined flavors and noticeably improved texture.

PROCESSING MEAT FOR CULATELLO
You start with a pig leg. Ideally, you want a leg from a mature pig, 2-3 years old, weighing at least 30o lbs. Preferably from a heritage pig raised on a pasture and fed varied natural foods. Look for local pig farms around where you live and see if you can source one from them. That's what I've done. If you can't find one of those, use what you can buy locally. I am sure you will still love the results.
Back in the day, I used to buy, and still sometimes do, all my meat for curing from a local grocery store. I once saw, though an open door to the back, a whole bunch of pig carcasses being butchered on big tables. So I struck a conversation with the man at the meat counter and learned that they'd get whole pigs every Thursday morning, butcher, and pack the meat that would be sold all week until they get a new delivery. So, there... every time I'd need nice, fresh meat, I'd go there on a Thursday morning and ask for a piece of whatever cut I needed. Always fresh, smelling very nice, beautiful color, great for curing.
Once the leg has been deboned, you remove the Culatello part and trim it to give it its characteristic rounded shape.
Here is a good video that shows how the leg is deboned and the Culatello and Fiocco pieces are prepared. I used it as a guide and it helped me a lot.
In a way, it's similar to preparing meat for making Speck.
CURING AND DRYING
Once the meat is trimmed, it's tied and salt-cured for 14 days, followed by stuffing it into a pig bladder and tying it with natural twine (now, this will take some time). I used a salted veil instead as it's more readily available for me. It works just as well.



After curing, culatello typically undergoes a week of drying, during which the meat releases a lot of water. After that, culatello is ready for maturing. For reference, Culatello di Zibello requires about 10-14 months of maturing time. Maturing can take place in natural conditions, such as in the ancient cellars of the Lower Parma area, or in special environments, like a curing fridge, with controlled temperature and humidity.

HOW TO CUT AND ENJOY CULATELLO
I wrote about the 'proper' etiquette for culatello and fiocco preparation for eating in the fiocco post.  Let me repeat: no, you don't just remove the casing and the twine, and then slice it.
No. You first remove the outer twine and wash the meat under cold running water to remove mold, then let it dry. Once dried,  the meat needs to be softened. To soften it, you would soak it for two to three days in dry white or red wine. Only then you can proceed with the cutting. First, remove the casing and the twine (the one under the casing) from the part you want to consume. Then slice it very thinly and enjoy.

STORING CULATELLO
To do it the old-fashioned Italian way, spread a drizzle of olive oil and butter on the cut part of culatello. After that, wrap the meat with a linen cloth. Avoid storing it in the refrigerator; instead, choose a cool, dry place, away from light. Like the curing chamber. That would be the ideal way to do it.
A more modern way that I've been using with success is to vacuum seal pieces of meat and refrigerate them until ready to slice. Just remember to take the meat out of the fridge half an hour or so before consumption to let the meat warm up a little. If it's too cold, a lot of the flavor will be masked. It's like good wine or noble beer, you want to serve it at the right temperature and it ain't fridge temperature. If you have the space in your curing chamber, you can also vacuum seal the meat and store it there. This way you can enjoy it without having to warm up the meat.
TASTING NOTES
This is my very first culatello and, as with fiocco, it is a huge success. Is culatello better than even my favorite, the real deal, Italian import Prosciutto di Parma? I say it's a definite 'YES'. In many ways. It's easier to make, it's faster to mature and it has much more flavor. I like the texture too. It's firmer, more 'interesting' to eat.

Speaking about flavor, I tried hard to describe it but just couldn't find the right words. There was a pleasant porky flavor like in your well-matured salami, but there was something else, something very special about this culatello. I asked my daughter to help me with that and she immediately said: 'Parmigiano Reggiano cheese". There! She nailed. It definitely had some of the notable characteristics of genuine cellar-aged Parmigiano Reggiano cheese: nuttiness, a whiff of lactic notes, and a touch of some spice. I used only black pepper and garlic but you can't tell them in the final product. It's all is just a balanced, gentle blend of appetite-inducing, mouth-watering flavors.
In the mouth, this meat is absolutely fantastic. It's hard to stop eating it. I really enjoyed the perfect saltiness and a mild tang. I often find things I could improve in most of my charcuterie pieces but this one is perfect, I would not change a thing. Well, there is only one thing I would change - next time I will try to target a lower weight loss. This one lost 41% of the original weight and was notably hard. Don't get me wrong, the taste is amazing, very intense and the color is rich. Better than what you'd find in prosciutto. But you absolutely need a good slicer to slice this one paper-thin to really enjoy it and I am just curious, how it would taste less dry. Typically, they target 30% to 35% weight loss for culatello. Can I even mature it for so long and have it not lose so much weight? Humidity would have to be pretty high and that comes with a host of issues.

But wait a second!.. I forgot to follow the 'proper' culatello preparation etiquette - which is to soak the meat in wine for 2-3 days before consumption. Darn, I forgot to do it again as I was so eager to cut into it. Soaking in wine would definitely bring the hydration up... I will definitely do that next time. I will write a reminder on the tag!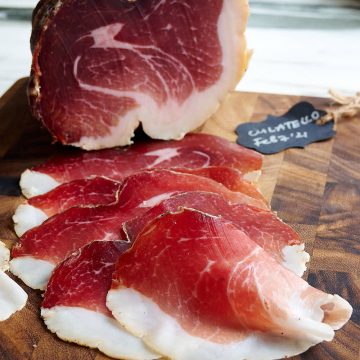 Homemade Culatello
How to make amazing culatello at home using a traditional Italian process.
Print
Pin
Rate
Ingredients
1000

g

pork leg

culatello part - see video in the post

27.5

g

Salt

2.75%; medium grain sea or kosher

2.5

g

Cure #2

0.25%

2

g

fresh garlic

about 1/4 clove; liquefied in a mortar

1

g

black pepper

0.1%
Instructions
Debone and trim the ham into a uniform shape as shown in the instruction video in the post above.

Weigh the meat in grams. Calculate how much of each ingredient you will need. If the meat weighs 1,650 grams, you will need 27.5 x 1.65 = 45.4 grams of salt, etc.

Tie the meat with butchers twine as shown in the picture to give it a nice, rounded shape.

Rub the meat with the liquefied garlic. Mix the salt, Cure #2, and black pepper together and apply evenly to the meat. Vacuum seal. Alternatively, you can place the meat and all the extra salt and pepper in a Ziploc bag and expel as much air as possible.

Refrigerate for 14 days flipping the bag daily or so and givng it a quick massage.

After 2 weeks in the fridge, remove the meat from the bag, scrape the surface with the dull side of a knife.

Insert the meat into a pig bladder or a similar large natural casing (e.g. salted veil), prickle small holes all over with a sterilized needle, and truss with butchers twine.

Weigh the meat and write it down on a tag. Add the date and attach the tag to the meat.

Hang and dry in the curing chamber for about 7 days as per the schedule below in the notes section.

Mature in the curing chamber at 55F - 57F (13C - 14C) and 78% - 82% rH for 10-14 months.

When the meat is ready, remove the twine and the casing, don't forget to remove the twin that was under the casing, slice paper-thin and enjoy.

If the meat is too dry, which most likely it will be, remove the outer twine and wash the meat under cold running water to remove mold, then let it dry. Next, soak it for two to three days in dry white or red wine. Remove the casing and the twine (the one under the casing) from the part you want to consume. Then slice it very thinly and enjoy.
Notes
| | | | |
| --- | --- | --- | --- |
| Stage | Duration | Temp | RH |
| Fermentation | 14 hours | 75F (24C) | < 99 % |
| Drying | 17 hours | 73F (22C) | 75-85 % |
| Drying | 24 hours | 71F (19C) | 68-78 % |
| Drying | 24 hours | 68F (18C) | 65-75 % |
| Drying | 24 hours | 64F (17C) | 68-78 % |
| Drying | 24 hours | 61F (16C) | 72-82 % |
| Drying | 24 hours | 59F (15C) | 75-85 % |
Nutrition calculations are per 50g serving.
Nutrition
Calories:
122
kcal
|
Carbohydrates:
1
g
|
Protein:
11
g
|
Fat:
8
g
|
Saturated Fat:
3
g
|
Polyunsaturated Fat:
1
g
|
Monounsaturated Fat:
4
g
|
Cholesterol:
31
mg
|
Sodium:
1175
mg
|
Potassium:
144
mg
|
Fiber:
1
g
|
Sugar:
1
g
|
Vitamin A:
1
IU
|
Vitamin C:
1
mg
|
Calcium:
4
mg
|
Iron:
1
mg