There are dozens of recipes out there for making fermented apples to suit just about any taste. This one was shared with me by a family member who has been making fermented apples for ages. I like it a lot... it makes super aromatic apples, with a good texture and a balanced taste. They are so good that you could eat a dozen at one sitting.

Fermentation jars for apples
It's hardly practical to ferment apples in small jars so you will need something larger, about a gallon-size ideally.  These are called storage jars and you can buy them at many places, including Amazon. My favorite one to use is the spacious 5-liter/129-oz Italian-made Bormioli Rocco storage jar. You can find those in specialty stores like TJ Maxx, Winners, HomeSense and Marshalls.
Picking apples for fermenting
Summer apples are too soft hence they are not well-suited for fermentation and longer-term storage. It's best to pick fall or winter apples instead. They are denser, store well, and make the best fermented apples.
The apples should be firm and free of bruises, blemishes or cuts.
Tip: If possible, let the apples sit at room temperature for a week or even two. They will lose some of their water which means that during fermentation they will more eagerly absorb the brine.
Fermentation brine
Three tablespoons of white sugar and one teaspoon of pickling salt per quart of water is all that's needed. Make sure to use clean, drinking water. Dissolve the sugar and the salt in room temperature water using a whisk.  Make enough brine to fill whatever jar/jars you have. For example, my 5-liter / 5.28-quart glass jar requires 3 quarts of brine to fill it almost to the brim.
Some Eastern European recipes like adding rye flour to start fermentation but that's not necessary as apples will contain enough yeast on their surface. Just make sure not to scrub the apples, a gentle wash will do.
Additives
These are not strictly required but highly recommended. Grape and black currant leaves are commonly added to preserve the crunchy texture of the apples. These leaves contain tannins that inhibit a naturally occurring enzyme in apples that cause them to soften. Oak and cherry leaves will work too though some say that they add bitterness. I've used them and never noticed that.
Apple fermentation process
Fill jars with apples. Add the cherry and/or black currant leaves when filling the jars with apples. Add the brine leaving about a 1/3" headspace. Close with lids and ferment at room temperature for 10 days. You should see fermentation start after a day or two.
If you close the jar with a tight lid, you may not see any obvious fermentation activity. Crack the lid open, immediately you will see bubbles ascending to the top. Keep the lid closed. You can use a lid with an airlock but that's not absolutely necessary as fermentation is anaerobic by nature. You can vent the accumulated CO2 out by cracking open the lid every couple of days. While you are venting the jar, smell it... fermenting apples smell like candy, so delicious. It's a good idea to pick very aromatic apples.
Keep checking the apples and make sure that they stay submerged at all times. Add more brine if needed.

Ferment apples for 10 days at room temperature. Fermentation will not be completed by the time 10 days have passed, but we don't want apples to be sour. We want to be just slightly tangy. If you taste the brine after 10 days, it will be slightly sweet, with a touch of salt and slightly tangy. You will also notice that the brine has become a little cloudy and the apples and the leaves (if using) have lost some color.

Maturing
After 10 days, top up the jars with more brine as apples will absorb some of it, move the jars to the fridge and keep them there for 30 days. I call this process maturing, just like when making salami. Richer, more complex flavors will develop during this time and all the parts of an apple will get soaked with the brine. Fermentation will stop and the apples won't get any sourer. After that, the fermented apples are ready for consumption. Prepare to be blown away by how amazing they taste.
These apples will store in the fridge for months, 3-6 months easily and the taste will continue to improve for a few more months.
Enjoy!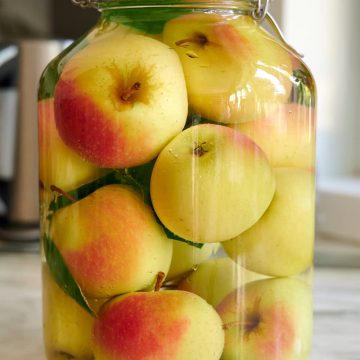 Fermented Apples
Recipe for very tasty homemade fermented apples.
Print
Pin
Rate
Ingredients
10-11

medium apples

firm fall or winter variety

2.5

quarts

clean drinking water

7 1/2

Tbsp

white sugar

2 1/2

tsp

pickling salt

or Morton kosher salt

6-8

cherry and black currant leaves

optional
Instructions
Rinse the apples (do not scrub) and the leaves (if using), and place them in a clean 1-gallon storage jar.

In a large bowl, combine the water with salt and sugar and whisk until dissolved.

Pour the brine in the jar all the way to the top, leaving abouta1/3" headspace.

Ferment the apples at room temperature (68F-70F) for 10 days.

Next, move the jar to the fridge and mature the apples for 30 days.

After 30 days in the fridge, fermented apples are ready for consumption.
Notes
Apple fermentation brine is made with 3 Tbsp white sugar and 1 tsp pickling salt per quart of water.