This recipe is for low-sugar, addictively delicious strawberry jam made without any added pectin. This jam is thick and chewy, with an intense strawberry flavor and rich burgundy color. A true artisanal delight with a very long family history, you won't find anything like it in a store. It goes so well with Dutch babies, English muffins, or pancakes.

Many books instruct to use pectin when making strawberry jam. They say that pectin will make strawberry jam thicken faster, the color will be light and that strawberries will hold their shape. What they don't tell you is that pectin changes the texture and the taste of strawberry jam. In my opinion, strawberry jam made with pectin tastes more like strawberry-flavored jello. I don't like it at all. Commercial jam makers love using pectin as it increases their yields but that comes at the expense of the taste and texture. Do we really want to copy commercial jam makers? At home, you can make the real strawberry jam that will taste a thousand times better.
I've been making strawberry jam this way for years and that's even how my grandparents and great-grandparents used to make it. Let me tell you, I wouldn't make it any other way as it's exceptionally delicious. That's what true strawberry jam tastes like. Made this way, the jam comes out thick, jammy, chewy and ridiculously good. It's a little darker than if you used pectin and thickened it within 10 minutes, capturing all that unnecessary water inside, but who cares? I love the darker, rich burgundy color of the strawberry jam that was cooked a little longer. Its flavor is more intense, akin to how beef's flavor becomes more intense after dry aging. And guess what, the strawberries never disintegrate and hold their shape just fine.
Strawberries
What strawberries you use to make strawberry jam makes a big difference. Pick the tastiest varity you have access to. The more flavor and taste your strawberries have, the better your strawberry jam will taste.
In France, Mara Des Bois variety is the most popular for jam making. These strawberries are a cross between wild and commercial strawberries. They are larger than wild strawberries but just as intensely flavorful. The have a perfect balance of sweet and tart - a strawberry that you don't just eat, you savor it. I just started growing these strawberries in my garden and plan on making jam with them once my harvest is big enough.

Sugar to strawberry ratio
The only thing I changed to the family recipe is to reduce sugar from 1:1 ratio to just 40%.  One pound of sugar to one pound of strawberries is way too sweet for me. I experimented with dropping the ratio of sugar to 60%, 50% and then 40% and 30%, and realized that 40% was just perfect.
Batch size and jam pan size
You would think that with this low sugar content the jam would have a hard time thickening without pectin but it does just fine. The trick is to use a large, preferably copper jam pan and not to overload it. In my 16.75 Qt, 11" bottom jam pan I can prepare 5 lbs of strawberries (plus sugar) in about 35-40 minutes. A 2-3 lb batch of strawberry jam will be ready in about 15-20 minutes or so. If you are going to use a smaller pan, reduce the batch size accordingly. In my 16.75 Qt jam pan I can make batches as big as 6 lbs which would take about 50 minutes to cook but I try to keep my jam batches at 5 lbs or less, depending on how much fruit and berries and I need to process.
As well, if you want your jam to be lighter in color with firmer fruit/berries - decrease your batch size. Two-three pound batch size would be recommended.

Making strawberry jam
Making strawberry jam begins with the process called maceration. Macerating is a technique that softens fresh fruit and draws out its natural juices, in which the fruit then soaks, sort of like marinating. It draws a lot of liquid out of the strawberries. This is extremely important as that liquid can be easily evaporated given high enough heat. If the liquid is inside the strawberries when you begin to apply heat, that won't be so easy. You will have to cook the jam longer which will impact the shape and the firmness of the fruit. I leave my strawberries to macerate overnight but a few hours will do.
Once macerating is done, we begin cooking our jam. Ideally, you'd want to evaporate excess water as quickly as possible. Hence, I begin cooking over medium-high heat.
Vigorous boiling causes a lot of foaming and so it's important to have a jam pan or a pot with tall walls, at least 7 inches, and not to overload the pan. Removing the foam is not strictly necessary but I like removing it for two reasons. First, it will leave white streaks on the surface of the jam, though most will go away eventually. Secondly, that foam is so delicious. I, as a kid, loved to eat it when my grandparents skimmed it off the boiling jam. I do it too and my kids love eating it. It's like a family tradition.

While the jam is boiling, keep stirring it every couple of minutes, scraping the bottom with a flat wooden spatula. While there is still a lot of water in the jam, there won't be any sticking at the bottom.

However, as the water boils off and the jam thickens and becomes darker, you will notice a slight sticking of the jam to the bottom of the pan when you run the spatula across the bottom of the pan.

Immediately turn the heat down to low and continue cooking constantly stirring the jam, thoroughly scraping the bottom.
Continue cooking until the jam thickens to the point where if you run the spatula quickly from one side to the other across the bottom of the pot, you can observe as long as a 6-7 inch long gap before it starts to quickly fill back up. This will make a thick jam that is not runny when it cools down but is easily spreadable.

Canning strawberry jam
When canned, this strawberry jam will keep its freshness for well over a year as it contains less water than its pectin sibling. Two and even three years are totally reasonable based on my experience if you keep it in a cool, dry, dark place. Canning is the best way to store this jam. Once opened, store the jars in a fridge.

I fill hot, sterilized jars with hot jam and process them in a water bath canner for 10 minutes. Technically, 5 minutes should be enough when processing in sterilized jars and you can use clean, unsterilized jars if processing for 10 minutes. But I've had an odd jar that did not seem to create a proper seal after 5 minutes of processing so I now use 10 minutes and it's been a success.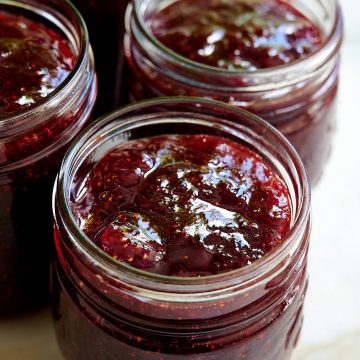 Homemade Strawberry Jam
This recipe makes five 8-oz jars of delicious, thick and intensely flavored strawberry jam.
Print
Pin
Rate
Ingredients
5

lbs

strawberries

rinsed, cored and halved

2

lbs

white sugar

3

Tbsp

lemon juice
Instructions
Place the halved strawberries in a bowl. Add the sugar, lemon juice, and mix well. Refrigerate overnight or macerate for a few hours at room temperature.

Transfer strawberries with the juices to a jam pan. Bring to a boil and cook over medium-high heat stirring every few minutes until the jam begins to thicken and starts to stick to the bottom of the pan slightly. Skim off the white foam.

Once the jam starts to stick to the bottom of the pan, lower the heat to low and continue cooking constantly stirring and scraping the bottom of the pan very well. Cook until such time as when you run the spatula quickly from one side to the other across the bottom of the pot, you can observe as long as a 6-7 inch long gap before it starts to fill back up.

Turn off the heat and let the jam rest.

Fill the hot jars with the jam using a clean ladle and a canning funnel, leaving a 1/2" headspace.

Wipe the rims of the jars, put on the lids and the bands. Tighten the bands finger-tight.

Process in a water bath canner for 10 minutes (assuming 0 - 1,000 feet above sea level), making sure there is at least an inch of water above the lids.

After processing, remove the jars from the canner and let them cool down. Check the seals, then move to a dry, cool and dark place for storage. This strawberry jam, if properly sealed, will have a long shelf life, up to 3 years before you will notice a loss of taste quality.
Notes
One serving in this recipe is a quarter of an 8 oz jar or 2 ounces.
Nutrition
Calories:
212
kcal
|
Carbohydrates:
54
g
|
Protein:
1
g
|
Fat:
1
g
|
Saturated Fat:
1
g
|
Polyunsaturated Fat:
1
g
|
Monounsaturated Fat:
1
g
|
Sodium:
2
mg
|
Potassium:
177
mg
|
Fiber:
2
g
|
Sugar:
51
g
|
Vitamin A:
14
IU
|
Vitamin C:
68
mg
|
Calcium:
19
mg
|
Iron:
1
mg