Fantastic salsa roja is easy to make, but it's also very easy to make it bland and unexciting without even realizing it. I must admit, for a very long time, I was making it incorrectly. Don't get me wrong; it was quite good, but my new salsa roja recipe quickly put it to shame. This salsa is so good that when I make it, we all crowd around the bowl and practically fight for it until the last drop. It's really, really freaking great.

What is salsa roja?
Salsa roja, translated from Spanish as red sauce, is a type of spicy red sauce in Mexican cuisine. It is made of jitomate, translated from Spanish as red tomato, onion, garlic, chiles, salt, and pepper to taste.
How can you mess up salsa roja?
I can't speak for everyone else, but here are the mistakes that I was making:
Using the wrong tomatoes
Adding too much onion
Chopping tomatoes and onions too coarsely
Not roasting/charring vegetables
Discarding charred skins
How to make fantastic salsa roja?
Pick the right tomatoes
In my humble opinion, the 'garbage in, garbage out' concept perfectly applies to making salsa. You can't make excellent salsa roja with mediocre tomatoes. No way, no how.
Tomatoes for salsa must be fully ripe, soft, and juicy. Hard tomatoes make lousy salsa. My best-tasting salsa is in summer when tomatoes are in season. Locally grown, vine-ripened tomatoes are best. Tomatoes ripened in the heat of the summer are the juiciest and the sweetest. These tomatoes make the best salsa.
If you have access to in-season, locally grown heirloom tomatoes, those will make outstanding salsa.
If you grow your own heirloom tomatoes, that's the perfect scenario.

Add the right amount of onions and chiles
I used to eyeball the amount of onion in my salsa and would always, for some reason, end up with too much. Later, I realized that salsa roja is not about onions or chiles. No. Salsa roja is all about the delicious, juicy, sweet tomatoes ripened under the hot sun. Onions and chiles are there only to complement the tomatoes and enhance their flavor.
So, how much onion and chiles to add? Half an onion per pound of tomatoes is what I aim for now. One to two, maybe three, jalapenos or serrano peppers per pound of tomatoes, depending on how much heat you want. Poblano peppers aren't strictly required, but I love the spiciness and a slight sweetness that roasted poblano peppers add. One small or half a large poblano pepper per pound of tomatoes is enough.
Roast/char the vegetables
The secret of this amazing salsa roja recipe is not just the ingredients; it's how it's made. To get that extra complex flavor, you must roast the vegetables. Not only roasting adds robust flavor, but it also softens the veggies, improving their texture and making eating them also much more enjoyable. Fresh salsa doesn't mean the vegetables are completely raw. Roasting brings out the flavors and mellows out strong flavors and pungency of onions and garlic.
To get even more flavor, the skins of the vegetables must be charred. You want good charring on the outside and soft, unburnt flesh on the inside.
If you can roast the vegetables on a charcoal grill, throw a wood chunk (oak, hickory, pecan, cherry) in the pit to give your veggies a nice smoky flavor. That extra smoky flavor will make your salsa even more amazing.

Tip: I like coring, seeding, and cutting chiles in half before roasting, allowing me to throw them in the food processor straight away. If you prefer, roast them whole, then let them cool down before coring and seeding, as they will be too hot to work with.
Do not discard the charred skins!
Some chefs remove the charred skins; some don't. I now always keep them. They add a great deal of rustic, complex flavor. They also darken the salsa, giving it a gorgeous dark red color. We eat with our eyes, and the color of this salsa roja will make you want to devour it.
Finely process the vegetables
Hand-chopping vegetables doesn't work as it doesn't provide a fine enough texture. You need a food processor. A blender will do too, but I find that it purees vegetables too much. You want a perfect balance of pureed veggies and slightly chunky ones.  A food processor is perfect for this. If you use a blender, blend one part of the vegetables well while giving the other part just a few pulses.
You may ask, but how did they make proper salsa before all the electrical kitchen appliances were invented? Molcajete! You grind the ingredients in a molcajete. I own one, and I like using it to make authentic salsa roja when I have the time, but it's time-consuming, especially when making large batches.

A food processor is quick and easy and does an excellent job.
Tip: process all the skins with some tomatoes and collected juices separately. Process until no large pieces remain, only tiny-tiny pieces. Large pieces of skins will make salsa less enjoyable.
That's all there is to it. I hope this helps you make a fantastic salsa roja.

Preserving salsa
Where I live, tasty tomatoes aren't available outside of the narrow growing season, so I have to learn to preserve salsa. This is actually easier than most think.
All you have to do is add some white vinegar to make it safe for canning (I followed National Center for Home Food Preservation's guidelines for canning salsa), boil it for 10 minutes, ladle into jars, and process in a boiling water bath.

While adding vinegar, the necessary evil, makes salsa more acidic, and the cooking takes away some of the summery brightness, this canned salsa still tastes ridiculously good. It beats fresh salsa made with hard, bland greenhouse tomatoes and especially store-bought canned salsa. There is simply no comparison.
Enjoy!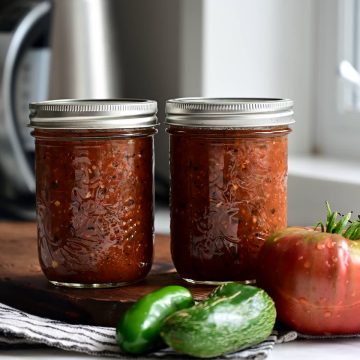 Charred, Smoky Salsa Roja (Fresh or Canned Recipe)
Print
Pin
Rate
Servings:
4
(fresh salsa) 1 cup per serving
Ingredients
Ingredients for fresh salsa roja (makes about 4 cups)
2

lbs

tomatoes

cored, but not peeled

1

poblano pepper

cored and seeded, cut in halves lengthwise

1

medium onion

cut in half

1

jalapeno pepper

plus more to taste

1/2

cup

chopped cilantro

2

garlic cloves

1 1/2

tsp

salt

or to taste

3/4

tsp

white pepper
Ingredients for canned salsa roja (makes about four 1-pint jars or 8 cups)
4.5

lbs

tomatoes

cored, but not peeled

1/2

lb

poblano peppers

cored and seeded, cut in halves lengthwise

1/2

lb

onions

cut in halves

2

jalapeno peppers

plus more to taste; cored and seeded, cut in halves lengthwise

4

garlic cloves

1

cup

chopped cilantro

3

tsp

salt

or to taste

1 1/2

tsp

white pepper

10

Tbsp

5% white vinegar

do not change the amount of vinegar
Instructions
To make fresh salsa roja
Preheat the broiler. Place the tomatoes, garlic cloves, onion halves (cut side up), and chiles (skin side up) on a baking sheet lined with foil. Broil on the top rack. Remove garlic cloves after 4-5 minutes once they get brown. Broil tomatoes and chiles for 6-8 minutes until the skins are nicely charred, flip and broil for another 6-8 minutes. Broil onions for about 10 minutes until the tops are nicely charred.

Alternatively, you may roast and char your vegetables on a cast iron pan over medium-high heat.

Better yet, do that on a gas or charcoal grill. Make sure the grate is as close to the heat source as possible. If using a charcoal grill, add a few wood chunks (oak, hickory, pecan) for the vegetables to acquire a smoky flavor.

Place the vegetables in a food processor, along with the salt, white pepper, cilantro, and any juices. Process for about 15-20 seconds until the texture is smooth. Taste for heat, and add more charred jalapenos if necessary.
To make canned salsa roja
Place fresh salsa made using the steps above into a large pot, add the vinegar, and bring to a boil over medium-high heat, frequently stirring.

Once the mixture is boiling, lower the heat and cook for 10 minutes.

Meanwhile, sterilize jars and lids with rings.

Ladle the salsa into the prepared jars leaving a 1/2" headspace. Wipe the rims, put the lids and the rings on, and tighten finger-tight.

Process in a boiling water bath for 15 minutes (0-1,000ft) or 20 minutes at 1,001 - 6,000 ft and 25 minutes above 6000 ft.

Let the jars cool down at room temperature for 12-24 hours, remove the rings, check the seals, and store them in a warm, dry, and dark place for up to a year for optimum freshness.

Once open, refrigerate for up to 2 weeks.
Nutrition
Calories:
68
kcal
|
Carbohydrates:
15
g
|
Protein:
3
g
|
Fat:
1
g
|
Saturated Fat:
0.1
g
|
Polyunsaturated Fat:
0.2
g
|
Monounsaturated Fat:
0.1
g
|
Sodium:
888
mg
|
Potassium:
700
mg
|
Fiber:
4
g
|
Sugar:
9
g
|
Vitamin A:
2327
IU
|
Vitamin C:
64
mg
|
Calcium:
41
mg
|
Iron:
1
mg