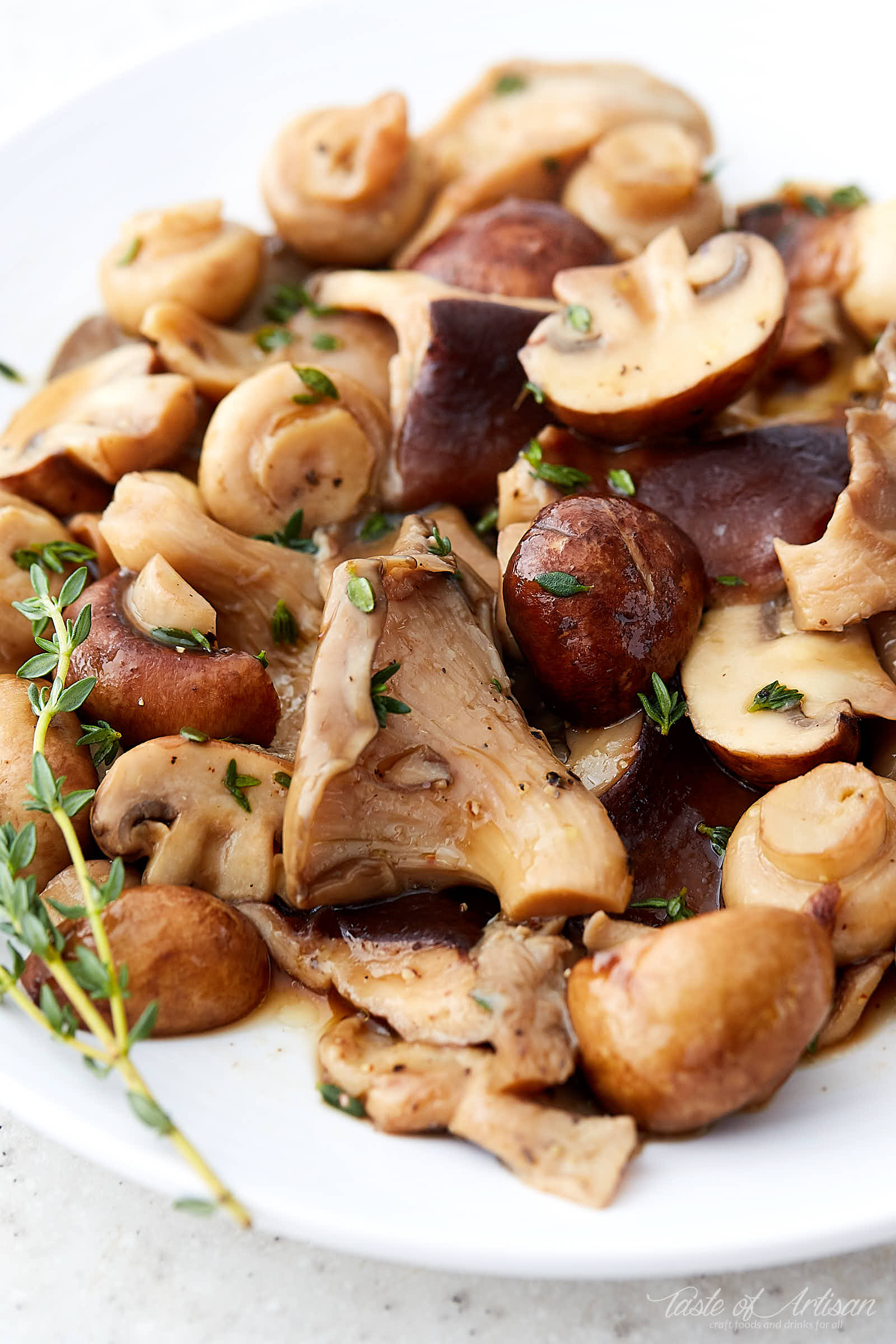 These sous vide mushrooms are nicely firm and have a juicy, succulent texture and a great flavor. It takes 30 minutes to cook them to eat as is, and only 10 minutes if you want to use them in sautes, omelettes and dishes that require additional cooking.
While I am not new to sous vide cooking in general, this is my first time cooking with a 'real' sous vide tool - the Anova Sous Vide Immersion Circulator with WiFi. I wanted to make something quick and something that I haven't attempted before, just to test drive my new kitchen gadget while it's still easy to deal with any performance issues. After looking through a few of my modernist cookbooks the choice fell on sous vide mushrooms.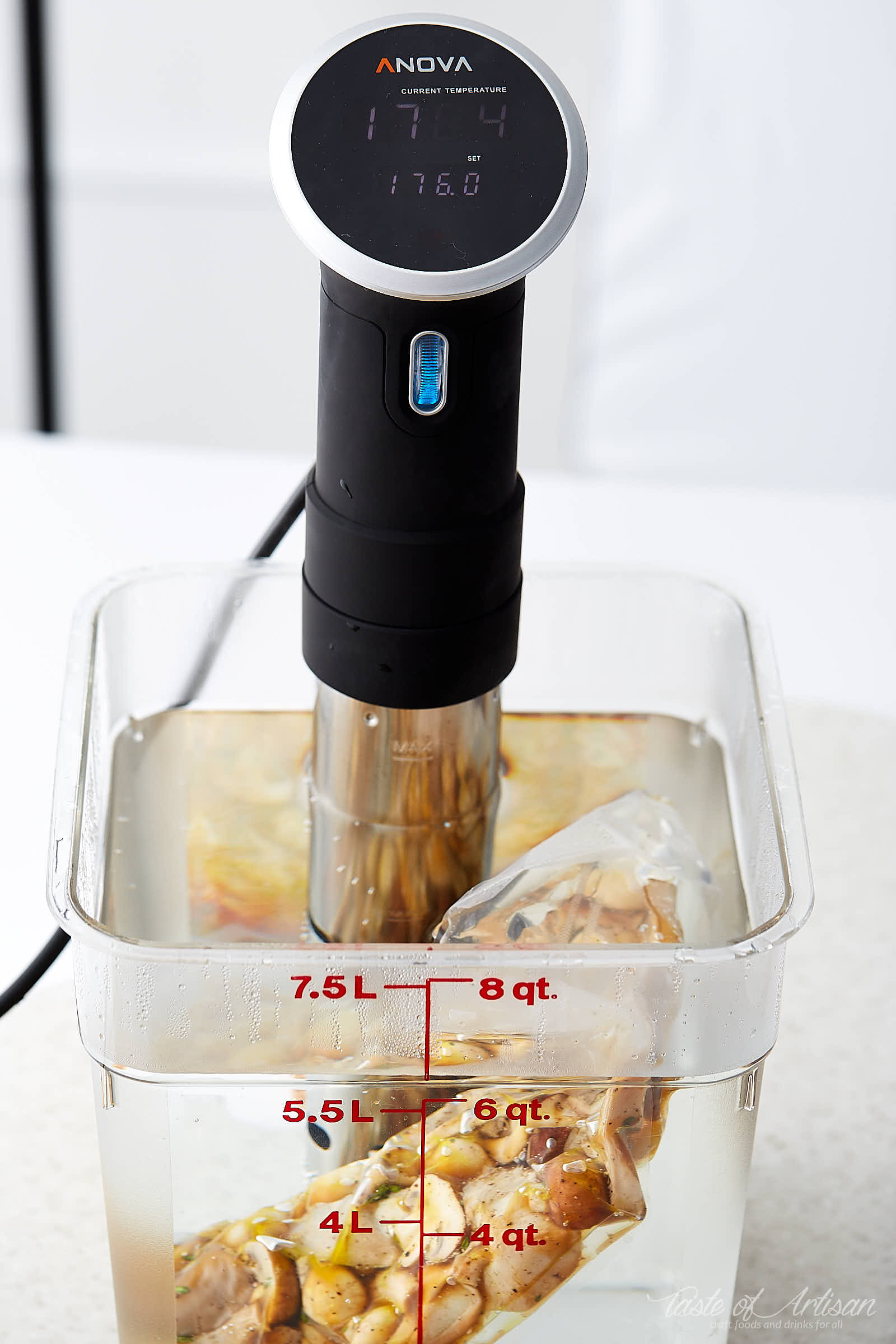 I love mushrooms in just about any form. My wife makes amazing mushrooms by sauteing them in butter with a little salt and pepper. They are-out-of-this-world good and are my favorite for sure. I even use them as a substitute for meat, like in lasagnas. Naturally, I got curious to see how sous vide mushrooms would stack up against sauteed and other mushrooms.
Most recipes I've seen online recommend cooking mushrooms at 186F for one hour. The temperature range, depending on the source, varies from 176F to 194F. 186F is the most commonly recommended though. The recipe I found in the Sous Vide at Home: The Modern Technique for Perfectly Cooked Meals written by Lisa Fetterman suggests only 10 minutes of cooking at 176F. But then again, the cooking instructions and the description to the original recipe are somewhat contradicting - at the end of cooking instructions it says "serve immediately", while the description suggests additional cooking.
Lisa suggests finishing these sous vide mushrooms with balsamic vinegar and using them as an accompaniment to steaks, scrambled eggs, burgers or even as a base for a creamy pasta sauce - "Simply drain the liquid (save it for adding to sauces, braises, or soups) and then saute the mushrooms in butter or olive oil, adding your favorite herbs or spices".
So, what did I decide to do? I decided to leave 10 minutes at 176F for using the mushrooms in other dishes where additional cooking would be used. For straight consumption I went with 30 minutes at 176F.
The result was great: the mushrooms turned out nicely firm, but easy to bite. The flavors were spot on. I actually enjoyed them quite a bit. The firmness was quite refreshing from the usual soft texture that mushrooms acquire during conventional cooking. All this greatness after 10 minutes of prep time and 30 minutes of cooking.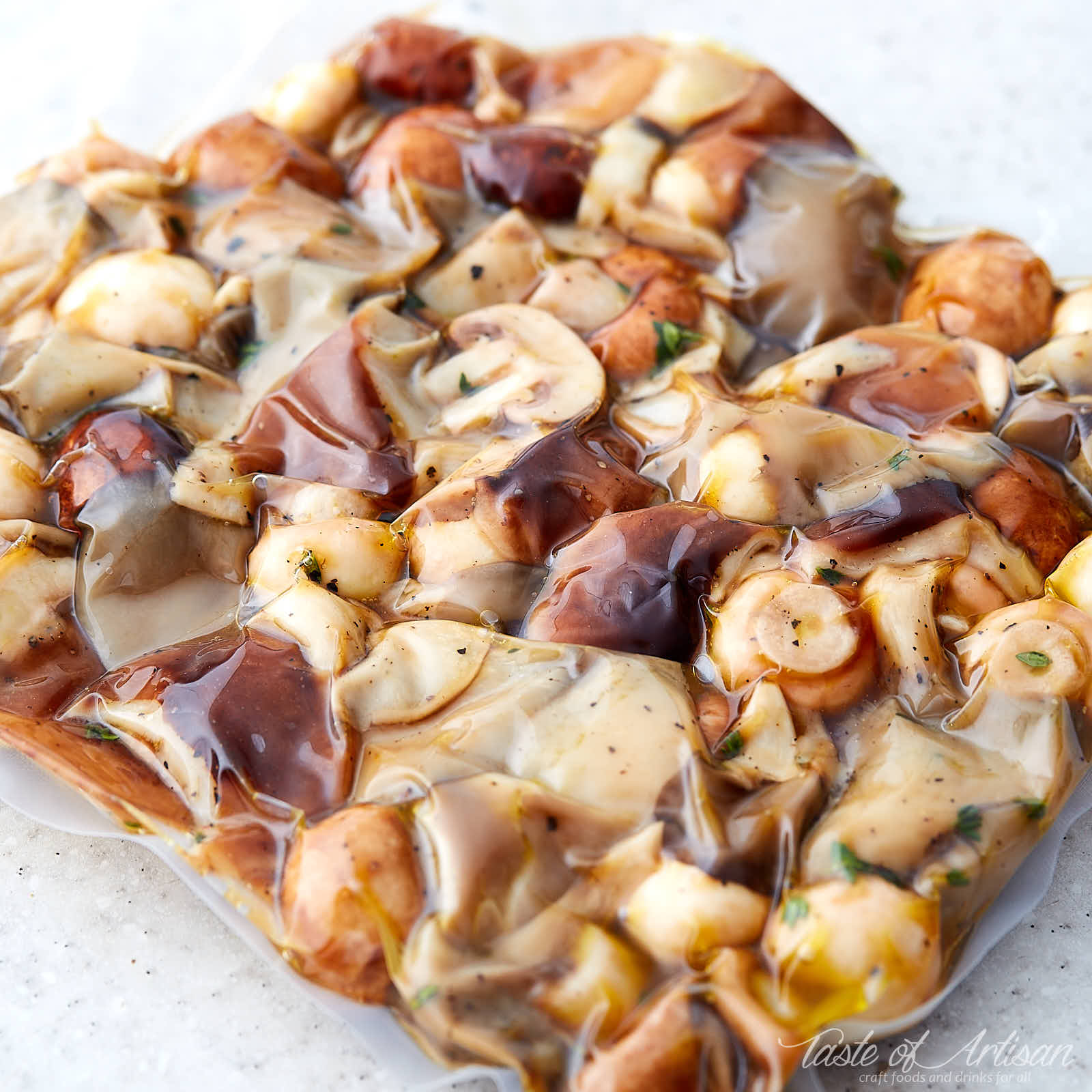 On my to do list is to try cooking mushrooms for 60 minutes at 176F and 60 minutest at 186F, a most common method. It will be interesting to compare the results. Though, I can hardly see much room for an improvement in texture from this point. Do you prefer firmer or softer texture in sous vide mushrooms?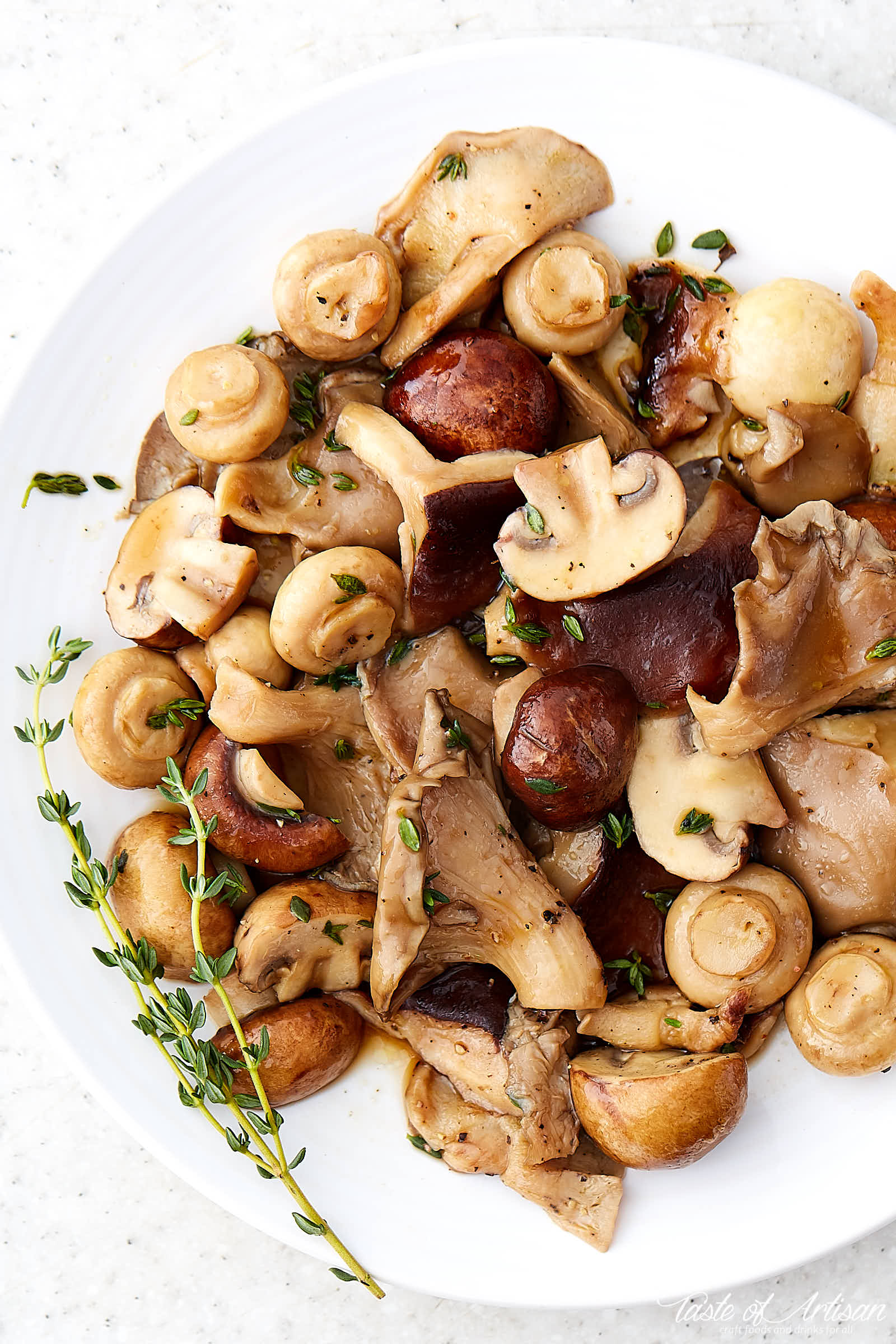 On the ingredient list itself, the only thing I did was to add vinegar. The base is very good. The soy sauce is a very welcome addition. Here is what Lisa says about it: "Soy sauce might seem out of place here, but it has a great affinity for mushrooms: in small quantities, as in this recipe, it amplifies their earthy, umami flavor while staying out of the spotlight. Soy sauce is the wind beneath maitake's wings". I could not agree more. But the in the end, I felt like some acidity was the only thing missing. I almost felt like adding a spoonful of Italian dressing to my mushrooms.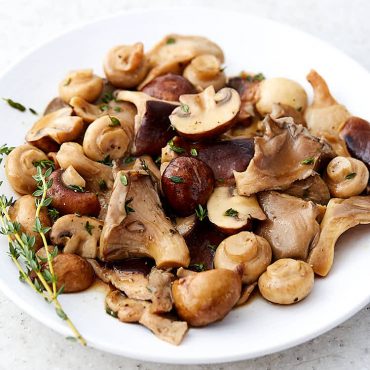 Ingredients
1

lb

mushrooms

(e.g. maitake, shiitake, cremini, oyster, button, etc., cleaned, rinsed and cut into bite-size pieces)

2

Tbsp

low sodium soy sauce

2

Tbsp

olive oil

(extra-virgin, very good quality)

1

Tbsp

sherry vinegar

(or white vinegar, or balsamic vinegar if you want some sweetness)

2

tsp

fresh thyme leaves

1/2

tsp

black pepper

(freshly ground)

1/2

tsp

kosher salt

(plus more to taste)
Instructions
Preheat your sous vide water bath to 80°C (176°F).

In a bowl, combine the mushrooms with the rest of the ingredients and toss to coat evenly. Place the mushroom mixture in the bag and seal using the water displacement method, or use a vacuum sealer.

Lower the bagged mushrooms into the water bath and cook for 30 minutes.

Remove from the water bath and serve the mushrooms immediately.
Nutrition
Serving:
0
g
|
Carbohydrates:
0
g
|
Protein:
0
g
|
Fat:
0
g
|
Saturated Fat:
0
g
|
Polyunsaturated Fat:
0
g
|
Monounsaturated Fat:
0
g
|
Trans Fat:
0
g
|
Cholesterol:
0
mg
|
Sodium:
0
mg
|
Potassium:
0
mg
|
Fiber:
0
g
|
Sugar:
0
g
|
Vitamin A:
0
IU
|
Vitamin C:
0
mg
|
Calcium:
0
mg
|
Iron:
0
mg
This post was updated on January 22, 2019