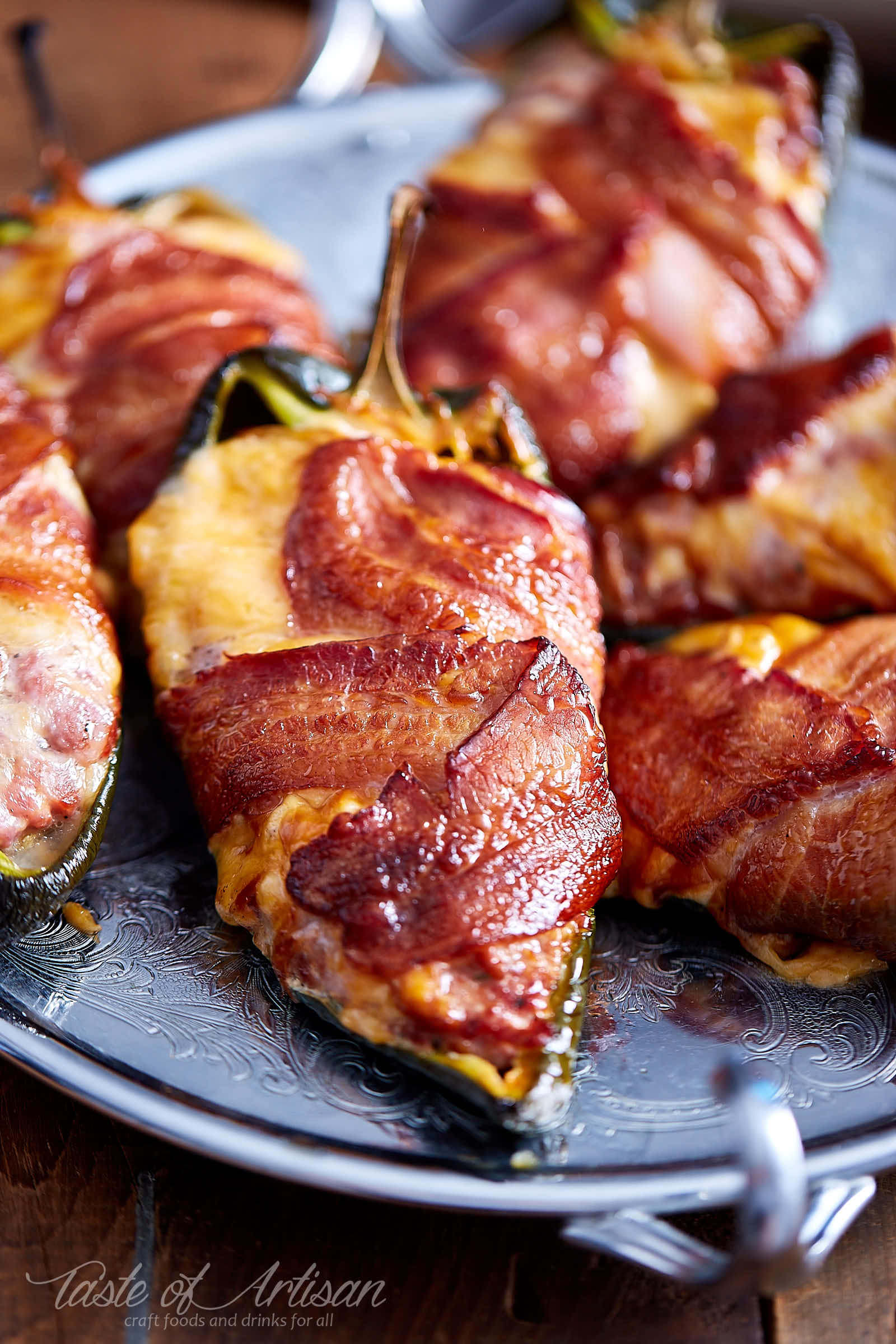 If you like jalapeno poppers, this smoked stuffed poblano pepper recipe is a must try. These smoked poblanos are similar to jalapeno poppers: they are smoky, cheesy and wrapped in crispy bacon. But they are also meaty, and bigger. And less spicy. Though, you can always add some red pepper flakes or cayenne pepper to the sausage mix stuffing.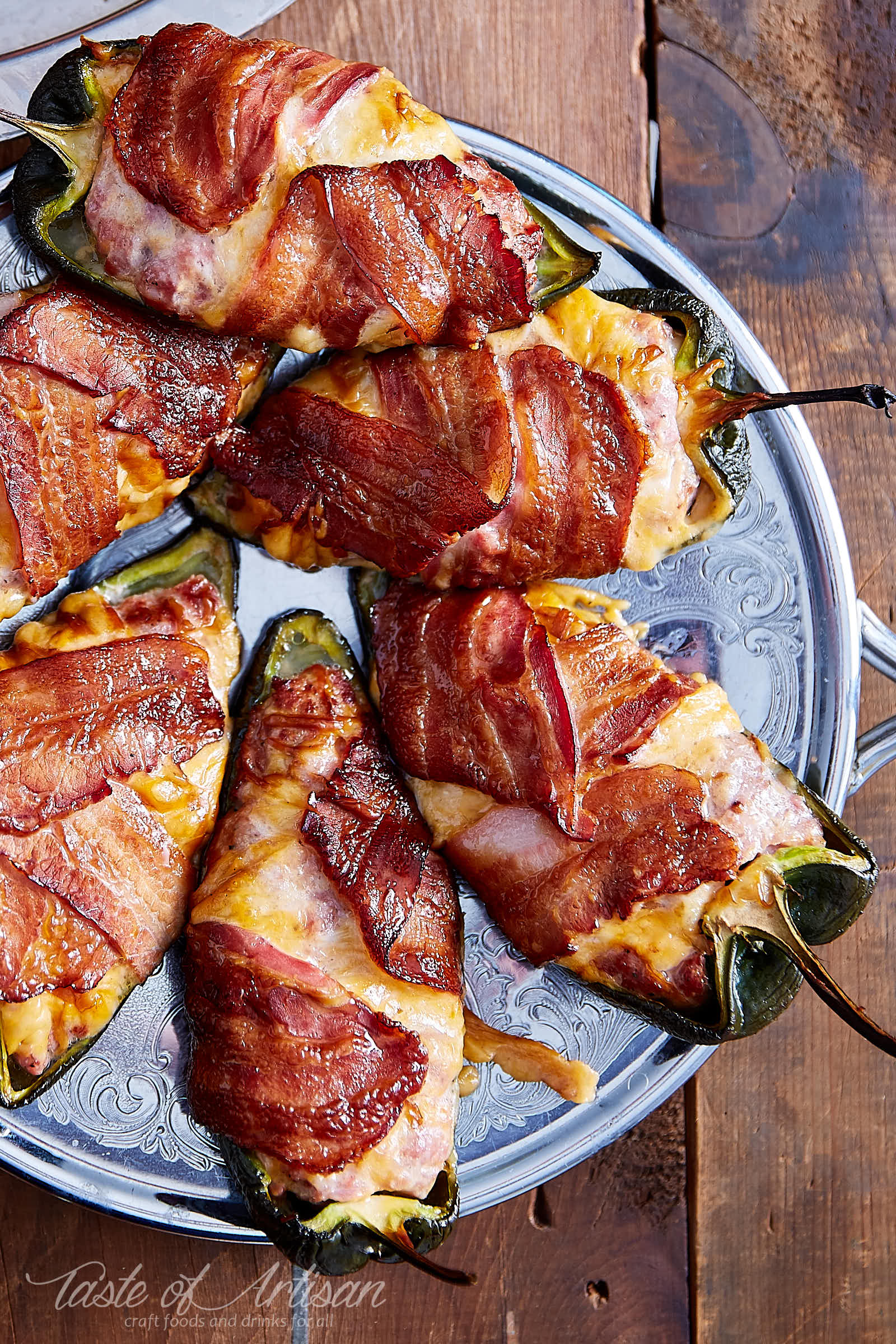 I am a big fan of jalapeno poppers. My ultimate bacon wrapped jalapeno poppers are a hit every time I make them. People fight for them. The only complaint I have about them is the prep work: jalapenos are so spicy that you need to prepare them in a well ventilated area, away from pets and people, with rubber gloves on and preferably under water in a large bowl. Ideally you'd want to wear a gas mask, if you have one. I don't. Yet.
Poblanos, on the other hand, are much easier to work with. They are 4 times less spicy than jalapenos. You don't need to were gloves or take other precautions. This may be a drawback for those who want some kick - after they are cooked poblanos taste very mildly spicy. They are also 4 times or so bigger than jalapeno peppers, which means it's easier and takes less time to prepare them. I like that.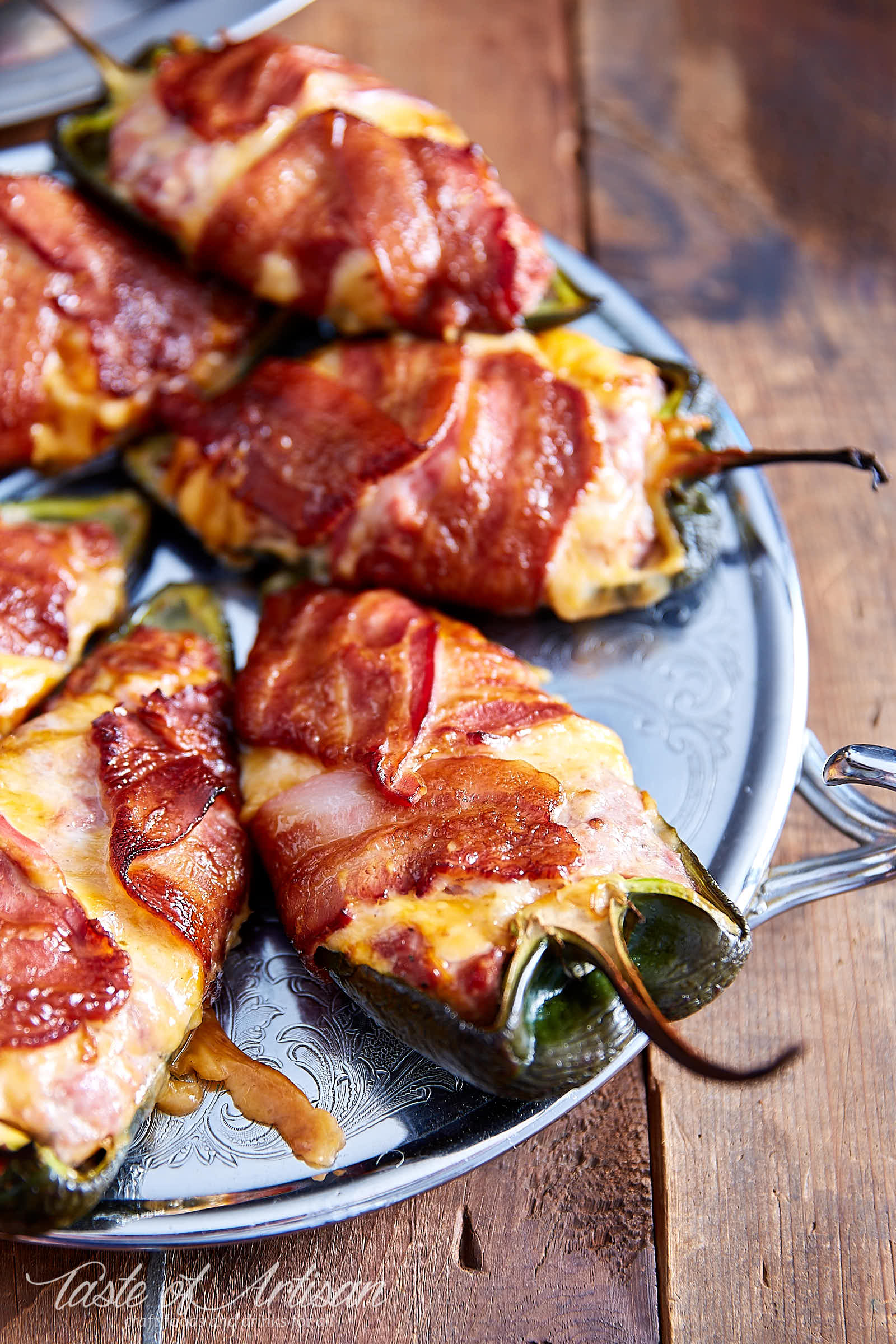 The prep work is super simple. Cut poblano peppers in half, remove membrane and seeds, stuff with sausage mix, sprinkle with cheddar, and wrap in bacon. That's it. We are done and ready to send them to the smoker. For best results, use homemade bacon, it's much tastier, yet very easy to make.
Smoking poblano peppers
I smoke stuffed poblano peppers in the 225F to 250F range, depending on how my charcoal smoker behaves. It takes anywhere from 1 1/2 to 2 hours. The peppers are done when the sausage stuffing reaches 165F. It helps to have an instant read thermometer for a quick test.
I think the choice of wood for smoking is very important. Everyone has own preferred wood, mine is cherry wood. That's what I use in this recipe. Cheery wood gives the final product a moderately smoky, slightly sweet flavor and a beautiful burgundy color.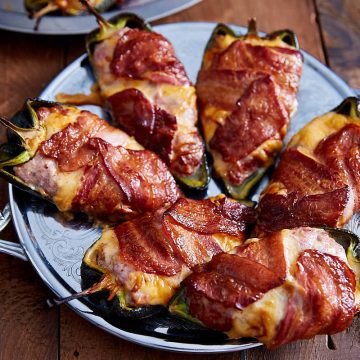 Ingredients
4

poblano peppers cut in half lengthwise

membrane and seeds removed

2

lbs

fresh sausage removed from casings

2

cups

shredded cheddar cheese

8

strips reduced salt bacon
Instructions
Preheat your smoker to 225F-250F.

Divide the sausage into eight equal parts. Press the sausage onto each of the poblano halves in an even layer.

Sprinkle shredded cheddar on top of the sausage layer. Wrap each pepper half with a bacon strip.

Smoke at 225F for about 2 hours or 250F for about 1 1/2 hours. Serve immediately.
Notes
You can use any fresh sausage you like. Italian sweet sausage, mild or hot, can be found at any grocery store works very well. If you are up for it, you can make your own sausage. For this recipe ideally you want to you pork, or pork/beef combination with fat content of no less than 25%. For lean meats add fat trimmings to bring the fat content up. I like to use pork butt which comes with about 25-30% fat content. It's perfect for smoked sausage.
Here is my basic recipe for fresh sausage:
2 lbs pork butt
2 tsp kosher salt
1/2 tsp ground black pepper
1/2 tsp cayenne pepper (optional)
1 tsp (heaping) marjoram
3 garlic cloves, pressed
1/2 cup ice water
Nutrition
Serving:
0
g
|
Carbohydrates:
0
g
|
Protein:
0
g
|
Fat:
0
g
|
Saturated Fat:
0
g
|
Polyunsaturated Fat:
0
g
|
Monounsaturated Fat:
0
g
|
Trans Fat:
0
g
|
Cholesterol:
0
mg
|
Sodium:
0
mg
|
Potassium:
0
mg
|
Fiber:
0
g
|
Sugar:
0
g
|
Vitamin A:
0
IU
|
Vitamin C:
0
mg
|
Calcium:
0
mg
|
Iron:
0
mg