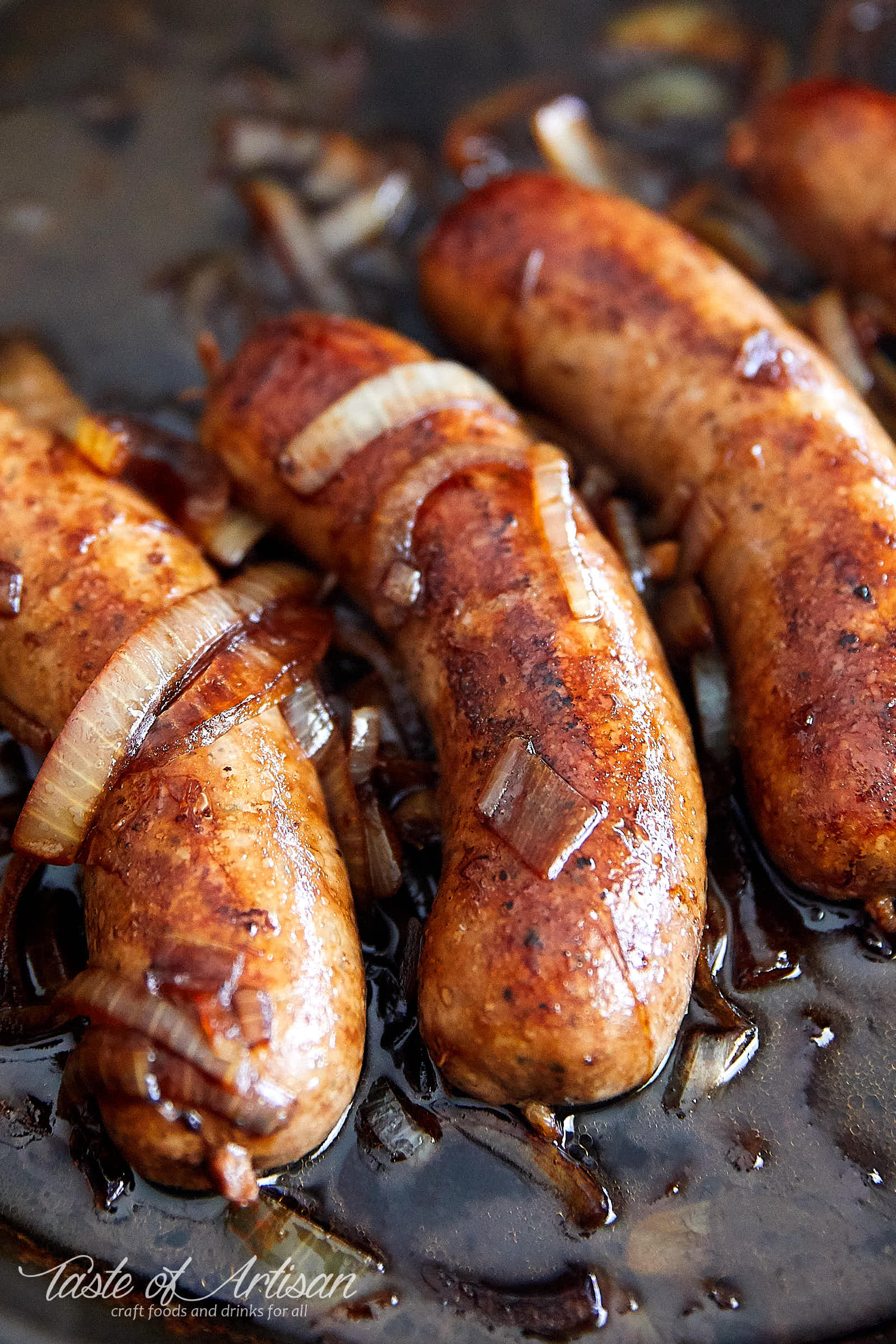 Bratwurst is a type of German sausage that everyone knows. Meat-loving Germans adore brats. I was fortunate enough to spend a year in Germany where I got a chance to try a variety of bratwurst sausages. There are so many of them that every region, every city, even every butcher has own bratwurst recipe. It's a bratwurst lover's paradise.
The taste of bratwurst is largely determined by the use of different spices and spice proportions. In Nuremberg, for example, marjoram dominates the flavor of the sausage. Similarly, other regions may favor garlic or caraway. In general, the following spices are typically used for making bratwurst: salt, pepper, nutmeg, cardamom, allspice, garlic, caraway, marjoram and sometimes lemon zest.
Unlike bockwurst, bratwurst favors more pork and less veal in its recipes, and the meat is not emulsified.
This particular bratwurst recipe comes from Stanley Marianski's Home Production of Quality Meats and Sausages book. It's customary for bratwurst recipes in Germany to take on the names of specific regions of where a recipe comes from.  For example, there is Thuringer Bratwurst, Nurnberger Bratwurst, Rheinishe Bratwurst, etc.  This recipe is fairly generic so it doesn't have a specific region name attached to it. Nevertheless, I've made bratwurst using this recipe a number of times with great results.
Taste-wise, this is one of the best bratwurst recipes I've tried. It's well rounded and should appeal to a wide range of tastes.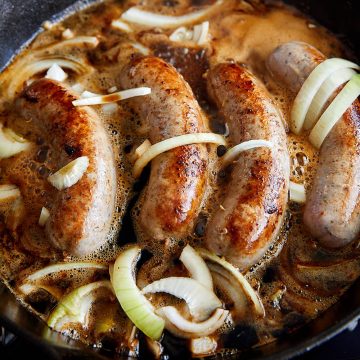 Ingredients
700

g

pork

300

g

veal

13

g

kosher salt

3

g

white pepper

1

tsp

marjoram

1

g

caraway

0.5

g

ginger

(ground)

1

g

nutmeg

2

egg whites

100

g

cold water
Instructions
Grind meat through 3/16" (3 mm) plate.

Mix the ground meat and all ingredients together.

Stuff into 32-36 mm hog casings forming 4" (10 cm) links.

Keep in a refrigerator or freeze for later use.
Notes
Cook before serving. Adding white of an egg is optional. It is common in Germany to add eggs into fresh sausages to increase the binding of ingredients.
Marianski doesn't specify what pork cut should be used in this recipe. In general, pork butt is commonly used for making brats. It has just the right ratio of meat to fat.
I adjusted the salt content down from 18g per 1000g of meat. Marianski's recipes tend to be on the saltier side. If you like your sausage saltier you can always add more. I find that 13g per 1000g of meat is right where I like my salt content to be.
The recipe is for 1000g of meat. You can easily scale it up or down as needed.