This jalapeno cheddar sausage is the result of several experiments to create the juiciest, meatiest, cheesiest and the most flavorful southern-style sausage. Let me tell you, the end result is one of the most exciting sausages I've ever tried.

After some trial and error, I settled on a 40/40/20 mix of beef, pork, and smoked bacon, studded with jalapenos, salt, and coarsely ground black pepper. I also added some onion and garlic for their savory notes, sage for its earthiness and warmth, and mustard for its sharpness and pungency. All work so well together in this recipe.

This sausage is incredibly juicy. I used fattier pork but trimmings, which are about 65/35 meat to fat ratio. This is higher than I would normally use for any kind of sausage but it works in this recipe. Combined with the rest of the ingredients, you don't even notice the fattiness of the pork. Instead, every bite is full of meaty, cheesy, juicy goodness.

I stuff my jalapeno cheddar sausage into standard 28mm - 32mm hog casings. The recipe below will require about 8 feet of the casings.
I normally smoke this sausage low and slow at 225F until the internal temperature reaches 165F. This takes about an hour to an hour and a half. You can go even higher if you want the sausage to take in more smoke. I've cooked this sausage to as high as 195F and it still remained quite moist, albeit not as juicy as when cooked to 165F.
If you want to make this sausage very smoky and exceptionally juicy, the best way is to smoke it at below 200F for two hours, then crank up the heat to about 250F to finish it off.
Other ways to cook this sausage include air frying, frying on a pan or grilling. Even baking. I am sure you will enjoy this sausage no matter how it's cooked.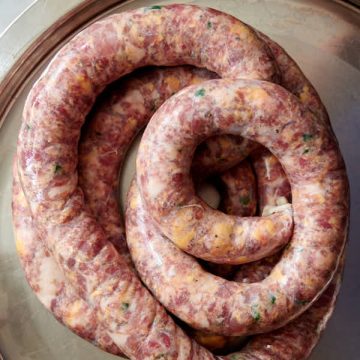 Ingredients
1

lb

pork butt

slightly fattier pieces are recommended, about 35% fat

1

lb

beef

chuck recommended

1/2

lb

smoked bacon

diced or chopped

4

jalepeno peppers

cored, seeded and diced

1/2

lb

sharp cheddar

diced

2

tsp

kosher salt

1

tsp

black pepper

coarseley ground

1/2

tsp

garlic powder

1/2

tsp

onion powder

1/2

tsp

mustard powder

1/4

tsp

sage

dried

1

cup

ice water
Instructions
Cut the beef and the pork into 1"-1.5" pieces, keeping the two separately and ensuring that the meat stays below 40F at all times.

Grind the beef through a 3/8" (10mm) plate and the pork through a 1/4" (6mm) plate.

Add the salt, the spices, the water, and mix well until the meat is sticky.

Fold in the jalapeno peppers and the cheese, making sure that they are distributed evenly.

Stuff into hog casings, tie off the ends and twist into 6" links.

Smoke over oak or hickory until the internal temperature is at least 165F. You can also cook this sausage on a grill, air fryer or a pan.