Back in the day, every time I would consider making panettone I would be very quickly put off by a number of challenges associated with making this sweet bread. The first one is the special molds which I never keep on hand. Getting them takes time and my enthusiasm would disappear because of that. They are also quite expensive at most places. The second turn off for me is the use of candied fruits peels. Likewise, I don't keep them on hand and, frankly, I don't like them. Finally, a few panettones that I tried were quite rich and eggy, while I prefer lighter breads.

If you are experiencing the same challenges, let me offer you this simplified panettone recipe. It's less rich, it doesn't include candied orange peels, and you can make it without panettone molds. This recipe makes two loaves of outstanding panettone that everyone whom I served it to loved it. The crumb is moist, subtly sweet, airy, soft, slightly chewy and delicate. It's very enjoyable. Even addictive.
The best part - this panettone can be made in about three hours, which is quite a bit faster than any panettone recipes I've come across.

Panettone molds
Panettone dough is soft, silky-smooth and tacky, so you need to use some sort of a liner. Greasing works, to a point, but you may still experience sticking.
Panettone mold substitutes are abundant. You can use used unlined tin cans, about 4-5 inches in diameter and 5-7 inches in height. If you use cans, do not remove the bottoms, otherwise the dough will proof and bake out from both ends. You can also use 6-inch cheesecake pans, which I use most of the time.
To prevent sticking, line the pans or cans with parchment paper. This will make it much easier to remove panettones from the cans.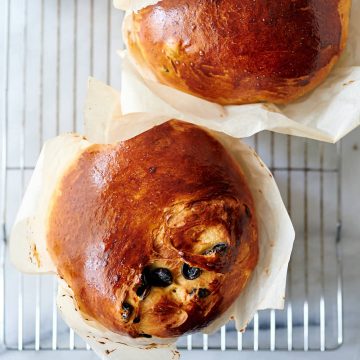 Easy Panettone Recipe
Panettone recipe that makes light, less eggy panettone bread with the ingredients you have on hand.
Print
Pin
Rate
Ingredients
4

cups

bread flour

610 g; if using cups, used the 'scoop and sweep' method

2

Tbsp

instant yeast

18 g;  also known as Quick Rise or Rapid Rise yeast

1

cup

warm water

240 g; 105F to 115F

10

Tbsp

powdered sugar

85 g; or 7 Tbsp granulated white sugar

3

egg yolks

1/2

Tbsp

kosher salt

level

Grated zest of 1 lemon

1/2

Tbsp

orange flower water

15 g; substitute for plain water if you do't have it

8

Tbsp

unsalted butter

112.5 g; at room temperature

1/2

cup

golden raisins

85g; or black raisins; see notes

2/3

cup

candied orange peel

60 g; diced; optional; if not using, substitute for an equal amount of rasins
Egg wash
1

egg yolk

1

tsp

heavy cream

or milk
Instructions
Add the egg yolks and the powdered sugar to the bowl of a stand mixer and beat by hand for a few seconds using a whisk.

Add the salt, yeast, lemon zest, warm water, orange flower water, and all but a handful of the flour. Add the softened butter and, using the dough hook, knead for 5 minutes on low speed (2-3 on Kitchen Aid mixer). Adjust by adding the remaining flour, if necessary, to make a smooth, elastic dough. The dough should be very soft and tacky, but you should be able to lift the dogh and shape it into a ball without it sticking to your hands.

Cover the bowl, place into a cold oven with the light on, and let rise until the dough has doubled in volume, about 1 hour to 1.5 hours.

Knead the raisins and candied orange peel into the dough by hand. Another way to incorporate dried fruit is to divide the dough, stretch it, evenly top with dried fruit then roll up and shape into a ball.

Line the inside of panettone molds/cans/cheesecake pans with parchment paper.

Split the dough into 2 equal pieces and shape each one into a round ball. Place the loaves in the pans, seam side down. Let rise in a warm place until the dough just rises above the rim of the pans, about 30 minutes.

Whisk the egg yolk with one teaspoon of cream in a small bowl. Brush egg wash over the tops of the loaves.

Bake at 375F for about 35 minutes or until baked through. The loaves are done when they have a light brown crust all over. You can gently lift one loaf out of the pan to check for doneness.

Take the breads out of the oven, remove from the pans and let cool on a rack. If they are left in the baking forms, the loaves will become soggy from condensation.
Notes
I like to soak raisins in sweet cold water for a few hours or overnight, which makes them incredibly juicy. If you soak them, make sure to blot them with paper towels before adding to the dough. Soaked raising will be a little harder to knead into the dough, but well worth the effort. The best way to add them is to stretch the dough as much as you can, spread the raisins on top and roll up before shaping into a ball. Easy as that.
Nutrition
Calories:
234
kcal
|
Carbohydrates:
37
g
|
Protein:
5
g
|
Fat:
8
g
|
Saturated Fat:
4
g
|
Cholesterol:
65
mg
|
Sodium:
229
mg
|
Potassium:
77
mg
|
Fiber:
1
g
|
Sugar:
13
g
|
Vitamin A:
247
IU
|
Vitamin C:
1
mg
|
Calcium:
16
mg
|
Iron:
1
mg