This canned luncheon meat is a variation of my canned pork. I adapted the seasonings for this luncheon meat from the kabanos sausage recipe. The slightly sweet and savory flavor profile of the kabanos sausage works exceptionally well for luncheon meat. I experimented with many seasonings but none came even close to this one. This one is a huge hit and most of the pork meat that we preserve comes in the form of this canned luncheon meat.

Unlike the canned pork, in this recipe, I grind fattier meat and mix it with chunks of lean meat. This way you get an almost perfect cylinder of meat that you can then slice and use on sandwiches.

Some people add a couple of teaspoons of gelatin per jar to make the juices gelatinize. I normally don't as my family, especially the kids, isn't big on gelatinous texture.

Before canning, I cure the meat for 48 hours. It's not necessary but the curing salt adds the desirable pink color to the meat and enhances its flavor. Cure #1 also serves as a barrier against potential harmful bacteria. I find that cured meat keeps its taste qualities for longer. Canned meat will store well for up to 3 years, but its taste will begin to deteriorate after about 1 year depending on how you store it. Cured meat will keep its freshness longer.

Food safety when canning meat
Canning meat is fairly straightforward but you must follow some basic rules to ensure that your canned meat will be safe to eat. Those include using a pressure canner, keeping the meat cold, using clean utensils, processing at the right pressure/temperature and for sufficient time, among other things.
If you are new to meat canning, please read my guide on how to can meat before attempting this recipe.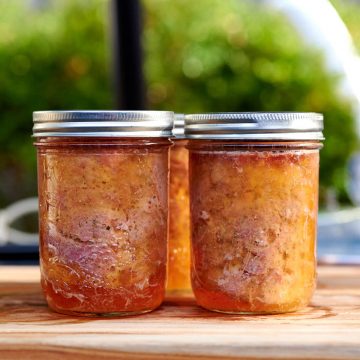 Ingredients
2.2

lbs

pork

1000 g; pork butt, or pork butt and ham mix

1/2

tsp

cure #1

level; 2.5 g

1 1/2

tsp

kosher salt

one level, one heaping; 9 g

3/4

tsp

black pepper

1.5 g; ground;

1/4

tsp

nutmeg

0.5 g; ground

1/2

tsp

sugar

2 g

1/4

tsp

caraway

0.5 g; ground

1/4

cup

ice water
Instructions
Cut the meat into 1-inch pieces. Mix the salt with Cure #1. Place the meat in a bowl, sprinkle with the kosher salt and cure #1 mix, and mix well. Cover and refrigerate for 24-48 hours.

Take the meat out of the fridge, sprinkle with the pepper, nutmeg, sugar and caraway, and mix well. (See note 1)

Separate lean meat pieces from fattier pieces. Grind the fatty pieces through a 3/8" (10 mm) plate, add the lean pieces back, add the ice water, and mix well.

Before proceeding, review the detailed guide on how to can meat.

Pack the meat (not very tightly) into 16-oz mason jars, leaving 1/2" headspace.

Wipe the rims, place the lids on top and screw on the bands finger-tight.

Process at 250F (15 PSI) in a pressure canner for 70 minutes (see note 2).

Remove the canner from heat and let it depressurize naturally.

Using a jar lifter, carefully remove the jars and place them on a towel or a cooling rack to cool down to room temperature for about 12 hours.

Remove the bands. Wipe the jars with a damp towel or paper towels. Test the seals.

Store in a cool, dark, and dry place for up to 2-3 years. The most optimal storage temperature is about 35F-59F (2C-15C).
Notes
Note 1 - add a teaspoon of two of gelatin per jar if you want the juices to gelatinize.
Note 2 - 60 minutes at 250F is sufficient but I like processing pork for 70 minutes as it gives it a better texture.
Nutrition
Calories:
880
kcal
|
Carbohydrates:
1
g
|
Protein:
56
g
|
Fat:
71
g
|
Saturated Fat:
26
g
|
Cholesterol:
239
mg
|
Sodium:
2125
mg
|
Potassium:
955
mg
|
Fiber:
1
g
|
Sugar:
1
g
|
Vitamin A:
23
IU
|
Vitamin C:
2
mg
|
Calcium:
47
mg
|
Iron:
3
mg