Canning is a very simple and straightforward way to preserve meat for a long time without the need for a refrigerator or a freezer. Canned pork can keep for up to 2-3 years or even longer in a cool, dark place. Though the taste qualities may begin to decrease after one year, the meat will still be safe to eat well past that point.

This recipe has been in the family for a very long time. It requires only a few simple spices, yet the flavors and the aromatics are vibrant and enticing.

I used to make this canned pork with just salt and spices, but some time ago, I added some caramelized onion in a few jars. The result was mind-blowing. Caramelized onion added a touch of sweetness and a load of savory flavor. It took my pork to a whole new level and improved the color better too. Needless to say, this variation stayed, and that's how I've been canning pork ever since.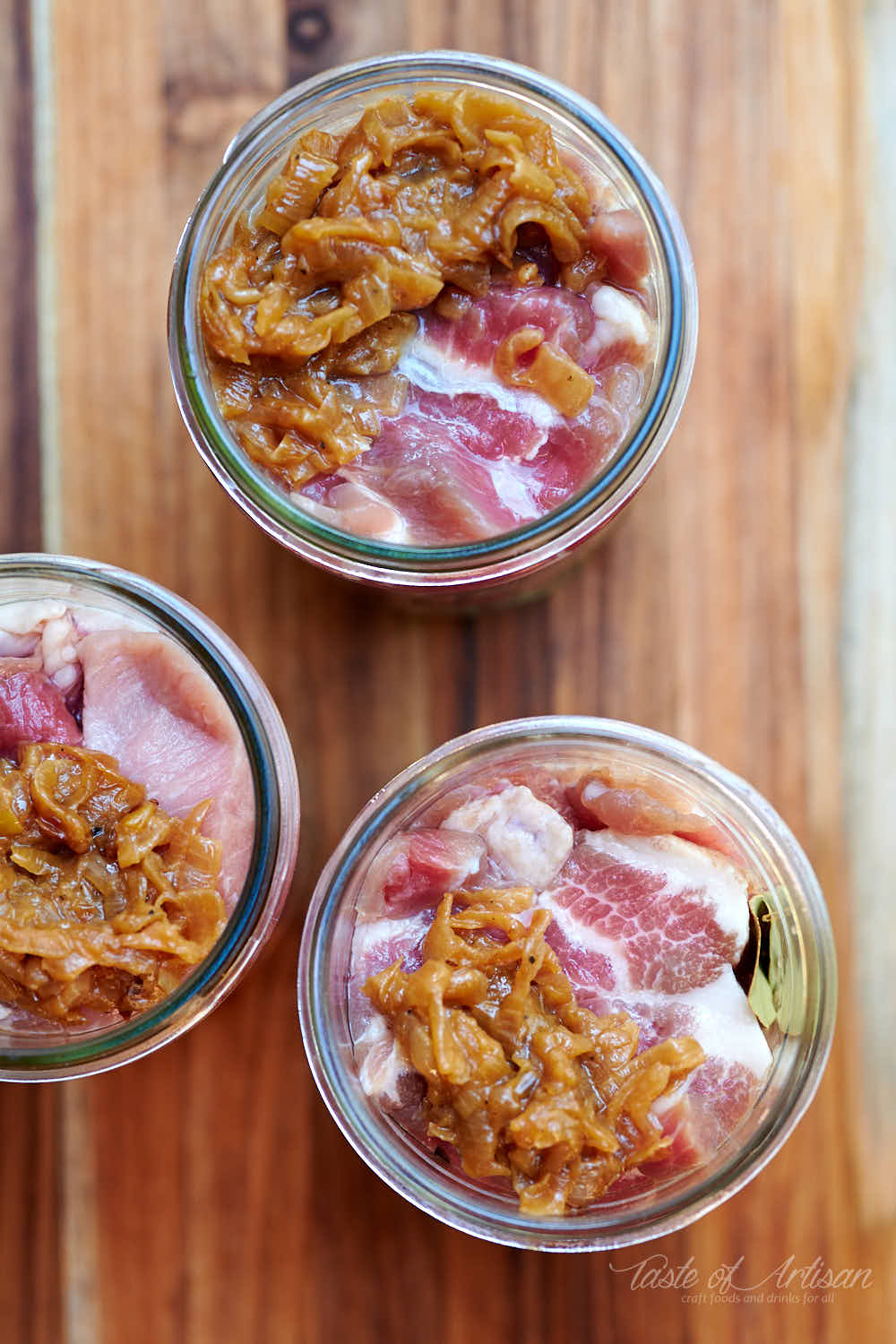 In this recipe, I use  Cure #1 and cure the meat for 24-48 hours. Curing salt makes the meat beautifully pink, it looks more appetizing. It enhances the flavor and also serves as a hurdle to any potential bacteria growth, before or after canning. It's not required, you can make canned pork without it, but it makes a big difference to how canned pork looks and tastes.
When raw-packing meat, don't pack the jars too tightly. This way, you can fill them up all the way to the top - the meat will shrink during processing and make headspace. I like leaving about a 1/2" of headspace, and it seems to work perfectly well for me.

Food safety when canning meat
Canning meat is fairly straightforward, but you must follow some basic rules to ensure that your canned meat will be safe to eat. Those include using a pressure canner, keeping the meat cold, using clean utensils, processing at the right pressure/temperature and for sufficient time, among other things.
If you are new to meat canning, please read my guide on how to can meat before attempting this recipe.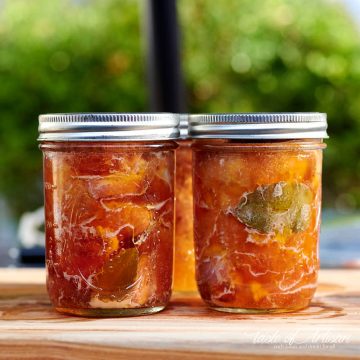 Homemade Canned Pork
Canned pork made with pork shoulder and simple spices.
Print
Pin
Rate
Ingredients
2.2

lbs

pork butt

1000 g; fat trimmed off

1/2

tsp

cure #1

level; 2.5 g

1 1/2

tsp

kosher salt

one level, one heaping; 9 g

1/2

tsp

allspice

1 g

1/2

tsp

black pepper

1 g; ground; or a mix of pink, black, and white pepper

1

clove

garlic

pressed or minced

3

bay leaves

1 per jar

3

Tbsp

caramelized onion

one tablespoon per jar; you may also use raw onion slices
Instructions
Cut the meat into 1-inch pieces. Mix the salt with Cure #1. Place the meat in a bowl, sprinkle with the kosher salt and cure #1 mix, and mix well. Cover and cure in a refrigerator for 24-48 hours.

Take the meat out of the fridge, sprinkle with the ground allspice and black pepper, add the pressed garlic and mix well.

Pack the meat (not very tightly) into 16-oz mason jars, leaving 1/2" headspace, adding one bay leaf per jar, and topping with one tablespoon of caramelized onion.

Wipe the rims, place the lids on top and screw on the bands finger-tight.

Process at 250F (15 PSI) in a pressure canner for 70 minutes (see note 1).

Remove the canner from heat and let it depressurize naturally.

Using a jar lifter, carefully remove the jars and place them on a towel or a cooling rack to cool down to room temperature for about 12 hours.

Remove the bands. Wipe the jars with a damp towel or paper towels. Test the seals.

Store in a cool, dark, and dry place for up to 2-3 years. The most optimal storage temperature is about 35F-59F (2C-15C).
Notes
Note 1 - 60 minutes at 250F is sufficient but I like processing pork for 70 minutes as it gives it a better texture.
Nutrition
Calories:
449
kcal
|
Carbohydrates:
2
g
|
Protein:
63
g
|
Fat:
19
g
|
Saturated Fat:
7
g
|
Cholesterol:
200
mg
|
Sodium:
2155
mg
|
Potassium:
1150
mg
|
Fiber:
1
g
|
Sugar:
1
g
|
Vitamin C:
1
mg
|
Calcium:
50
mg
|
Iron:
4
mg