If you want to impress someone with your chocolatier skills, these pumpkin caramel ganache chocolates are it. The caramel ganache in them is divine. These chocolates are a perfect dessert for any occasion, especially for Thanksgiving or Christmas, because of their autumn flavor.
The first time I made these chocolates, I was very impressed. They tasted like chocolates from a high-end chocolatier, like Teuscher or Leonidas, or Li-Lac Chocolates... or whatever brand you highly respect. They are so good that it's hard to resist eating them all at once, so don't make too many. You've been warned.

Homemade chocolates are some of the most rewarding foods to make at home. You can incorporate any flavors and textures you like, make them any shape you want, and use only high-quality ingredients. You can do all of that for just a small fraction of the price many top chocolatiers charge.
The best part is that you can easily try flavors you may never find in a store. Take these pumpkin caramel ganache chocolates, for example. They are heavenly. The caramel ganache in them is easily the top three of my favorite ganache flavors.

I am not a chocolatier, and my adventures in chocolate-making have so far been few and far between. But I love making chocolates when I do get around to making them. As I said before, it's very rewarding. If you've never made chocolates before, don't be afraid. The most difficult part is tempering the chocolate, and even that I mastered pretty much on the first try. It wasn't that hard after all. Making caramel ganache is even easier.
My biggest challenge when making my very first molded chocolates was getting them out. I blamed it on the poor instructions. I was right. Don't rush un-molding your chocolates. Let them set overnight on the counter. Then they will come out nice and clean. Patience is the key here.
Equipment
To make these chocolates, you will need chocolate molds. I prefer working with polycarbonate chocolate molds that professional chocolatiers use. But I am sure silicone chocolate molds will do just fine too. Use whatever you have in your kitchen.

Chocolate
The chocolate's quality will define the final product's quality, so choose it carefully. There are many good brands out there, like Valrhona, Scharffen-Berger, Callebaut, etc. You can't go wrong with Valrhona if you want the top-end taste and flavor, but it's on the pricier end. Callebaut offers very good quality chocolate at more reasonable prices. Buying in bulk - e.g. Costco - will save you a lot.
The pumpkin caramel ganache was adapted from the Chocolates and Confections: Formula, Theory, and Technique for the Artisan Confectioner book by Peter P. Greweling of The Culinary Institute of America.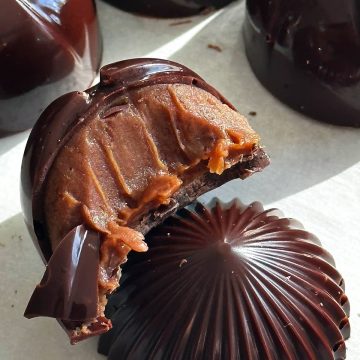 Pumpkin Caramel Ganache Chocolates
Print
Pin
Rate
Servings:
60
1 chocolate per serving
Ingredients
Dark or milk chocolate for the shells

melted and tempered, as needed
Gingerbread Spice Mix
25

g

Ginger

ground

15

g

Cinnamon

ground

5

g

Nutmeg

ground

3.5

g

Cloves

ground
Pumpkin Caramel Ganache
1/8

tsp

Lemon juice

50

g

Sugar

30

g

Glucose syrup

100

g

Heavy cream

50

g

Pumpkin purée

1/2

tsp

Gingerbread spice mix

250

g

Milk chocolate

unmelted, tempered, chopped

25

g

Brandy

Dark chocolate

melted, tempered, for sealing, as needed
Instructions
To prepare the gingerbread mix
In a small bowl, combine ground ginger, cinnamon, nutmeg, and cloves. Mix well. Transfer to a storage container with a tight seal.
To prepare chocolate molds
Clean and polish your chocolate molds. Warm the molds to to 77F - 82F (25C - 28C), this will prevent the chocolate from setting too quickly and trapping air bubbles.

Fill the molds with melted chocolate to the tops and vibrate them to get rid of air bubbles. Let the filled molds sit in the upright position for 2 minutes. Then invert them, tap with a wooden spoon, scrape off the excess chocolate from the top, and set the molds upside down on a cooling rack positioned over a sheet of parchment papper. You can use milk chocolate to make the shells if you prefer.
To prepare the pumpkin caramel ganache
Rub the lemon juice into the sugar. Adding some citric acid to sugar results in inverting some of the sugar, which prevents crystallization and softens the finished product.

Add the sugar to a heavy-bottomed saucepan or sugar pot. Place the pot over high heat and constantly stir the sugar with a wooden spoon. Constant stirring is essential to achieve even heating of the sugar. Continue caramelizing the sugar mixture until amber color is achieved.

Remove caramelized sugar from the heat and add the glucose syrup and stir. Set aside to cool down a little.

Meanwhile, bring the cream to a boil. With the caramelized sugar mixture at low heat, slowly pour it into the hot cream, stirring, and ensuring that the sugar mixture is completely incorporated.

Stir in the pumpkin purée and 1 tsp of the gingerbread spice mix and return the cream mixture back to a boil, then slowly pour it over the chopped dark (or milk) chocolate. Let the chocolate rest for 1 minute and melt.

Stir the chocolate mixture with a mixing paddle or a spoon in vigorous small circles, starting in the center and moving outwards until the mixture emulsifies and all the chocolate melts. If you have difficulty getting all the chocolate to melt, set the pan over a hot water bath and mix until the remaining chocolate melts. While doing so, keep an eye on the temperature of the ganache and don't let it go above 90F (32C).

Finally, slowly pour in the brandy while stirring until it is evenly incorporated.

Pour the ganache into a large flat pan. You want the ganache to cover just the bottom of the pan in a thin layer. Cover with plastic wrap and let it cool down at room temperature until it reaches 77F (25C) or slightly lower. The consistency should be thick but fluid to fill the chocolate shells properly.

Using a disposable pastry bag (or simply a Ziploc bag) with a small opening cut in the tip, fill the chocolate shells to within 1/8" (3mm) of the tops.

Allow the ganache to crystallize at room temperature until the top is solid, for several hours of overnight.

Next seal the tops using the tempered dark chocolate. Let the tops crystallize at room temperature for several hours or overnight. Then refrigerate the filled molds until the chocolate pulls away from the inside of the molds, approximately 20 minutes.

Place a piece of stiff cardboard over each mold and invert the mold to release the finished chocolates.
Nutrition
Calories:
53
kcal
|
Carbohydrates:
6
g
|
Protein:
1
g
|
Fat:
3
g
|
Saturated Fat:
2
g
|
Polyunsaturated Fat:
0.1
g
|
Monounsaturated Fat:
1
g
|
Trans Fat:
0.001
g
|
Cholesterol:
4
mg
|
Sodium:
9
mg
|
Potassium:
52
mg
|
Fiber:
1
g
|
Sugar:
4
g
|
Vitamin A:
328
IU
|
Vitamin C:
0.2
mg
|
Calcium:
22
mg
|
Iron:
1
mg