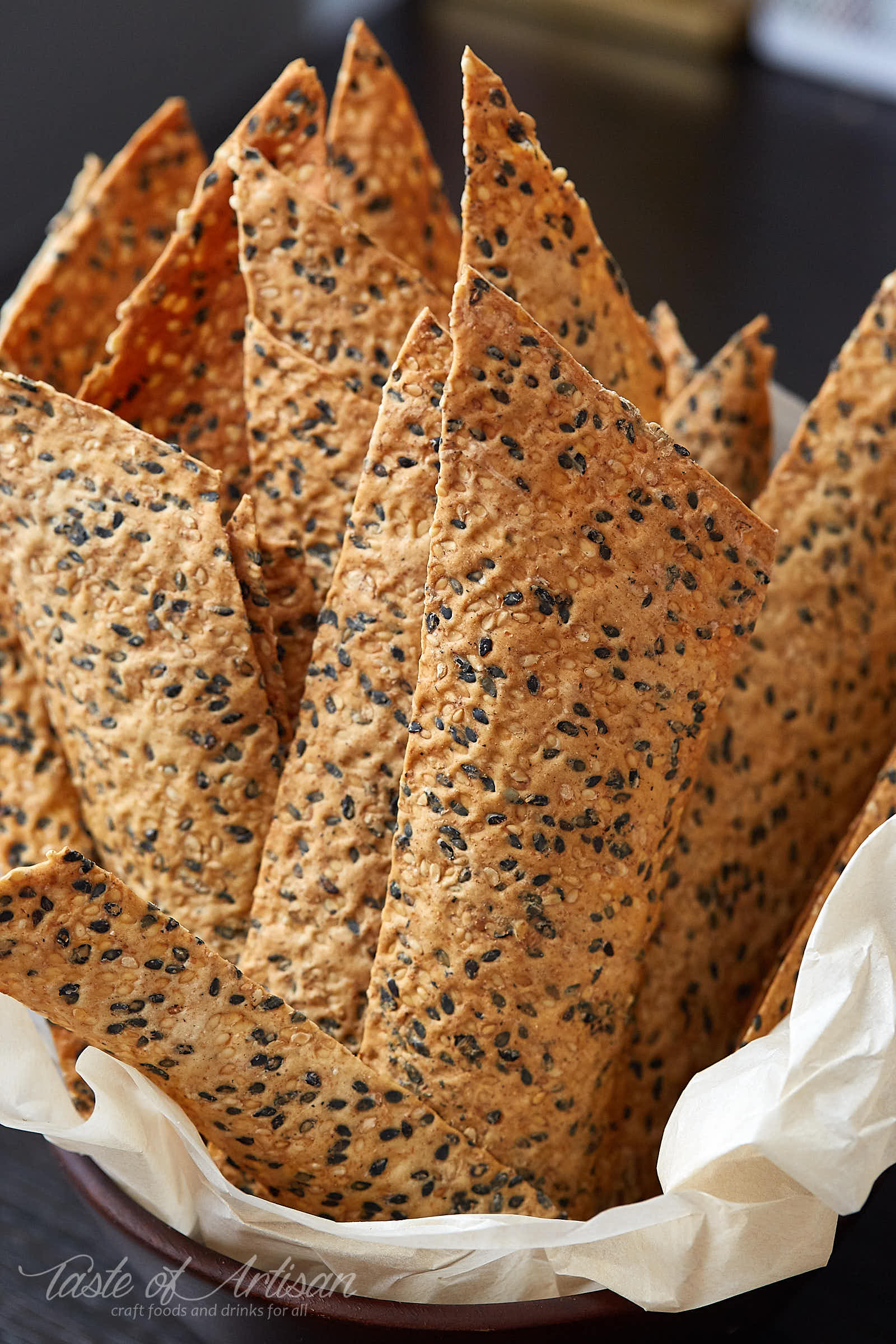 Do you remember seeing those artisan sesame crackers sold in clear containers at your local grocery store? They are shaped like long wedges or triangles, have sesame seeds on top and look so appetizing. I love them, but at $3.99 a box which contains 10-12 crackers they may as well be made of gold. This recipe will make sesame crackers that are very similar, but much fresher and better tasting.
I tried, and tried, and tried, but they never tasted like those store-bought ones. Not that store-bought is anything most of us would admire, but these particular sesame crackers are awesome. They are thin and have a dense, crispy but not crumbly texture. I tried a large number of recipes I could find online and in recipe books, did some experimentation of my own and finally gave up without much success.
The long sought-after sesame cracker recipe
Then, recently, I was looking for some information in The Professional Pastry Chef book when a recipe called 'Sesame Crackers' caught my attention. I read through the description, looked over the ingredient list and it struck me that it may be it, the sesame cracker recipe I had been so desperately trying to find. These were yeasted crackers, yet dense. Ah! I think that must be the secret to the taste I was looking for.
This recipe was given to the author of the book by a baker at the Ahwahnee Hotel in Yosemite National Park.  When he first saw these crackers at dinner, the author of the book was impressed by how precise and evenly they were rolled out. He later found out that the cracker dough is rolled out on a sheeter.
Naturally, a sheeter at home is an overkill, so we must find another way. A pasta roller is a perfect substitute. You can try rolling out the dough by hand, but I've never been successful at achieving even thickness, which resulted in uneven baking. Not to mention that it's quite a laborious task to roll them out by hand.
I had been using a hand pasta roller for years, until I recently took the plunge and bought a pasta roller attachment for my KitchenAid stand mixer as a Christmas present to myself. What a difference a motor and a much higher clearance above the table makes! This presented me with a perfect opportunity to try out the new sesame cracker recipe.

The results and some tips
So, the crackers turned out absolutely terrific. A little less sweet than I like. I will double the amount of honey the next time I make them (reflected in the recipe below). How did they compare to store-bought? Pretty close, but better tasting for sure. The freshness makes a huge difference. You will never have that with the store-bought sesame crackers.
The whole sesame cracker making process turned out to be stupidly easy and the recipe hard to mess up. The only thing that puzzled me was how was setting on my pasta roller attachment to use for the final thickness. The author suggests rolling the dough out to 2 mm thick, which corresponds to #1 setting on the roller. That's way too thick.
I tried rolling out all the way to #7. #7 started crushing sesame seeds. #6 gave me the thinnest dough, without tearing or crushing sesame seeds. #6 setting on this roller corresponds to about 1/3 mm. I loved the thickness on this setting. The crackers come out about as thick as a corn chip. It's a little thinner than the store-bought but that's how I like them.
The downside of rolling the dough thinner is, naturally, you get to do a l-o-o-o-o-o-t of rolling, and a l-o-o-o-o-o-t of baking. The bright side is that you will end up with a l-o-o-o-o-o-t of crackers. If I were to buy an equivalent amount at the local store I would go broke.
The thickness will also determine how long the crackers need to bake. Rolled out to #6, it takes about 14-15 minutes at 375F to get nice golden brown color. About 13 minutes at #7, and about 20 minutes at #5.
I cut the original recipe in half as the output was too high, about 100 very large crackers at #6 roller thickness and lots of batches of baking. You may even want to cut the batch size further in half.
If you like these crackers, you will love my crispy, crunchy Oat Flour Cookies. Give them a try!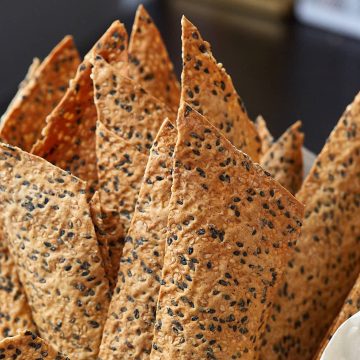 Ingredients
1 1/2

tsp

active dry yeast

(7 g; see notes)

1 3/4

cups

warm water

(420 ml, 105° to 115°F)

1

Tbsp

diastatic malt or honey

(15 ml)

1/2

oz

kosher salt

(15 g)

2 ½

Tbsp

Asian sesame oil

(40 ml)

6

oz

whole wheat flour

(170 g)

20

oz

bread flour

(568 g)

1/2

lb

sesame seeds

(228 g; a mixture of black and white)
Instructions
In the bowl of an electric mixer, dissolve the yeast and the honey in the warm water. Let it sit for 10-15 minutes, until the yeast activates and a foam cap forms.

Mix in the salt and the sesame oil. Using the dough hook attachment, incorporate the whole wheat flour and all but a handful of the bread flour. Knead until a smooth, elastic dough develops. Keep adding more flour if necessary. Incorporate the sesame seeds. Remove the bowl from the mixer, cover and place in a warm place for 1 hour to proof.

Cut the dough into 4-6 pieces. Flatten each piece with your hands or a roller to about ¼ - inch thick. Cover the dough pieces with a piece of plastic wrap and let relax for 15 minutes. Roll each piece out to #6 setting on the KitchenAid pasta roller attachment, which is about 1/64 inch or about 0.5 mm thick (see notes).

Lay the rolled out dough on a large baking sheet lined with parchment paper. Cut the dough sheets into crackers of the desired size and shape. Large triangles or wedges work particularly well. Bake immediately (do not let them rise, or the crackers will be thick instead of thin and crisp) at 375°F (190°C) until deep golden brown (see notes). Rolled out to #6 they need 14-15 minutes of baking.

Store in airtight containers.
Notes
The original recipe uses fresh compressed yeast, which is not readily available to a home baker, not is it practical for a home baker. If want to us fresh yeast, you will need 3/4 oz or 20 grams for this recipe. In the original recipe the author recommends rolling the dough out to 1⁄16 inch (2 mm) thick. You may want to experiment and decide for yourself whether you like your crackers thinner or thicker. In the original recipe the author advises to bake the crackers until deep golden brown. Be sure not over-bake as they tend to taste a little bitter if baked too much. I'd recommend to experiment a little and pick the color that corresponds to the best tasting crackers to you.
Nutrition
Calories:
86
kcal
|
Carbohydrates:
12
g
|
Protein:
2
g
|
Fat:
3
g
|
Saturated Fat:
0
g
|
Cholesterol:
0
mg
|
Sodium:
110
mg
|
Potassium:
46
mg
|
Fiber:
1
g
|
Sugar:
0
g
|
Calcium:
47
mg
|
Iron:
0.9
mg