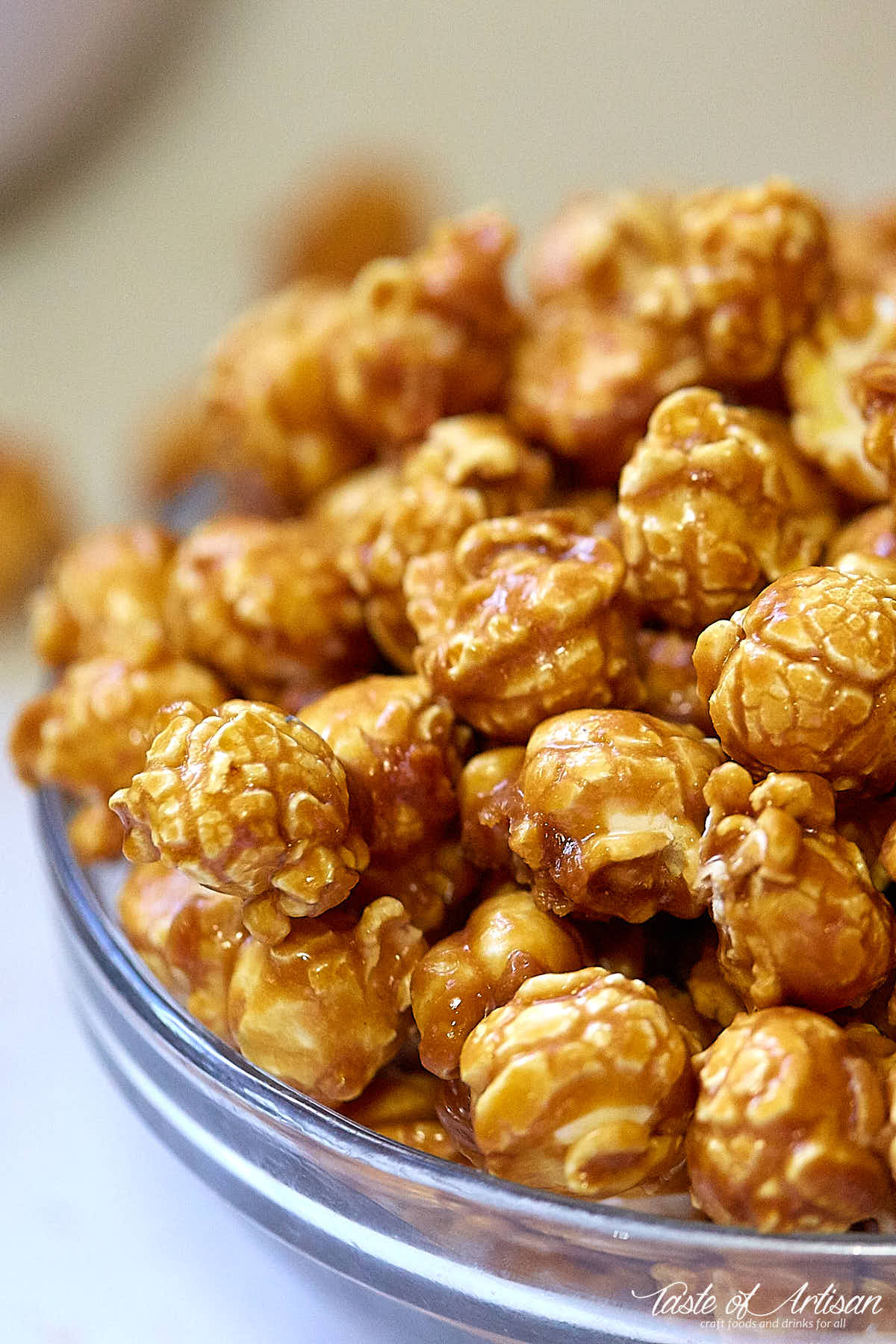 Freshly made caramel popcorn is practically impossible to resist. It beats any store-bought one. If you have a stove-top popcorn maker

, whip it out and make some now. This recipe makes ridiculously good caramel popcorn. But, don't take my word for it, go make some and see for yourself.
Best popcorn kernels to use
To make the real deal, you need to get some mushroom popcorn kernels

. These kernels pop to a ball or mushroom shape that we all associate with caramel popcorn. Surely, regular popcorn will work too, and it will taste good too. But it won't be the real deal.
How to pop mushroom popcorn kernels
These kernels can't be popped to a mushroom shape in a microwave so you need a stove-top popcorn popper.  In a microwave there is not enough heat so those kernels will only come out looking like regular popcorn. It's not what we want.  Stove-top popcorn poppers are best suited for popping mushroom popcorn at home because you need really good heat for mushroom kernels to pop into proper balls. They aren't expensive and will last a long time with proper care. You can make any kind of popcorn in them, not just mushroom popcorn.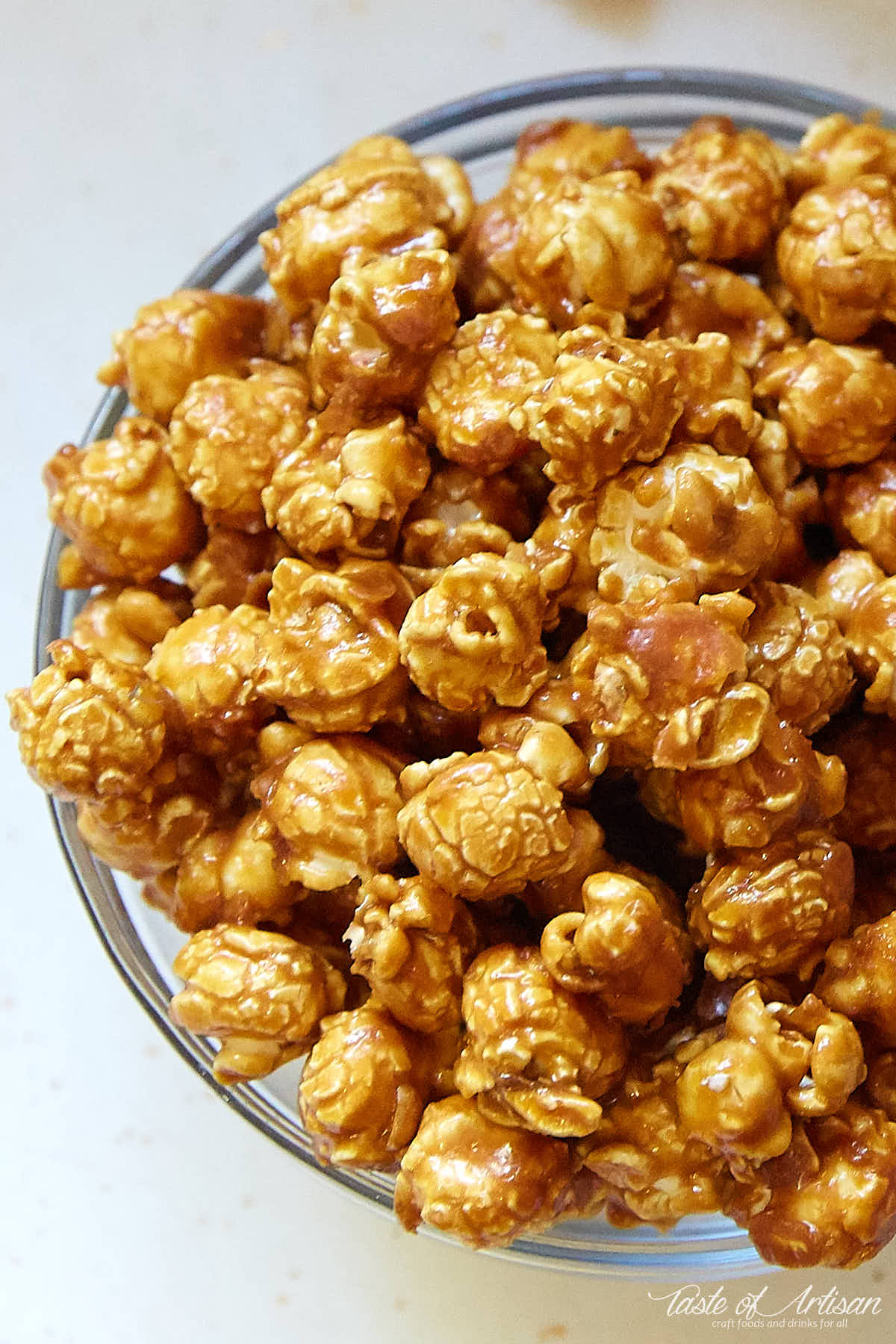 Storing caramel popcorn
Once cooled down to room temperature, transfer it to an air-tight container asap. Caramel will draw moisture from the air, making the popcorn lose its crunch and become soggy.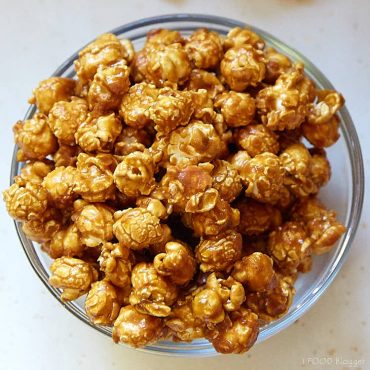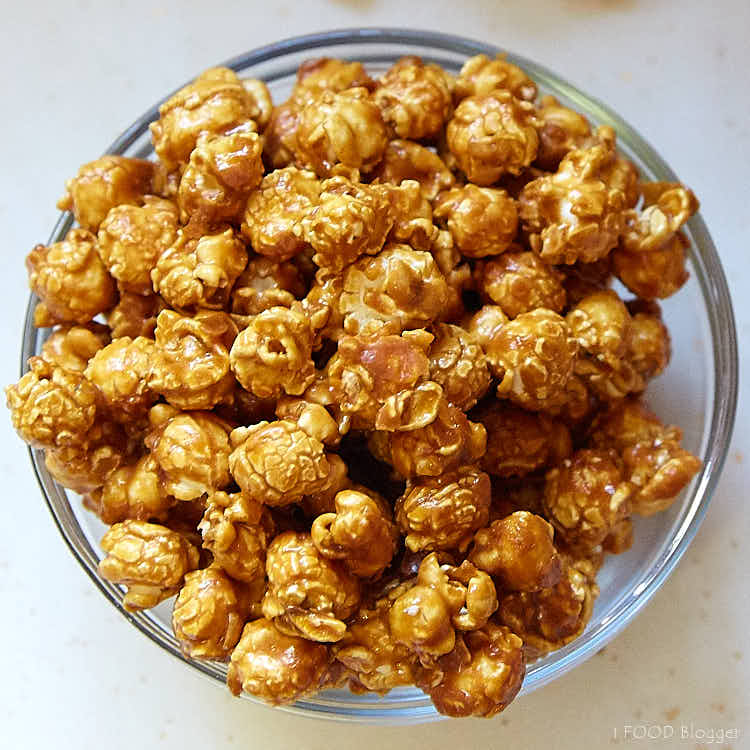 Homemade Caramel Popcorn
For best results and to make the real deal caramel popcorn, use mushroom popcorn. If you don't have mushroom popcorn, butterfly popcorn will also work with very good results. You can use prepared popcorn, or make your own following the instructions provided below.
Print
Pin
Rate
Ingredients
For mushroom popcorn:
1/2

cup

mushroom popcorn kernels

this equates to about 4 quarts of popped mushroom popcorn

3

Tbsp

grapeseed oil

or other high smoking point oil, like peanut, hazelnut or sunflower oil, etc.
For the caramel:
2/3

cup

butter

2

cups

brown sugar

1/2

cup

corn syrup

1

tsp

kosher salt

1/2

tsp

baking soda

1

tsp

vanilla extract
Instructions
To prepare popcorn
Heat 3 tablespoons of grapeseed oil in the stovetop popcorn popper to 400F. If you don't have an IR thermometer, just throw in three kernels together with the oil and wait for all three to pop. Once they do, the popper is ready for popping.

Throw in 1/2 a cup of mushroom popcorn kernels, close the lid and start agitation.

Once the popping sounds stop, remove the popcorn popper from heat and dump the popped popcorn into a large bowl.

Make sure to put the popcorn in a fairly large bowl. You want the popcorn to not fill more than 2/3 of the bowl. Half way is ideal. Otherwise it will be very hard to stir it without some popcorn spilling out. If you don't have one of the required size, do it in two batches.
To glaze popcorn with caramel
In a medium saucepan over medium heat, melt the butter. Stir in brown sugar, corn syrup and salt. Bring to a boil, stirring constantly. Boil without stirring for 4 minutes. Remove from heat and stir in soda and vanilla.

Pour over popcorn in a thin stream, stirring to coat.

Place the coated popcorn in one large (12 x 18 inch) baking pan lined with parchment paper. If you don't have one, use two smaller pans.

Transfer to the oven and bake, stirring every 15 minutes, for 1 hour.

Remove from the oven and let cool for a few minutes until still very warm but manageable to handle. At this point start quickly separating the popcorn into individual pieces and spreading them out. It helps to do it on a large table so you have enough space. Don't let the popcorn cool completely before doing this otherwise the pieces will stick together and will break when you try to separate them.

Store in an airtight container for up to a couple of weeks.
Nutrition
Calories:
245
kcal
|
Carbohydrates:
38
g
|
Protein:
0
g
|
Fat:
10
g
|
Saturated Fat:
5
g
|
Cholesterol:
20
mg
|
Sodium:
266
mg
|
Potassium:
52
mg
|
Fiber:
0
g
|
Sugar:
34
g
|
Vitamin A:
235
IU
|
Calcium:
26
mg
|
Iron:
0.4
mg
This post was updated on March 19, 2019