Smoked pork chops are among the top favorites in our family. When cooked right, they are ridiculously tender and moist, and very flavorful. They are a great alternative to chicken breast meat because lean pork loin meat is about just as lean as chicken breast meat. Have you ever tried smoked pork chop salad? If you haven't, you must! Grilled chicken, move aside, here comes smoked pork.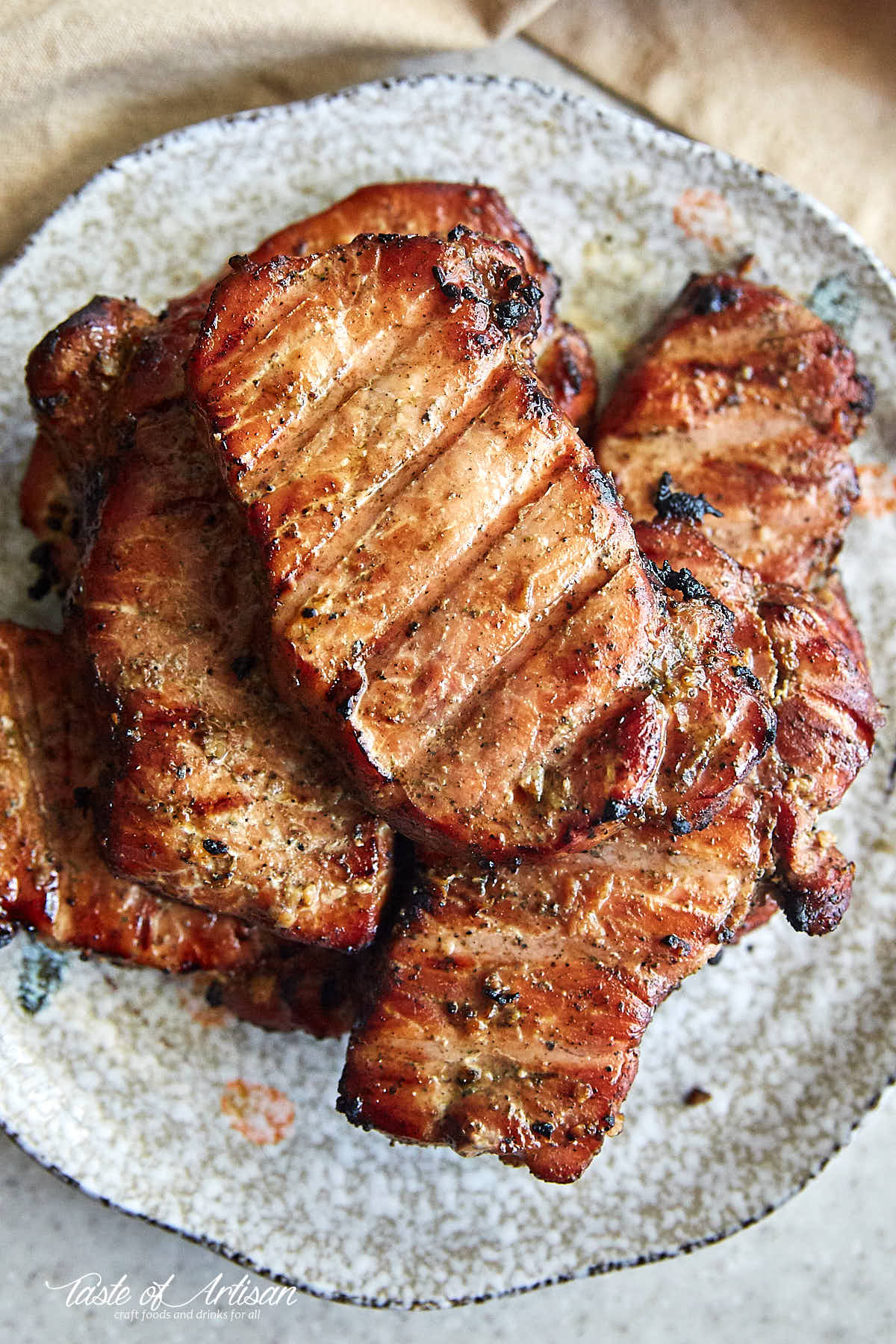 There are literally dozens of excellent ways to make smoked pork chops. None of them is what I would ever dare calling 'the best' - they are different and great in their own way. It really depends on what you feel like eating at any given time and on your personal taste.
This specific recipe is probably my favorite as it's very simple and I use it most often. It requires no marinating, no soaking, no injection or brining, yet the final product is outstanding. All those techniques are no doubt great and bring value if used correctly, but you can beat simplicity. Besides, simple doesn't mean worse by any stretch.
The secret to this recipe is a good rub, good smoke, right temperature and searing at the end of the smoke.
The rub
Salt and aromatic spices like marjoram, pepper and coriander, which is always go so well with pork, are essential basics. Freshly minced garlic adds so much flavor that it only makes sense to add it. Just remember to use fresh garlic. Granulated garlic is the worst. It won't be nearly as flavorful and you will feel its sandy texture in your mouth. I like a little bit of sweetness on my chops, so a little bit of brown sugar makes its way on my smoked chops. Brown sugar also helps with caramelization during searing.
Finally, I like to use a little bit of Worcestershire sauce. It adds a nice aroma and a touch of tartness that many people appreciate. The best way to apply Worcestershire sauce is to rub the meat with it and let it soak in. Whatever didn't - wipe it off with a paper towel. Dry meat surface absorbs smoke much better than wet one.
The smoke
When smoking pork chops there are two things to pay attention too. The choice of wood is one. Use what you like, not what others recommend. My choice of wood for smoking most meats is cherry. For pork, it's the only wood I ever use. I love the color it gives the meat and the sweet smoky flavor. It's best to smoke pork chops at lower temperatures to get the meat take in enough smoke, about 200F-225F, over indirect heat.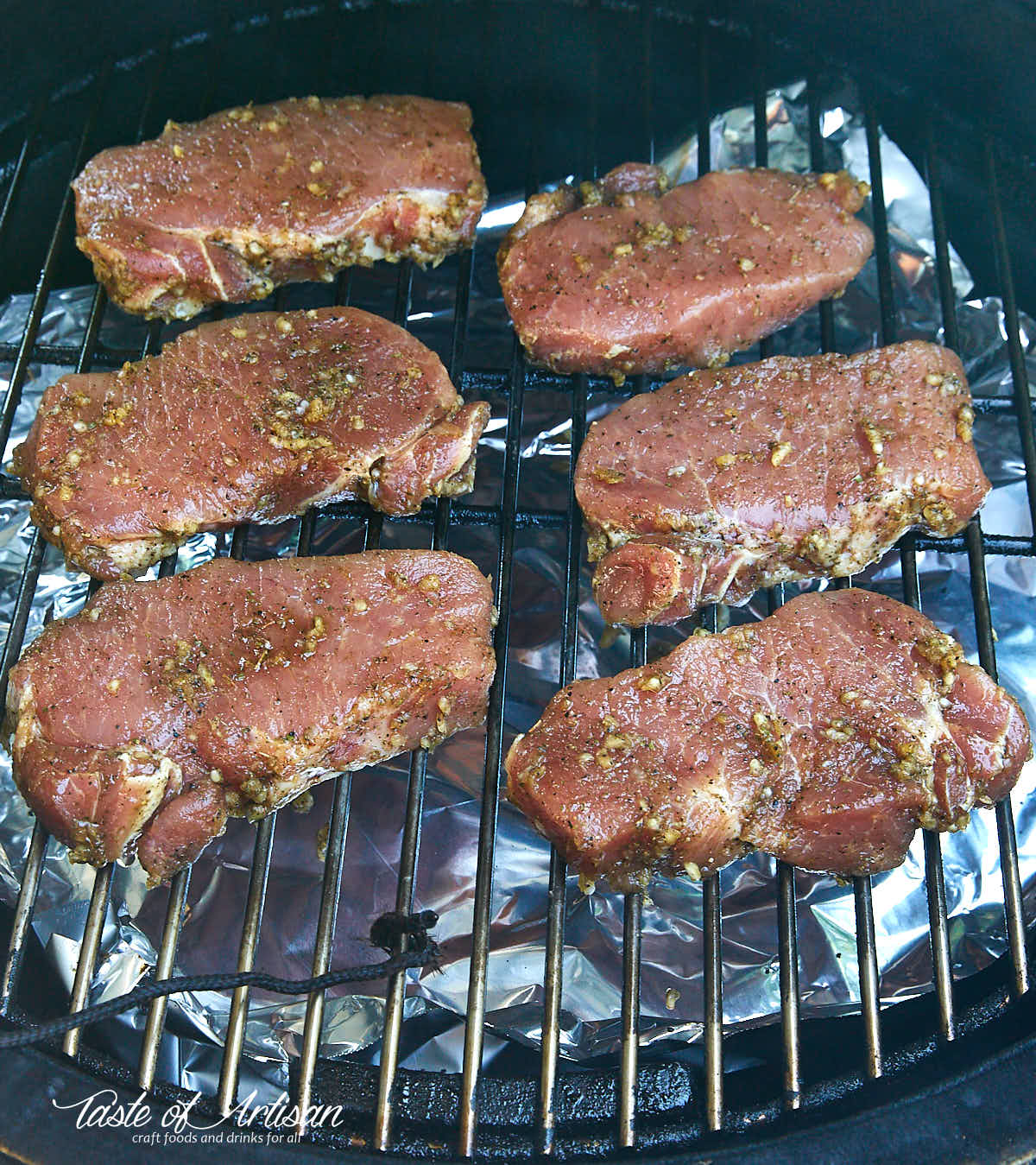 The temperature
As was mentioned above, start low, about 200F-225F, and smoke for about an hour, until you hit 130F internal temperature. If you want a smokier product, keep the temperature lower, about 200F and smoke for a little longer. Or cut your chops thicker.
The searing
Nothing makes meat taste better than a nicely caramelized crust. Pork chops are no exception. No matter how well they are seasoned, how well they are smoked, put a nice sear on them and they will taste twice as good. Once internal temperature in your chops hits 130F, it's time to place them over direct high heat and sear on both sides until the chops hit 145F internal temperature. This method is know as 'reverse sear' method, whereby you sear the meat at the end of cooking instead of the beginning.

Now, cover those chops with foil and let them rest for about 5 minutes before serving. This will allow the meat fibers to reabsorb some of the moisture it lost during cooking.
Use the leftovers in place of chicken breasts to make salads. Or slice thinly and make a sandwich. Trust me, it's better than any deli meat from the store.
And remember to try my new pork chop recipe - Smoked Cured Pork chops. They are so darn good!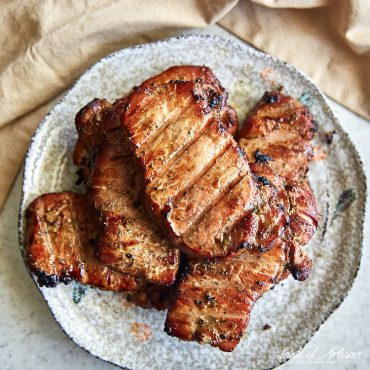 Ingredients
6

pork chops

1-inch thick, boneless, about 2 1/2 lbs

1

Tbsp

brown sugar

4

cloves

garlic

pressed

1

Tbsp

Worcestershire sauce

1

tsp

dried marjoram

heaping, finely ground, see note

2

tsp

kosher salt

1

tsp

black pepper

finely ground, see note

1

tsp

dried coriander

finely ground, see note
Instructions
Rub the pork chops with Worcestershire sauce and let sit for about 15 minutes while you are starting your grill. Dry the meat with a paper towel, then evenly apply the salt, sugar, spices and the garlic.

Now, place the chops on preheated grill/smoker and smoke over indirect heat at about 200F-225F for about an hour to 1 ½ hours, until the internal temperature of the pork chops reaches 130F.

Move the pork chips over to direct heat and sear over high heat on both sides until the internal temperature reaches 145F.

Remove the chops from the grill/smoker, cover with foil and let rest for 5 minutes before serving.
Notes
I find that the easiest way to make finely ground spices is to put the salt, pepper, coriander and marjoram in mortar and pulverize them with a pestle. This is very easy to do and takes less than 20-30 seconds.
Nutrition
Calories:
222
kcal
|
Carbohydrates:
4
g
|
Protein:
29
g
|
Fat:
9
g
|
Saturated Fat:
3
g
|
Cholesterol:
90
mg
|
Sodium:
869
mg
|
Potassium:
531
mg
|
Fiber:
1
g
|
Sugar:
2
g
|
Vitamin C:
1.6
mg
|
Calcium:
18
mg
|
Iron:
1
mg