Top Round Roast, cooked low and slow over open fire on a rotisserie, until perfectly fork-tender. Garlic and herb-crusted, smoky and evenly cooked side-to-side, this roast is a delight to eat. Serve with roasted vegetables for a healthy, low-carb, paleo-friendly meal.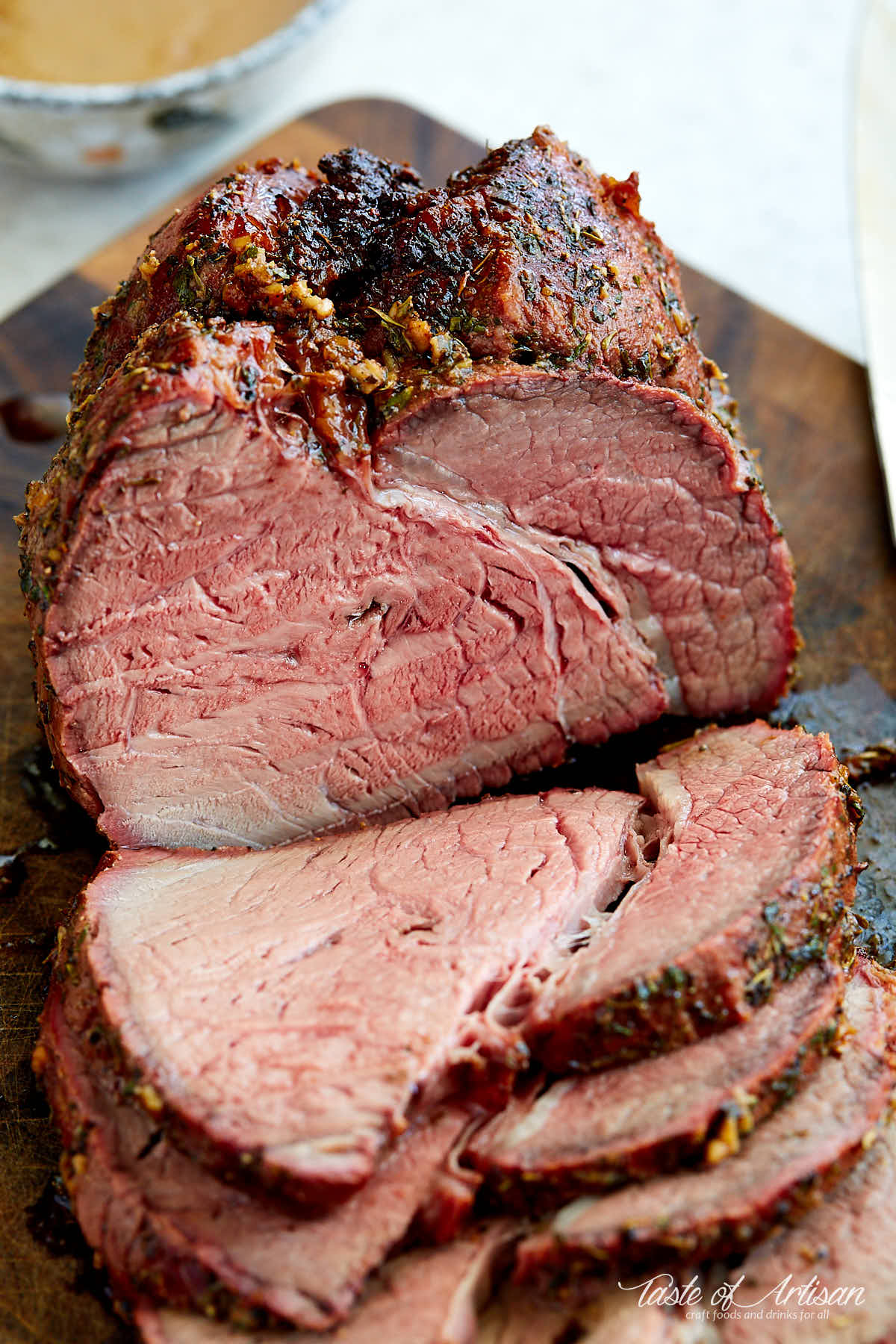 The weather has finally warmed up here up north, making it a great time for grilling and roasting over open fire. Not that cold weather ever stooped me from grilling;  I just do it more often when it's nice outside. With my recent acquisition, a Joetisserie from Kamado Joe, I was able to make some ridiculously good roasted chickens and I've been dying to try it out with a beef roast.
I've heard people refer to top round roast, also known as inside roast, as a 'poor man's prime rib roast' and as being one of least flavorful beef cuts. Despite that, that's the cut that I picked for roasting. While prime rib may be the king of roasts, top round roast wins in my book by being much leaner and, therefore, healthier. It's a more economical cut, too. This looks like a win-win type of roast to me. I was convinced that I could make this cut just as tender and flavorful, just needed to pay attention to details.
I started off by picking Choice grade Certified Angus Beef  top round roast. There are numerous debates out there as to whether Angus beef is any better than regular beef, but my experience is that it does tend to have slightly better, more uniform marbling. This is a desirable attribute to have for a lean cut that will be roasted.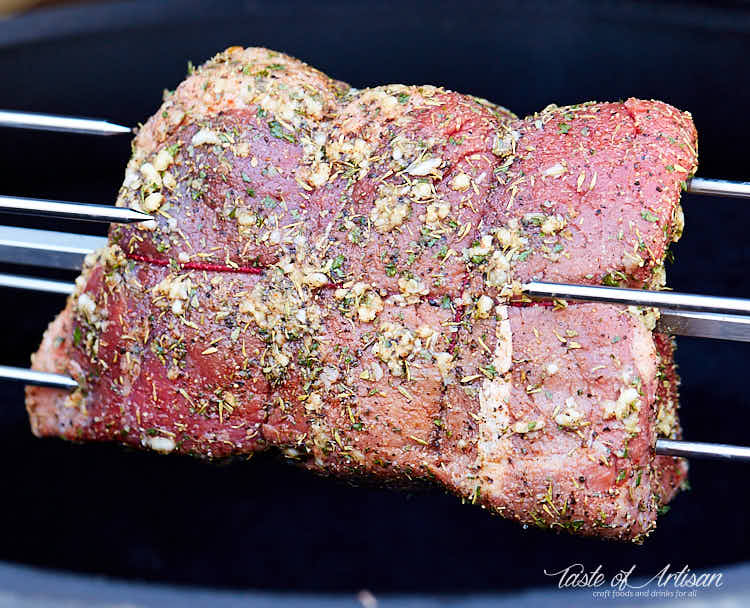 The bark on a roast is matters a lot. It adds a ton of flavor. I went with the basic salt and pepper, cayenne for some heat and a basil, thyme, and parsley combination for aromatics. Oregano is another good herb to use for roasted beef but I chose not to use it this time. To finish it off, I crusted my top round roast with 5 large cloves of minced garlic.
Then on the spit it went, and onto the charcoal grill fitted with JoeTisserie and preheated to 325F measured at the dome. I tried to make sure that the juices stay inside the meat as much as possible, so the forks just barely touch the meat.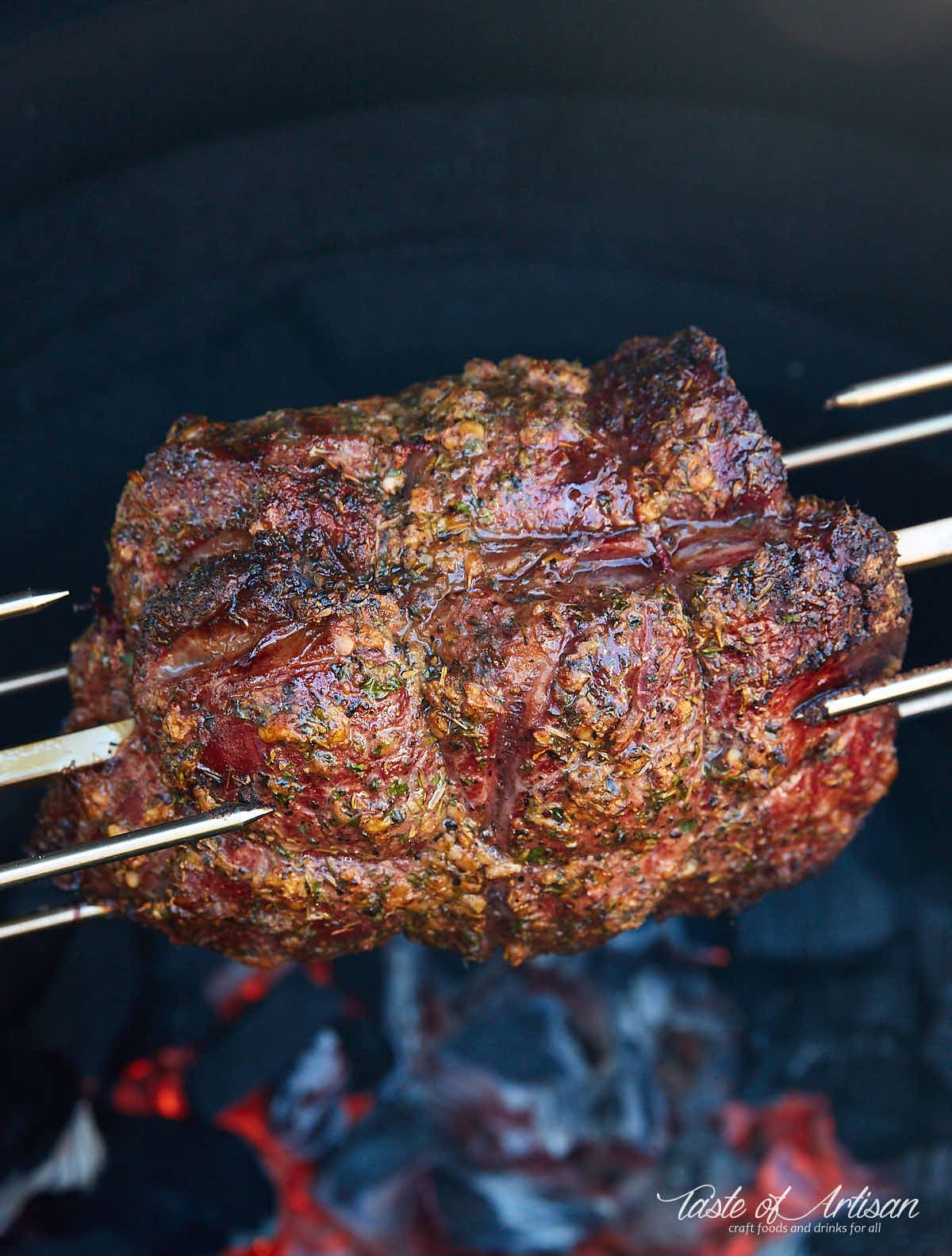 Most of the roast was done at 325F, with the temperature rising to about 350F toward the end of the roast. It took approximately 1 hour and 25 minutes for the meat to reach 135F target internal temperature. I added two wild cherry wood chunks on each side of the fire box for some smoky flavor and color.
So, what's the result? OMG! is all I can say. The outside of the roast had a beautiful, rich dark red color and was perfectly caramelized without any burning. The bark turned out very tasty and flavorful with a nice kick to it. I was a little concerned that the dry herbs would burn being exposed to open fire, but none of that happened. The self-basting that happens during roasting on a rotisserie kept the herbs moist and did not let them burn. The garlic bits came out beautifully browned and roasted, and smelled so good that it probably made the entire neighborhood hungry.
The best part is how evenly roasted side to side the meat came out. I did not expect that. The meat did not come in contact with hot surfaces, like when you cook in the oven, but I was sure direct heat would over-cook the meat at the surface.  Even if a little bit. If you google for 'top round roast', or any beef roast for that matter, you will see the images of sliced roasts showing pink centers with a grey ring around near the surface. There is absolutely none of that here. The pink, moist interior is perfectly uniform from side to side of the roast. That's the magic that constant rotation of the meat brings with it. It's quite impressive.
The meat itself was perfectly fork-tender and juicy. The flavor was definitely there and nothing was missing. I will definitely be making this roast again.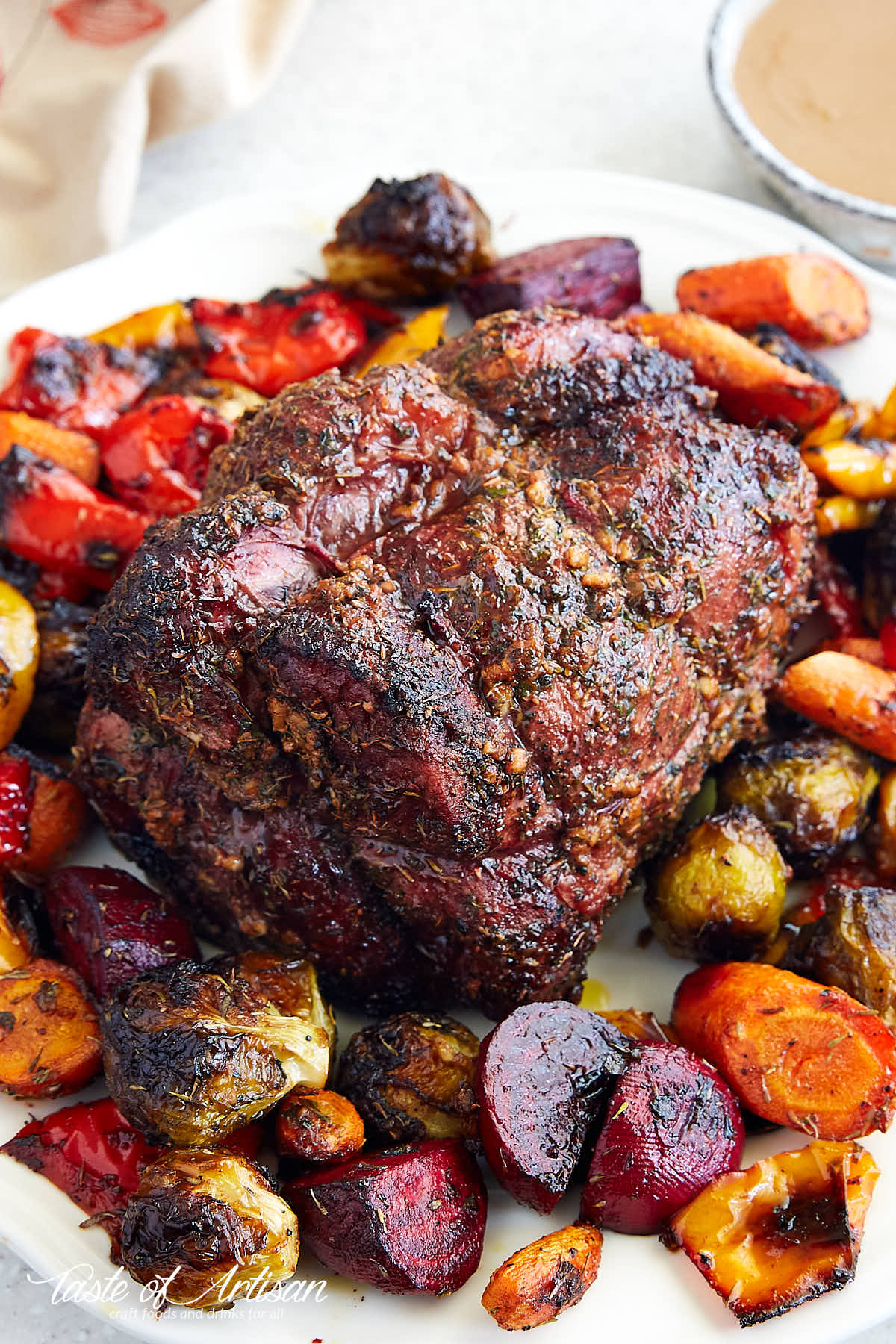 I served my top round roast with Roasted Vegetables for a healthy, vitamin and nutrient rich meal. The two paired really well. Nobody missed mashed potatoes, a popular accompaniment for a beef roast.
To be honest, I did not know how tender and juicy the roast would turn out so I prepared some gravy to go with it. While it was not necessary, it made the roast taste even better. Surprise-surprise. Similar to bacon, it makes almost everything taste better.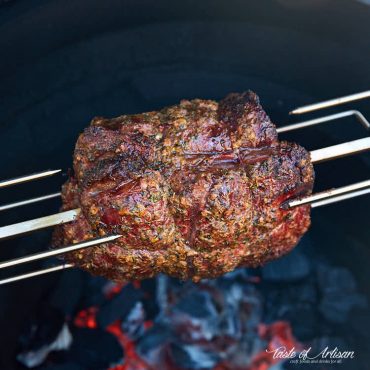 Rotisserie Top Round Roast With Garlic and Herbs
Print
Pin
Rate
Ingredients
3-4

lb

top round roast

1

Tbsp

kosher salt

1

Tbsp

dried basil

1

Tbsp

dried thyme

1

Tbsp

dried parsley

5

cloves

garlic

pressed

1

tsp

cayenne pepper

1

tsp

black pepper

coarsely ground
Instructions
Sprinkle the salt evenly all over the roast, patting it down as you go to make it stick to the meat. Repeat this step with black and cayenne peppers, followed by herbs.

Finish by applying minced garlic evenly all over the roast and patting it down as you go.

Secure the roast on a spit and roast over direct heat, lid closed, at 325F (at the dome), for about 1 1/2 hours, until desired doneness. I pulled my roast at 130F internal temperature for medium well doneness. Add a couple of chunks of wood for some color and smoky flavor in your grill. I used wild cherry wood for this roast.

While the top round roast is on the rotisserie, roast some vegetables in the oven.

Let the roast rest for about 5-10 minutes before slicing.

Slice and serve with roasted vegetables.
Nutrition
Calories:
163
kcal
|
Carbohydrates:
1
g
|
Protein:
25
g
|
Fat:
6
g
|
Saturated Fat:
2
g
|
Cholesterol:
70
mg
|
Sodium:
646
mg
|
Potassium:
403
mg
|
Fiber:
1
g
|
Sugar:
1
g
|
Vitamin A:
70
IU
|
Vitamin C:
0.8
mg
|
Calcium:
33
mg
|
Iron:
2.8
mg