Incredibly juicy, smoky and crispy-skinned, this rotisserie chicken is likely as good as it can get. With minimal preparation and some basic seasonings it requires little hands-on time but tastes like a gourmet dish.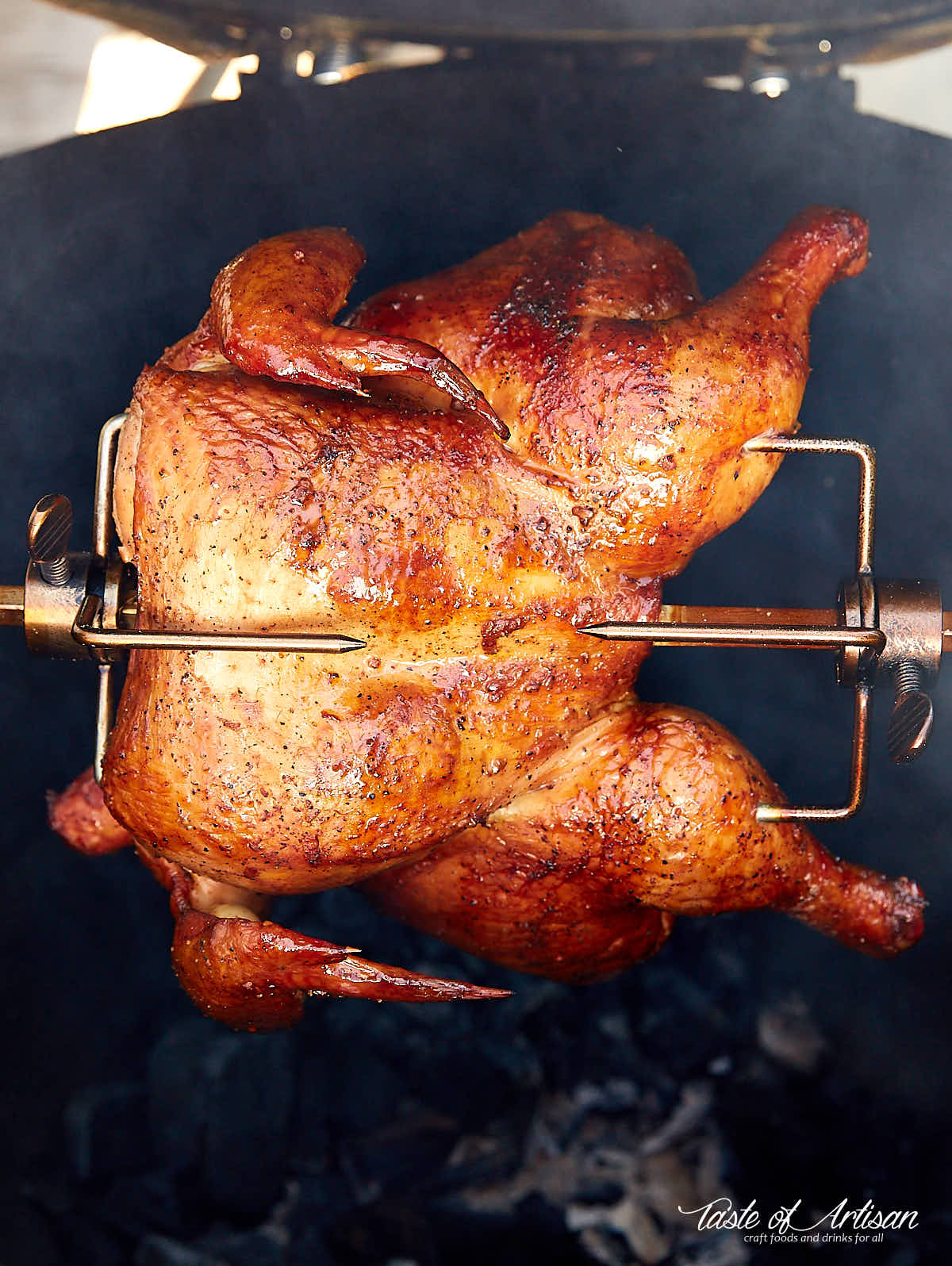 I look for three things in my rotisserie chicken:
Tender and juicy meat
Crispy skin
Smoky flavor
Your typical store-bought rotisserie chicken won't give you that. The good news is that you can make a heck of a rotisserie chicken if you have a charcoal or a gas grill. I don't recommend using an electric rotisserie as, unfortunately, they don't provide the same results.
Rotisserie equipment
To cook chicken on a rotisserie you will need a rotisserie attachment for your grill. Luckily, there are dozens of those around these days.
If you have a Big Green Egg or a Kamado Joe, you best bet is Kamado Joe's JoeTisserie. They come in several sizes to accommodate the size of your grill. I've owned one for several years and love it. If you own a Weber charcoal grill, the Weber Charcoal Kettle Rotisserie is a great choice.
If you have a gas grill, look for a rotisserie attachment for your specific grill, like the Weber Gas Grill Rotisserie for their Genesis line gas grills. Depending on your grill and the ability to make some minor modifications, you can use a universal model like the OneGrill Rotisserie Kit.
Brining
Do you need to brine chicken before cooking it on a rotisserie? The short answer is 'no'. I've tried both ways and can hardly tell the difference. Chicken meat, like any other meat, starts to lose liquids at around 150F as meat fibers begin to contract. Brined or not, the meat will lose water. The secret to juicy meat in a rotisserie chicken is not brining. It's not overcooking the meat.
Dry rub
When roasting chicken over charcoal with a couple of wood chunks thrown in you will get amazing flavor just from the smoke. No special rub is needed here. Some salt and pepper is all that's really needed at a minimum. I like adding some onion and garlic powder. You can also add some ground rosemary or thyme, they always work great on rotisserie chicken. I also like adding some cayenne pepper.
If you like garlic, crust the chicken with some minced fresh garlic. The aroma you get from it is mind blowing. Garlic bits are prone to charring though especially when cooking at higher temperatures of 325F-350F. If you can liquefy it in a mortar it would solve that problem.
Using a drip pan
A lot of folks use a drip pan filled with water when cooking on a rotisserie. I don't. A drip pan creates steam that prevents smoke from properly adhering to chicken skin. A drip pan between the chicken and the heat source also hinders browning and the skin comes out less crispy. A drip pan may be useful on a gas grill though if you want to keep it clean.
Smoke
If using a charcoal grill, just throw in a few wood chunks to get a nice smoky flavor. My favorite wood to use on a rotisserie chicken is cherry, hickory and pecan. I find apple wood a little weak though many folks like to use it on chicken. You decide. On a gas grill you will need to use a smoke generator, such as the A-MAZE-N Pellet Smoker or the Wood Chip Smoker Box. I like the latter a bit more in this application.
Cooking temperature
I tend to cook my rotisserie chicken at about 300F at the spit level but often go for higher temperatures of 325F to 350F. You will get an even crispier skin but also more charring in some parts, more split skin and more oil rendered from skin. The cooking temperature, the size of the chicken and the distance to the heat source will determine the cooking time so make sure to have an instant read thermometer on hand.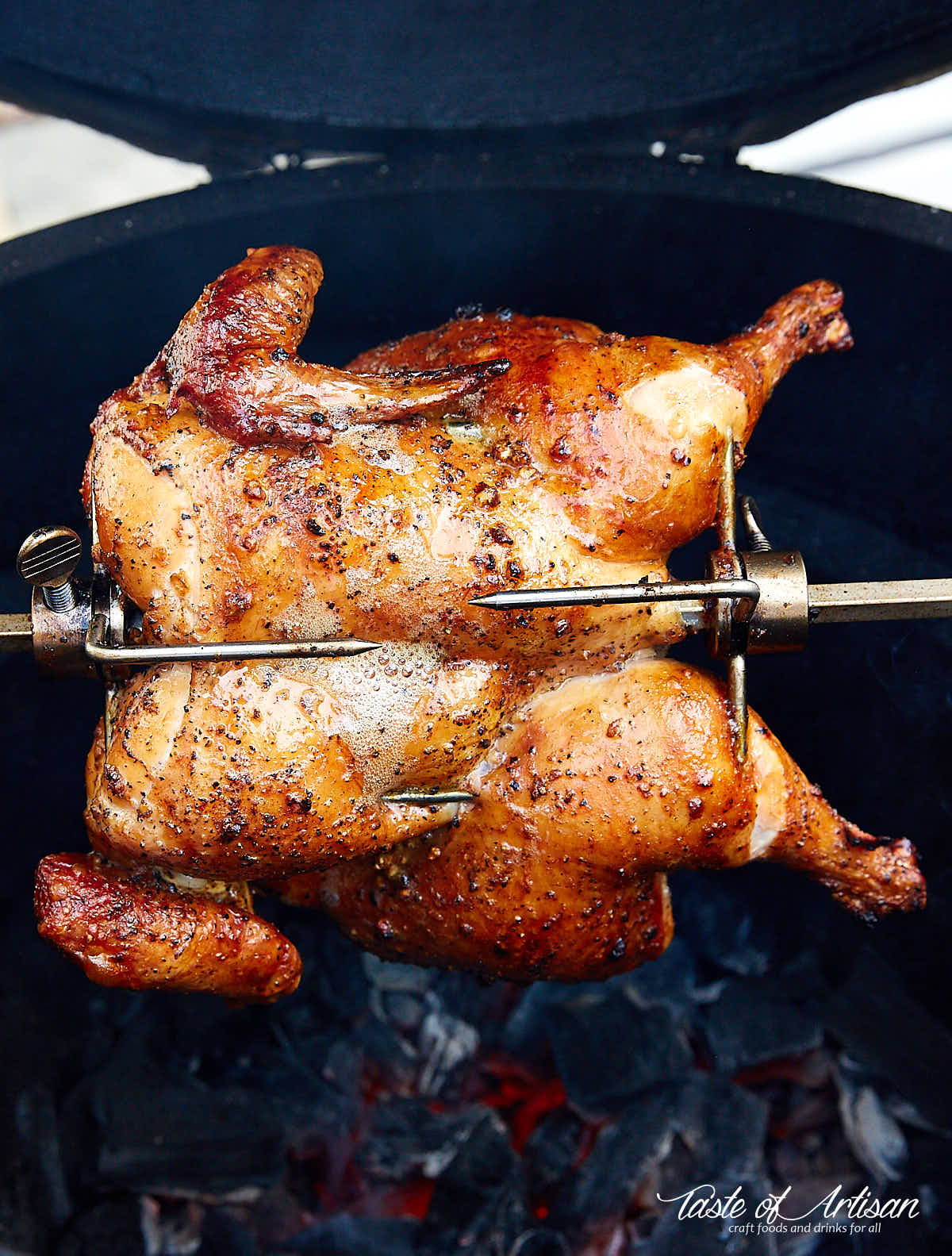 Ideal way to cook a whole chicken on a rotisserie
Cooking a whole chicken always poses a challenge. You want the legs and the wings to cook a little more so that they fall-off-the-bone tender. I like to cook those parts to 185F otherwise the meat is a bit tough and tastes under-cooked. The breasts, on the other hand, must be cooked to the recommended 165F.
So, how do you make a whole rotisserie chicken cooked such that you get legs, thighs and wings are cooked through without overcooking breasts?  The secret is to butterfly or spatchcock the chicken and position it on the spit such that wings, thighs and legs get closer to fire than breasts, as shown on the pictures. By the time you get the breast cooked through, the legs and wings will be right where I want them to be. I find that butterflying also helps the chicken cook more evenly.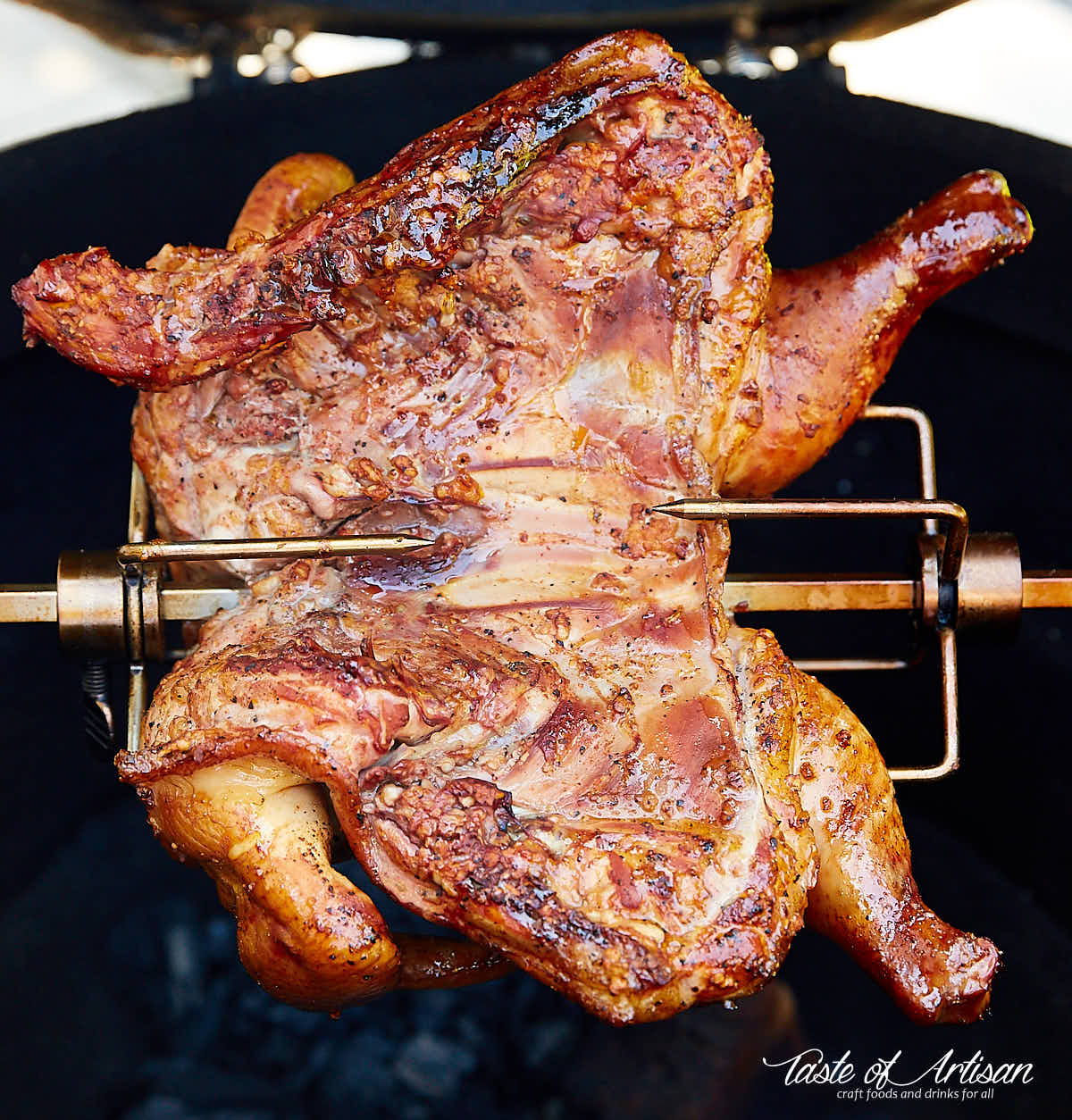 Serving Rotisserie Chicken
There are hundreds of great sides to serve with a rotisserie chicken. In summer, I like keeping my meals light and take advantage of in-season vegetables. Roasted vegetables are fantastic with thick chicken and so are summer salads like my favorite Heirloom Tomato Salad, Chili Mayo Cucumber Salad, or the Rustic Tomato and Cucumber Salad.

For a slightly more filling meal, go for a salad with plenty of carbs, like the Fusilli Pasta Salad, Mediterranean Quinoa Salad, Zesty Quinoa Salad,  or Israeli Couscous Salad. Or Bread Salad (Panzanella). It's delicious.

On colder days, serve this chicken with  Southern Potato Salad, Garlic Mashed Red Potatoes, Truffle Fries, or Crunchy Air Fryer French Fries.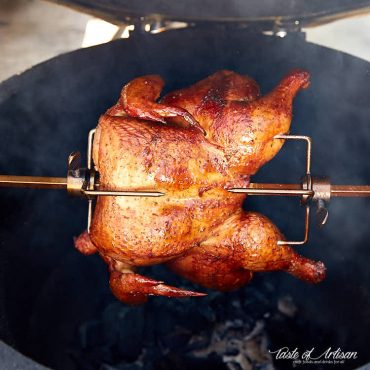 Ingredients
1

large roasting chicken

butterflied

1

Tbsp

olive oil

1

tsp

kosher salt

or sea salt

1

tsp

garlic powder

1

tsp

onion powder

1

tsp

sweet paprika

1/2

tsp

ground rosemary

1/4

tsp

cayenne pepper
Instructions
Rub the chicken with oil then sprinkle with the seasoning all over and pat down to make them stick. Set the chicken aside while you are preparing the rotisserie.

Preheat the grill to about 300F at the spit level. Add some cherry wood chunks or chips for smoke.

Place the chicken on the rotisserie spit and secure with forks. Place the spit on the grill. Start the motor and close the lid. Roast for about 60-75 minutes or until the chicken is cooked through.
Nutrition
Calories:
447
kcal
|
Carbohydrates:
1
g
|
Protein:
36
g
|
Fat:
32
g
|
Saturated Fat:
9
g
|
Cholesterol:
143
mg
|
Sodium:
716
mg
|
Potassium:
381
mg
|
Fiber:
1
g
|
Sugar:
1
g
|
Vitamin A:
560
IU
|
Vitamin C:
3.1
mg
|
Calcium:
21
mg
|
Iron:
1.8
mg