One of my top ten favorite baked goods is these delicious pumpkin scones. I love them with my morning Americano; the two make for a perfect breakfast for me. Pumpkin scones don't have to be a fall treat, you can make them all year round with canned pumpkin puree. As a matter of fact, I actually prefer the texture of canned pumpkin.

My 10-year-old daughter, Emily, is the family expert on pumpkin scones and makes them entirely by herself. Those scones are divine, did I mention that already? Pumpkin scones are not the only thing she bakes though, so there will be many more of her favorite creations posted on this blog, and I look forward to her contributions here.

The key to making perfect scones, just like pie crust, is to handle the dough very carefully, without overmixing it.  Too much handling will make it tough. It will also warm up the butter, making the scones dense.
If you don't have a food processor, we have a very simple solution for you - shred pre-frozen butter as you would cheese. Seriously, try this method, it's so simple yet so effective. We use it to make biscuits and other baked goods.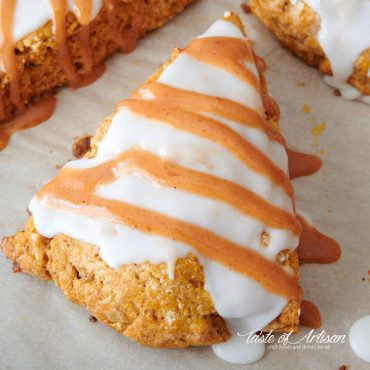 Ingredients
Scone
2 1/2

cups

all-purpose flour

1/2

cup

unsalted butter

partially frozen

2/3

cup

pumpkin puree

canned; chilled

1/4

cup

buttermilk

1/3

cup

packed light-brown sugar

2

tsp

baking powder

1/2

tsp

baking soda

1/2

tsp

salt

1

tsp

ground cinnamon

1/2

tsp

ground nutmeg

1/4

tsp

ground ginger

1/8

tsp

cardamom

1/8

tsp

ground cloves

1

large egg

2

tsp

vanilla extract

3

Tbsp

honey

or corn syrup

1

Tbsp

heavy cream
Glaze
1

cup

powdered sugar

2

Tbsp

heavy cream
Pumpkin Icing
3/4

cup

powdered sugar

1

Tbsp

pumpkin puree

1/4

tsp

ground cinnamon

1/8

tsp

ground nutmeg

1/8

tsp

ground ginger

1

Tbsp

heavy cream
Instructions
Preheat oven to 425 degrees.

In a large bowl, whisk together flour, baking powder, baking soda, salt, cinnamon, cardamom, nutmeg, ginger, cloves, and brown sugar. Shred the butter on a coarse cheese grater and mix in.

In a separate bowl, whisk together the pumpkin puree, buttermilk, egg, vanilla extract and honey. Add to the flour mixture and mix with a wooden spoon to incorporate. You may have to gently knead the dough to make it come together.

Turn the dough over on a lightly floured work surface. Roll the dough out into an 8-inch disk and cut into 8 equal wedges.

Transfer the wedges onto a parchment paper-lined baking sheet. Brush tops with one tablespoon of heavy cream, then bake for 13 - 15 minutes or until tops are golden brown and a toothpick inserted into the center comes out clean.

Transfer the scones to a cooling rack and chill for 10 minutes before glazing.

In a small bowl, whisk together powdered sugar and heavy cream, then use the mixture to glaze the scones. Let the glaze set.

In the same bowl, whisk together powdered sugar, pumpkin puree, cinnamon, nutmeg, ginger and the heavy cream. Drizzle the mixture over the scones. Let set at room temperature then serve.
Nutrition
Calories:
441
kcal
|
Carbohydrates:
71
g
|
Protein:
6
g
|
Fat:
16
g
|
Saturated Fat:
9
g
|
Cholesterol:
62
mg
|
Sodium:
240
mg
|
Potassium:
215
mg
|
Fiber:
2
g
|
Sugar:
38
g
|
Vitamin A:
3976
IU
|
Vitamin C:
1
mg
|
Calcium:
82
mg
|
Iron:
2
mg