Ruby chocolate fudge is a twist on the classic chocolate fudge that incorporates ruby chocolate, the chocolate made from the recently discovered ruby cocoa beans. These rich, ruby chocolate fudge pieces make wonderful sweet treats both for parties, Valentine's day dinners, birthdays and for simply satisfying your chocolate cravings.

If you've never tried ruby chocolate, you are missing out. Barry Callebaut describes it as neither bitter, milky or sweet, but as a tension of fresh berry fruitiness and luscious smoothness. I think this describes it perfectly. I love its fruity tang combined with subtle sweetness and silky-smooth texture.
My daughter Emily and I thought it would be a great idea to make chocolate fudge with it. We weren't wrong. We loved the soft and smooth texture complemented by a noticeable fruity tang. The fudge wasn't overly sweet, similar to dark chocolate fudge, a massive plus in my book.
When mixed with caramel, the bright pink color of ruby chocolate is mostly lost. This is unfortunate as we hoped the ruby color to come through. Still, if you look closely, you will see a faint pink hue in the final product. To rectify this flaw, we decorated the fudge with ruby chocolate chips right after molding the fudge.

How to make ruby chocolate fudge?
If you've made chocolate fudge before, there will be no surprises. The process is practically identical. If you haven't, you will need some tools to ensure that you get the best results.
You will need:
A Taylor Precision Products Candy/Deep Fry Stainless Steel Thermometer. It's inexpensive and works really well. Many artisan candy makers use it. I highly recommend this one. Electronic thermometers, based on my personal experience, are very hard to use as the temperature jumps up and down as you move it even slightly.
A thick-bottomed saucepan. Slow, even heating and even heat distribution are key. You want the pan to be about 2-3 quarts in size. Caramel tends to foam initially, so you need enough of headspace.
A 7"x7" (or close to that) pan lined with silicone paper or parchment paper. If you are serious about caramel, candy, and fudge making, I highly recommend getting caramel rulers. They are highly adjustable and make perfect edges and corners.
Other than the tools and common ingredients, you will need ruby chocolate chips and glucose syrup.
The process is as follows:
Prepare a pan lined with parchment paper. If using rulers, grease them with a thin coat of vegetable oil and place them on a sheet of parchment paper.

Prepare the caramel by cooking sugar, glucose syrup, and heavy cream to 248F (120C) without mixing or in any way disturbing the mixture. Add butter and bring the mixture back to 248F (120C).
Add the ruby chocolate chips and mix well.
Immediately pour the mixture in the mold and decorate it with ruby chocolate chips. Drizzle the leftovers over the molded fudge.  You have to work very quickly otherwise it will get hard before you can finish drizzling. This is totally optional so don't stress about it if it hardens before you can apply it. You can, of course, warm it up again, but make sure to not heat above 248F otherwise the drizzle, one it cools down, will turn hard and crunchy. Some may actually like it.
Let the fudge set for 30 minutes, then unmold and cut into bite-size pieces and enjoy. For cleaner cuts, wipe the blade of the knife after each cut. You may also want to brush the blade with a little bit of cooking oil.
Can glucose be substituted?
The significant difference between glucose syrup and corn syrup is the water content. Glucose contains 15-19% water and is invert sugar. Corn syrup contains 24% water and is made from glucose with fructose added to prevent crystallization.
When substituting glucose syrup for corn syrup in this recipe, add 20 grams more of corn syrup to account for the extra water that will evaporate during cooking. Expect the cooking process to take a little longer when making a substitution.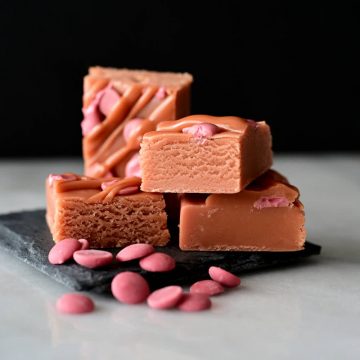 Ruby Chocolate Fudge
Chocolate fudge made with ruby (pink) chocolate and decorated with ruby chocolate chips.
Print
Pin
Rate
Ingredients
200

g

ruby chocolate chips

plus a small handful for decoration

205

g

heavy cream

210 ml

340

g

caster sugar

235

g

liquid glucose

60

g

unsalted butter

plus more for greasing
Instructions
Prepare the mold which should be greased and/or lined with parchment paper.

Place the cream, sugar and glucose into a heavy-based saucepan. Bring to a soft boil until the mixture reaches 248F (120C) on the thermometer. Also marked as 'Firm Ball' on candy thermometers. Do not stir or shake the pan!

Add the butter and bring back to a soft boil until the temperature reaches 248F (120C) again.

Remove the saucepan from the heat and stir in the chocolate, mixing quickly until fully dissolved.

Working very quickly, pour the hot fudge into the mold, leaving a little in the saucepan. Sprinkle some ruby chocolate chips on top, then drizzle the remaining hot fudge over the top. If it hardens before you can drizzle, just slightly warm it up again.

Let the fudge set for 30 minutes. After 30 minutes, remove from the mold, cut into squares and serve.
Nutrition
Calories:
179
kcal
|
Carbohydrates:
29
g
|
Protein:
1
g
|
Fat:
7
g
|
Saturated Fat:
4
g
|
Cholesterol:
18
mg
|
Sodium:
21
mg
|
Potassium:
6
mg
|
Fiber:
1
g
|
Sugar:
23
g
|
Vitamin A:
198
IU
|
Vitamin C:
1
mg
|
Calcium:
15
mg
|
Iron:
1
mg