Did I say before that there was nothing like a fresh, just out of the oven, crispy on the outside and soft and chewy on the inside homemade baguette on a Saturday morning? I may have been wrong.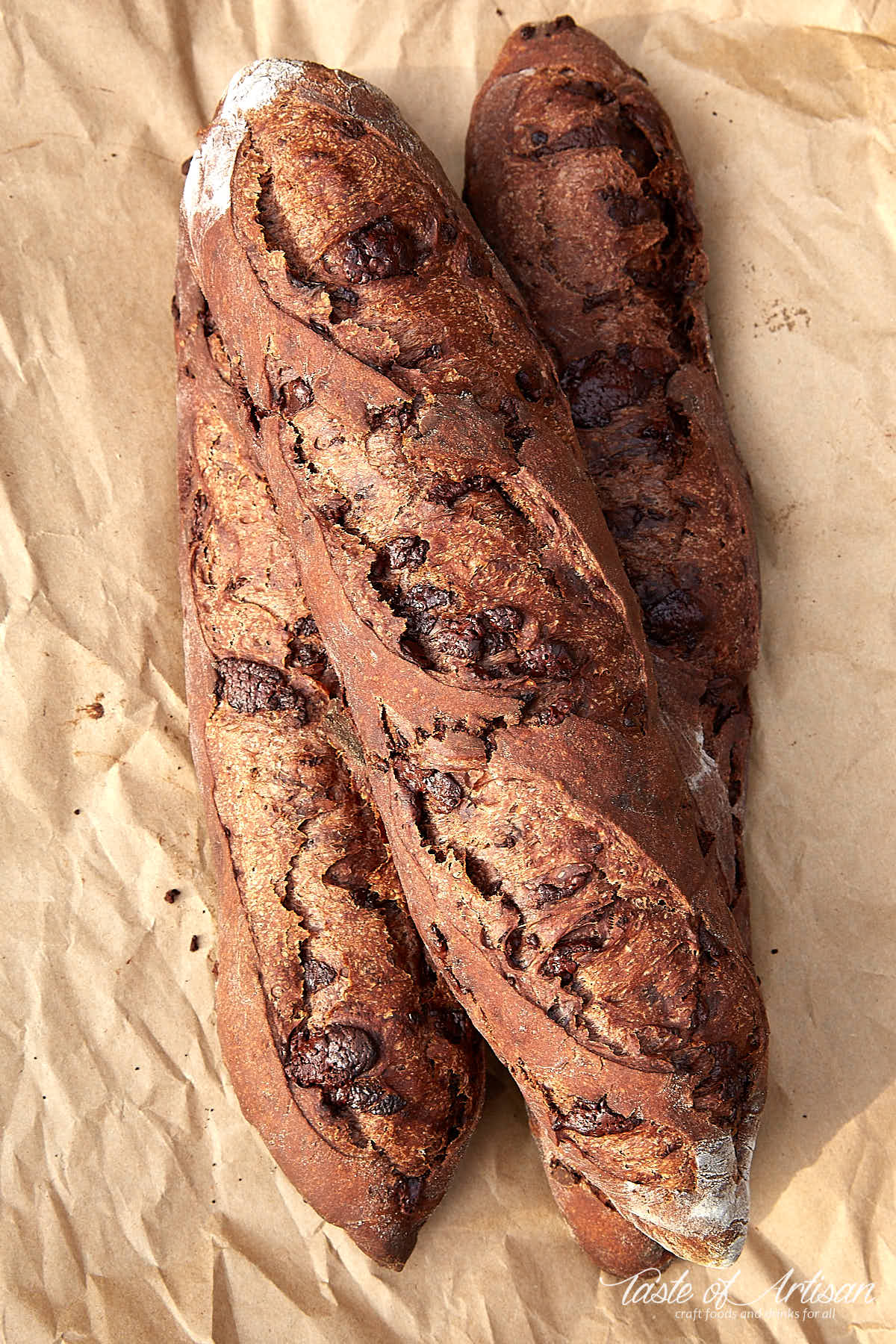 A few weeks ago a local newspaper featured an article about a city bakery that makes chocolate baguettes. They say their baguettes are so popular that they are constantly running out. I just had to try and make them at home. I did not taste the ones from the bakery, but I will some day... curious to see how they compare.
I started off with the same process and ingredient mix that I use for my regular baguettes. Naturally,  I would need to add cocoa powder and chocolate chips to get the desired color and flavors. Sounds easy enough, but my first three attempts did not yield anything even remotely close to what I would consider acceptable.
My first problem was adding too much cocoa powder. Fifty grams of cocoa powder made the dough overly acidic. I used Valrhona dutch-processed pure unsweetened cocoa powder. Dutch-processing de-acidifies cocoa powder, but still, the acidity was unbearable. Adding sugar, quite a bit of it, helped a lot but gluten development came to a screeching halt. To make a long story short, my fourth attempt came out not bad.
I then tweaked the recipe and the process a bit more and got outstanding results. Not that it can't be improved even more but as it is, it makes one heck of a chocolate baguette. It's flavorful, chocolaty, but not overly sweet, with a slight hint of acidity that is well balanced with sugars from chocolate and honey. The crumb is slightly less open than in a regular baguette but still airy, soft and chewy.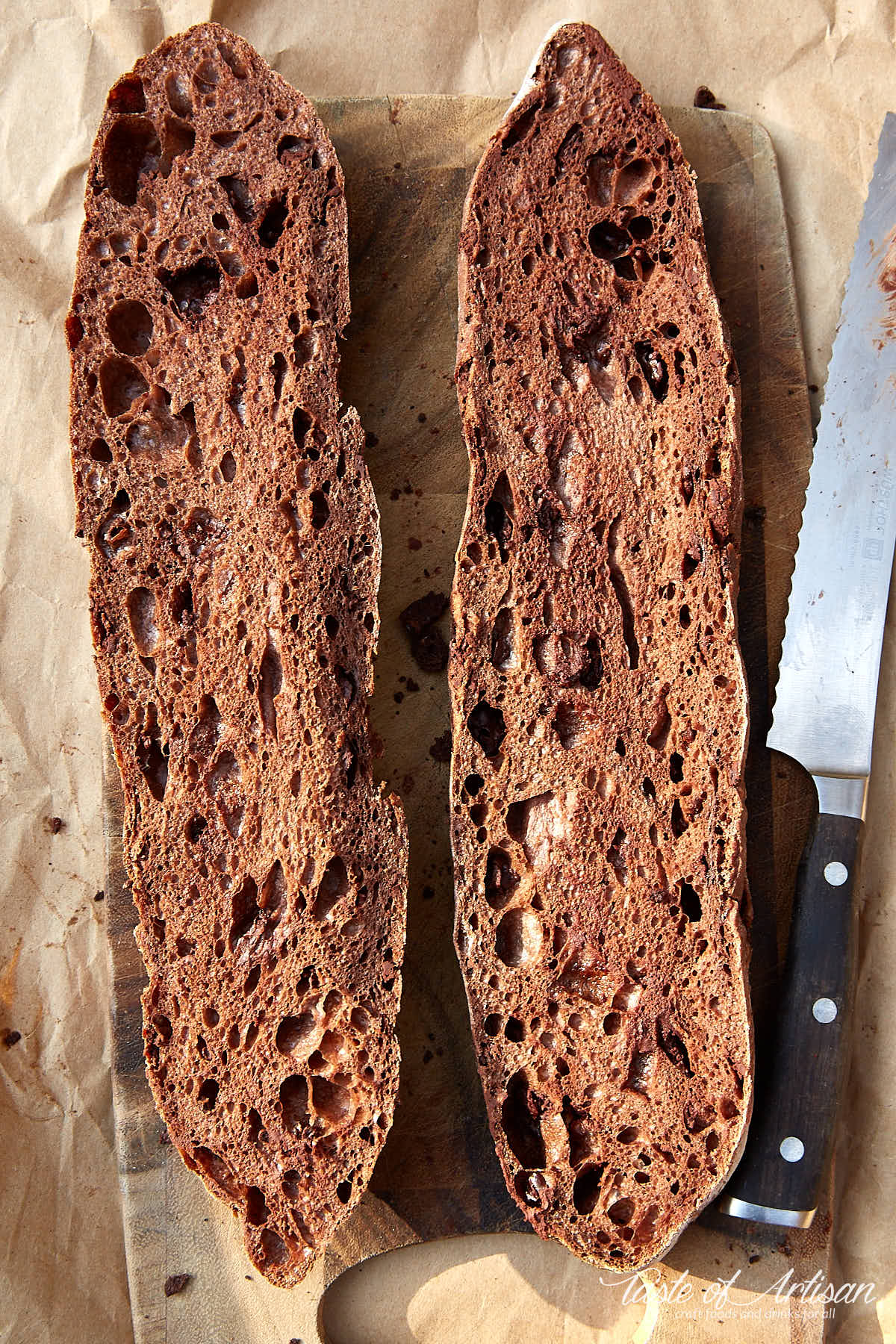 So, the main differences in the ingredient list are the addition of 20 g of cocoa powder and 150 g of 70% bitter-sweet chocolate chips. I found that this ratio makes a nicely colored and flavored baguette that is just perfectly sweet. I bumped water content (or hydration as bakers call it) to 85% to get the same dough consistency as in my regular baguettes. Cocoa powder is quite thirsty.
As far as the process goes, I reduced the final proofing time by 10 minutes and started baking at a higher temperature to get a better oven spring, otherwise in one of my previous attempts I did not see the desired volume increase in the oven. The rest is the same - mix, do three stretch and folds over a one hour period and refrigerate overnight. In the morning - shape, proof and score. You can see more details here.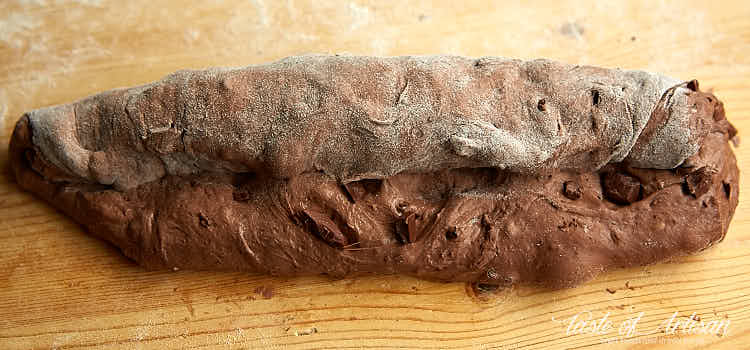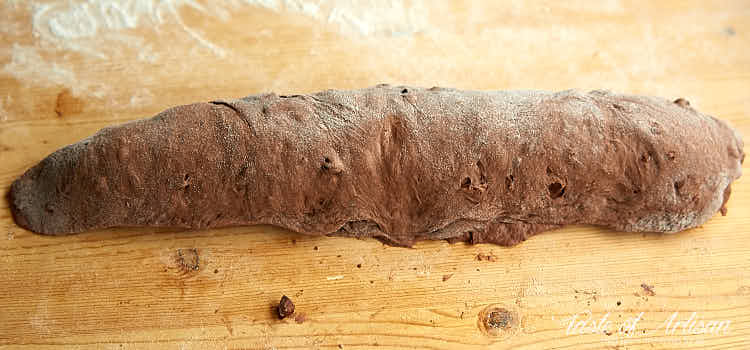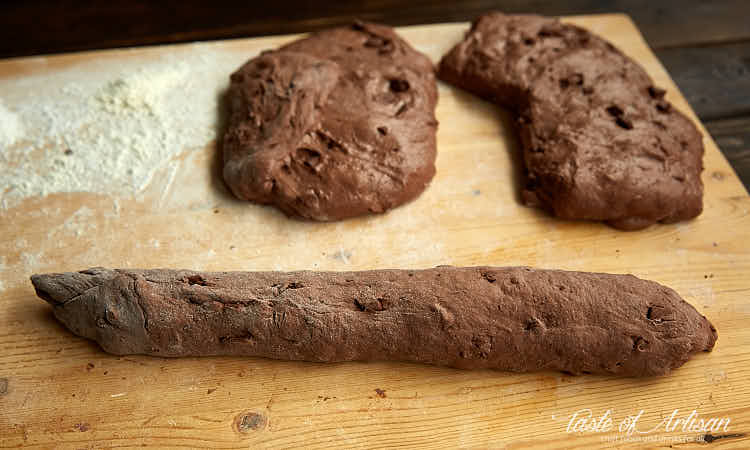 I found that this baguette dough, even at 85% hydration, did not feel too wet, so I used less flour when shaping.
I used Valrhona 70% cocoa content dark chocolate which I find exceptional. I first tried this chocolate when I attempted David Lebovitz's chocolate biscotti recipe, where he strongly recommended using Valrhona brand. Ever since then it has been my preferred chocolate for baking. More expensive that other brands, but worth every penny. For me, it provides the ultimate chocolate experience.
Buying in bulk is cheaper per pound, so I did that. It's so good that I sometimes take a few feves and eat them straight. Dark chocolate is healthy, no? You can buy Valrhona 70% Guanaja chocolate here.
Then slide your baguettes on a preheated baking stone and bake at 480F for 15 minutes, rotate and continue baking for another 10-15 minutes at 450F. Same as with my regular baguettes, I used steam all the way through baking process. This allows a thin, crispy crust. In my experience, when I remove water pan half-way, the crust thickens and becomes too hard. It could be that my oven runs dry. You may want to experiment with yours. This recipe will make three plump 16-inch baguettes, provided your baking stone can accommodate this length.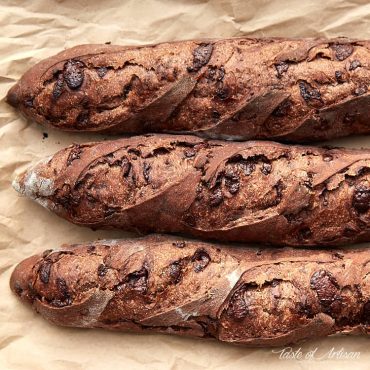 Chocolate Baguette Recipe
Chocolate baguette recipe. Not too sweet, not too savory. Simply perfect.
Print
Pin
Rate
Servings:
3
16" chocolate baguettes
Ingredients
500

g

all purpose flour

King Arthur brand is recommended

20

g

cocoa powder

Valrhona recommended

150

g

bitter-sweet dark chocolate

70% cocoa, Valrhona recommended

425

g

water

10

g

salt

3

g

active dry yeast

or quick rise yeast

2

Tbsp

honey
Instructions
Mix cocoa powder and salt with flour in a large bowl until well dispersed.

Add in the rest of the ingredients and mix well for a few minutes. Let rest for 10 minutes.

Over a period of one hour, do 3 sets of stretch and folds, flipping the dough upside down after each set.

Cover the bowl with plastic wrap and place in the refrigerator overnight for about 10-12 hours.

Turn the dough on a lightly floured work surface. Divide into 3 equal parts and shape into rectangles. Let rest for 15 minutes.

Start preheating oven to 490F, with a 14 x 16 inch baking stone on the top rack and a bread pan filled with hot water on the bottom rack.

Divide the dough into 3 pieces and shape them into rectangles. Stretch each dough rectangle slightly and fold into a cylinder, sealing the seams. Using your hands, roll the cylinders gently stretching them to desired length, about 16 inches.

Place the cylinders on a floured surface, seam side up, side by side. Cover with a plastic wrap and prop from each side to ensure the baguettes hold their shape.

Proof at a room temperature for about 30 minutes.

Remove the plastic wrap, pull the baguettes apart. Turn them seam side up and brush off excess flour. Using a sharp knife or a razor blade, make 3-4 scores on each baguette. When scoring, use a swift and firm motion to ensure nice and clean cuts.

Open the oven, taking caution not to get burned by steam, and slide baguettes off onto the baking stone. Close the oven and reduce temperature to 480F.

Rotate, drop the temperature to 450F and continue baking for another 10-15 minutes, until deep brown.
Nutrition
Calories:
967
kcal
|
Carbohydrates:
166
g
|
Protein:
23
g
|
Fat:
24
g
|
Saturated Fat:
13
g
|
Cholesterol:
2
mg
|
Sodium:
1315
mg
|
Potassium:
637
mg
|
Fiber:
12
g
|
Sugar:
24
g
|
Vitamin A:
20
IU
|
Calcium:
74
mg
|
Iron:
14.6
mg