One of the most recent additions to my list of fermented foods is carrots. I don't know why I haven't tried making fermented carrots before but they became an instant hit. I can't eat a lot of fresh carrots, I find them a little too sweet, but I can easily gobble down a pint jar worth of fermented carrots. They are exceptionally crunchy, perfectly salted, and have a pleasant tang - perfect for snacking and as a condiment.

Fermented carrots, unlike fermented pickles, retain their superb crunch without any extra effort. With pickles, you need to make sure to cut off the blossom ends, add leaves of cherry, oak, or black currant to preserve that crunch. With carrots, on the other hand, none of that is needed. Just make sure to pick very fresh vegetables and ferment them right away.
Which carrots to ferment?
It's easy to get overwhelmed trying to figure out which carrots are best suited for fermentation as there there are many types of carrots. Danvers, the most generic carrot type that you can find at the local grocery store is perfect for fermentation. It has a rich orange color and an excellent flavor. Just make sure to get the ones with the tops on, they are fresh and will taste better.
Avoid oversized carrots without the tops as they tend to be drier and less flavorful.
Heirloom carrots are my favorite for fermentation. There are so many to choose from - Cosmic Purple, Solar Yellow, Lunar White, Atomic Red carrots, and many more. They come in many different shapes and colors and pack a ton of flavor.
You can probably buy them at some boutique grocery stores or farmer's markets but the best bet is to grow them in your garden. They don't need a lot of space and are very easy to care for. Just put them in the ground in early spring and regularly give them plenty of sun and water. That's all there is to it.
Regular vs organic carrots
When using regular carrots for cooking I always peel them but that's somewhat of an issue when making fermented carrots. The surface of carrots contains lactic acid bacteria that will start fermentation. If you peel the carrots, fermentation may not start quickly enough or at all, leaving room for various spoilage bacteria to colonize your carrots.  It may lead to unwanted results.
Organic carrots on the other hand are free of harmful pesticides, herbicides, and fertilizers that tend to accumulate on the surface and just under the surface. You don't need to peel or scrub them. A good wash is all that's needed. They have no problem starting fermentation and lead to consistent, predictable results.
If you do use regular carrots that you will be peeling before fermenting, add a tablespoon of liquid with live lactic acid bacteria such as sauerkraut or dill pickle pickling juice, or some liquid from a previous carrot fermentation.
Can you ferment whole carrots?
Carrots are very dense and juicy. This presents two problems - the brine will have a harder time getting inside the carrot and the cells are already filled with juice. So, the smaller the carrot pieces are the easier and faster fermentation will be. That's why many popular recipes for fermented carrots instruct grating them, like the 'Yin Yang Carrots' offered by Julie O'Brien and Richard J. Climenhage in their really good Fresh & Fermented book.
However, if like me, you'd like to ferment carrot sticks, it works well too, only it takes a little more time. When fermenting carrot sticks, I like cutting larger carrots lengthwise into quarters or even 6-8 wedges. Thinner carrots can be halved.
How do you ferment carrots?
Similar to fermenting pickles, all you need is a lightly salted brine. As with fermented pickles, I think the most optimal salinity of the brine is 3.5%. It provides the best balance of tanginess, saltiness, and flavor.
To give the carrots more flavor, you can add various herbs, spices, and vegetables. I like to use whole black, white, or red peppercorns, coriander seeds, whole cloves, allspice, fresh rosemary, celery leaves, grape leaves, garlic cloves cilantro, parsley, sage, basil, and more. Feel free to create combinations that suit your taste.
How long do you ferment carrots?
Ten-twelve days of fermentation at room temperature is enough for carrots, followed by maturing in the fridge. The carrots will be ready for consumption after 10-12 days of fermentation but will only get better with time spent in the fridge. They won't get any sourer in the fridge, fermentation will stall at the fridge temperature, but the flavors will develop even more and the brine will penetrate deeper and deeper inside the carrot pieces.
How long do fermented carrots last?
Fermented carrots will last many months in the fridge and will only get better over time. Eventually, they will begin to lose their taste qualities but that won't happen sooner than after 8 - 10 months.
What is that white stuff on my carrots?
Over time, you will notice a white layer forming on carrots. That's inactivated yeast cells settling down. That's nothing to worry about and even if you eat it you will be totally fine. Simply rinse the carrots off with water before eating.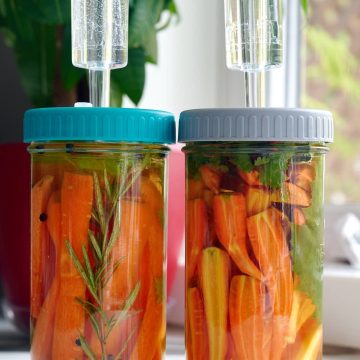 Fermented Carrots
The recipe below is for one 1-quart jar of fermented carrots. Scale the recipe to make as many jars as you need.
Print
Pin
Rate
Ingredients
1

lb

organic carrots

2 1/4

cups

water

532 ml; room temperature

1

Tbsp

pickling salt

about 18 g

12

peppercorns

black or assorted pink, green, white, and black

2

rosemary twigs

3

cilantro twigs

3-5

celery leaves

optional; use if available

2

grape leaves

optional, use if you have access to them;

2

whole allspice berries

2

whole cloves
Instructions
Wash the carrots well but don't brush them off. There are lactic acid bacteria on the surface that are needed to start fermentation. Cut into sticks, wedges, halves, or quarters.

Prepare 2 1/4 cups of 3.5% salt brine by whisking 1 Tbsp (18 grams) with water until the salt is dissolved.

Fill the jar with carrots while adding seasonings and herbs/leaves as you go.

Pour in the brine leaving about 1/2" of headspace while making sure the carrots are covered with the liquid.

Attach the fermentation lid with an airlock filled with the leftover brine. Make sure that the bottom tip of the airlock stays slightly above the liquid.

Ferment at 64F - 72F (18C - 22C). You should see bubbles going up after about 16-24 hours when fermenting at around 68F. Longer if fermenting at lower temperatures and a bit sooner if fermenting at higher temperatures.

Ferment for 5-6 days for half-sour carrots and 10-12 days for full-sour carrots.

Taste the fermented carrots. If you are happy with the results, place them in the fridge which will stop further fermentation. Fermented carrots will keep in the fridge for many months.
Notes
Instead of a fermentation lid with an airlock you can use a sealed plastic Ziploc bag filled with brine placed on top of carrots. Make sure to regularly check the bag for any white slime and wash it as needed. The slime forms as a result of yeast activity and exposure to oxygen. If you don't remove the slime regularly it will cause the pickles to lose their crunch.
You can use other herbs and spices to make fermented carrots to create different flavor profiles.
Nutrition
Calories:
50
kcal
|
Carbohydrates:
12
g
|
Protein:
1
g
|
Fat:
1
g
|
Saturated Fat:
1
g
|
Polyunsaturated Fat:
1
g
|
Monounsaturated Fat:
1
g
|
Sodium:
305
mg
|
Potassium:
380
mg
|
Fiber:
4
g
|
Sugar:
5
g
|
Vitamin A:
19432
IU
|
Vitamin C:
7
mg
|
Calcium:
51
mg
|
Iron:
1
mg