Similar to canning peppers, canning fully fermented pickles is an excellent way to store them. No refrigeration is needed, and homemade canned dill pickles can be stored for at least a year in a cool, dark place. Remember though, pickles that will be canned need to be fermented in a 5% salt brine to be safe to eat. Stanley Marianski, a well-known guru of anything pickled, canned, smoked, or cured, in his book Sauerkraut, Kimchi, Pickles & Relishes suggests that pickles need to be brined in at least 5% salt brine to be safe for canning and storing un-refrigerated.
Fermented in a 5% salt brine for 3-4 weeks, the pickles come out full-sour and very, very tasty. Vinegar-pickled store-bought pickles can't compete with these morsels. If you like pickles, I highly recommend making these.

Proper fermentation tools
Another really important thing to remember when fermenting pickles for canning is to create an anaerobic environment. Fermentation will take about 3-4 weeks. Yeasts and molds are of aerobic nature and will thrive in the presence of air, producing a white slime on the surface. This slime must be removed on a daily basis, or else it will lead to the pickles becoming soft and losing their crunch.
Your brine will also get way more cloudy. As such, it's best to use a fermentation crock or a pot with a tight lid fitted with a fermentation airlock. It will make things easier for you and will require little tending during the fermentation process. All you need to do is remember to add water or salt brine to the airlock.

When using a fermentation crock, the brine comes out fairly clear, so I never feel like I need to filter it. There is also no slime formed on top due to lack of oxygen.
My fermentation crock is 1.9 gallons / 7 liters. It fits about 8.5 lbs of pickling cucumbers which is enough to make six 1-quart jars of fermented pickles.

After processing in a canner, the brine clarifies even more, and the jars of pickles have a very nice visual appearance.
Fermentation time and temperature
Pickles that will be canned to be fully fermented. The lower the fermentation temperature, the longer they will take to ferment fully. It's recommended that you ferment pickles for canning at 64F to 72F for about 21-28 days, depending on the temperature, until the flesh of cucumbers turns translucent olive green. Pickles are fully fermented when you see no bubbles coming up to the surface. I usually ferment in my pantry at around 70F for 21 days and have always had excellent results.
Seasonings
I strongly believe that seasonings are very personal. I could use pickling spices, and many do with great results, but I prefer to add spices individually. This way, I have full control over the final flavor. Sometimes all it takes is one herb or spice to ruin the flavor, so keep that in mind when using spice mixes. In this recipe, I use garlic, pepper, cloves, mustard, dill, coriander, and allspice. I also add dried hot chili peppers for a tiny bite. You can barely feel it, but it makes pickles taste better. Feel free to use your own combination of spices or pickling spice mixes.
Keeping the pickles crunchy
Everyone likes their pickles crunchy. One sure way to make pickles lose their crunch is to leave blossoms on. The blossom area is where all sorts of tissue-softening enzymes live. If you want your pickles crunchy, cur those off really well.
Another way to preserve the crunch is to use firming additives such as horseradish root and oak or black currant leaves.
Soaking cucumbers in pickling lime prior to fermenting is another way to preserve the crunch.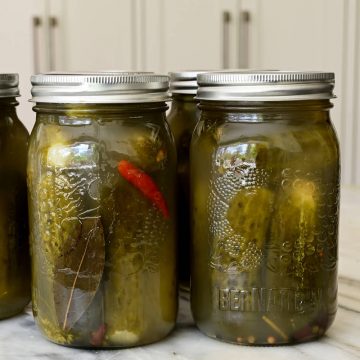 Canned Fermented Dill Pickles
Easy way to make canned fermented dill pickles.
Print
Pin
Rate
Ingredients
8 1/2

lbs

pickling cucumbers

1

gallon

water

3,785 g; room temperature

2/3

cup

pickling salt

189 g; kosher salt without additives will work as well

8

cloves

garlic

4

inches

horseradish root

peeled and sliced or diced

6

dill umbrellas

or 12-16 dill twigs

4

Tbsp

peppercorns

black or assorted pink, green, white and black

2

Tbsp

coriander seeds

8

bay leaves

2

tsp

mustard seeds

8

cloves

whole

8

berries allspice

whole

6

dried hot chili peppers

whole
Instructions
Wash the cucumbers but don't brush them off. Remove 1/16" off the blossom ends of the cucumbers.

Prepare a 5% salt brine by whisking the salt in the water until fully dissolved.

Add half the seasonings to the bottom of the fermentation crock, followed by the cucumbers and the other half of the seasonings.

Add enough brine to cover the cucumbers.

Ferment the cucumbers at 64F - 72F for about 21-28 days (the higher the fermentation temperature, the faster the fermentation will be) until the flesh of the cucumbers turns translucent olive green.

When fermentation is done, carefully pour off the brine into a boiling pot, without disturbing the sediment and leaving it behind.

Bring the brine to a boil, lower the heat and simmer for 5 minutes.

Meanwhile, rinse the pickles and place them in sterilized 1-quart jars.

You can also add the old seasonings (rinse them as well), or add new seasonings.

Fill the jars with the hot brine leaving 1/2" headspace. Wipe the rims with a clean paper towel.

Put sterilized lids on, tighten the bands finger-tight and process in a boiling water bath as follows: pints for 10, 15 and 20 minutes at 0-1,000, 1,001-6,000, and 6,001+ feet above sea level respectively, and quarts for 15, 20, 25 minutes at 0-1,000, 1,001-6,000, and 6,001+ feet above sea level respectively.

Store in a cool, dry and dark place.
Notes
This recipe makes six 1-quart jars of canned dill pickles. You will need to adjust the ingredients if you want to make more or less. For example, if you need to make two 1-quart jars, you will need to divide all ingredients by 3.
Nutrition
Calories:
14
kcal
|
Carbohydrates:
3
g
|
Protein:
1
g
|
Fat:
1
g
|
Saturated Fat:
1
g
|
Polyunsaturated Fat:
1
g
|
Monounsaturated Fat:
1
g
|
Cholesterol:
1
mg
|
Sodium:
520
mg
|
Potassium:
121
mg
|
Fiber:
1
g
|
Sugar:
1
g
|
Vitamin A:
62
IU
|
Vitamin C:
3
mg
|
Calcium:
20
mg
|
Iron:
1
mg