Canned beef is a great source of protein when you are in a time crunch. Too busy to cook? Grab a jar of canned beef and make dinner in literally 20 minutes. I love the convenience of canned meat. It's also a great way to preserve food long-term. Canned beef will store for up to 2-3 years or even longer if stored properly. Taste qualities tend to decrease after a year, but the meat will still be safe to eat well past one year.

Canned beef really only needs basic spices and seasonings to taste great, like salt and pepper. I also like adding some bay leaf and powdered onion, garlic and mustard seed for their savory flavor. Feel free to experiment with spices though; beef pairs very well with thyme, sage, and cayenne pepper. If you like the Mediterranean taste, try basil and oregano.

Beef fat doesn't age very well so often when we make cured beef sausage we use pork fat instead. The same is true when making canned beef  it's best to trim off beef fat and substitute it for pork fat. Pork belly works really well here and provides additional flavor. You can even quickly sear the pork belly pieces for even more flavor.

The beef and the pork belly in this recipe are cured with salt and Cure #1 for 24-48 hours. This makes the meat more flavorful, and the curing salt adds a wonderful pink color and enhances the flavor. Cure #1 is not required when canning meat but it provides an extra layer of protection against bacteria and enhances the flavor and the color of the meat. It also enhances the keeping properties of canned meat.

Food safety when canning meat
Canning meat is fairly straightforward but you must follow some basic rules to ensure that your canned meat will be safe to eat. Those include using a pressure canner, keeping the meat cold, using clean utensils, processing at the right pressure/temperature and for sufficient time, among other things.
If you are new to meat canning, please read my guide on how to can meat before attempting this recipe.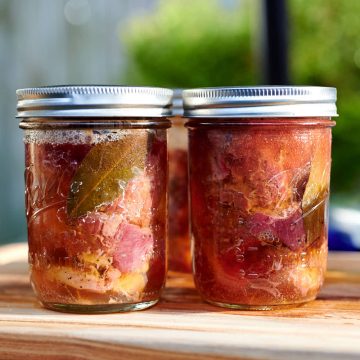 Ingredients
2.0

lbs

lean beef

chuck is recommended; 900 g

0.2

lbs

pork belly

100 g;

1/2

tsp

cure #1

level; 2.5 g

1 1/3

tsp

kosher salt

one level, one heaping; 8 g

3/4

tsp

mustard powder

1.5 g

1/2

tsp

black pepper

1 g; ground

1/4

tsp

onion powder

0.6 g

1/4

tsp

garlic powder

0.6 g

3

bay leaves

1 per jar
Instructions
Cut the beef and the pork belly into 1-inch pieces. Mix the salt with Cure #1. Place the meat and the pork belly in a bowl, sprinkle with the kosher salt and cure #1 mix, and mix well. Cover and cure in a refrigerator for 24-48 hours.

Take the meat out of the fridge, sprinkle with the mustard powder, onion powder, garlic powder, and black pepper, and mix well.

Pack the seasoned meat (not very tightly) into 16-oz wide-mouth mason jars, leaving 1/2" headspace, adding one bay leaf per jar.

Wipe the rims, place the lids on top and screw on the bands finger-tight.

Process at 250F (15 PSI) in a pressure canner for 70 minutes (see notes 1 and 2).

Remove the canner from heat and let it depressurize naturally.

Using a jar lifter, carefully remove the jars and place them on a towel or a cooling rack to cool down to room temperature for about 12 hours.

Remove the bands. Wipe the jars with a damp towel or paper towels. Test the seals.

Store in a cool, dark, and dry place for up to 2-3 years. The most optimal storage temperature is about 35F-59F (2C-15C).
Notes
Note 1 - 60 minutes at 250F is sufficient but I like processing pork for 70 minutes as it gives it a better texture.
Note 2 - USDA recommends to process meat at sea level at 10 PSI minimum. For pints the processing time should be 75 minutes, and for quarts it's 90 minutes. When pressure canning above 1,000 feet, process at 15 pounds of pressure. Processing time is the same at all altitudes.
Many of Marianski's recipes call for processing meat at 250F (15 PSI) for 60 minutes for pint / 500ml jars or 50 minutes for half-pint / 250ml jars. Personally, I process my meats at 15 PSI / 250F for 70 minutes even though I am located just above the sea level. This gives the meat a more delicate texture, which I happen to prefer.
Nutrition
Calories:
576
kcal
|
Carbohydrates:
1
g
|
Protein:
68
g
|
Fat:
31
g
|
Saturated Fat:
13
g
|
Cholesterol:
209
mg
|
Sodium:
2148
mg
|
Potassium:
1102
mg
|
Fiber:
1
g
|
Sugar:
1
g
|
Calcium:
27
mg
|
Iron:
7
mg